Ani exotický juhoamerický štát Peru nemá núdzu o zaujímavé rockové zoskupenia, venujúce sa náročnejšej progresívnej produkcii. Nepochybnou jednotkou tejto krajiny spod majestátnych Ánd zostane asi navždy kultový band Frágil, ale ani mladšie spolky nechcú zostať zrovna bokom.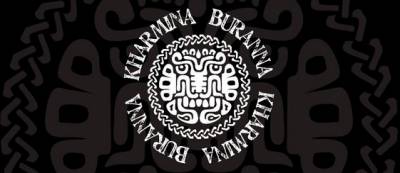 Keď v hlavnom meste Lima vznikla v roku 1996 kapela Kharmina Buranna, vychádzala jej pôvodná tvorba z odkazu britského a amerického rocku 60. a 70. rokov a v ich repertoári sa nachádzali cover verzie britských Deep Purple, ako aj amerických Grand Funk Railroad. Navyše Kharmina Buranna inklinovali hodne aj k blues rocku. V roku 2000 sa skupina rozpadla, no po 8 mesačnej nečinnosti sa na jar 2001 reaktivovala, avšak s jasným úmyslom hrať hudbu, ako to robili Genesis, Gentle Giant, Jethro Tull, King Crimson či Focus, no pri použití elementov klasického hard rocku a blues rocku. Vokálny prejav kapely navyše vychádza z bohatých tradícií italo-prog rocku 70.rokov (najmä z Premiata Forneria Marconi a Banco Del Mutuo Soccorso) a aby toho nebolo málo, povýšili blues rockovú ústnu harmoniku na takmer rovnocenný prog rockový hudobný nástroj (spevák Ángelo Pérez-Palma). Časté využívanie flauty (basgitarista Mauricio Hooker) považujem u juhoamerickej kapely za úplne prirodzené. Celá základná štruktúra skladieb je navyše ponorená do bohatých kaskád často archaicky znejúcich a s klasikou koketujúcich klávesových nástrojov Daniela Lópeza.
Po temer siedmych rokoch živého hrania a štúdiového jamovania vypustili Kharmina Buranna na trh 1. augusta 2008 album El Arte de Seguir Vivos, na ktorom hosťovali multiinštrumentalista Octavio Castillo (Frágil) a japonský huslista Pauchi Sasaki. V ten istý deň kapela v Lime naživo predviedla celý materiál albumu aj vo forme koncertu, ktorý bol súčasne labuťou piesňou pre sólového speváka, hráča na ústnu harmoniku a doprovodnú gitaru Ángela Pérez-Palmu (odchod do zahraničia za inými aktivitami). Na jeho miesto prichádza nový spevák Federico Masinas.
Album začína wakemanovským pompéznym introm v 13 minútovom epose Bosque de Piedras a dominujúci zvuk keyboardov sa linie prakticky celou skladbou, mimo krásnej, prostrednej pasáže, kde majú hlavné party vyhradené akustická gitara a flauta. Hlasy oboch spevákov v skupine – sólový Ángelo Pérez-Palmu a doprovodný basistu Mauricio Hookera sú zvučné a sýte, takže počas trvania celého albumu máte až príliš často pocit, že (ak poznáte relatívne dobre súčasnú italo prog rockovú scénu) ak by španielčinu v textoch nahradila taliančina, kľudne si Kharmina Buranna môžete zameniť s niektorou z kapiel, ako sú La Torre Dell Alchimista, H2O, Finisterre, Taproban, alebo Maschera di Cera… 
Osem minútová Del Parque pre zmenu evokuje ťažšie hudobné kompozície starého italo prog rocku z dielne Museo Rosenbach, či Osanna, alebo mladších Areknamés, navyše skladba je okorenená pasážami drsnej bluesovej harmoniky a má aj atmosféru starých psychedelických európskych kapiel.
Typickou reminiscenciou za starým obdobím Kharmina Buranna z 90. rokov je vyše sedem minútová titulná skladba El Arte de Seguir Vivos. Je to vlastne plnohodnotný blues rockový track s výrazným spevom a v inštrumentálnych pasážach dominuje harmonika v akomsi súboji s bohatými klávesovými a gitarovými fragmentmi. Prekvapujúco interesantný model blues progu.
Takmer 11 minútová dynamická Sueños de Opio zase pôsobí, ako keby vznikla niekde na Apeninskom polostrove, a nie pod Andami. Bohaté vrstvy klávesových nástrojov všetkých druhov a typov (takmer všadeprítomný klavír), spočiatku hutný spev, jemné vstupy flauty a gradácia klávesových orgií v závere – skutočne pôsobivé…
Labra un Lugar (De Sonidos) je ukážkou celkovej dominancie emersonovskej klávesovej hry v podaní Daniela Lópeza a štruktúry skladby, ktorá nesmierne pripomína najlepšie roky veteránov Premiata Forneria Marconi. Baroková kombinácia hry akustickej gitary a flauty v strede a v závere umocňujú krásu hudby, ktorú nám servíruje kvintet Kharmina Buranna.
Celkove je album El Arte de Seguir Vivos veľmi príjemným osviežením aktuálnej progresívne rockovej scény, cítiť z neho nesmiernu radosť z hrania a celkový prejav Kharmina Buranna má napriek všetkým predošlým porovnaniam aj prvky nepochybnej originality, čo je už v tejto dobe skutočne vzácnosť.
SKLADBY:
1. Bosque de Piedras (13:08)
2. Del Parque (8:13)
3. El Arte de Seguir Vivos (7:17)
4. Sueños de Opio (10:39)
5. Labra un Lugar (De Sonidos) (13:00)
ZOSTAVA:
Ángelo Pérez-Palma – lead vocals, harmonicas, acoustic guitar
Daniel López – keyboards, xylophone, glockenspiel
Víctor Otárola – drums, percussion
Mauricio Hooker – bass, flute, recorder, backing vocals
Eduardo Valcárcel – electric & acoustic guitars
+
Octavio Castillo – flute (4)
Pauchi Sasaki – violins (4)
Lalo Williams – string arrangement (4)
El Arte de Seguir Vivos
Kharmina Buranna
Prog Rock
Mylodon Records
2008
CD
5