Páté řadové album Led Zeppelin – Houses Of The Holy – jsem poprvé slyšel u svého řeckého kamaráda na jaře 1973, jako čerstvou novinku. Jeho bratr-bubeník totiž hrál v zahraničním baru – v Mnichově a tenhle titul si jako velký obdivovatel Led Zeppelin přivezl z tehdejšího NSR. Byl jsem pozván na poslechovou seanci a tak jsem vůbec neváhal a okamžitě jsem přišel na návštěvu poslouchat. Musím říct, že se považuji za velkého obdivovatele Led Zeppelin a do jejich dvojalba Physical Graffiti jsem jejich hudbou nadšen.
 Na albu, které poprvé neslo konkrétní název a ne tradiční číslovku, se legendární kvartet představil jinou tváří své hudby a vzpomínám si, že tehdy poprvé mnozí až nekritičtí obdivovatelé Led Zeppelin v mém okolí se zdrželi okamžitých výlevů svých pocitů. Byla to tedy první deska, kde nebyl jejich nový hudební materiál přijímán bez odporu s danou jednoznačností. Tenhle názor jsem nesdílel, ale musím přiznat, že ne ke všemu, co se na albu objevilo, jsem si našel přímou cestu a tak se rozdělím o svoje pocity vlastní analýzou dojmů i představ a znovu se vpravím do jeho hudební koncepce…
THE SONG REMAINS THE SAME – Energický nástup od prvního okamžiku. Zvonivé tóny elektrické dvanáctistrunné kytary ďábelského Jimmyho Page dokonale ovládnou terén a prostor, následovány zběsilou jízdou bicích nástrojů Johna Bonhama a baskytarových linek Johna Paula Jonese. Do tématu vstupuje zpívající Robert Plant až po dravé introdukci. Jeho hlas zní mazlivě, ale zároveň jaksi méně výrazně a dramaticky. Hudba zde jednoznačně vítězí svou dravostí a sázením riffů. Playbackované kytarové party do sebe výtečně zapadají. Mají dostatek zpěvnosti, výrazu i barevnosti a práce s dynamikou je na velmi vysoké úrovni. Hudební materiál hodný Led Zeppelin každým coulem a kytarové eskapády vyskakují do výšky jako snopy barevných světelných jisker. Plant do své prezentace vkládá hodně emocí, ale stále se mi zdá jaksi zatlumený.
THE RAIN SONG – Nádherná kytarová studie! Tohle je mistrovský kousek od prvních tónů. Zeppelinovské téma na akustické kytary a klouzavou elektrickou kytaru. Plantův hlas má v sobě jakýsi typ snivosti a ospalosti dohromady. Page znamenitě rozlamuje akordické hmaty do výtečných obrazů. Nic podobného jsem od něho na předešlých albech neslyšel. Ale je tady také mellotron, obsluhuje ho John Paul Jones, který přikrývá skladbu neviditelným, ale tušeným závojem mlhy, ze kterého vystupují akordické ornamenty, které budou stále lákat další a další kytaristy k vytváření svých coververzí. Až teprve teď je ve hře i John Bonham. Jeho bicí nástroje spíš čeří vzduch a vnímáme jeho subtilnost i jemné šustění. Plant se pokládá do zpívaného textu a stává se jeho součástí. Nakonec přichází dramatické vyústění a bicí nástroje pronikají svými důraznými akcenty do tématu vedle modulovaných basových tónů. Skladatelský a aranžerský majstrštyk s jedinečným emocionálním výrazivem a s téměř symfonickými postupy. Akordické výměny akustických a elektrických kytar se závěrečným přezníváním jsou jedinečné. Famózní!
OVER THE HILLS AND FAR AWAY – Tohle je další unikátní kousek pro akustické kytary. Nejprve šestistrunnou a posléze dvanáctistrunnou. Nádherné klima vzájemné pohody, ale žádného pohodlného povalování. Energetický potenciál ve skladbě dřímá zcela zjevně a vzápětí se o tom můžeme přesvědčit. Zkloubení hardrockového tématu s akustickými instrumenty s výtečnými riffy je na jedinečné úrovni. Ano, teď se mi zdá, že se konečně Plant probudil z jakési letargie a vnímám jeho vzepětí emocí. Page se dostává do ráže a jeho střídání harmonické struktury a melodické obraty s akordickými výměnami mají v sobě velkou sílu. Tohle je zeppelinovský model do každého počasí. Jonesova baskytara má jedinečnou schopnost do toho zapadnout bez nějakých agresivních vstupů. Závěrečný epilog se nápadně zklidní a tajemné bzučení z pozadí nám vrací akordický základ skladby. Opravdu krásné.
THE CRUNGE – Hodně velké odbočení od zeppelinovského vnímání hardrocku nebo elektrického blues, či akusticky procítěných balad. Tohle je funk a bubenické polyrytmické dělení posouvá skladbu do netypických hudebních rovin, kde bychom slavné Led Zeppelin neočekávali. Ale šlape jim to velmi dobře. Skladba postavená ryze na rytmických základech. Plantův zpívaný projev napůl deklamuje a napůl frázuje. Zvláštní píseň, která zarazí ortodoxní rockery, ale může oslovit posluchače z jiného břehu a dokazuje kreativitu i neustrnutí slavného kvarteta na jednom modelu pojetí hudby. Žádná cílena snaha se podbídnout, nebo vytvořit hit. Skoro bych řekl, že Led Zeppelin všem svým revivalovým kapelám, kterých jsou na světě tisíce, uštědřili opravdový štulec. Chtěl bych slyšet kapelu, která omílá jejich repertoár a hraje a hlavně zpívá tuhle skladbu. Originální a netypické každým coulem.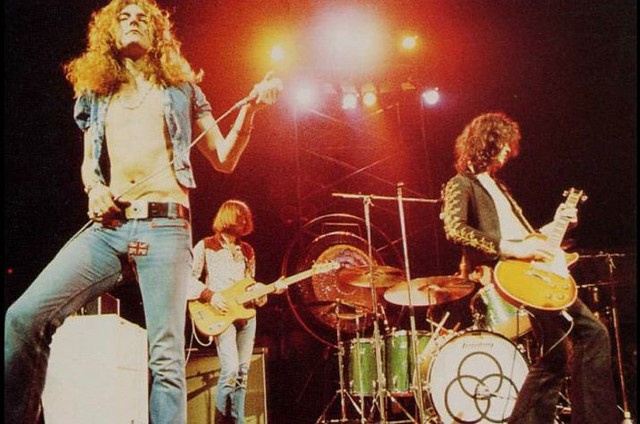 DANCING DAYS – Na tenhle typ skladby jsem musel přivykat. Na poprvé se mi to nějak nechtělo vrýt pod kůži. Ten vypreparovaný kytarový riff mi přišel hodně dryáčnický a podbízivý, skoro "dechovkový". I Plantův hlas má zvláštní barvu a jaksi je zatlumený do tématu. Také pochodový rytmus mi nepříliš sedl. Jsou tady ale hammondky Jonese a Page vkládá do opakovací figury zajímavé klouzavé tóny, které prokreslují píseň do svého základu. V okamžiku, kdy dochází k nečekanému vzestupu harmonie, má skladba zvláštní odér, ale jak se vrátí do svého opakovaného soukolí, je to mlátička pro taneční produkci. Při vši úctě k Led Zeppelin, to tak cítím dál. Tohle není o hledání a nalézání, ale o přešlapování v tématu, které mi není blízké.
D'YER MAK'ER – Překvapení se konají dál. Teď dokonce do tématu Led Zeppelin vkročí jamajským reggae – o textu se nebudu rozšiřovat, zbytečně bych vyvolával dráždivou polemiku. Skladba se mi líbí zejména v té zlomové části před mezihrou, kde Pageova kytara zní skoro jako saxofon. Šlapavý důrazný rytmus má svoji zemitost a Bonham dusavými údery i občasnými breaky valí svou kuličku vpřed. Plant má erotický podtón v hlase a věřím, že pár děvčat na to dostal. V závěru do interpretace vložil svůj klasický výkřik. Odlehčená záležitost – nejenom posluchači, ale i hudebníci se chtějí bavit.
NO QUARTER – Dílo mimořádného formátu, které mě pohltilo od prvopočátku. Není to klasický zeppelinovský model, ale přesto je to skladba s velkým přesahem. John Paul Jones jí významným způsobem poznamenal na synthesizer, klavír a basový synthesizer. Nádherné bloudivé tóny dodávají tématu tajemno i čarovno a rázný bubenický break otevírá výtečně preparovanou část pro Pageovu elektrickou kytaru s řeřavým tónem a dunícími basy. Klavírní tóny jsou nějaké přitlumené a spíš nastiňují atmosférické erupce, než že sázejí konkrétní téma. Tady jsme v experimentálním světě, kam vstupují i letmé prvky jazzových ozvěn. Také Bonhamovy bicí nástroje občas vloží lichý rytmy a tak se skladba proměňuje málem takt od taktu. Plantův zvláštně prezentovaný projev je přitlumen, ale čekáme jeho nástup a ten přichází s opakovaným kytarovým tématem, které řeže jako krájecí stroj. Originální zapojení zeppelinovského odéru do jiného hávu, ale přesto zde cítím velký experimentální přesah pro citlivého posluchače. Famózní věc!
THE OCEAN – Tady jsme na ryzí zeppelinovské půdě a nemáme možnost, ani právo o tom v nejmenším pochybovat. Tohle jsou postupy, které známe z předešlých alb velmi důvěrně a výrazně preparovaný riff nás o tom přesvědčuje. Plantův kvílívý hlas má v sobě svou pověstnou dravost, syrovost a smysl pro dynamickou práci s výrazovými prostředky. Rytmické postupy jsou přímočaré a nijak se neodchylují od daného směru. Krátké odmlčení a pohrávání si s hlasy, kdy jsou ve zpěvné vsuvce slyšet opravdu všichni členové, je jenom krátkým nadechnutím před opětnými dusavými rytmy s výtečnými kytarovými a basovými unisony. Ale je tu zase změna v shuffle rytmu a ty rázné akcenty. Page kouzlí s kytarovými tóny spíš v uhlazeném pojetí s rychlými výměnami. Jeho kytara zpívá stejně jako důrazné rány na bicí baterii Bonhamovy soupravy.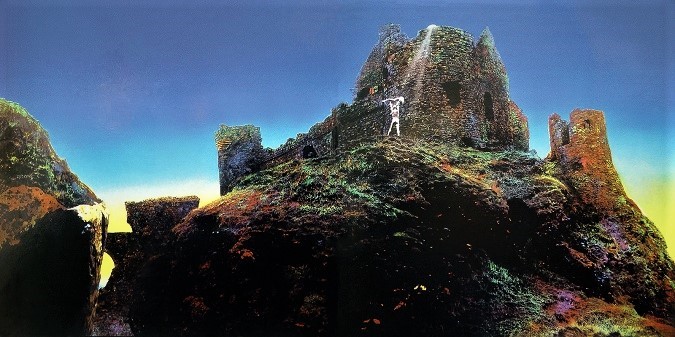 Led Zeppelin na albu Houses Of The Holy hledají novou tvář kapely se staronovými modely jejich hudebního principu. Není to žádný derivát druhého, ale ani třetího alba, je to přešlapování před dveřmi od komnaty, kam chtějí rázným způsobem vstoupit. Výtečný obalový námět a ještě výtečnější vnitřní část horského masivu se zříceninou ve zvláštním barevném tónu – už tahle výtvarná kompozice ve mně vyvolávala zvláštní emoce. Přesto ale musím konstatovat, že i po remasteringu má album Houses Of The Holy stále takový zvláštní zvuk – neříkám špatný, neříkám odbytý, takový proporcionálně nevyvážený a jaksi méně průrazný. S tím jsem se na předešlých albech nějak nesetkal, tady to cítím znatelněji. Možná i jinak vynikající Robert Plant zde se svým hlasem pracuje méně výrazně a méně nekompromisně jako jsem tomu navykl na předešlých albech, ale může se na tom výrazně podílet i zmíněný zvuk, který výtečného rockového shoutera handicapuje. Objektivita mi velí, abych tentokrát ubral na hvězdičce a dal čtyři. To ale neznamená, že bych si na album "zasedl" – ne, líbí se mi a mám k němu blízký vztah, ale přece jenom o hvězdičku méně než ke čtyřem předešlým. Houses Of The Holy je zvláštní album a právě pro onu zvláštnost se k němu vracím docela často.
SKLADBY:
1. The Song Remains The Same (Page/Plant) 5.28
2. The Rain Song (Page/Plant) 7.39
3. Over The Hills and Far Away (Page/Plant) 4.47
4. The Crunge (Page/Plant/Jones/Bonham) 3.13
5. Dancing Days (Page/Plant) 3.41
6. D'yer Mak'er (Page/Plant/Jones/Bonham) 4.22
7. No Quarter (Page/Plant/Jones) 6.59
8. The Ocean (Page/Plant/Jones/Bonham) 4.30
SESTAVA:
Jimmy Page – acoustic guitar, electric guitar, pedal steel guitar, backing vocals
Robert Plant – vocals, harmonica
John Bonham – drums, backing vocals
John Paul Jones – organ, mellotron, bass guitar, backing vocals, piano, synthesizers, harpsichord
NOTES:
Originally released as Atlantic 7255 on March 28, 1973
Recorded in January – August 1972 at Stargroves, England, with The Rolling Stones Mobile Studio; Headley Grange, Hampshire with The Rolling Stones Mobile Studio and Island Studios, London
Mixed at Olympic Studios, London with Keith Harwood (1,2); Electric Lady, New York with Eddie Kramer (3-6,8) and Olympic Studios, London with Andy Johns (7)
Engineered by Eddie Kramer and Andy Johns
Produced by Jimmy Page
Executive producer: Peter Grant
Houses Of The Holy
Led Zeppelin
Hard Rock
Atlantic
1973
LP
8