Kapela Budgie je stařičká rocková formace pocházející z Walesu, která sklízela své největší úspěchy hned při prvním startu ostrovního syrového rocku na počátku sedmdesátých let. Její klasické tříčlenné složení produkovalo enormě ostrou rockovou formuli, a i když nebyla komerčně nikdy tak úspěšná jako jiní slavní kolegové té doby, kvalitou zcela srovnatelná družina se co do významu právě s takovými spolky mohla směle poměřovat.
A přirovnávání Budgie (což v překladu znamená andulka (koukněte na obálky jejich alb), no kdo tohle mohl jen vymyslet, nejspíš asi kapela sama, k Led Zeppelin, Deep Purple, nebo Black Sabbath co do syrovosti, riffovosti a opravdovosti hudebního jazyka, není vůbec od věci.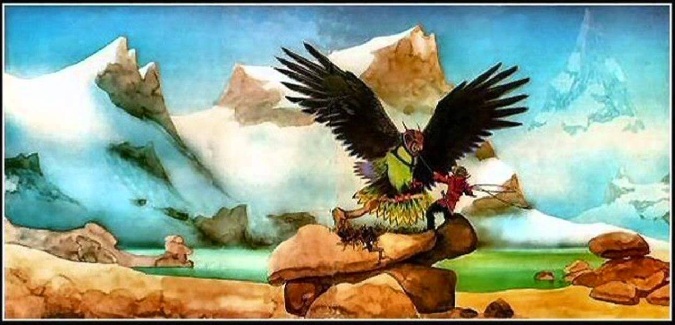 Budgie si u mne drží jedno nesmazatelné prvenství. Už navždy je budu mít zafixované jako kapelu, jenž zcela neochvějně zaujímá první pozici, co se týče dlouhověkosti výdrže přijetí jejich hudby za svou a akceptování jí v podobě jaká je. Ta naše společná známost může trvat víc jak jedno desetiletí, během kterého jsem je nesčetněkrát testoval, avšak vždy s totožným výsledkem. Po pár sekundách, někdy jsem vydržel i minuty, bylo učiněno rázné STOP! Nechutenství způsobené vysokánským hláskem zpěváka Burke Shelleyho se opakovalo do nekonečna. Tahle jeho hlasová hradba byla pro mne tak vysoká a dlouho nepřekonatelná, že pomýšlet na nějaké přizpůsobení se hudbě Budgie znamenalo nemožné.
Až jednou, při poslechu desky Pavlov's Dog – Pampered Menial, jsem se na Budgie rozpomenul, po osmapadesáté (alespoň:-) je znovu otestoval a najdenou, světe div se, bylo to tam. Pavlíkův shouter David Surkamp má podobně, ve stratosféře položený hlas jako Shelley a když mi najednou nevadil ten, byla vyšlapána cesta i pro hudbu Budgie.
Musím rovněž přiznat, že jako rodilý arťák mám k podobně syrové a drsné muzice občas výhrady a nešmakuje mi vždy toliko, jako učesanější soubory té doby, nebo let pozdějších. Ale Budgie jsou vysoký level. Ta nepřístupná venkovní šlupka je jen na odiv. Uvnitř bublá pěkně rozžhavený, do vysokých obrátek vyturovaný motor, který vás spolkne jako sardinku.
Hodně jsem přemýšlel, kterými Budgie začít poprvé. Mezi fans zřejmě nejoblíbenější, krapet přístupnější deska Bandolier vypadala jako zcela ideální volba. Ale nakonec jsem ustoupil a zvolil si třetí placku, recenzovanou Never Turn Your Back On A Friend. Moc se mi líbil motiv na obalu (i když ani ty další nevypadají zle) a při testu mne doslova sfouknul ústřední motiv/riff úvodní skladby Breadfan. Bylo vymalováno. Never Turn Your Back On A Friend je a bude tou navždy Budgie-první, čímž bylo sémě vzpomínek zaseto.
Pojďme k desce samotné. Skladba Breadfan obsazuje po zásluze pol position a patří díky svému neutuchajícímu energickému riffostroji k tomu nejlepšímu nejen na desce. Píseň doslova upaluje ve spurtujících kytarách a divokých melodiích. Ostré tempo, zápal, nasazení, ale i lehoulinké akustické přemostění za půlí a roztomile vyšívané obrazce klidného zpěvákova hlasu, to všechno nabídne úvod alba. Baby Please Don't Go je zase ohnivá až vás pálí v těsné blízkosti sluchovodů. Krásně sejmutá basa, rozverné tempo a roztomile naříkavý Burkeho vokál. Velká chvíle Tonyho klasické kytary a Shelleyho něžného vokálu přijde ve třetí You Know I'll Always Love You. Krása. Po malinko slabší You're The Biggest Thing Since Powdered Milk, přichází zlatý hřeb desky, slabikář metalové hry v tvrdé a nepředstavitelně hutné pecce In The Grip Of A Tyrefitter's Hand. Kytarové citace, bicí palba a basové orgie společně vytvářejí smyslné orgastické představení ohromné síly, připodobňujíce své řádění k ohavným běsem fašistické válečné mašinérie. Takovou nekontrolovatelnou silou tato skladba disponuje. Naštěstí právě včas následuje další porce odlehčení ve slaďoučké prázdninové ukolébavce Riding My Nightmare. No a na konec nepřijde Japonec, ale další ohromná věc pojmenovaná Parents. Do ní kluci nahečmali vše typické a zároveň i progresivně nové pro styl Budgie. Hymna jako hrom.
Teď jen přemýšlím, jakým sloganem tu recenzi zakončit. Co třeba otřepaným výrokem – o jednom z nejlepších alb sedmdesátých let? A možná nebudu ani moc daleko od pravdy.
SKLADBY:
1. Breadfan (6:10)
2. Baby Please Don't Go [Big Joe Williams] (5:30)
3. You Know I'll Always Love You (2:15)
4. You're The Biggest Thing Since Powdered Milk (8:51)
5. In The Grip Of A Tyrefitter's Hand (6:29)
6. Riding My Nightmare (2:42)
7. Parents (10:25)
All songs written by Bourge/Shelley/Phillips, except where noted.
SESTAVA:
Tony Bourge – lead guitar, acoustic guitar, vocals
Burke Shelley – bass, vocals
Ray Phillips – drums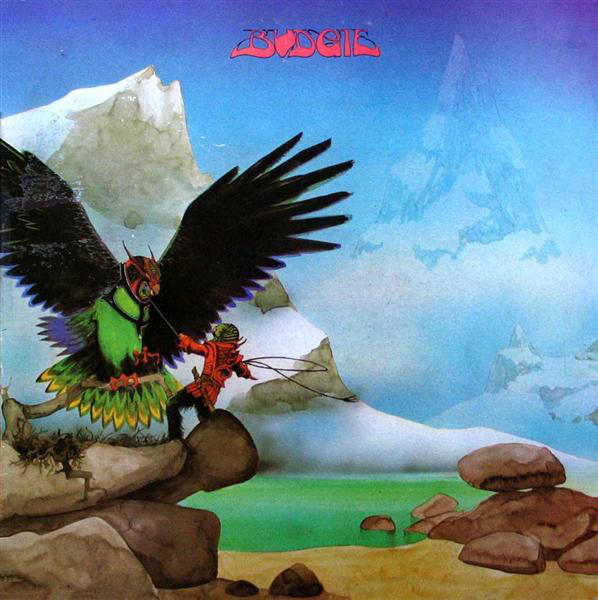 Never Turn Your Back On A Friend
Budgie
Hard Rock
MCA Records
1973
LP
7