CD RCA – ND 71781
Marná sláva, ale počínaje albem Chocolate Kings už to nejsou PFM tak, jak se mi líbí a jak je mám rád…
Jejich první dvě desky z roku 1972 se staly klasikami žánru a to samé by se dalo říct i o exportním titulu Photos Of Ghosts, vždyť je to vlastně jen znovu nahraná verze placky Per un amico (1972) s texty v angličtině. Čtvrté studiové album už cílilo na zahraniční trhy a tak vyšlo ve dvou jazykových mutacích – jako L'isola di niente v italštině a The World Became The World v anglině. Podobné to bylo i s následujícím Chocolate Kings s tím rozdílem, že tady už se s italštinou vůbec nepočítalo a nastalá situace vyžadovala nového, angličtinu ovládajícího frontmana. Takového, který si dokáže napsat texty a ví, o čem zpívá. Netuším, kolik potencionálních adeptů kapela zkoušela, ale nakonec vybrala Bernarda Lanzettiho ze skupiny Acqua Fragile a šestičlenná sestava PFM byla na světě.
Album Chocolate Kings se nahrávalo během června a července 1975 ve studiích Ricordi v Miláně a vyšlo v říjnu téhož roku u firmy Numero Uno. Prostřednictvím labelu Manticore se objevilo rovněž na pultech prodejen v Německu, v Anglii, ve Francii, nebo Japonsku a zmínit musím i licenční vydání od Asylum Records, určené pro trh v USA a Kanadě. Obsahuje pět skladeb, stylově rozkročených někde mezi art rockem a fusion, s výrazným vkladem houslí Maura Paganiho. Bohužel, ale časy pastorálního a melodického symphonic progu jsou pryč. Sem tam se sice nějakej pěknej moment objeví, ale jinak je to hozené spíš do jazzu, s důrazem na instrumentální ekvilibristiku. PFM dokazují svou hráčskou extratřídu a chrlí noty kadencí samopalu SA 58…
Úvodní From Under by se dala označit za spojující článek mezi starou a novou tvorbou PFM. Obsahuje pěkný, melodický a pravidelně se opakující leitmotiv, se kterým kontrastuje nadupaná a pěkně krkolomná instrumentální "dohra". V podobném stylu pokračuje i následující Harlequin. Z počátku balada, která postupně zrychluje, aby se přesně v polovině rozeběhla s větrem o závod. Kapela spustí nekompromisní, jazzrockovou jízdu s pelmelem divokých a v některých případech i docela disonantních sól a musel jsem si na ni zvykat, ale dá sa. Koneckonců, ta poslední minutka už je zase pěkná a patří k nejhezčím okamžikům celého alba.
Nejchytlavější a také nejkratší peckou na desce je titulní Chocolate Kings. Je to vlastně jediná píseň, jejíž melodii si dokážu zapískat i několikátej den po tom, co jsem si ji pustil a dala by se přirovnat ke starším šlágrům È festa (Celebration), nebo Generale. Je skutečně pěkná a píše povedenou tečku za první polovinou alba.
Ta druhá obsahuje jenom dvě skladby, osm minut dlouhou Out of the Roundabout a ještě o půl minutky delší Paper Charms a protože je těžké hledat v nich nějakej záchytnej bod, lezou do mě, jak do chlupatý deky. Po instrumentální stránce je to v pohodě, i když pronikavej zvuk houslí mi dává docela zabrat, ovšem co ty vokální linky? Jsou děsně kostrbaté a zpěv Bernarda Lanzettiho, kór ve vyšších polohách, vyloženě nepříjemnej. Vokalista je to par excellence, s výrazným hlasem, ale konkrétně v Paper Charms se vyloženě trápí a já trpím s ním. Je to zvláštní. V kapele Acqua Fragile ho mám rád, u Mangala Vallis (album Lycanthrope) miluju, ale na deskách PFM mi prostě nesedí.
Je to sotva pár dní, co jsem v souvislosti s Lanzettiho nejnovějším albem Horizontal Rain narazil na zajímavej rozhovor. V něm Bernardo mluvil hlavně o něm, ale zmínil i okolnosti kolem nástupu k PFM. Podle jeho slov ho kapela přijala tři dny před zahájením nahrávacích frekvencí a tak mě napadá, že ten materiál nemohl mít vůbec "zažitej", ale těžko říct. Autorsky se nijak zvlášť nepodílel ani na následujícím albu Jet Lag a třeba ho k tomu kapela ani nepustila. Nicméně, jsou to jenom takové moje dohady a nemusí na nich být ždibec pravdy…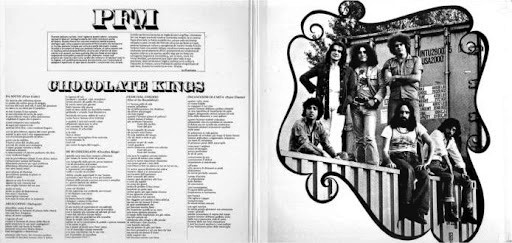 Moje nedatované vydání od RCA je v klasickém jewel boxu a kromě černými písmenky potištěného kotouče obsahuje jenom jednoduchej čtyřstránkovej booklet s kopií obálky původního alba a kredity. Fotografie, nebo texty písniček v něm nenajedete a nijak zvlášť spokojenej nejsem ani se zvukem. Je sice příjemně nabasovanej, ale i zvláštně "zahuhlanej" a určitě bych uvítal víc prostoru a čitelnějších detailů. Takhle je to taková houština tónů a proklestit si v ní cestičku je docela fuška.
První strana desky je vlastně v pohodě, ale ta druhá mě moc nebaví a k albu jako takovému se moc nevracím. Neříkám, že je to propadák, ale tomu srovnání s předcházející tvorbou se prostě nevyhnu a výsledek je poněkud tristní. Za mě slabší trojka.
SKLADBY:
1. From Under – 7:29
2. Harlequin – 7:48
3. Chocolate Kings – 4:39
4. Out of the Roundabout – 7:53
5. Paper Charms – 8:30
SESTAVA:
Bernardo Lanzetti – voce solista
Franco Mussida – chitarre, voce
Flavio Premoli – tastiere, voce
Mauro Pagani – flauti, violino
Patrick Djivas – basso
Franz Di Cioccio – baterria, percussioni, voce
Chocolate Kings
Premiata Forneria Marconi
Prog Rock
Numero Uno
1975
LP
5
CD RCA – ND 71781