Album 3 Jedeme Jedeme mě zastihlo v době, kdy jsem na domácí scéně "ujížděl" na LP Město ER a laťku jsem si ještě zvýšil Novou syntézou. Z těchto pozic "klesnout" k Olympiku nebylo nijak snadné – nicméně byla to česká bigbítová kapela, se kterou jsem začínal a stále jsem cítil ty tradice a určitý respekt.
Album měl rozevírací obal, což byl v té době malý zázrak. Myslím, že jiná bigbítová skupina na to nedosáhla. Možná to bylo tím, že úspěch a prodeje Olympiku v posledních třech stouply, tak se soudruh Supraphon rozhodl udělat něco navíc. LP jsem si koupil a snažil se s ní srovnat. Mnohé skladby jsem znal z koncertních vystoupení, na pódiu měly šťávu a očekával jsem, že tahle energie se přenese i do drážek dlouhohrajícího vinylu…
PĚT CESTUJÍCÍCH – Úvod zněl docela nadějně. Zahoukání parní lokomotivy a stereoefekt nám přivezl vlakovou soupravu až do pokoje. A už slyšíme Jandovu údernou kytaru, Kleinovy doprovody, Pacákovy breaky, Berkův klavír a Hauserovu dunivou baskytaru. Skladba má hodně energie a vtipný text, který má olympické nadsázky a humor, který byl nedílnou součástí jejich úspěchu. Berka fascinuje klavírními běhy v ďábelské jízdě za asistence dobře namazené rytmiky. Pacákův přiskřípnutý hlas zní jako rozpočítadlo a do bigbítu vstupují smyčce, dokonce i hoboj a pak se skladba zase rozběhne v divokém rytmu jako rozjetý expres. Varhany čeří zvuk a vytvářejí skvělé pozadí. Správný český bigbít s mrštnými Jandovými kytarovými vyhrávkami až do závěru s flažolety. Úvod par excellence!
KDYŽ JSEM BEJVAL TRAMP – Skladba, v níž je humoru požehnaně a samotné zpracování se tradičnímu bigbítu hodně vzdalovalo. Retro atmosféra je čitelná. Nicméně, nemyslím, že by to byla výstavní záležitost na albu. Humor na předešlých dvou albech byl sugestivnější.
MISTR DEN A LADY NOC – Lyrická balada, výrazně vybočující z olympické produkce. Hostující Jiří Stivín na flétnu dodá atmosféru a Janda zase klasicizující kytarový part. Hudební nokturno stavějící na melancholii a něžnosti, kterou prokreslují varhany a stylově uchopená rytmika. Náhle se ovšem do skladby prosadí bigbítová zemitost s patřičnou razancí a danými bigbítovými atributy až k závěru.
BROUK – Olympic a orchestr, tahle tendence se mi ani trochu nelíbila. Skladba jakoby určená pro Bratislavskou lyru. Na koncertech měla trochu jiné aranžmá – přitažlivější. Mezihra zní docela zajímavě a Janda se zde prosazuje, stejně jako Berka na klávesách. Příčná flétna přináší novou barvu a Pacákovy bicí jedou přesně a neomylně s působivými přechody. Instrumentálně zajímavé, ale odpreparování orchestru a nadbytečných smyčců mělo být jaksi logické. Kdoví, co stálo za aranžmá této skladby a jaké podmínky byly kladeny do prosazované koncepce(?!).
DANNY – Tato skladba je velmi silným příspěvkem albu. Není to sice klasický bigbít, ale Janda napsal výtečnou melodii a Rytíř dodal stejně skvělý epický text, který se vypráví jako příběh, má vnitřní napětí a další tušený plán. Koncertně byla píseň vždycky hodně aplaudována a myslím, že neztratila nic na svém vnitřním rozměru. Rytmické proměny a aranžérské finesy svědčí o tom, že Janda se naučil nejen skládat, ale i aranžovat a vytvořit skladbu se silným základem. To byla tehdy jeho devíza. Saxofonové sólo je dlouhé a možná mělo být vystavěno pro kytaru. Závěrečný sborový vícehlas je krásně zaranžován, nicméně výpůjčka od The Beatles (Hey Jude) je nepřeslechnutelná. Viz pacákovské povykování ve finále.
ELIXÍR – Opět tady máme orchestr s patetickým úvodem. Klavírní téma rozbíhá další melodickou skladbu. Text už začíná nabírat "poetiku" sedmdesátých let a vokální záležitost nemá chybu, přesto se mi zdá, že v této skladbě byla cílená snaha udělat hit. Plný velký zvuk, Jandova kytara ve stejné barvě, uchopení tónových proměn a závěrečné pokřikování na mě působí spíše dryáčnicky, než podmanivě.
BLÁZNIVEJ KIKI – Trochu psychedelického odéru, za mikrofon se postavil plachý Ladislav Klein. Skladba je formálně jednoduchá, přesto má údernost a bigbítovou přímočarost, kterou na Olympiku starých časů milujeme. Hauserova baskytara je výtečná a Pacákovy bicí se s ní rychle sžily. Janda vystavěl kytarové sólo úctýhodného typu, proč se ale vzdal barvy tónu? Jakoby vyčistil svůj sound, ale nejsem si jist, jestli to muselo být na celém albu. Berka za varhanami a trochu perkusivních zvuků se propojuje s dalším epickým příběhem. Poctivý bigbít.
BON SOIR, MADEMOISELLE PARIS – U mikrofonu je Pacák. Není to velký zpěvák, ale můžeme mu jeho zpívání věřit. Jde od srdce. Skladba je krásná balada ovlivněná návštěvou Olympiku v Paříži. Střídání akordeonů, klasické akustické kytary, smyčců a flétny je velmi zdařilé. Píseň byla ovšem počátkem devadesátých let přezpívána Petrem Mukem, který do ní vložil pateticko-dramatický náboj a zmystifikoval novou generaci natolik, že uvěřila tomu, že je to jeho skladba. Nostalgické, dumavé a hladivé. Balada, na kterou se asi hned tak nezapomene.
STRÁŽCE MAJÁKU – Melodicky vystavěná skladba. Příliš mě ale neoslovila, navzdory údernému refrénu. Případá mi jako křečovitá snaha spojit pop s bigbítem, zase s tou ambicí pro Bratislavskou lyru, nebo Děčínskou kotvu. Hauser a Pacák jedou skvěle v rytmických vazbách, stejně jako hostující Stivín na flétnu, ale chybí mi větší bezprostřednost a cítím zde konstrukci.
TOBOGÁN – Údernost a zajímavá unisona baskytary a kytary za klavírního doprovodu. Janda hraje bravurně a odvázaně, zase bohužel bez barvy tónu. Tohle je správný olympický odvaz v prvním plánu, který zabíral při poslechu doma i na koncertech. Hauser byl technicky zajímavější baskytarista než Chrastina, aniž bych chtěl snižovat jeho roli a úroveň, přesto byl v hierarchii kapely "jenom" další hudebník, který se v kapele dlouho neohřeje. Závěrečná řádění ve skladbě je ovšem labutí písní starého dobrého Olympiku. 
Nevýbojný Hauser byl odejit, Pacákův odchod byl velmi špatný, jak veřejně přiznal v televizi po letech, za Jandova mlčení a koukání do země a plachý Klein byl z kapely vyhozen, že se z toho málem zhroutil. Janda přešel z kolektivní demokracie na diktaturu a ovládl celý Olympic. Ve skupině zůstal do dalších let jenom zádumčivý Berka, vynikající klavírista. Na elektrické piano byl nevýrazný, varhaník byl podprůměrný. Z Olympiku se vytratilo charisma a bezprostřednost a nejsem si jist, jestli se tam ještě v dalších letech vrátily.
Některé skladby zde být nemusely a mohly vyjít na singlu a jiné měly mít odlišné aranžmá. Potom bych se odhodlal k suverénnímu hodnocení. ANDĚL, KUFR, OTÁZKY, ČARODĚJKA by se na albu vyjímaly jako rodinné stříbro, ale obecně můj dojem není tak jednoznačný jako z prvních dvou alb. Ano, bylo lépe nahráno, zahráno, ale (subjektivně pro mě) to bylo poslední album, které jsem si od Olympiku koupil a byl schopen bez uzardění poslouchat. Další vývoj šel kolem mě. Když Lola pila pátý drink, Tony, Co tě napadá, Jdou děti, jdou, Výlet pana Broučka, Slzy tvý mámy šedivý, Únos, Mám chuť žít to byla pro mě objednávková záležitost, která ryzí bigbít posunula do angažované pozice skupiny SSM, strany a vlády. Olympic ostříhal vlasy, začal se chovat konformně a v televizních estrádách byl vedle Gotta, Štědroně, Urbánkové, Vondráčkové, Zicha, Černocha.
Ano, v r. 1984 se mi líbil duet Jandy a Petry Janů ve skladbě Jedeme dál. To byl poctivý český bigbít a ne jeho karikatura. Jandovi přiznávám schopnost psát přehledné melodické písničky a srozumitelný a čitelný zpěv, to je ale tak všechno. Omlouvám se všem skalním příznivcům Olympiku, kteří v osmdesátých letech mávali rukama se zapalovači k Jandovu mudrování, poučování a jeho podbízivým melodiím, ale jel jsem už v jiném vlaku a jiným směrem…
Tři hvězdičky s povzdechem.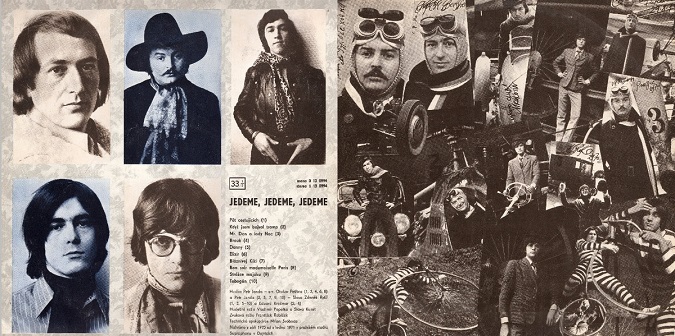 SKLADBY:
01. Pět cestujících 5:19
02. Když jsem bejval tramp 2:04
03. Mr. Den a lady Noc 3:16
04. Brouk 4:07
05. Dany 6:02
06. Elixír 3:11
07. Bláznivej Kiki 3:31
08. Bon soir mademoiselle Paris 3:45
09. Strážce majáku 3:21
10. Tobogán 4:49
Hudba: Petr Janda (1-10)
Text: Zdeněk Rytíř (1, 3, 5-10), Eduard Krečmar (2, 4)
NOTES:
Nahráno v září 1970 až v lednu 1971 v pražském studiu Supraphonu v Dejvicích.
(Olympic si dovoluje vyslovit poděkování za spolupráci Jiřímu Stivínovi.)

SESTAVA:
Petr Janda – sólová kytara, zpěv
Ladislav Klein – doprovodná kytara, zpěv
Jan Hauser – baskytara, zpěv
Jan Antonín Pacák – bicí, zpěv
Miroslav Berka – piano, varhany
+
Orchestr řízený Vladimírem Popelkou (1, 3, 4, 6, 8)
Jiří Stivín – flauta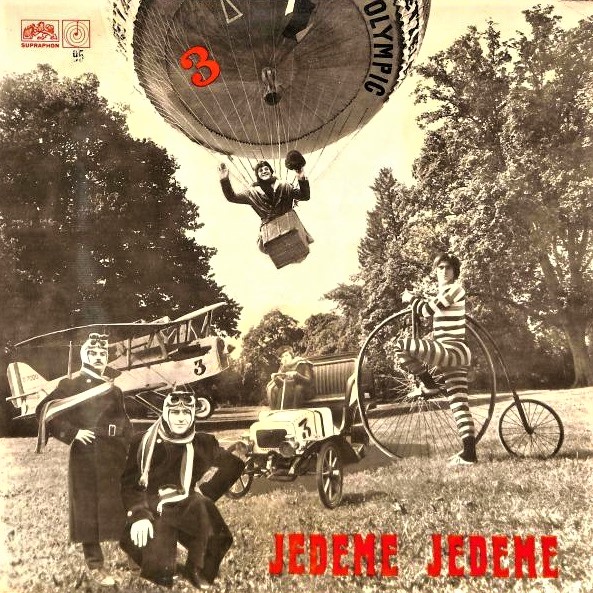 3 Jedeme Jedeme
Olympic
Psychedelic Rock
Supraphon
1971
LP
10