Pokud by se člověk soustředil jen na doom, occult, psychedelic anebo stoner hard rock, tak by se z té ponurosti, temnoty a tun táhlých bažinatých riffů musel pravděpodobně zbláznit. Ovšem fanda, který si v nekonečných regálech s touto muzikou dokáže dobře vybrat,  si může nahrávku z této oblasti vychutnat, jako velmi chutný desert.
Dnes vysoce váženou kapelou z této oblasti jsou Witchcraft ze švédského Örebra. Letos oslavili dvacetileté výročí své existence a během této doby stihli natočit šest desek, každou zvukově i obsahově trošku odlišnou. Naprostým unikátem je loňské akustické CD se zavádějícím názvem Black Metal (2020). Z jejich starší produkce mne nejvíce zaujalo jejich druhé elpíčko pojmenované Firewood. Dle mého názoru jej kritika tak nějak bez většího zkoumání zařadila do škatulky vintage hard rock, či doom metal, což je označení velmi vágní. Witchcraft totiž, na rozdíl od milionu podobně řazených spolků vychází spíše z odkazu amerických Pentagram, než jejich anglických konkurentů Black Sabbath. Jejich projev je oproti nim částečně kultivovanější, melodičtější a Magnus Pelander v roli zpěváka podává technicky přesvědčivější výkony, aniž by tratil něco z jinak hypnotického projevu kolegy Ozzyho. Zvuk zkreslených kytar by se dal přirovnat k tomu z albu Master of Reality, není však tak podladěný a obhroublý, ale spíše sametově příjemný na poslech.
Celkově album nezní ani nijak ponuře, ale spíše svěže a uvolněně. V hard rockových postupech se jakoby kapela částečně vracela ke kořenům rhytm and blues, tak jak jej potom drtili třeba Grand Funk Railroad, nebo k bluesovým prvkům v podání Free. Při soustředěném poslechu lze narazit i na odkazy rock'n'rollu, Eagles nebo Doors.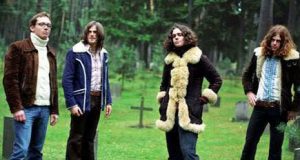 Pusťe si třeba hit Mr. Haze a zaposlouchejte se do strhujícího rytmu písně, do přesných výšivek bluesových kudrlinek kytaristy, či jemně psychedelického závěru ne nepodobnému kapele Jima Morrisona. Na light verzi Sabbatů narazíte ve Wooden Cross, v nahrávce se objevuje i maniakální smích po vzoru ukusovatele netopýřích hlav. Skutečné podoby s tímto vzorem se dočkáte až v Queen of Bess, kde i kytary dostávají patřičný zatěžkaný sound, nebo na konci Chylde of Fire, kde je dokonce ocitován motiv jednoho VELMI známého hitu. Naproti tomu, odlehčená instrumentálka Merlin's Daughter nabízí potřebné zklidnění.
Znakem většiny písniček Witchcraft na tomto albu je jejich členitost, takže tam, kde jiné kapely v úvodu songu odpálí temný riff, aby jej do konce stokrát variovaly, zde se nálada v průběhu času několikrát promění. Tak tomu je třeba v Sorrow Evoker, kde po prvotním riffu zazní folkové kytary (dokonce i flétnový doprovod Willa Summerse z prog folkových Circulus), v druhé půli je zase čas na pořádnou rockovou jízdu plnou kytarových sól. Dojde i na překvapení v podobě utajené skladby v závěru alba – po několika minutách ticha po hypnotické Attention! nečekaně rozezní aparaturu cover od Pentagram – When The Screams Come, jako pocta velkým Pelanderovým vzorům a vlastně i kamarádovi Bobby Lieblingovi z tohoto spolku.
Závěrem: toto album Witchcraft těží z populární vlny zájmu o vše, co vzniklo v sedmdesátkách, podobně jako třeba Wobbler. Přes všechny tyto výtky při pozorném poslechu dokáže vnímavému posluchači nabídnout mnohem více, než by se na první poslech (nebo po přečtení pár recenzí) dalo předpokládat. Pro fandy Black Sabbath a blues rocku z přelomu 60. a 70-tých let jako stvořené. Skvělé hudební výkony a pěkné aranže ukryté pod povrchem mě ani po několika posleších nezklamaly. Výbornej retro zvuk, kterej vzešel s dobových nástrojů a postupů z dob rozkvětu tohoto stylu. V rámci diskografie kapely dávám plný počet!
01. Chylde of Fire (2:50)
02. If Wishes Were Horses (3:16)
03. Mr Haze (3:41)
04. Wooden Cross (I Can't Wake the Dead) (4:46)
05. Queen of Bees (5:13)
06. Merlin's Daughter (1:32)
07. I See a Man (3:59)
08. Sorrow Evoker (5:44)
09. You Suffer (2:43)
10. Attention!/When The Screams Come (11:40)

Obsazení:
Magnus Pelander – Vocals, Guitars
John Hoyles – Guitars
Ola Henriksson – Bass
Jonas Arnesén – Drums
Firewood
Witchcraft
hard rock
Rise Above Rec.
2005
CD
10
CD