CD Ma.Ra.Cash Records – TAVR 022005 /2005/
Italská art rocková skupina Mangala Vallis vznikla v roce 1998 a o čtyři roky později natočila svoje první, dlouhohrající album pojmenované The Book Of Dreams. To sklidilo poměrně slušnej ohlas jak u kritiky, tak fanoušků a bylo vydáno ve dvanácti zemích světa. Lycanthrope je druhým zářezem v diskografii skupiny a vyšlo v říjnu 2005…
Pokud se vám dostane náhodou do ruky a otevřete si booklet, nejspíš vám ta jména nic neřeknou, ovšem jedno by mohlo – Bernardo Lanzetti. Si! Azurově modří už vědí – přesně ten Lanzetti, kterej kdysi zběhl od kapely Acqua Fragile a přidal se k daleko populárnějším Premiata Forneria Marconi. Z jejich spolupráce vzešla tři studiová alba, Chocolate Kings z roku 1976, Jet Lag (1977) a Passpartù (1978). První dvě jmenovaná mám ve sbírce a přiznávám, že Lanzettiho hlas mi tady úplně nesedí. Nahrávky Lycanthrope a Bernardova zpěvu v angličtině jsem se proto tak trochu bál, naštěstí však úplně zbytečně.
Album je, jak se na správnou art rockovou desku sluší a patří, koncepční a po necelé dvě minutky dlouhé, hluk velkoměsta připomínající introdukci přichází do čtyř kapitol rozdělená Werewolf Suite. Už od prvních tónů je jasné, že se ve společnosti Mangala Vallis bude cítit dobře ten, kdo má rád tradiční prog rock s kořeny v sedmdesátých letech minulého století. Já ano, a tak si vychutnávám analogovej zvuk klávesových nástrojů, mellotronové plochy, členité bicí a pěkně zvýrazněnou, kovově tepající basovou linku. Celá první část (Cosmotraffic Jam) je ve svižném tempu, s četnými zvraty a pěkným kytarovým sólem hostujícího Andrei Forniliho navrch.
Po klavírní etudě je tu díl druhý, Call Me Alias. Řeknu vám, jak nemám rád rockové balady (většinou na mě působí podbízivě, vlezle a mnohdy až vyloženě trapně), tak tahle mě úplně rozsekala. Už po mellotronové melodii v samotném úvodu skladby jsem na měkko a když se přidá akustická kytara a vzápětí i Bernardo Lanzetti, beru si provaz, žebřík a lezu na půdu. V jeho hlase se odráží tolik smutku a bolesti, že padám na kolena a v duchu se mu omlouvám za všechnu kritiku, kterou jsem na něj v minulosti seslal. Třešničkou na dortu je pak krásně vystavěné a melodické kytarové sólo, za které by se nemusel stydět ani David Gilmour. V části třetí, pět a půl minuty dlouhé Lycanthroparty, se muzika stáčí k jasnějším obzorům, skladba je to až skotačivě živá a pěkně ryt – mic – ká. Nejenom díky vokálu mi to připomíná něco od již výše uvedených PFM, nu a Hum/Animal Song už je jen pompézní tečkou za celou suitou…
Ovšem album ještě nekončí, jsou tu další tři samostatné skladby a první z nich je třináct a půl minuty dlouhá The Boy That Howls At The Moon. Před lety k ní byl natočenej aj docela pěknej videoklip (no, on je to spíš už krátkometrážní film), jehož prostřednictvím jsem se s deskou seznámil. Zprvu si to frčí pořád po stejné koleji, jsou tady tuny mellotronu, táhlých kytarových sól i kouzelných melodií a připomínat to může kapely typu Pallas, nebo Pendragon, ovšem bacha! Najednou je tady až nečekaně ostré přitvrzení a tak to celé dostává takřka progmetalovej nátisk. A následující instrumentální pasáž, složená z kytarových a klávesových sól, je doslova lahodná.
Ani předposlední The Mask si s těmi předešlými v ničem nezadá. Úvodní instrumentální smršť je přímo strhující radostí z hudby a dávka adrenalinu vpravená přímo do srdce. Dokonce si tu foukne (byť velmi nenápadně) i hostující David Jackson z Van Der Graaf Generator.
Sbohem a šáteček, závěrečná a baladicky laděná The Transparent And The Obscure je už jen takovým rozloučením s příběhem i deskou. Objevují se tu fragmenty předcházejících písní a rozhodně není špatná, ale opakuje již jednou vyřčené a jenom natahuje stopáž (total time 62:21) už beztak dlouhé desky.
Ještě bych doplnil pár informací k samotnému nosiči: cedlo je v klasické plastové krabce, pěkně udělanej booklet obsahuje texty skladeb, sestavu a pár fotografií. Zvuk se mi zdá být velmi dobrým a detailním, žádné "moderní trendy" a neduhy s tím spojené na něm nepozoruji.
Za čtyři.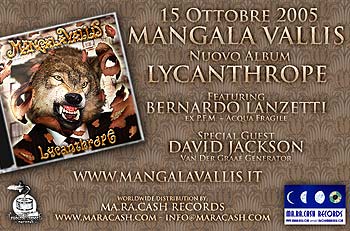 SKLADBY:
1. Echo Absolute (1:45)
———————————————————————————
Werewolf Suite:
2. Cosmotraffic Jam (9:49)
3. Call me Alias (7:14)
4. Lycanthroparty (5:24)
5. Hum/Animal Song (2:51)
———————————————————————————
6. The Boy that Howls at the Moon (13:36)
7. The Mask (11:43)
8. The Transparent and the Obscure (9:57)
Total Time: 62:21
SESTAVA:
Bernardo Lanzetti – lead vocals
Mirco Consolini – electric & acoustic guitars
Enzo Cattini – keyboards
Riccardo Sgavetti – bass guitars
Gigi Cavalli Cocchi – drums, percussions, chorus vocals
+
Andrea Fornili – guitar solo (2)
Nicola Milazzo – guitar (3,4,6,7)
David Jackson (VdGG) – saxophone (6,7)
Alessandra Rossi – chorus vocals (8)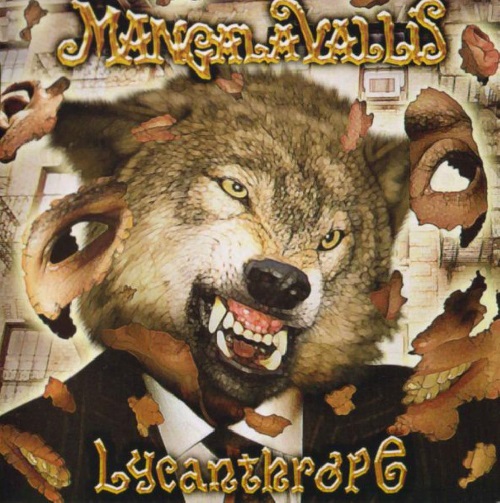 Lycanthrope
Mangala Vallis
Prog Rock
Ma.Ra.Cash Records
2005
CD
8