Parádní "prehistorická" pecka pro posluchače, neboli 5 P…
O existenci téhle "první heavymetalové bandy na světě" ze zámoří jsem se dozvěděl teprve v první dekádě 21. století. Když jsem si jejich dvě alba ze 70. let o něco málo později poslechl, nemohl jsem jinak, než dát za pravdu všem, kteří jsou z nich rovněž nadšeni.
I mne "Baltimorova hudba", zejména první z obou nahrávek, hodně oslovila a chytila. (Podobně, jako u jejich "ostrovních souputníků" Wicked Lady.)
Co psát k výtečnému syrovému hard rocku, na kterém, přes množství "těžce kovových" pupenů, kořeny zapuštěné do "tvrdé skály" nelze přeslechnout, a neopakovat přitom slova, jež byla na adresu skupiny Sir Lord Baltimore již napsána?
Hutná, výživná a chutná porce bez zbytečných omáček, příloh a obloh… Pořádný kus polosyrového steaku na posilněnou před (možná posledním) bojem. To mám rád!
Sice si nemyslím, že by šlo o nejtvrdší muziku, nahrávku atd., na svou dobu to ale rozhodně síla je; a protože maximální, taky mé hodnocení je takové.
A teď odplouvám na korábu z kostí do divokých, drsných a bouřlivých vod…
01. Master Heartache (4:37)
02. Hard Rain Fallin' (2:56)
03. Lady Of Fire (2:53)
04. Lake Isle Of Innersfree (4:03)
05. Pumped Up (4:07)
06. Kingdom Come (6:35)
07. I Got A Woman (3:03)
08. Hell Hound (3:20)
09. Helium Head (I Got A Love) (4:02)
10. Ain't Got Hung On You (2:24)
Louis Dambra – guitars
Gary Justin – bass
John Garner – drums & vocals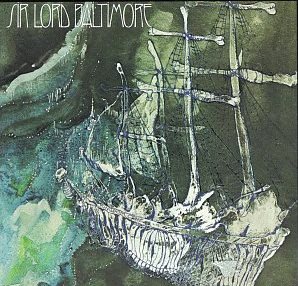 Kingdom Come
Sir Lord Baltimore
Hard Rock
Mercury
1970
LP
10