Máte radi monotematické, dlhé kompozície a opusy typu Thick As A Brick alebo A Passion Play od JETHRO TULL, Supper's Ready od GENESIS, Tarkus od tria EL&P, prípadne YESovské perly typu Close To The Edge, The Gates Of Delirium alebo čokoľvek z dvojalbumu Tales From Topographic Ocean? Pre tých, čo odpovedia kladne, vrele odporúčam 50 minútovú suitu Mei, plnú progresívneho symfonického rocku, od ECHOLYN, jednej z najzaujímavejších a najinvenčnejších skupín z USA.
V čase nahrávania albumu štvorčlenná zostava kapely + hostia stvorili jedno zo svojich vrcholných diel (vlastne každé ich vydané CD je v podstate hudobná udalosť konkrétneho roku). Na rozdiel od predošlého radového albumu Cowboy Poems Free (2000), ktorý na ploche 60 minút obsahuje 14 kratších skladieb, avšak s jednotnou tématikou, tentokrát nesmierne množstvo hudobných nápadov zjednotili do jednej, mamutej suity (podobným spôsobom, ako GENESIS spomínanú Supper's Ready). Duchovnými otcami a výlučnými skladateľmi tohoto projektu sú gitarista a spevák Brett Kull a klávesový mág a spevák Chris Buzby. Pre znalcov ECHOLYN je to samozrejmosť, ako boli napr. Lennon/Mc Cartney u BEATLES, alebo Page/Plant u LED ZEPPELIN.
Je naozaj ťažké popísať toto dielo:
Hutné a dramatické pasáže sa striedajú s jemnejšími a decentnejšími plochami, gitara Bretta Kulla je tu ostro rocková, inde s nádychom bluesu, alebo s použitím jazzových motívov. Hra Chrisa Buzbyho (vyštudovaný muzikant s orientáciou na jazz) na klávesových nástrojoch je taká špecifická, že je problém prirovnať ho k nejakému vzoru. Nesmierne pôsobivý, príťažlivý a naliehavý je aj vokál hlavného speváka a basgitaristu Raya Westona. A nedá sa zabudnúť ani na špecifický spôsob hry na perkusie v podaní Paula Ramseya.
Už pri stručnom hodnotení albumu As The World som spomínal, že inšpiračným zdrojom kapely boli a sú najmä raní GENTLE GIANT. Spôsob spevu jedného hlavného vokalistu a ďalších dvoch backingových na tomto albume dotiahli takmer ku úplnej dokonalosti. To, čo kedysi dokázali azda len GENTLE GIANT a YES, dokážu hravo aj ECHOLYN!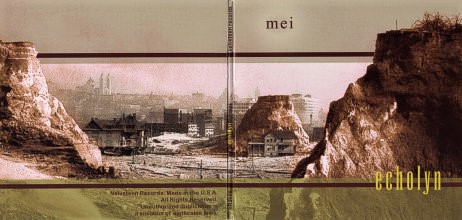 Neodpustím si na záver trochu štipľavú poznámku:
Kto raz objaví muziku ECHOLYN, jej pôvab, rôzne tajné zákutia, skryté finesy, ale najmä nesmiernu pestrosť a rôznorodosť, zväčša odstaví na druhú koľaj aj také etablované kapely tohoto žánru, jako sú ENCHANT, MAGELLAN, SHADOW GALLERY, ba dokonca aj niektoré albumy SPOCK'S BEARD! ECHOLYN je kapela pre skutočných, takmer večne nespokojných, progresivistov – hľadačov!
SKLADBY:
1. Mei (49:33):
— I. Hope (3:58)
— II. Absence (4:22)
— III. Interlude: Abandoned (0:21)
— IV. Open Road (3:14)
— V. All That's Golden (4:05)
— VI. Whispers (6:59)
— VII. Pride, Part I (2:08)
— VIII. Pride, Part II (2:54)
— IX. Infernal Scratch (6:18)
— X. Hope Renewed (2:50)
— XI. Shadows (4:49)
— XII. Love Remains (1:33)
— XIII. Recovery Overture (3:52)
— XIV. Bound for Home (2:11)
ZOSTAVA:
Raymond Weston – lead & backing vocals, bass
Brett Kull – guitars, lead & backing vocals
Christopher Buzby – keyboards, backing vocals, orchestral score
Paul Ramsey – drums, percussion
+
Janosh Armer – violin
Emily Botel-Barnard – violin
Jonathan Atkins – cello
Sarah Green – flute
Jian Shen – clarinet
Eric Huber – vibraphone, marimba, timpani, tambourine
Jordan Perlson – percussion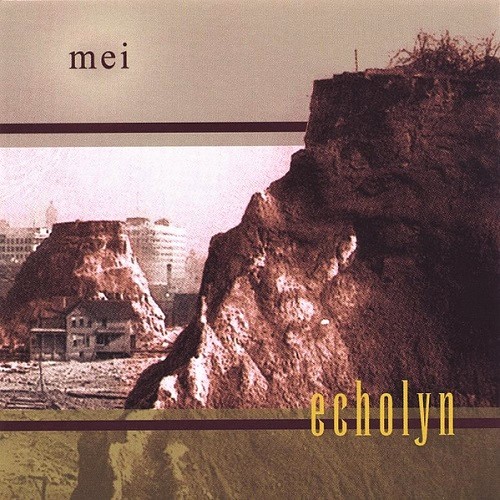 Mei
Echolyn
Prog Rock
Velveteen Records
2002
CD
1