Savoy Brown (původně ještě Blues Band) je jedna z řady bluesrockových skupin, které se v Anglii etablovaly v šedesátých letech. Vznikla v Battersea, jihozápadním Londýně a od prvopočátku byl jejím frontmanem a vůdčím mozkem kytarista Kim Simmonds. Podařilo se jí prorazit po společném koncertu s Cream a od sedmašedesátého roku měla nahrávací kontrakt s labelem Decca. 
Nevýhodou skupiny bylo, že se Simmondsovi nepodařilo trvaleji udržet členskou základnu a tak se hudebníci v kapele střídali až příliš často. Někdy to bylo ku prospěchu, ale spíš bych řekl, že to bylo nevýhodou. Publikum si nestačilo zvyknout na nové tváře a některý hudební materiál se zase nestačil koncertně "usadit". Možná měl název kapely znít spíš Kim Simmonds And The Savoy Brown a lépe by to vystihovalo stav věcí. Album Looking In v plejádě jejich nahrávek považuji za jedno z nejlepších – ne-li přímo nejlepší.
GYPSY – zadumaná kytarová studie jako úvod alba má korespondovat bluesovou melancholii…
POOR GIRL – energický rockový riff sází na údernost a přístupné uchopení hudební formy. Dave Peverett se jako zpěvák ujímá své role. Simmonds rozjíždí sólové téma na kytaru, v němž prokresluje náladotvornost skladby. Tone Stevens svou baskytarou hraje sice v jednoduchých linkách, ale skvěle se propojuje s baterií bicích nástrojů Rogera Earla. Simmonds si pohrává s tóny, které elasticky ohýbá jakoby byly z plastu…
MONEY CAN'T SAVE YOUR SOUL – klavírní téma v pomalém tempu zvolna rozjíždí skladbu, do které elektrická kytara podporovaná wah wah pedálem prokresluje tónové obrazy. Lonesome Dave Peverett do svého vokálního projevu vkládá vroucnost a dynamické odstínění. Náladotvorné blues podle všech pravidel, do kterého se poněkud nezvykle z pozadí přidávají conga hostujícího Owena Finnegana. Prolínání klavíru a lehce kvákající kytary vytváří opakující se, ale přesto nosné pozadí. Peverett jako zpěvák vykazuje velmi slušný potenciál. Zajímavé pojetí…
SUNDAY NIGHT – kombinace Simmondsovy elektrické kytary bez zkreslení a Peverettovy akustické kytary vytváří velmi příznivé prostředí pro skladbu. Stylotvorné boogie s citlivě sázenými basy a swingujícími bicími. Uvolněná nálada, která v další fází změní rytmické členění a za podpory percussion (conga) promění skladbu do jakéhosi santanovského derivátu, v němž hypnoticky se opakující baskytarové tóny vytvářejí napětí, umocňované rozechvívanými tóny Simmondsovy elektrické kytary…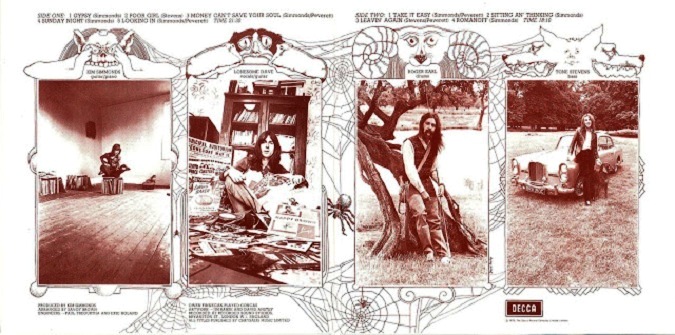 LOOKING IN – Simmonds a Peverett si předávají kytarové party. Údernost rytmiky a přímy tah na branku přináší rockově koncipovanou skladbu s akcentovaným kytarovým tématem. Pohybujeme se ve středním tempu a základní téma je rozvíjeno uměřeným způsobem. Simmonds místy používá hraní v oktávách, podle wesmontgomeryovského modelu. Conga se už na albu "zahnízdila". Simmonds si pohrává s tóny v daných dimenzích a prokresluje nekomplikovanou harmonii…
TAKE IT EASY – zase tu máme dumavé kytarové téma. Kytary hrají v oktávách v bluesové atmosféře a Peverett citlivě frázuje a dotváří celou atmosféru skladby, do níž zvolna a nenásilně vstupuje rytmika. Umírněný sound deklaruje i obsah textu v mírně konejšivém duchu, zbavený jakýchkoliv emocionálních erupcí. Simmonds hraje čistým tónem, bez zkreslení, s citem a prožitkem, který zdařile přenáší i na posluchače. Nelze v ní přeslechnout inspiraci Elmore Jamesem, ale v méně živočišném uchopení…
SITTING AN' THINKING – o poznání rychlejší skladba s prokreslovanými tónovými obrazy elektrické kytary. Roger Earl vstupuje do tématu svými svižnými bubenickými přechody, čímž vzrušivým způsobem narušuje obecnou poklidnost alba, což je ku prospěchu věci. Simmond a Peverett si v téhle instrumentálce dopřávají prostor pro vzájemné kytarové prolínání a nedělají to vůbec špatně…
LEAVIN' AGAIN – úderné boogie dostává Savoy Brown do varu a Simmonds konečně zvolí i jinou barvu tónu. Ve skladbě se dostává do popředí Stevensova baskytara, která dodává tématu patřičnou živost. Kytary jsou jaksi zasunuty do pozadí a Peverett se opírá do hlasu. V mezihře se dostávají kytary do středobodu a stereofonní efekt, který trochu pokulhával, se pojednou ocitné v žádané rovnováze. Album se blíží k vrcholu a Savoy Brown úderně tlačí na dynamiku, ale dochází ke ztišení a Simmonds opět hraje v oktávách a pohrává si kreativně s tóny. Skladba v opakujícím se schématu opět přidává na dynamice a hraje se zde jako o život. Stevensovy basy jsou velmi účinné a mají potřebu prodrat se do popředí k ohýbaným tónům elektrických kytar. Po delší odmlce se do skladby vrací Peverettův přiostřený hlas, který má v sobě jakousi vntřní naštvanost… Výtečná práce po všech stránkách!
ROMANOFF – závěrečná skladba (třebaže s jiným názvem) přináší úvodní melancholické kytarové téma… Výlet je u konce.
Albu se nedá nic zásadnějšího vytknout. Možná mohly do aranžmá proniknout tu a tam varhany nebo elektrické piano, ale to zjevně Simmonds neměl v úmyslu. Album Looking In mě zaujalo natolik, že mu dávám pět hvězdiček!
Nespokojenost mohu projevit jenom v tom ohledu, že se těsně před koncem sedmdesátého roku tato sestava Savoy Brown rozešla. Peverett, Stevens a Earl se spojili se slide-kytaristou Evansem a založili jakýsi derivát Savoy Brown, který pojmenovali Foghat. Napadá mě, že situace byla velmi podobná stylově diametrálně odlišné skupině Atomic Rooster. Od varhaníka Cranea tehdy odešla kapela a vznikli Hard Stuff (jako jejich derivát). Foghat, to už je jiná kapitola. Byli údernější, ale nemyslím si, že by přesáhli Savoy Brown.
SKLADBY:
1. Gypsy /Simmonds/ 0:59
2. Poor Girl /Stevens/ 4:07
3. Money Can't Save Your Soul /Simmonds/Peverett/ 5:31
4. Sunday Night /Simmonds/ 5:23
5. Looking In /Simmonds/Peverett/ 5:17
6. Take It Easy /Simmonds/Peverett/ 5:41
7. Sitting An' Thinking /Simmonds/ 2:51
8. Leavin' Again /Simmonds/Peverett/ 8:27
9. Romanoff /Simmonds/ 1:02
SESTAVA:
Kim Simmonds – guitar, piano
Lonesome Dave Peverett – vocals, guitar
Tone (Tony) Stevens – bass
Roger Earl – drums
+
Owen Finnegan – congas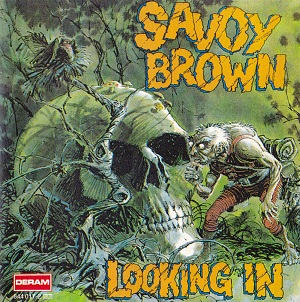 Looking In
Savoy Brown
Blues Rock
Decca
1970
LP
9