"Can you tell me where my country lies?"
Said the uni faun to his true love's eyes…
Takto znie úvodný verš z geniálneho090 albumu Selling England by the Pound ešte kompletných Genesis z úst Petera Gabriela.
"Genesis. Soundscape. Project", alebo "album skladieb Genesis, ktoré Genesis nikdy nenahrali", to sú podtituly súboru dvanástich skladieb a takmer 77 minútového materiálu dvoch zo Švédska pochádzajúcich nadšencov a fanúšikov tvorby raného a stredného obdobia tvorby tejto zásadnej kapely na mape art-rockového sveta.
Nad Sylvan (spev, gitary, basa, klávesy a bicie) a hráč na klávesové nástroje a tvorca celkového zvuku nahrávky Bonamici (občianskym menom Christian Thordin) sa spoznali cestou internetového serveru skalných prívržencov Genesis a po dvoch rokoch skúšania a ďalších takmer piatich rokoch nahrávania a pilovania detailov albumu prišli s kožou na trh.
Áno, vlastne z každého detailu tohto diela dýcha na nás duch a atmosféra Genesis rokov 1971-1978. Nad Sylvan spieva v pokojnejších pasážach ako Phill Collins, v dramatických polohách ako Peter Gabriel, ba frázovaním pripomína aj Fisha z Marillion. Takmer osem minútová inštrumentálka Rehacksis znie skutočne ako nikdy nevydané medley Steva Hacketta z jeho staršej tvorby, v To the Green Faerie intonuje Nad Sylvan ako Phill Collins v Inside and Out, prostredná časť 14 minútovej epickej skladby Quest for the Last Virtue silne evokuje záverečnú časť Entangled, intro nemá ďaleko do Dancing with the Moonlight Knight a Nad Sylvan má farbu hlasu Slippermena z The Lamb Lies Down On Broadway.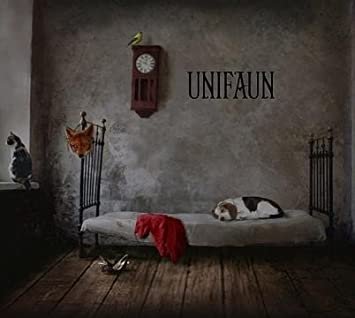 Ešte v 80. rokoch zložená skladba Mr. Marmaduke and the Minister Nadom Sylvanom ako keby vypadla z kontextu albumu Nursery Cryme, mrazivá, sugestívna A Way Out akoby bola sestrou The Carpet Crawlers, veselá Welcome to the Farm pojednáva o výprave do Surrey, do oblasti známej ako The Farm, čo je miesto, kde sa stretávajú fanúškovia Genesis. Kratučká klávesová Bon Apart je štylisticky akoby vypadla z albumu Tonyho Banksa A Curioous Feeling a záverečná inštrumentálka End-or-Fin je evidentne inšpirovaná Duke Travels / Duke End, pričom názov skladby je evidentne verbálnou parafrázou identicky umiestnenej Los Endos… Na albume je ešte veľa ďalších perličiek a drobnôstiek s priamym odkazom na tvorbu Genesis a každý pozorný poslucháč a znalec tvorby vzorov tandemu Unifaun si ich iste nájde.
Isteže, ani jeden z nich nedosahuje fenomenálne inštrumentálne výkony gitaristu Steva Hacketta, klávesáka Tonyho Banksa, ani bubenícke schopnosti Philla Collinsa (živými bicími vypomohol aj Rolf Holström), ale ja som bol vždy prívržencom klonov tzv. dinosaurov v art rocku a (vydarených) klonov Genesis zvlášť. Mám z toho celkom príjemný pocit, že okrem škótskych Citizen Cain a talianskych The Watch pribubol aj Unifaun. Takéto kapely, projekty a ich albumy prinášajú akúsi príjemnú a pozitívnu hudobnú nostalgiu a chvíľkový únik späť do 70. rokov. Čo je potrebné art rockerovi viac?
SKLADBY:
01. Birth of a Biggie (7:37)
02. To the Green Faerie (6:16)
03. Mr. Marmaduke and the Minister (7:59)
04. Swingers Party (5:48)
05. Rehacksis (7:41)
06. Quest for the Last Virtue (13:57)
07. A Way Out (6:18)
08. Finistere (2:36)
09. Welcome to the Farm (4:30)
10. Maudlin Matter (4:09)
11. Bon Apart (1:28)
12. End-or-Fin (7:36)
ZOSTAVA:
Nad Sylvan – lead & backing vocals, electric & acoustic guitars, keyboards, basses, drums, percussion
Christian Thordin "Bonamici" – keyboards, sound design
+
Rolf Holmström – drums (3,10)
Unifaun
Unifaun
Prog Rock
Progress Records
2008
CD
12