Určitě všichni znáte ten pocit, kdy si po poslechu nějaké hudební nahrávky řeknete, že tohle už tedy víckrát ne, že je to pro vás jen ztráta času a divíte se, jak jste tohle dílko mohli doposlouchat až do konce. Většinou se k té desce již nevrátíte a snažíte se na ni zapomenout, jednoduše se od ní odříznete. Je to pochopitelné, hudby je kolem nás příliš mnoho a proč bychom se měli obtěžovat něčím, co se nám nelíbí.
Jenomže pak se něco stane ve vašem vnímání, dospějete do určitého věku, naberete určité životní zkušenosti a váš pohled na hudbu začne být mnohem liberálnější. Najednou začnete přehodnocovat vše, co vás kdy ovlivnilo jak v dobrém, tak i zlém a vracíte se k deskám, které jste dříve považovali za podřadné, neřkuli zbytečné. Pravda, většinou si utvrdíte svůj názor z mládí, ale občas se vám podaří najít do té doby netušenou posluchačskou perlu a vy si řeknete, jak je vůbec možné, že jste si tuhle lahůdku tak dlouho odpírali.
To je přesně případ alba The Final Cut britské skupiny Pink Floyd. Poprvé jsem ji slyšel v době středoškolských studií, kdy mi spolužačka předala kazetu, na níž byla nahrána tato deska. Prý se mi to bude líbit. No, spletla se, nelíbilo a velmi brzy jsem jí kazetu vrátil. Nevím proč, ale ta hudba mi přišla taková divná. A to jsem tehdy samozřejmě vůbec neměl páru o tom, v jakém stavu se v době jejího vzniku skupina nacházela.
Co tedy bylo tím iniciačním momentem, jenž mě znovu přiměl se deskou The Final Cut vážně zaobírat? Náhodou jsem někde zaslechl skladbu The Gunners Dream a byl jsem lapen. Ta melodie se mi začala neustále honit hlavou a nemohl jsem se jí zbavit. Chtěl jsem víc. Neodolal jsem a pořídil jsem si desku s pocitem, že když nic jiného, tak alespoň zaplním mezeru ve sbírce. A hned po prvním poslechu jsem se nestačil divit.
Melodie, které se na mě začaly linout z reproduktorů a které mi dříve připadaly divné, najednou získaly nový rozměr. Nechci tvrdit, že úplně chápu Watersovu vizi a záměr, ale o to určitě nejde a je to celkem jedno. Důležitá je především hudba a ta mě, doufám, že nadlouho, takřka pohltila. Dokonce i skladba The Fletcher Memorial Home, kterou jsme znal z nějaké kompilace a která mi přišla taková plačtivá, najednou dostala nový rozměr a jako by v mých uších nově vykvetla. A jelikož pro desku je charakteristická jistá pompéznost, což bude dáno i celkovou instrumentací, ocením na závěr lehce civilnější pojetí skladby Two Suns in the Sunset.
Ale myslím, že je celkem zbytečné vyzdvihovat jednotlivé skladby, mnohem lepší je desku poslouchat od začátku až do konce. Já ji nejraději poslouchám o samotě v úplné tmě a hlavou se mi přitom honí různé obrazy, které ve mně ta hudba vyvolává. Možná by to chtělo jen o maličko víc těch nádherných Gilmourových sól, ale chápu, že nemůžu chtít úplně všechno. Důležité je, že jsem se k desce The Final Cut nakonec vrátil a zatím mě baví.
Skladby:
01. The Post War Dream (3:00)
02. Your Possible Pasts (4:21)
03. One of the Few (1:26)
04. When The Tigers Broke Free (3:12)
05. The Hero's Return (2:58)
06. The Gunners Dream (5:04)
07. Paranoid Eyes (3:49)
08. Get Your Filthy Hands Off My Desert (1:19)
09. The Fletcher Memorial Home (4:10)
10. Southampton Dock (2:05)
11. The Final Cut (4:53)
12. Not Now John (5:03)
13. Two Suns in the Sunset (5:17)
Obsazení:
David Gilmour – guitar, vocals
Roger Waters – bass, guitar, synthesizer, tape effects
Nick Mason – drums, tape effects, vocals
Doreen Chanter, Irene Chanter – backing vocals
Raphael Ravenscroft – tenor saxophone
Michael Kamen – piano, electric piano, harmonium
Andy Bown – organ, piano, electric piano
Andy Newmark – drums
Ray Cooper – percussion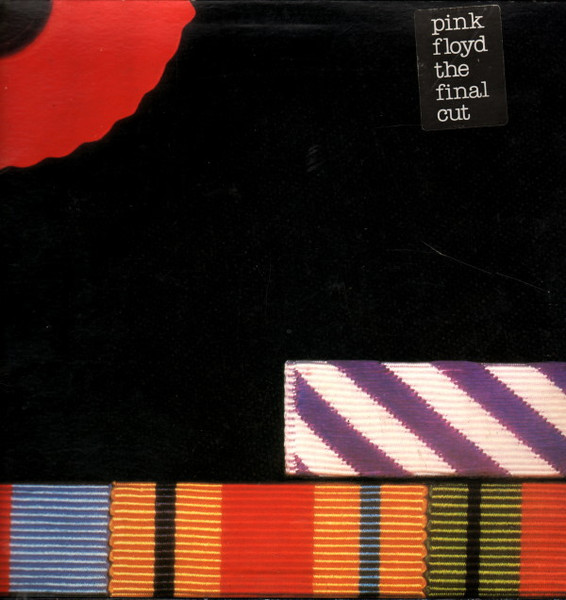 The Final Cut
Pink Floyd
Prog Rock
Harvest
1983
LP, CD
13