One of the most famous of the most obscured groups reassess their assets and make their trip round and definitive.
In the pre-CD era, this British band's legend was secure thanks mostly to the memorable cover of their second, and last, album, and to some extent to their link, via the drummer, to URIAH HEEP. Their records' rarity contributed to it, too, meaning also CRESSIDA's output didn't sell well during the quintet's existence and hadn't been heard as wide as it deserves, yet it's only this double-disc set that, after all previous digital attempts, does justice to the music in both aural and perspective terms. Corralling two LPs, eponymous debut and the aforementioned Asylum, fleshed out with extra material here, the anthology may ruin the originals integrity by shuffling the tracks sequence, but as the reformed collective's decisions go, there's a certain logic to it.
One Of A Group is a perfect starting point: flowing in on Peter Jennings' classically informed organ, its haunting melody ushers in Angus Cullen's honeyed voice, while Iain Clark's cymbals underpin John Heyworth's strum which bristles fuzzy for an acid-fuelled solo before the piano takes it all jazzwards – if the band's MO's could be expressed in one piece, that would be it. Contrast could be the name of the game, because for all their serious soulfulness, The Only Earthman In Town and Home Is Where I Long To Be combine transparent elegance with pop-minded fun the group used to have, especially on-stage as suggests a couple of live cuts taped for BBC, where Depression sheds off the vinyl shades of grief. And if tracks like cosmic Cressida might be characteristic of their era and give priority to interplay rather than melody, its vibe and the acoustic virtuosity of folky Time For Bed betray much more depth to the ensemble than meets the eye.
The powerful lightness of the group's arrangements is best sampled, though, when the album's version of Lights In My Mind is compared with its heavier demo featuring CRESSIDA's first line-up (more of the full-blown sketches can be found on this compilation companion release, Trapped In Time), yet the first album outtake Mental State and Situation demonstrate a magic marriage of sharp riffing and infectious choral singing which would be the focus of the band's second outing. With their vocalist in the main writer's role, Reprieved floats in the wordless fusion, whereas humorous Goodbye Post Office Tower Goodbye can give PROCOL HARUM run for their surrealistic money. New guitarist John Cullen, who shines on the Beeb version of Winter Is Coming Again, comes forth as an adventurous foil for Jennings' expanded palette to render the Spain-flavored title track of Asylum just slightly short of a masterpiece, while the 11-minute spectacle of Let Them Come When They Will and Survivor add orchestra to the harmonic sweep to build a high-tension, if groovy, drama, progressive tendencies taking over simpler rock joie de vivre.
The closing epic Munich is as far removed from Spring '69 as it gets for a two-year journey into grand nowhere, a change that would have cost lesser artists a whole decade. Only a few listened, though: in February of 1971 when CRESSIDA's sophomore album came out, the band were no more. A legend was.
Originally published: DME – LET IT ROCK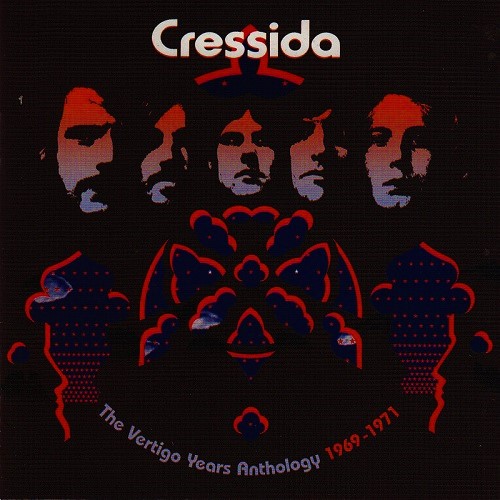 The Vertigo Years Anthology 1969-1971
ECLEC 22348
Cressida
Prog Rock
Esoteric Recordings
2012
2xCD
25