CD Black Widow Records ‎– BWRCD 066-2 /2002/
Ohněm a sírou páchnoucí mazec s atmosférou hustou tak, že by se dala krájet. Živná půda pro fóbie, démony a podobnou, lidskou duši sžírající havěť. Křišťálově čistá produkce, údery tympánů a kytara zkeslená tak, že snad ani nemůže pocházet z tohoto světa. Vzorec, ze kterého by mohla čerpat celá black metalová scéna s Master's Hammer v čele. A tohle, že má být z roku 1974?

Jsem velkým fanouškem Antonius Rex, jenomže čím víc se o nich snažím zjistit, tím větší v tom mám zmatek. Je to jedna z nejzáhadnějších kapel italské rockové scény a okolnosti kolem vzniku neoficiálního debutu Neque semper arcum tendit rex provází množství zcela protichůdných informací. Nakonec tak člověku nezbyde nic jiného, než si udělat vlastní názor…
Skupina Antonius Rex je přímým pokračovatelem podobně záhadného projektu Jacula (1969-73). Rodinnej podnik, za kterým stojí kytarista a skladatel Antonio Bartoccetti se svou životní partnerkou Doris Norton. Oba spojila nejenom vzájemná náklonnost, ale aj společné zájmy z oblasti hudby, filozofie, esoteriky a spiritualismu.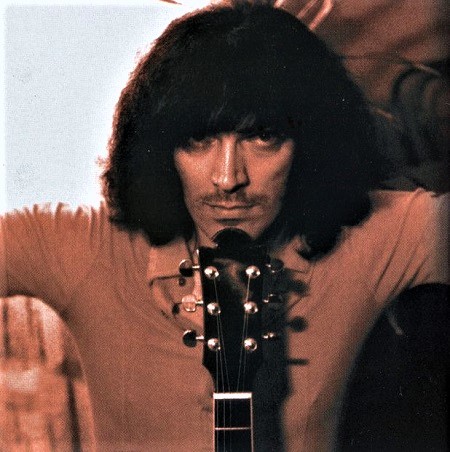 První krůčky Antonius Rex provázela řada obtíží. Bartoccetti měl sice nápadů na rozdávání, ale k jejich realizaci mu chyběly prostředky a tak mu osud připravil zkoušku v podobě setkání s poněkud excentrickým okultistou Albertem Goodmanem. Relativně zámožnej Goodman byl majitelem několika panství, včetně středověkého hradu vybaveného malým nahrávacím studiem. Hudbě se věnoval jenom amatérsky (jako bubeník), ale vlastnil i nezávislé hudební vydavatelství Darkness Record. Práce a plány páru Bartoccetti – Norton se mu líbily a tak jim nabídl finanční prostředky, vliv a konexe. Oni jemu, na oplátku, místo v kapele…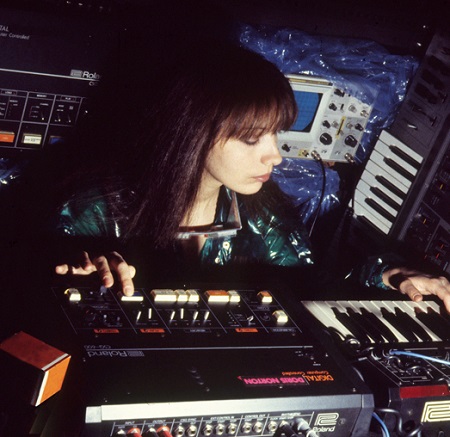 Materiál na debutové album se nahrával v Mondial Sound Studios v Miláně (1974) pod dohledem zvukového inženýra Colina Coldweise a produkce se ujal sám Albert Goodman. Práce ve studiu se protáhly na 38 dní a mastering se dělal v Londýně, což je věc v té době ne tak úplně obvyklá, ale vyplatilo se. Špičkovej, čisťoulinkej a přitom i dostatečně průraznej zvuk obstojí i po letech. Goodman slíbil zajistit vydání alba – včetně promotion – u Vertigo Records, ale se zlou se potázal. Ti, sotva pochopili význam textu ve skladbě Devil Letter požadovali její odstranění, včetně změny obalu desky. To ješitnej Bartoccetti odmítl a tak šel celej projekt k ledu. Goodman chtěl album vydat aspoň prostřednictvím labelu Darkness Record, ale nakonec bylo vylisováno pouhých 400 promo kopií (DRK 4018). Prvním, oficiálně vydaným titulem Antonius Rex se tak stalo teprve album Zora z roku 1977.
Pásky s nahrávkou Neque semper arcum tendit rex zůstaly v šuplíku a do širší distribuce se dostaly až teprve díky italskému nezávislému vydavatelství Black Widow Rec. v roce 2002, které je poslalo do světa ve dvou verzích. Tu první jako LP limitku (400 ručně číslovanejch kopií), druhou na klasickém CD. To hraje fantasticky, až…
…až se mi nechce věřit tomu, že jde opravdu o matroš z roku 1974. Údaje v bookletu sice hovoří o 28 bit remasteru, ale mám za to, že v tomhle případě půjde spíš o remix, nebo – dokonce – remake. Jsem ochotnej připustit, že některé stopy zůstaly původní (varhany, monology, Devil Letter), ale kytary a hlavně perkusní nástroje zní hodně současně. V rozhovoru s Augusto Crocem to Bartoccetti vysvětluje tím, že Goodmana naučili pracovat s páskami a smyčkami (tedy jakýmsi předchůdcem automatického bubeníka?), proto ta rytmická dokonalost. V jiném interview – tentokrát s Francescem Fabbrim – popisuje, jak při přípravě reedice pracovali s původním masterem a podle jeho slov si pohráli jen s vyrovnáním zvuku, kompresí, dynamikou a redukcí šumu. Těžko soudit, ale je docela zajímavé sledovat názorovou rozpolcenost mezi fanoušky na různých internetových fórech. Ať už je to jak chce, po obsahové stránce jde o výjimečnej produkt a nakonec je docela jedno, jestli z roku 1974, nebo 2002.
Bartoccetti sice přiznává svou inspiraci u Iommiho Black Sabbath, ale hudba Antonius Rex je mnohem, mnohem temnější. Učiněná symfonie hrůzy, jejíž dopad umocňuje skutečnost, že neobsahuje žádnej zpěv. Jen sugestivní přednes v italštině a není to – jak by se mohlo na první pohled zdát – žádná duchařina. Bartoccetti se ve svých textech zabývá tehdy (a vlastně i dnes) aktuálními tématy. Válkami, drancováním přírodního bohatství, hromaděním majetku, touhou po moci, drogovou závislostí nebo manipulováním lidí prostřednictvím televizní obrazovky (Pactus).
Hudbu na albu charakterizuje masivní sound klasickejch varhan a vstupy brutálně zkreslené kytary. Rytmiku nahrazují různé perkuse typu basového bubnu, tympánů, nebo gongu a vokály již výše zmíněné mluvené slovo. Výjimkami jsou až nečekaně uvolněná a načechraná skladba Pactus, s pěknými sóly na kytaru, nebo minimoog a neurotická podivnost Devil Letter, která vypadá spíš jako výstřižek z nějakého gothic hororového bijáku. Hukot větrné bouře je v tomhle případě nezbytnej, z krypty doléhající zvuk varhan jakbysmet. Pak tam někdo s něčím bouchá, běhá sem a tam, vrže dveřmi a chrastí řetězy. Nakonec Goodman přečte údajnej "ďábelskej" dopis z roku 1624 a tím to hasne. K tracku samotnému se váže několik "zaručenejch" historek, ale mě nezajímaj báchorky, ani podprahová sdělení, ale hudba. A tak je to z mého pohledu spíš zbytečnost.
Podobně, jako album Tardo pede in magiam versus (1972) projektu Jacula, tak ani Neque semper arcum tendit rex nebude pro každého. Spíš jen pro užší okruh fanoušků s kořeny v extrémnějších hudebních žánrech a s kladným vztahem ke strašidelnejm povídačkám, nebo filmům. Mě podobná hudba vyhovuje, ale je problematické zkoušet ji doporučit někomu dalšímu. Bude lepší, když si ji najde každej sám.
Pokud by album Neque semper arcum tendit rex vyšlo v roce 1974 v podobě, jaké ho známe dnes, byla by to bomba. Antonius Rex by předběhli celou metalovou scénu (Saint Vitus, Venom) o dobrejch deset let a dneska by byli považováni za jedny z průkopníků heavy metalu spolu s Deep Purple, nebo Black Sabbath. Leč, nestalo se tak a následující, oficiálně vydané placky Zora (1977) a Ralefun (1979) byly o něco slabší. Přiblížit se k původní tvorbě se páru Antonio Bartoccetti/Doris Norton znovu podařilo až deskou Praeternatural, vydanou ve striktně limitované edici v roce 1980. A o té až někdy jindy.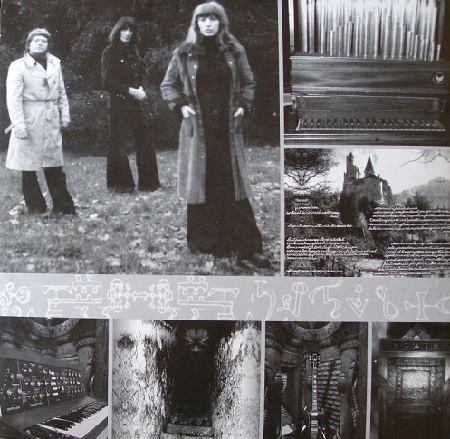 Cedlo od Black Widow je klasicky v plastu a jak už jsem uvedl vejš, hraje bohovsky. Booklet má dvanáct stran a obsahuje biografii kapely v angličtině (Steve Crombell), kredity k albu a celou řadu stylových fotografií.
SKLADBY:
1. Neque semper arcum – 8:37
2. Pactus – 8:30
3. In hoc signo vinces – 4:25
4. Non fiat voluntas tua – 6:55
5. Devil Letter – 9:10
6. Aquila non capit muscas – 5:52
SESTAVA:
Antonio Bartoccetti – music, lyrics, vocal, Gibson, bass
Doris Norton – music, classic organ, piano, Moog
Albert Goodman – percussion, vocal in D. Letter
(P) & (C) 1974 Darkness Record
(P) & (C) 1981 Music Research
(P) & (C) 2002 Black Widow Records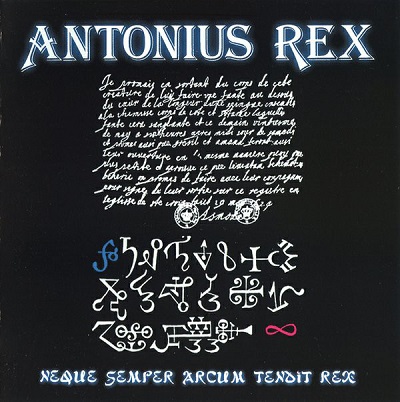 Neque Semper Arcum Tendit Rex
DRK4018
Antonius Rex
Prog Rock
Darkness Record
1974
LP
6
CD Black Widow Records ‎– BWRCD 066-2 /2002/