Tajuplná skupina Shuttah a jej koncepčný, nakoniec nevydaný dvojalbum The Image Maker z roku 1971, patria k jednej z najväčších záhad histórie progresívneho rocku. Kým sa podobne anonymné, vydavateľstvami mystifikované, nejasnosti týkajúce sa poniektorých prog rockových skupín či nahrávok odstupom času vyjasnia, ako napríklad v prípade Still Life, u skupiny Shuttah ani uplynulé polstoročie neprinieslo odpovede na otázky týkajúce sa okolností nahrávania, histórie či obsadenia skupiny.
To, čo o skupine viem, som vyguglil po rôznych online stránkach a fórach a všetko sa to dá zhrnúť do niekoľkých viet. Podľa niektorých internetových zdrojov je meno skupiny biblického pôvodu. To najpravdepodobnejšie k výrazu Shuttah, čo sa mi podarilo vygugliť je, že Shittah je divo rastúci strom v sinajskej púšti, príbuzný nášmu Agátu a biblickým ho robí fakt, že stvoriteľ si striktne želal vyrobiť Archu zmluvy práve z dreva tohto stromu. Hudobný materiál bol nahratý v svetoznámom Londýnskom štúdiu IBC, obľúbenom mieste kapiel Beatles, Rolling Stones, Deep Purple, atď…, veľmi dobrá kvalita zvuku to iba potvrdzuje.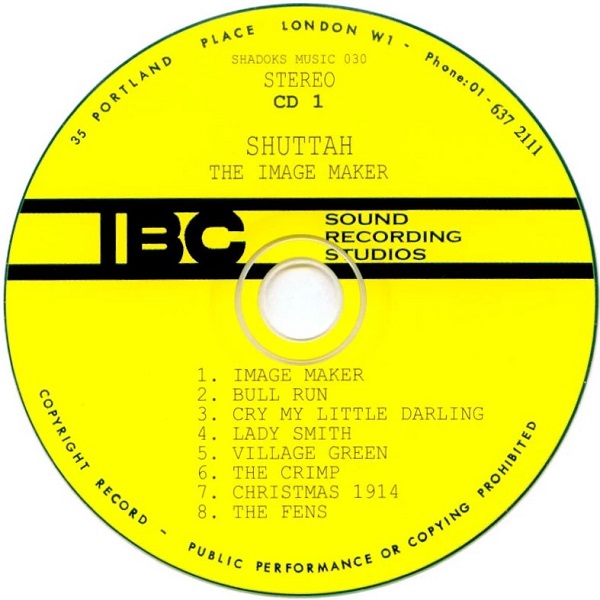 Dvojalbum mal byť (vraj) vydaný u novovzniknutej pobočke firmy Philips/Phonogram nazývanej Vertigo. S týmto sa dá v pohode súhlasiť, lebo profil vydavateľstva sa presne zhoduje s hudbou, ktorú Shuttah na nahrávke ponúka a album by sa pekne hodil do katalógu Vertiga medzi kapely podobného razenia, ako Cressida, Beggars Opera či Gracious… Hľadaním po rôznych internetových fórach som sa stretol s diskusiou, ktorá sa dokonca snaží spochybniť i naopak, potvrdiť pôvod tejto nahrávky. Niektorí ľudia prirovnávajú nahrávku k praktikám niektorých malých labelov, keď súčasní štúdioví muzikanti nahrávajú "fake" kraut rockové nahrávky, ktoré sa následne púšťajú na trh ako pôvodné nahrávky senzačne objavených, neznámych skupín. Toto tvrdenie podopierajú faktom, že nahrávka znie až podozrivo kvalitne, čo je blbosť, lebo v roku 1971 už štúdiová technika dovoľovala robiť nahrávky výbornej kvality. Okrem toho, renomovaný katalóg Hansa Pokoru "Record Collector Dreams" v jeho štvrtej časti 4001 zverejnil fotku zachovaného acetátového nosiča z roku 1971, ktorý sa údajne použil ako master pri vydaní nahrávky v roku 2002. Avšak kvôli objektivite treba pripomenúť i fakt, že Thomas Hartlage, majiteľ labelu Shadoks Music, ktorá napokon nahrávky na 2LP, respektívne na 2CD vydala, sa skontaktoval s bývalým majiteľom štúdia IBC, Geoffom Oliverom, ktorý si o projekte nazývanom Shuttah vôbec nič nepamätá. Ja, ako naivný milovník hudby 70-tych rokov chcem veriť a aj verím, že ide o pôvodnú nahrávku z roku 1971 a nie o falzifikát.
Čo sa hudby samotnej týka, nech si nikto nemyslí, že tu ide o akési druhoradé nahrávky zábavovej kapely urobené v sklepe domu jedného z rodičov, ktorá si zrazu zmyslela, že si užije svoje progresívne chúťky a nahráva piesne, na ktoré v súčasnosti vydavateľ nacapí nálepku "Legend". Z  hudby je viac ako jasné, že album dostal kvalitnú produkciu a bol nahratý partou zohratých muzikantov pôsobiacich v tejto branži či už ako študioví hudobníci, alebo členovia známych skupín, zrejme u labelu Vertigo. Som si istý, že by sme zdvihli obočie prekvapením, ak by sme zrazu dostali možnosť spoznať obsadenie. Ide o rýdzo britský progresívny rock raných 70-tych rokov, ktorý vďačne čerpá z doznievajúcej éry psychedelického rocku, blues rocku a miestami stretneme i nábeh na džezrock (inštrumentálna  časť skladby The Wizzard). Napriek tomu, že som to v žiadnej online recenzii k albumu nečítal, mňa i po x-tom vypočutí platne dookola stále napadá meno skupiny Gracious, s ktorých rovnomenným debutom The Image Maker až podozrivo moc zdieľa ponurú náladu a majú podobné hudobné postupy i nápady. V hudbe sa rad radom striedajú melodické časti pripomínajúce miestami RPI, s rockovým besnením.
Skladba Bull Run je natoľko ťaživá, že mi pripomína soundtrack k ceste previnilca do pekla a nemôžem si pomôcť, ale pripomína mi i atmosféru skladby Inocence and Wrath z debutového albumu švajčiarskej black metalovej legendy Celtic Frost, To Mega Therion z roku 1985. Nakoľko ide o koncepčný dvojalbum čerpajúci námet z oboch svetových vojen XX. storočia, nahrávka je skrz-naskrz popretkávaná zvukovými intermezzami bojov, bombardovania, náletov, morzeovka, gulometná paľba, konský povoz i pochod bigošov. Zaradenie do zbierky by som odporučil tým zberateľom hudby, ktorých neuspokoja iba nahrávky top pätnástich prog rockových skupín, ale hľadajú tiež tieto postrácané kúsky prekrásnej mozaiky zvanej progresívny rock.
Ako som už vyššie spomenul, nahrávky nakoniec v roku 2002 firma Shadoks vydala na LP i CD, ja mám vo svojej zbierke ich 2CD edíciu. Trošku nepochopiteľne stojím nad faktom, že obidva albumy majú spolu čosi vyše 60 minút, kľudne sa mohli zmestiť na jeden disk, no ale čo už. Stále lepšie, ako keď See For Miles napchal dva albumy na jeden disk s tým, že kľudne vynechal jednu dve skladby, aby sa zmestil. Pff, pre mňa, ako zberateľa kompletistu, je takéto chovanie barbarstvo najhrubšieho zrna.
CD 1
1. Image Maker (3:06)
2. Bull Run (5:15)
3. Cry My Little Darling (2:27)
4. Lady Smith (4:21)
5. Village Green (0:54)
6. The Crimp (7:27)
7. Christmas 1914 (2:15)
8. The Fens (5:51)
CD 2
1. Guernica (2:36)
2. World War II (6:51)
3. Concrete (1:14)
4. Imjin (5:04)
5. She's a Bad Girl (3:01)
6. The Wizard (5:34)
7. Tell Me Why (2:23)
8. Conclusion (5:09)
The Image Maker
Shuttah
Prog Rock
Shadoks
2002
2CD
16