Pink Floyd jsem miloval už na základní škole. Tajemnej, iracionálně nostalgickej, melancholickej, psychedelickej zvuk kláves Ricka Wrighta. To mě nejvíc bavilo. Strejda tehdy pracoval v letectví, v aerolinkách + taky pracoval jako diplomat v Anglii, no a díky němu (a jeho bratranci) jsem neměl v socialismu nouzi o… chtěl jsem napsat přímo kvalitní, ale napíšu o pro mě zajímavou hudbu. Protože o čem nepopisné slovo kvalitní vypovídá?
Nebylo to o tom, že bych se chtěl za každou cenu vymezit, být trapnej rebel bez příčiny, bylo to jednoduše o tom, co se mi líbí a nelíbí. To je celé. Nebylo to o žádné potřebě opozice bez příčiny, ani se závažím příčiny. Ne. A tak teď poslouchám znova album Popol Vuh, Aguirre, z roku 1975. Není to klasická deska, jedná se o hudbu k filmu (více v závěru recky).
Už úvodní, mellotronové tóny jsou odzbrojující, valí se na mě husina a moje podvědomí na mě pomrkává (s úsměvem: že to bude znít možná trapně, ale stejně to napíšu): "Rybáři, podařil se ti pěknej úlovek." No, literární kritik by mohl dodat: pěkně otřepaná metafora. Alba Milese Davise (včetně živáků) v podobný době k mé fantazii podobně promlouvala. Jako by za klávesama seděl Rick. A na tomhle albu jsem si ho dokázal představit taky. Takhle to cítím a vnímám. A nic s tím nenadělám. A ani nadělat nechci.
Druhá skladba. Připomíná mi trochu Allanovu psychedelickou snídani z alba Pink Floyd. Pro mainstreamové (a chápu, že i pro jiné) posluchače možná nikam nevedoucí instrumentálka. Kterou já si ovšem vychutnávám. Jako má oblíbená vajíčka na slanině, i když po nich tloustnu, o cholesterolu nemluvě. Ale v jiných dnech se snažím "kvalitu" zmíněné snídaně nahradit zdravou ovesnou kaší.
Třetí skladba, Aguirre II, je právě to něco, co mě na hudbě baví. Přivíráte oči a dostáváte se někam jinam. Pocity se mísí třeba se vzpomínkami, a proč ne? Nádherná, šestiminutová skladba, ke slovu se v asi třetí minutě dostávají kromě kláves také kytary, španělky i elektrické.
Album obsahuje pouze šest skladeb. Kompozice Vergegenwärtigung je nejdelší jak její samo slovo, tvořící název. Trvá sedmnáct minut. Je to hodně o tom, jak jste naladění. Co vás naštvalo během dne (pokud album posloucháte večer)? Co vás potěšilo během dne (pokud album posloucháte večer)? Nebo i jen nepotěšilo, možná to je jedno. Často je všechno otázka času a momentální nálady (a taky daný styl jednoduše nemusíte mít rádi). Jestli máte v plánu něco za chvíli udělat, je jedno co, dodělat odizolování baráku kvůli zemní vlhkosti pomocí asfaltový lepenky a svářečky, nebo poslat alimenty přes internetový bankovnictví, asi si to nepouštějte. Pro mě je tahle kompozice, tahle stojatá voda, skvělým mostem. Filmovým přemostěním, ve kterém občas na několik sekund problikne ústřední hudební motiv.
A dostáváme se k závěrečnému nebouřlivě bouřlivému finiši, Aguirre III (na CD jako bonus). Zakončení jak ze symfonie Čajkovského. Celá koncepční nahrávka působí skvěle seřazeně, soudržně a sevřeně, a to se jedná o soundtrack k historickému dramatu.
Úplně ponechávám stranou relativně iracionální hudební úvahy (které mně plují hlavou, jak tak tohle píšu) na téma, jak hráči dokáží hrát na hudební nástroje tak, že to, silně (mlsně) působí na vnímání posluchače. Uměli to (pro mé uši) Pink Floyd, Van der Graaf Generator, Klaus Schulze, Uriah Heep s Byronem… A asi i další, ale píšu jen o těch, kteří mě právě teď napadají. A napsat to první, co člověka napadne, no to někdy není špatný. Tuhle "filozofii" zastával Jack Kerouac a vlastně i Charles Bukowski a minimálně něco to do sebe má.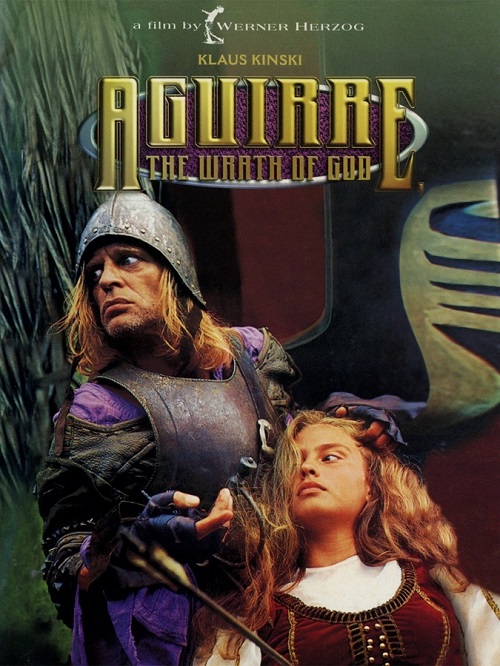 Na závěr budu citovat větu z jedné recenze na toto album, docela ho vystihuje: "Dokonale snový soundtrack k jednomu z nejvíc snových filmů, jaké kdy byly natočeny: děsivě krásné, ale hluboce pesimistické dílo německého režiséra Wernera Herzoga."
Zde je i odkaz k danému filmu na CSFD: Aguirre, der Zorn Gottes (Aguirre, hněv Boží). Když jsem si četl obsah filmu (který jsem neviděl), pousmál jsem se nad jednou krátkou, asi výstižnou větou: "Tón filmu udává hudba." Album neznáte? Jestli máte chuť poznat, jak zní protipól okázalosti kapel typu Emerson, Lake & Palmer, byť klávesy také převládají, můžete si tohle album pustit třeba na youtube.
SKLADBY:
1. Aguirre I /Florian Fricke/ 7:23
2. Morgengruss II /Daniel Fichelscher/ (2:57)
3. Aguirre II /Florian Fricke/ 6:16
4. Agnus Dei /Florian Fricke/ 3:02
5. Vergegenwärtigung /Florian Fricke/ 16:51
Bonus track on 2004-2019 CD and LP reissues:
6. Aguirre III /Florian Fricke/ 7:16
NOTES:
Track 1 & 3 are from the 1972 film "Aguirre, Der Zorn Gottes", directed by Werner Herzog; the rest come from recordings done during the period 1972-74.
Recorded at Bavaria Tonstudio, Munich.
SESTAVA:
Djong Yun – vocals
Daniel Fichelscher – electric & acoustic guitars, drums (4)
Conny Veit – guitar (1,3) – uncredited
Florian Fricke – piano (4), spinet (5), choir-organ (1,3,5,6), Moog, arrangements
Robert Eliscu – flute & oboe (4), pan pipe (1)
Holger Trülzsch – African & Turkish percussion (6)
Aguirre
Popol Vuh
Soundtrack, Krautrock, Prog Rock, Ambient
PDU
1975
LP
5
CD - SPV Recordings SPV 085-70142 CD /2004/