Přestože na nové desky píši recenze rád, u letošních Whitesnake jsem s podobným krokem moc nepočítal. I když přiznávám, že už v ukázkách mne nová fošna hodně překvapila, s nějakým nakročením na hudební Olymp jsem se u Coverdalovců absolutně neztotožňoval. Takže očekávání byla veskrze průměrná. Ještě před tím vším, jsem si na internetu přečetl tunu recenzí pozitivně nadšených, i totálně kriticky cupujících. Ale jelikož jsem od přírody spíše pozitivista a u nové muziky většinou věřím v to lepší, tahle pěkně optimistická desítková recka mě nové Whitesnake naservírovala na zlatém podnosu. Autorovi Pepsimu jsem jeho zápal sežral i s navijákem (akceptoval i ony kritické ohlasy vespod) a jal se nové dílko bílého hada objednávat.

Po pár dnech čekání a vytouženém spuštění tlačítka play mne zklamala jen jedna jediná věc, a tou je pro dnešní dobu typický pošramocený ohulený zvuk, malinko celou desku tak zbytečně devalvující. Na sluchátkách to opravdu nebyla žádná sonická slast, ale v běžném provozu – v mp3, při cestování, v autě, k práci, se tyto mantinely rázem setřeli a v uších mi znělo jen to hlavní a tím je samotná muzika.
A to tedy byla jak na první poslech, tak na dnešní zhruba šestý nadpozemská Whitesnake-ovská mana. Nebudu zbytečně chodit okolo horké kaše a s podobným nadšením jako autor z Metal Forever napíši, že kusanec Flesh & Blood je pro mne dnes (a snad mi to ještě nějaký ten pátek vydrží 🙂 ) nejlepší/rozumněj – co se týče kvality songů, nejvyrovnanější kolekcí z celé plejády hadích alb. Novinka se mi líbí o kapánek víc než předešlé Forevermore (a to mám tedy hodně rád) a zřejmě předčí i brilantní Slip Of The Tongue. Při srovnání s komerční rovinou hitparádově profláknutého 1987 sic nenabízí tak ostré prvoplánové hity tipu Is This Love, ale svou celistvostí, maximální vyhranností, talentem, pílí všech zůčastněných a hlavně ohromným, až dechberoucím nasazením, strčí do kapsy i těch pár nej výtvorů z vlastního portfólia kapely.
Flesh & Blood je do nejmenšího detailu vypiplaná kolekce třinácti písní, která po celou svou stopáž nabízí jen skutečně velmi málo hluchých míst a to se na poměry Whitesnake stávalo v minulosti jen zřídka kdy. Kapela má formu jako hrom a dvojice kytaristů Reb Beach a Joel Hoekstra sází jeden hromový riff (Gonna Be Alright) vedle druhého, jedna lepší melodie střídá druhou a většina skladeb má i velmi silné refrény. Kluci se netlačí tolik do bluesových vod jako dřív, ale místy nechávají problesknout i stadionovou zdobnost s neuvěřitelným množstvím kytarových kudrlinek.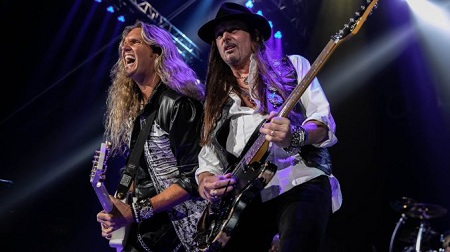 Osobně velmi kvituji dramaturgii nahrávky, kdy jsou energií nacupané songy (Good To See You Again, Shut Up & Kiss Me) poskládané v těsném závěsu na začátku desky, uprostřed je místo jak pro oddech ( When I Think Of You) tak pro tempově burácející písně (Trouble Is Your Middle Name, Well I Never), či epický majstrštyk Heart Of Stone – zřejmý vrchol desky. Závěr je pak velkolepý i laskavě melancholický zároveň. Na pozici jedenáct je to koncertní šlapající tutovka Get Up, v závěru jemná After All a tečku tvoří monstrózní kashmirovka Sands Of Time. Fantasie.
Coverdale je zde zachycen ve (velmi) slušné pěvecké formě, kytary znějí maximálně plně a masivně a rytmika na čele s Aldridgem nemá chybu. Tempové rozvržení jednotlivých songů a hlavně brilantní kytarová aranžmá a celkvá nápaditost jednotlivých songů činí z letošní kolekce bílého hada opravdu silnou a stabilní nahrávku.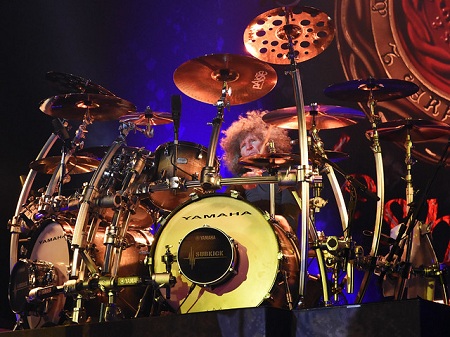 Čím jsem starší, tím více se dokáži vcítit do kompozičních choutek věkově postarších umělců, jejichž kariéra je už dávno za vlastním zenitem. Možná právě proto mě tak šmakují poslední nahrávky Deep Purple, Uriah Heep, Davida Gilmoura, Steva Hacketta, Iana Andersona, UFO, nebo právě Whitesnake. Možná jsou jejich poslední desky těmi skutečně POSLEDNÍMI, a jestli je tomu tak i v případě Whitesnake, pak se s námi nemohli rozloučit vypilovanějším dílem.
Velké díky, Davide!
SKLADBY:
01. Good To See You Again (3:42)
02. Gonna Be Alright (3:51)
03. Shut Up & Kiss Me (3:37)
04. Hey You (You Make Me Rock) (5:29)
05. Always & Forever (3:53)
06. When I Think Of You (Color Me Blue) (3:52)
07. Trouble Is Your Middle Name (4:17)
08. Flesh & Blood (5:18)
09. Well I Never (4:01)
10. Heart Of Stone (6:42)
11. Get Up (4:45)
12. After All (3:47)
13. Sands Of Time (6:08)
SESTAVA:
David Coverdale — vocals
Reb Beach — guitar
Joel Hoekstra — guitar
Michele Luppi — keyboards, vocals
Michael Devin — bass
Tommy Aldridge — drums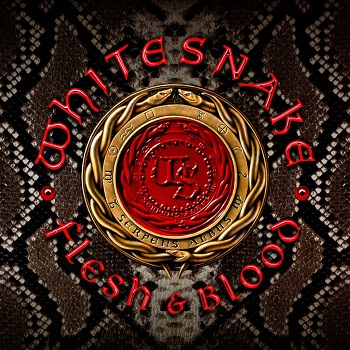 Flesh & Blood
Whitesnake
Hard Rock
Frontiers Music SRL
2019
CD, LP
13