CD Minority Records – Minor 276 /2007/
Italská progrocková skupina Dalton pochází z Bergama v Lombardii a vznikla v roce 1972. Debutovala o rok později výborným, byť kraťoulinkým albem Riflessioni: Idea d'infinito, které následovala placka Argitari (1975). Poslední nahrávkou v kariéře Dalton byl singl Presto Tornerò/Mama Dog z roku 1979, po kterém se kapela rozpadla…
Pouhých osmadvacet minut dlouhé album Riflessioni: Idea d'infinito obsahuje směsku symphonic rocku, blues hardrocku a italského popu s expresivními vokály v italštině. Je jedním z mnoha produktů rychle se vzmáhající italské rockové scény a mohl bych ho přirovnat k podobně zaměřeným prvotinám skupin Laser, Capitolo 6, nebo I Raminghi.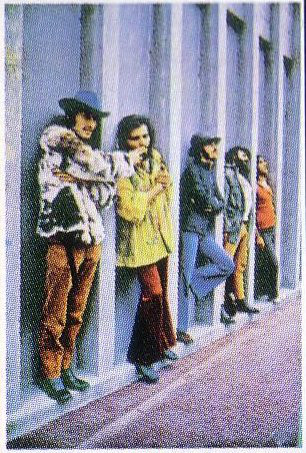 V souvislosti s albem Riflessioni: Idea d'infinito bývají skloňována dvě jména – Deep Purple a Jethro Tull. Ty prvně jmenované tady neslyším (možná v poslední Dimensione lavoro), ale s Tully toho mají Dalton společného docela dost. Možná víc, než by bylo zdrávo a na archivních fotografiích mě zaujal především flétnista Alex Chiesa. Se šprajcnou v tlapách, hučkou na hlavě a zarostlej, jak rezervní Kristus inspiraci Andersonem rozhodně nezapře a podobné je to i s hudbou, ve které se flétnuje jak o život.
Deska obsahuje šest skladeb, které jsou k sobě pospojované introdukcemi se vzájemně podobným, melodickým motivem. Album tak působí sevřeným dojmem a vypadá to na nějakej koncept. I texty jsou si docela příbuzné a filozofují nad životem a smrtí.
Jako první je tu pecka Idea d'infinito (Myšlenka na věčnost) a jde o začátek ve velkém stylu, protože zemitej blues/hardrock s úsečně riffující flétnou je "jethrotullovštější", než samotní Jethro Tull a teprve expresivní sólo zpěv v italštině napoví, že jsme se z britských ostrovů přesunuli o pěknejch pár kilometrů na jih. Následující Stagione che muore (Období umírání) pokračuje v podobném duchu a obsahuje spoustu vokálů a flétnových sól. Výraznou změnou v nastaveném kurzu je teprve symphonic popová Cara Emily (Drahá Emily), s jednoduchou melodií a uhvízdaným Moogem, kterou končila první strana původního vinylového alba.
Tu druhou odpálí naprosto strhující instrumentální palba Riflessioni (Úvahy), po které přijde poněkud úsměvnej popík Un bambino, un uomo, un vecchio (Dítě, muž, stařec). Ten už je trochu přes čáru, ale tohle je Itálie a něco podobného bychom našli na většině italských alb vydaných v první polovině sedmdesátých let. Na úplnej závěr si Dalton připravili téměř sedm minut dlouhou Dimensione lavoro (Pracovní dimenze) a už od bubenického extempore a skřípějících Hammondek v úvodu skladby je jasné, že půjde o nejambicióznější položku celé kolekce. A je to zas "tullovina" jak vyšitá, s brutálně zkresleným kytarovým sólem…
Původní, dnes už naprosto nedostupné album vyšlo na etiketě Music Superstereo De Luxe (LPM 2011), ovšem naštěstí je na trhu aj dostatečný počet jeho reedic. Ta moje je od pirátského labelu Minority Records a klasická plastová krabka s transparentním držákem CD obsahuje čtyřstránkovej booklet s několika barevnými fotografiemi.
Je to velmi dobré album někde za tři a půl a fanouškům italského prog rocku (a Jethro Tull) by se mělo líbit. Já jsem rád, že ho mám.
SKLADBY:
Lato A
1. Idea d'infinito – 4:49 (Antonietta De Simone, Edilio Capotosti)
2. Stagione che muore – 4:20 (Antonietta De Simone, Edilio Capotosti)
3. Cara Emily – 4:55 (Antonietta De Simone, Edilio Capotosti)
Durata totale: 14:04
Lato B
4. Riflessioni – 3:50 (Edilio Capotosti)
5. Un bambino, un uomo, un vecchio – 3:35 (Andrea Lo Vecchio, Edilio Capotosti)
6. Dimensione lavoro – 6:42 (Andrea Lo Vecchio, Edilio Capotosti)
Durata totale: 14:07
SESTAVA:
Temistocle Reduzzi – pianoforte, organo, mellotron, moog, sintetizzatore, canto
Aronne Cereda – chitarra acustica a sei corde, chitarra acustica a dodici corde, chitarra elettrica, canto
Rino Limonta – basso, canto
Tati Locatelli – batteria, canto
Alex Chiesa – flauto, canto
Riflessioni: Idea D'Infinito
Dalton
Prog Rock
Music Superstereo De Luxe
1973
LP
6
CD Minority Records – Minor 276 /2007/