Rough And Ready, třetí album Jeffa Becka a první album The Jeff Beck Group, bylo pro mě z nějakého důvodu mnoho let zapovězené. Nikdo v mém okolí ho v dobách vinylů nevlastnil a nikdo ho pořádně neznal. O to víc, samozřejmě, přitahovalo mou pozornost. Popravdě řečeno, po famózním debutu bylo pro mne druhé album Beck-Ola jistým zklamáním. Protože Beck vždy představoval nejen technicky brilantního hráče, ale i kytarového experimentátora, nedal jsem se touto okolností zmást a postupně jsme se seznamoval s jeho další produkcí. Nyní jsem konečně na výše zmíněné album dosáhl a tak se budu snažit nabídnout svůj recenzní úhel pohledu…

I GOT THE FEELING – Tohle je intro jako bič. Výrazný riff, na kterém stojí a padá celá skladba. Na rozdíl od pojetí předešlého alba, zde začíná do popředí pronikat výrazně funk. Pumpující basy Clive Chamana a správně prokreslené bicí jednoho z nejlepších bubeníků své doby – Cozyho Powella, zaručují jízdu v první třídě. Jméno Boba Tenche, zpívajícího druhého kytaristy, jsem předtím neznal, není hlasově tak exponovaný jako Rod Stewart, ale přesto mi jeho cítění připadá pro styl zcela v pořádku. V něčem mi jeho interpretace připomíná kombinaci Roberta Lamma a Pete Cetery z Chicaga. Klavírista Max Middleton sem vnáší latinizující prvky a jeho suverenita podání je zcela evidentní. Konečně je tu Mistr, jeho kytarové sólo má řádný odpich, barvu a jeho vodopády tónů mě dostávají do pořádného rauše. Začátek v tom nejlepším slova smyslu a myslím, že by skladba mohla mít i hitové ambice.
V SITUATION cítím latinizující atmosféru přivolávající asociace na Santanu. Tench se pohybuje v podobné rovině jako Leon Thomas na albu Welcome. Opět ta rytmizující energická pulsace a klavírní běhy s patřičnou suverenitou. Beck si dopřeje prostor pro svoje sebevyjádření. Zaostřené reverbované tóny jeho kytary mají pořádný odpich a jako žhavé uhlíky i jiskry sálají do okolí. Téma není nijak závratně komplikované, má čitelný tah na branku a hutný rytmus udržuje trvalé napětí. Kombinace Middletonova klavíru a elektrického Fender-Rhodes je velmi zdařilá. Můžeme tancovat, ale můžeme se i nechat unášet jazzovými náladami, až do okamžiku, kdy Beck začne opět řádit, ale brzy nato přenechá prostor Tenchovi. Není to klasický rockový shouter, jak vyžadovala doba, ale přesto se v písni neztrácí.
SHORT BUSINESS – Další úderný riff a skvěle proaranžované postupy, kde se Middleton má šanci prosadit svými klavírními party. Ani stopa po blues. Rock kloubený s jazzem a se soulem, ale ještě bych tuhle variantu vyloženě nenazval fusion – jakýsi předobraz, v němž se prolínají výrazné rockové prvky s dalšími ingrediencemi. Koncertně určitě velmi přesvědčivé číslo, díky nezadržované emocionalitě podání.
MAX'S TUNE (RAYNES PARK BLUES) – Výraznější změna. Tak trochu tajemný nádech, který by mohl evokovat Fleetwood Mac s Peterem Greenem kolem r. 1969. Autorská záležitost Middletona, která je příjemnou proměnou, atmosférou melancholie a snových vizí, při kterých si Beckova kytara s nastaveným elektronickým vibrátem domlouvá zásnuby s jazzem. Její kytarové ornamenty se postupně rozvíjejí, až uvolní prostor zádumčivému klavíru a tady už lze nazvat věci pravými jmény; máme tu přeobraz jazz rocku, inspirovaný Milesem Davisem. Další proměna nás přivádí ke klavírní zádumčivosti a rázným akcentům v rytmu. Velmi dobře pojednaná skladba, která, domnívám se, přitáhne pozornost každého citlivějšího instrumentalisty na klavír či kytaru a má sílu inspirovat. Proměny harmonické struktury a rytmických postupů jsou kreativní a muzikantsky lákavé. Nic pro hitparády a komerční rádia. Instrumentální kouzlo, zbavené okázalosti, vnitřně krásné s tajemnou tečkou na gong.

I'VE BEEN USED – Nadějně se odvíjející kytarová linka s dramatickým podtónem je otevřenou bránou pro důrazně pojednané téma. Chamanova baskytara nastoupí s kompresorem a soundem mi připomíná Jacka Bruce. Powellovy bicí jsou tradičně hutné, vzletné a pracují jako ojnice parní lokomotivy. Další kytarové proměny odsekávaného doprovodu a bloudivých tónů. V téhle skladbě se mi zdá Tench jako zpěvák zatím nejpřesvědčivější. Middleton se výborně prolína s Beckovými kytarovými kobercovými nálety s mrazivým dozvukem, třebaže se mi zdá, že konec přišel nějak nečekaně.
NEW WAYS /TRAIN TRAIN – Další rockový opus s nijak se nešetřícím podílem instrumentace, kdy jsou všichni přítomní ve stále akčnosti a pracují ve výtečné kooperaci. Radost poslouchat. U Tenche si všímám tendence zpívat víc jako černoch a ne jako běloch. Výborná kytarová vsuvka hodná Beckova formátu a Middleton řádí na klaviaturu jako by šlo o život. Je tady ovšem pneumatické kladivo jménem Powell a jeho ďábelské breaky do beckovských kytarových nástupů zapadají s neuvěřitelnou přesností. Vliv amerického soulu zde nelze popřít, což napovídají zejména houkající sbory, ale i Tenchův hlas. Baskytarová melodická linka funkuje jako od Wimbishe z Living Colour a ta unisono! Tomuhle se říká hudba hned na poprvé. Beck hraje s velkou odevzdaností a jeho spoluhráči nijak nezaostávají.
JODY – Závěrečná skladba je zahájena klavírními party a přichází jakési uvolnění. Nic se nějak výrazněji nezjednodušuje, ale spíše zpřehledňuje. Formálně se jedná o vynikající písničku, i když v San Remu by asi "neobstála". Tench se do interpretace pokládá. Sice ne jako třeba Chris Farlowe, ale i tak zde dotváří zajímavé hudební obrazce. Middleton jako klavírista je velmi přesvědčivý, škoda, že nepoužil třeba i hammondky, nebo Fender-Rhodes a clavinet, jak tomu bylo o čtyři až pět let později. Dodalo by to jeho podílu větší pestrost. Muzikantsky ovšem pěkně plnotučná hudba. Beck kouzlí se zvuky a svou technikou – radost poslouchat. Závěr už skutečně vykazuje jazzrockové nálady, které byly u Becka rozvinuty v polovině sedmdesátých let do skutečné dokonalosti.
Rough And Ready je velmi příjemné překvapení a potvrzení mého mínění o Beckovi, že je to vývojový kytarista, experimentátor a hudebník širokého záběru. Album je zcela jiného ražení než debutové Truth a už vůbec nic nemá společného se syrovým a nevyváženým Beck-Ola. Jeho vstup do sedmdesátých let byl velmi nadějný. Třebaže jsem z alba nadšen, ve srovnání s Blow By Blow nebo Wired si přece jenom některé věci musejí ještě "sednout" a tak místo původně plánovaných pěti dám čtyři a půl, což znamená tentokrát čtyři hvězdičky.
SKLADBY:
1. I Got the Feeling /Beck/ (4:46)
2. Situation /Beck/ (5:26)
3. Short Business /Beck/ (2:34)
4. Max's Tune (Raynes Park Blues) /Middleton/ (8:24)
5. I've Been Used /Beck/ (3:40)
6. New Ways/Train Train /Beck/ (5:52)
7. Jody /Beck, Short/ (6:06)
SESTAVA:
Bobby Tench – lead vocals, rhythm guitar
Jeff Beck – lead guitar, bass
Max Middleton – piano and keyboards
Clive Chaman – bass
Cozy Powell – drums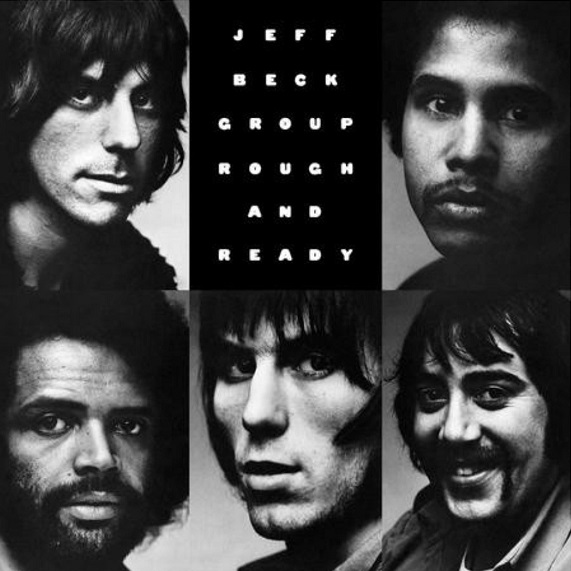 Rough And Ready
Jeff Beck Group
Blues Rock
Epic
1971
LP
7