"Do tretice všetko dobré" v prípade austrálskych rockerov rozhodne neplatilo. Ich tretí album s názvom Dirty Deeds Done Dirt Cheap takmer kapele zlomil krk. A názov tak trochu predznamenal, ako s ním napokon biele goliere z newyorského Atlantic Records naložili a uškodili kapele aj druhýkrát.
Austrálska invázia do Británie
Druhý album T.N.T. ešte ani len nestihol vyjsť z lisovne a dostať sa na pulty obchodov v decembri 1975, keď AC/DC už nahrávali nové kompozície pre tretí album. Napokon, čoskoro ich čakala invázia do Británie, a tak bolo treba železo kuť za horúca. Domáce podmienky v štúdiu Alberts im to umožňovali a natáčanie albumu v zahraničí by prinieslo zbytočné výdaje.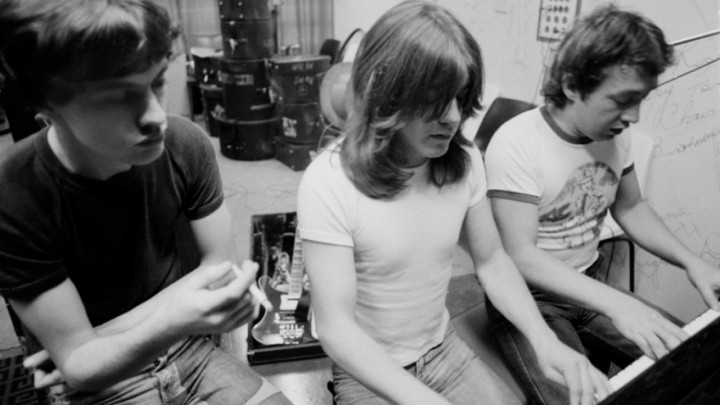 Nahrávanie prebiehalo až do marca roku 1976. Samozrejme, popri tom všetkom kapela koncertovala, a ak mala nejaký týždeň voľna, tak ho strávila v štúdiu s producentským duom Vanda & Young.
V apríli pristáli v Londýne a po pár týždňoch aklimatizácie to rozbehli naplno a začali koncertovať po celej Británii. V júli sa pozreli aj do Švédska (súčasťou tejto koncertnej dohody bolo na oplátku turné ABBA po Austrálii). V auguste opäť návrat na Britské ostrovy a pre kapelu nie moc vydarené vystúpenie na festivale v Readingu (na rozdiel od triumfálneho vystúpenia Rose Tattoo na tom istom festivale v roku '78). V polke septembra zavítali do Západného Nemecka a celý mesiac strávili koncertovaním tam a v priľahlých krajinách, aby sa opäť vrátili do Spojeného kráľovstva kde odohrali rozlúčkovú šnúru až do polky novembra, pred návratom domov do Austrálie.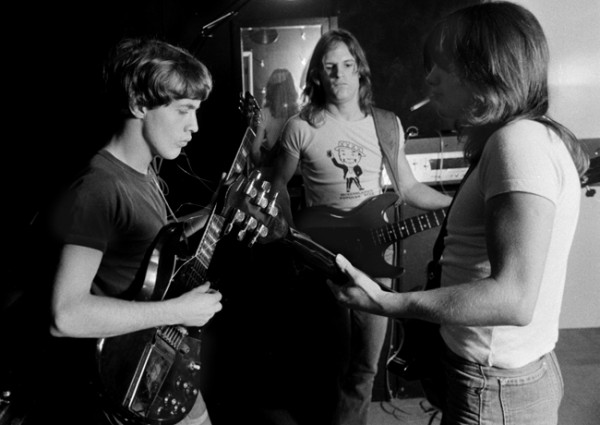 Pridávam aj pár zaujímavých linkov, keďže v Británii stihli začiatkom júna nahrať štyri songy v BBC štúdiách Maida Vale pre známeho dídžeja Johna Peela. V júli potom premiérovo vystúpili v britskej televízii v šou Marca Bolana s názvom Rollin' Bolan a jedným z troch songov, ktoré zahrali bol aj singel z nadchádzajúceho nového albumu. A pre reláciu rádia BBC s názvom In Concert bol zas nahraný živák v londýnskom Paris Theatre koncom toho istého mesiaca. Viaceré songy z tohto živáku som počúvaval ako decko na audiokazete.
Nahrávanie vo Vineyard Studios a Studio Maschen
✇  ✇  ✇
Do Británie s kapelou cestovali aj producenti Harry Vanda a George Young, s ktorými mala kapela nahrať viaceré skladby pre plánované EP. Nahrávanie skutočne prebehlo v londýnskych Vineyard Studios a AC/DC údajne natočili nasledovné štyri songy:
Z EP nakoniec zišlo, ale počas turné v Nemecku nahrala kapela ďaľší song. Išlo o kompozíciu staršieho brata Youngovcov Alexa, ktorý žil v Hamburgu. Studio Maschen na okraji tejto metropoly tak ukrýva jednu z najväčších rarít AC/DC – pieseň s názvom I'm A Rebel, ktorej názov je iste povedomý fanúšikom nemeckých metalistov Accept.
Táto nahrávka nebola doposiaľ vydaná a je dosť pravdepodobné, že sa tak ani nikdy nestane. Iba zopár ľuďom sa dostalo privilégia vypočuť si ju pri návšteve štúdia. A vďaka tomu, že ju niekto tajne nahral počas takejto návštevy, si ju môžeme vypočuť aj my – i keď kvalita nahrávky má ďaleko od ideálu. Spieva na nej Alex Young, ktorý ju zložil, a Bona údajne počuť harmonizovať v refrénoch. O tri roky neskôr bola skladba ponúknutá kapele Accept, ktorá ju nahrala ako singel a titulný song pre jej druhý album, ktorý vyšiel v roku 1980.
Zlé skutky za babku
Tretí album vyšiel v domovskej Austrálii v septembri 1976 a otvára ho titulný song Dirty Deeds Done Dirt Cheap. Riff ostrý ako žiletka a doslova kmeňový rytmus bicích – okorenený hypnotickým vzdychaním do mikrofónu. S titulom prišiel Angus, ktorý ho videl ako dieťa v kreslenom seriáli Beany a Cecil. Na svojej vizitke ho mala uvedený jedna z postavičiek s menom Nečestný John. Bonov skvelý text sa ním inšpiroval. Výborné Angusove sólo a crescendo na jeho konci. Dodnes koncertná stálica.
V roku 1981 jeden americký pár zo štátu Illinois zažaloval Atlantic Records kvôli tomuto songu, pretože telefónne číslo, ktoré Bon spomína v texte, bolo takmer totožné s ich a našlo sa veľa volajúcich vtipkárov.
Song číslo dva s názvom Ain't No Fun (Waiting 'Round to Be a Millionaire) je jedným z mojich najobľúbenejších na tomto albume. Sedemapolminútový jam s chytľavým riffom a vtipným Bonovým textom, ktorý môžem počúvať stále dokola. A v tom tkvie sila AC/DC. V druhej polke kapela zaradí vyšší prevodový stupeň a Phila Rudda môžete počuť hrať na ride činel, ktorý po tomto albume prestal používať úplne.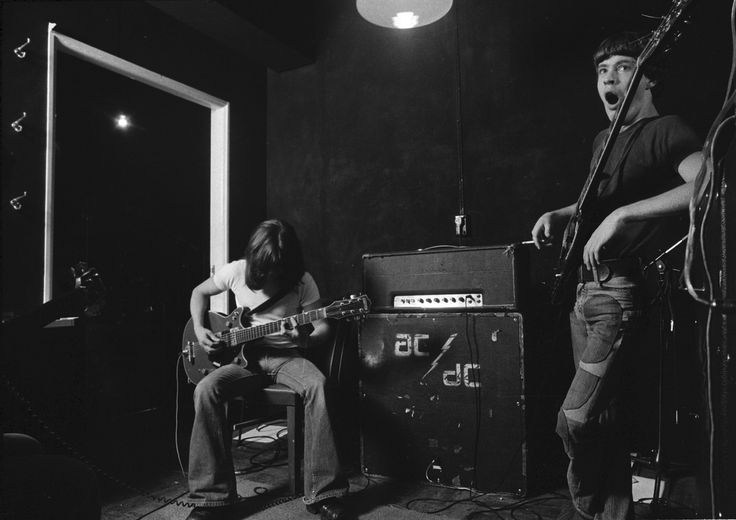 There's Gonna Be Some Rockin' je štandardné rock 'n' rollové číslo v stýle Chucka Berryho s veľmi chytľavým refrénom. Zato Problem Child, ktorý uzatvára stranu A, opäť pritvrdí a napriek tomu, že ho Bon počas koncertov uvádzal ako song o Angusovi, má Bonove autobiografické prvky. Rumba gule tu hrajú prím a nechýba ani coda (ktorá chýba na medzinárodnej verzii nasledovného albumu Let There Be Rock). Ďaľšia koncertná stálica.
Stranu B otvára temne znejúca Squealer, ktorú poháňa výborná basová linka pripomínajúca mi tú zo Soul Stripper. Z textu je zjavné, že Bon mal do činenia s pannou. Nasledovná Big Balls má jeden z najzábavnejších textov Bona Scotta, kde svoju zjavnú narážku na semenníky skryl do textu o plesoch. Nechýba skupinový pokrik o tom, kto ich má najväčšie. AC/DC sa nikdy nebrali príliš vážne, a toto je dôkaz.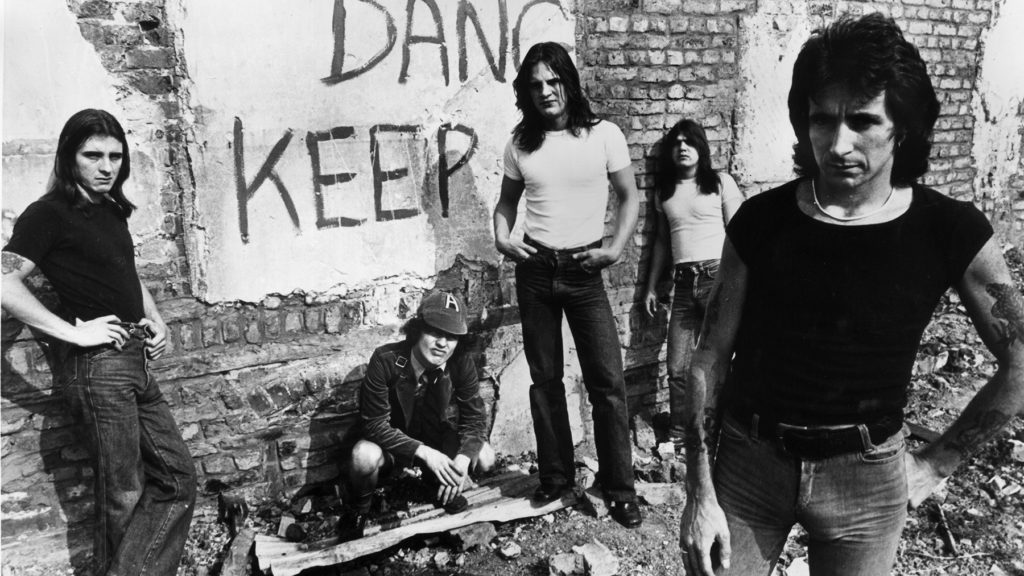 Najslabším songom na albume je R.I.P. (Rock In Peace), kde Bon spieva o tom, aby ho nechali v pokoji hrať rock. Klasický rock & roll, nie nepodobný songu číslo 3. Veci naberú serióznejšiu tematiku s výbornou Ride On, ktorá je zjavne inšpirovaná (vtedy už tri roky starým) číslom Jesus Just Left Chicago od Texasanov zo ZZ Top. Jeden z Bonových najúprimnejších textov a Angusove srdcervúce sólo, prosto klenot v katalógu kapely. AC/DC ho hrali naživo iba raz – s Brianom v Paríži v júni 2001 ako poctu Johnovi Lee Hookerovi, ktorý zomrel deň predtým.
Album uzatvára (pre mňa osobne) jeho najlepší song s názvom Jailbreak. Skvelý riff Malcolma Younga, nie nepodobný tomu z hitu Gloria, ktorého cover verziu možno počuť spievať Bona v jednej z jeho prvých kapiel s názvom The Spektors (v ktorej hral pôvodne na bicie). Text pojednáva o chlapíkovi, ktorý vyfasoval 16 rokov natvrdo za vraždu milenca svojej ženy a chce uniknúť z väzenia. Nakoniec sa mu to podarí… s guľkou v chrbte. Perfektný zborový spev v refréne: Jaaaaaaailbreak! A ten breakdown má atmosféru, ktorá by sa dala krájať. V druhej polovici 80. rokov bol tento song striptízovým číslom v sete kapely (a bol v ňom až do roku 1991).
Bonova exmanželka tvrdila v jej knihe My Bon Scott, že AC/DC údajne nahrali aj cover verziu Gloria, ktorá mala vyjsť ako B-strana singla Jailbreak. Ten inak vyšiel v júni 1976 (a dotiahol to až na pozíciu #10 v Austrálii), ale kapela k nemu stihla nahrať legendárny videoklip (pre reláciu Countdown) už v marci, tesne pred odletom do Londýna. Nahrávali ho v miestnom kameňolome v Melbourne a Phil, Bon a Angus sú v ňom odetí do trestaneckých uniforiem (poslední dvaja menovaní dokonca krompáčmi rozbíjajú skaly) a Malcolm s Markom zas majú na sebe uniformy dozorcov. Video bolo na tú dobu dosť pokrokové, keďže obsahuje výbuchy aj falošnú krv – podobne ako v texte piesne, Bonovi sa podarí uniknúť z väzenia, ale schytá guľku do chrbta. Nahraný bol aj alternatívny klip, v štúdiu, s plotom aj ostnatým drôtom. A Phil Rudd v ňom spieva podporný vokál!
Zlé skutky za babku, časť druhá
Americký Atlantic však s albumom nebol spokojný a kapelu chcel pustiť k vode. Keď sa to dozvedel viceprezident Phil Carson, ktorý mal pod palcom londýnsku pobočku Atlantic Records a AC/DC podpísal, ihneď konal. Nakoniec Newyorčanov dokázal presvedčiť, ale pre kapelu to vo výsledku znamenalo nový a ešte nevýhodnejší kontrakt.
V tom istom čase aj zišlo z plánovaného premiérového amerického turné, ktoré malo začať v septembri. Navyše, po nepresvedčivom vystúpení AC/DC na festivale v Readingu bolo v kapele tak dusno, že George Young musel jej členom čistiť žalúdky.
A v ohrození bol aj frontman Bon Scott – Američania vraj jeho spevu nerozumeli a dokonca sa pošuškávalo aj o jeho výmene, čo dnes znie úplne bizarne. Pravdou však je, že Bon už v tej dobe mal toho na rováši dosť – v Austrálii sa predávkoval heroínom (dokonca dvakrát) a musel sekať dobrotu. Nie nadarmo ho už roky predtým prezývali Ronnie Roadtest – pretože keď niekto doniesol nejaký neznámy matroš, on ho ochotne vyskúšal aj za cenu, že sa následne zvíjal v bolestiach. O pár rokov neskôr sa mu táto pochabosť vypomstila.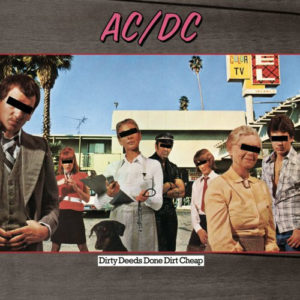 Album Dirty Deeds Done Dirt Cheap napokon vyšiel aj v Británii (a Európe) v novembri 1976, ale s viacerými zmenami. Austrálsky dizajn s karikatúrou bol vymenený za ten od renomovaného štúdia Hipgnosis. Údajne išlo o návrh pre inú kapelu, ktorá ho ale odmietla, a tak ho AC/DC dostali so zľavou. Tá druhá zmena sa týkala zoznamu piesní. Jailbreak bol trestuhodne opomenutý a na album sa nedostal ani R.I.P. (Rock In Peace). Vymenili ich Rocker (ktorý bol pre zmenu opomenutý na medzinárodnej verzii High Voltage) a nová nahrávka Love At First Feel, o ktorej som sa už zmieňoval horevyššie. Navyše, kvôli poprehadzovanému poradiu songov boli niektoré skrátené oproti tým z austrálskeho vydania. Dnes je samozrejme táto verzia jednotnou pre celý svet. V roku 1984 vyšiel Jailbreak spolu s ďaľšími štyrmi piesňami z austrálskeho debutu na EP s názvom '74 Jailbreak.
Dirty Deeds Motel
🛏  🛏  🛏
Motel na obale od Hipgnosisu sa dekádu dozadu podarilo lokalizovať tímu Delta Bravo. V Hollywoode. Vtedy sa volal Rodeway Inn a nachádza sa na adrese 6826 Sunset Boulevard v Los Angeles, Kalifornia. Dnes sa už volá Hotel H-Wood. Pár rokov dozadu som v Los Angeles strávil týždeň a keďže som bol ubytovaný v Hollywoode, párkrát som okolo Rodeway Inn prechádzal. Doteraz si to pamätám, ibaže vtedy som nevedel, že sa jedná o motel z obalu Dirty Deeds Done Dirt Cheap. Napokon, posúďte sami.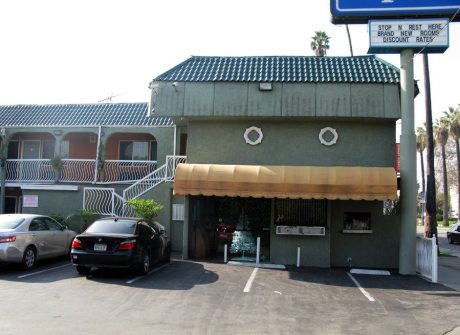 Mimochodom, autorom fotografie na obale albumu je spoluzakladateľ štúdia Hipgnosis Aubrey "Po" Powell, ktorý bol vtedy v Los Angeles a jeho kolega Storm Thorgerson mu zavolal s nápadom použiť postavy s očami prekrytými čiernymi pásikmi. Powell tak spravil foto motela na Sunset Stripe a po návrate do Londýna spravili koláž s modelmi, ktorých už odfotili vo svojom štúdiu.
Aubrey Powell takisto tvrdil, že sa stretol s Youngovcami deň pred svojím odletom do LA. Tí prišli do štúdia s tým, že potrebujú obal k albumu. To by vyvracalo historku o tom, že sa jednalo o dizajn pre inú kapelu, ktorá ho odmietla. Powell dokonca priznal, že keď videl Angusa a Malcolma, myslel si že budú stáť za starú belu. A albumu sa nakoniec predalo vyše 6 miliónov kusov iba v USA…
V Severnej Amerike album nevyšiel a fanúšikovia si museli zháňať importované verzie. Keď sa Američania nakoniec rozhodli Dirty Deeds v USA vydať, urobili tak v tom najhoršom možnom momente. Nenažranosť Douga Morrisa, ktorý chcel spolu s A&R riaditeľom Jimom Delehantom kapelu pustiť k vode, sa naplno prejavila v roku 1981, kedy už ako prezident Atlantic Records stál za rozhodnutím vydať tretí album po fenomenálnom úspechu Back in Black. Phil Carson s tým nesúhlasil, lebo vedel, že to nabúra predaje nového albumu For Those About To Rock (1981). Mal pravdu.
Dirty Deeds Done Dirt Cheap to v Austrálii dotiahol na piatu priečku, a v USA na tretiu (!) v roku 1981 (to je o jednu pozíciu vyššie než dosiahol Back in Black). Doteraz je to tretí najpredávanejší album kapely v USA (po Back in Black a Highway to Hell). Žiaden iný AC/DC album už potom na rovnaké čísla nedosiahol…
Bon Scott a Trust
⚜  ⚜  ⚜
Bon Scott sa v roku 1978 spriatelil s francúzkymi rockermi z kapely Trust, ktorí robili AC/DC predkapelu v Paríži. Hlavne s ich spevákom Berniem Bonvoisinom. Trust toho roku nahrali cover verziu Love at First Field [sic] aj verziu s novým textom pomenovanú Paris By Night.
O rok neskôr vyšiel kapele debutový album, na ktorom bola aj cover verzia Ride On. A to nebolo všetko, Bon Scott mal napísať kapele anglickú verziu textov pre jej druhý, hitový album s názvom Repression (1980). Napokon sa tak nestalo, i keď Bon už údajne mal texty hotové (nakoniec im pomohol Jimmy Pursey z punkovej kapely Sham 69). Necelý týždeň pred svojou smrťou totiž Scott navštívil Trust v londýnskom štúdiu Scorpio Sound, kde nahrávali nový album a dokonca si s nimi zadžemoval. Táto verzia Ride On je tak poslednou nahrávkou Bona Scotta.
Album Répression bol posmrtne venovaný Bonovi a na hite Antisocial zanechal svoj rukopis, keďže pokrik AN-TI-SO-CIAL! bol jeho návrh. A tam to neskončilo, pretože na treťom albume vyšiel song venovaný Bonovi s názvom Ton dernier acte (anglická verzia sa volá Your Final Gig).
A aby toho nebolo málo, tak spojenie s AC/DC mal aj štvrtý album. Texty pre jeho anglickú verziu Man's Trap (1984) totiž napísal Alex Young, žijúci v Hamburgu. Na bicích hrá Clive Burr, ktorý si vymenil miesto s Nickom McBrainom. Ten s kapelou Trust nahral tretí album a potom si ho ukradli Iron Maiden.
Problémové dieťa
Dirty Deeds pokračuje v trende nastolenom predchádzajúcim albumom T.N.T. a ešte o niečo pritvrdil. Od amerického Atlanticu sa mu však dostalo neférového zaobchádzania, ale nie je to žiadna čierna ovca. Všetko zlé je však na niečo dobré, keďže kapela pretavila svoju frustráciu do skvelého nasledovníka menom Let There Be Rock. Za ani nie tri mesiace strávené doma totižto stihli nahrať nielen nový album, ale aj odohrať posledné austrálske turné s Bonom Scottom. Vo februári 1977 už boli späť v Londýne a toho roku si napokon podmanili aj amerických divákov… Vráťme sa ale späť k tretiemu albumu. Ten obsahuje veľa piesní, bez ktorých si už dnes repertoár kapely nedokážem predstaviť. Silné štyri hviezdy.
Skladby
Dirty Deeds Done Dirt Cheap (4:13)
Ain't No Fun (Waiting 'Round To Be A Millionaire) (7:29)
There's Gonna Be Some Rockin' (3:17)
Problem Child (5:46)
Squealer (5:16)
Big Balls (2:39)
R.I.P. (Rock In Peace) (3:35)
Ride On (5:49)
Jailbreak (4:40)
Všetky skladby zložila trojica Young/Young/Scott.
Bon Scott – spev
Angus Young – sólová gitara
Malcolm Young – rytmická gitara
Mark Evans – basa
Phil Rudd – bicie
George Young – basa [časť albumu]

Medzinárodná verzia:
Dirty Deeds Done Dirt Cheap (3:56)
Love At First Feel (3:12)
Big Balls (2:42)
Rocker (2:52)
Problem Child (5:46)
There's Gonna Be Some Rockin' (3:19)
Ain't No Fun (Waiting 'Round To Be A Millionaire) (6:55)
Ride On (5:56)
Squealer (5:28)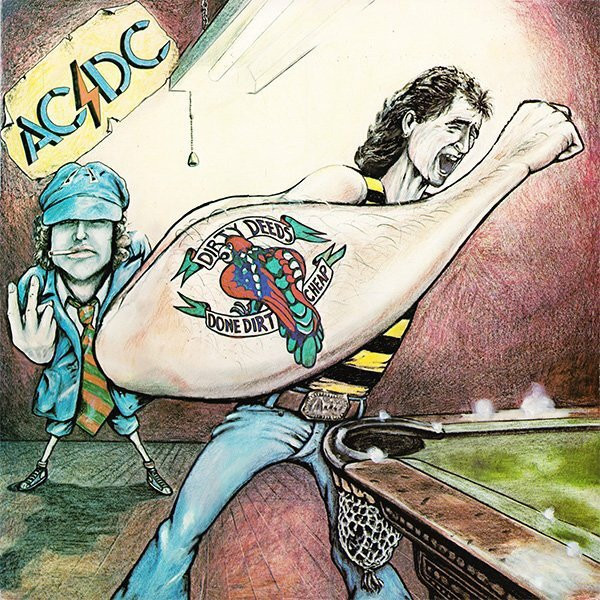 Dirty Deeds Done Dirt Cheap
AC/DC
Hard rock
Albert Productions (AUS)/Atlantic (UK)
1976
9