Bratislavská skupina Žalman Brothers Band (ŽBB) vznikla v roku 2001, takže má za sebou 20 rokov existencie. Nedávno, presnejšie v decembri 2021, sprístupnila svoj nový štúdiový album Od roztočeného sústruhu. To je už pádny dôvod na to, aby som konečne oslovil niekoho z kapely a vyspovedal ho. Voľba padla na internetového spolubojovníka z Rockovice, bubeníka Hejkala, alias Erika Kriššáka.
Erik, na úvod mi dovoľ, aby som kapele zablahoželal k jubileu a poďakoval za skvelý album, ktorý vyšiel iba nedávno. Zároveň Ťa chcem požiadať, aby si zrekapituloval 20 rokov života so Žalmanmi, ale nielen to…
Tvoja cesta k hudbe ako takej?
Som typický predstaviteľ Husákových detí. Vyrástol som na Triangli a mojim prvým hudobným idolom bol Žbirka. Zároveň som nemohol nepočuť hudbu môjho otca, ktorá u nás hrala odmalička. Napokon, aj chodiť som sa učil za tónov Hurdy Gurdy Man od Stevea Hillagea. Niekedy v štvrtej triede základnej školy prikvitla revolta, napokon, zbehla Nežná revolúcia a rocková hudba, cenzúrovaná a zakazovaná komunistami, mala zrazu zelenú. Z undergroundu vyliezli punkové kapely typu Zóna A, Slobodná Európa, Davová Psychóza, Šanov, Visací Zámek, SPS atď. Samozrejme, nechýbali Sex Pistols, Clash, Exploited, Dead Kennedys a pod. Ako chalanovi vstupujúcemu do puberty mi to bolo blízke a dodnes nemám problém nostalgicky si túto muziku vypočuť.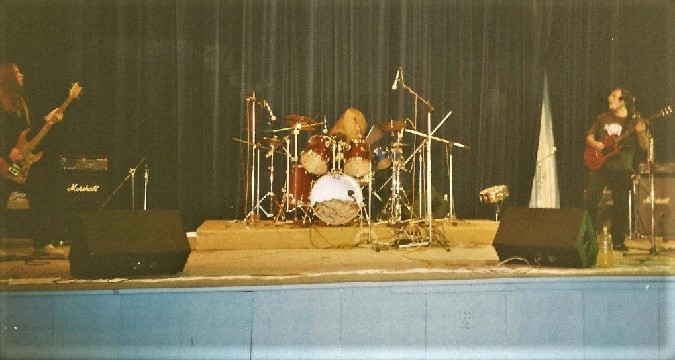 Ako si sa dostal k bicím?
Niekedy v pätnástich som sa začal zaujímať o kazety môjho otca. Naďabil som na debut Wishbone Ash a tamojšie bicie Stevea Uptona ma doslova na prvú zaujali natoľko, že som si povedal – to je ono! Otec vtedy spolupracoval s Vadimom Bušovským a jeho skupinou Dorian Gray, doma sme mali často seansy pri videu, hrali Deep Purple, Led Zeppelin a pod., pričom sa veľa diskutovalo o muzike. Chcel som sa naučiť hrať na nejaký hudobný nástroj a vylučovacou metódou som sa zbavil všetkého, čo sa mi zdalo ťažké (gitara, basa – veľa strún a stupnice). Veď do bicích sa len mláti – cha, cha, cha! Začal som pod dozorom Borisa Brnu cvičiť pred skúškami Dorianov v skúšobni v Juvente. Vadimov žiak na gitaru, Tibor Príkler so mnou založil prvú kapelu Earpick. Názov nám dal môj otec, vraj mal takúto formáciu kdesi v 70. rokoch. Čo sa týka techniky hry, väčšinu som odkukal od iných muzikantov, plus rok som chodil na Ľudové konzervatórium k Milanovi Ručekovi, ten ma naučil základy hry z nôt.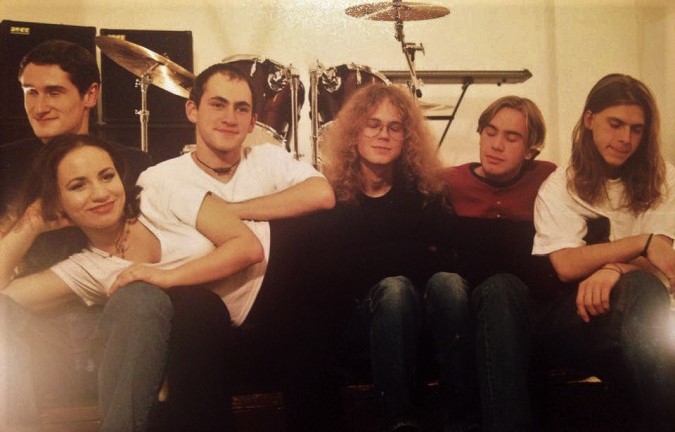 Čo sa týka vzorov, najviac ma ovplyvnil Carl Palmer z Emerson, Lake & Palmer. To je pre mňa číslo jedna, som veľmi rád, že som ho videl aj naživo v Múzeu Obchodu v Bratislave. Nedám dopustiť ani na zmieneného Steve Uptona, dnes si na neho málokto spomenie, ale patril k popredným hráčom prelomu 60. a 70. rokov. Kombinácia jazzovej techniky a rockového drajvu na prvých dvoch albumoch Wishbone Ash mi poskytla veľmi veľa. O svojich vzoroch som už na Rockovici písal, prípadní záujemcovia si o nich môžu prečítať v článku s názvom Bubnovanie, ktoré mi zmenilo život.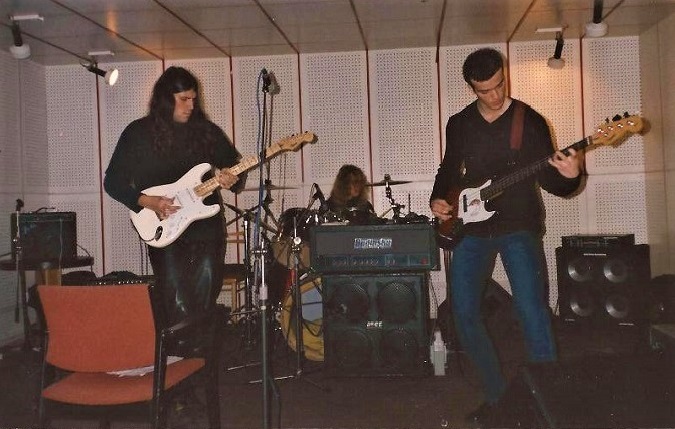 Čo bolo pred ŽBB?
Všeličo. Najprv hardrockový Earpick, potom poprockový Backstage. Dokonca som hral inštrumentálny classical rock s kapelou Goodbye Planet Earth, s ktorou sme však nikdy nekoncertovali. Menované stredoškolské kapely dlho nevydržali, a tak som cez spolužiaka z vedľajšej triedy, ktorý hral na basu a počúva na meno Braňo Bujnovský, dostal ponuku pridať sa k jeho skupine Radio Luxembourg. Tam som spoznal Martina Výbocha, s ktorým odvtedy hrám priam nerozlučne. Z iných skupín spomeniem ešte Peter Csonka Band, Strempek Križan Band a od roka 2013 máme s bratom tvrdú rockovú kapelu Dyin' Breed.
Nástup k ŽBB…
To bola zaujímavá náhoda. V roku 2001 sme vystúpili na bratislavskom festivale Livin' Blues v rámci akustickej malej sály s formáciou Peter Csonka & A. Band. Dole na veľkom pódiu hral Peter Žalman z legendárnej bratislavskej kapely Hartus so svojou novou kapelou Žalman Brothers Band. Neviem už, prečo, ale evidentne hľadal iných spoluhráčov, nuž po koncerte oslovil mňa i Martina Výbocha, že či sa k nemu nepridáme. Pridali sme sa. Prakticky okamžite (19.5.2001) sme hrali na svadbe kamarátovi, ešte bez akejkoľvek prípravy, kopu ZZ Topov a bluesových štandardov. Seriózny koncert s nacvičeným repertoárom sme si odbili v legendárnom bratislavskom pube Aligátor dňa 2.8.2001. A odvtedy sme sa nezastavili, zahaltovala nás až pandémia.
Čomu pripisuješ najväčšiu zásluhu na stabilnom zložení skupiny už od roku 2003?
Keď sme sa s Martinom pridali k Žalmanom, hral s nami aj talentovaný gitarista Silvo Sališ, ale tiahlo ho to troška iným hudobným smerom ako južansky orientovaného Peťa, a tak v roku 2002 odišiel. Ako to už býva, Maťo poznal Maťa, a tak sme vzali Martina Vargu. Vtedy bol len na začiatku svojej púte s gitarou, ale ako vraví Ian Anderson z Jethro Tull – radšej budem hrať s kamarátom ako s veľkým a cudzím menom. Hudobne sme si všetci sadli i ľudsky, hráme štýl, ktorý sa nám páči a vo všetkej skromnosti sme stále jediná southernrocková kapela na Slovensku. Muzika je pre nás radosť a relax, možno je šťastie, že sa ňou neživíme, a tak nie sme pod tlakom. Sme taká rodina zo skúšobne.
Načrtol by si svojimi slovami diskografiu ŽBB?
Diskografia je silné slovo, sme typická amatérska skupina (a teda sa hudbou neživíme), nuž sú naše nahrávky zväčša demá a záznamy z koncertov. Máme ich na konte niekoľko, prvé demo z roka 2002 ešte so Silvom (a skladbou Návrat), potom demo v trvaní albumu z roka 2003 nazvané Track One, kde sme prvýkrát výrazne uprednostnili vlastnú tvorbu pred covermi, účasť na sampleri Bluesrocková spoločnosť No. 4 z toho istého roka… Na webe sme sprístupnili aj nahrávky zo skúšobne z roka 2007, z festivalu Stetson & Bourbon z roka 2008 i z vystúpenia v nitrianskom Frankie Rock Clube z toho istého roka. Prvý seriózny album je však až koncertný kúsok Live in Stará Pekárna z 12.5.2010. Tento brnenský podnik má cveng a sme radi, že to vyšlo.
Prvý lisovaný album je však až Som, kto som z roka 2015. Ide o jediný album southern rocku made in Slovakia, teším sa, že sme tento neodpustiteľný nedostatok na našej scéne vymazali. Myslím, že to bol náš dovtedajší umelecký vrchol, ktorý by sme radi zmenili na hrebeňovku v tandeme s aktuálnym albumom Od roztočeného sústruhu. Ten je zatiaľ dostupný len elektronicky (napr. na Spotify), ale tento rok ho dáme aj vylisovať.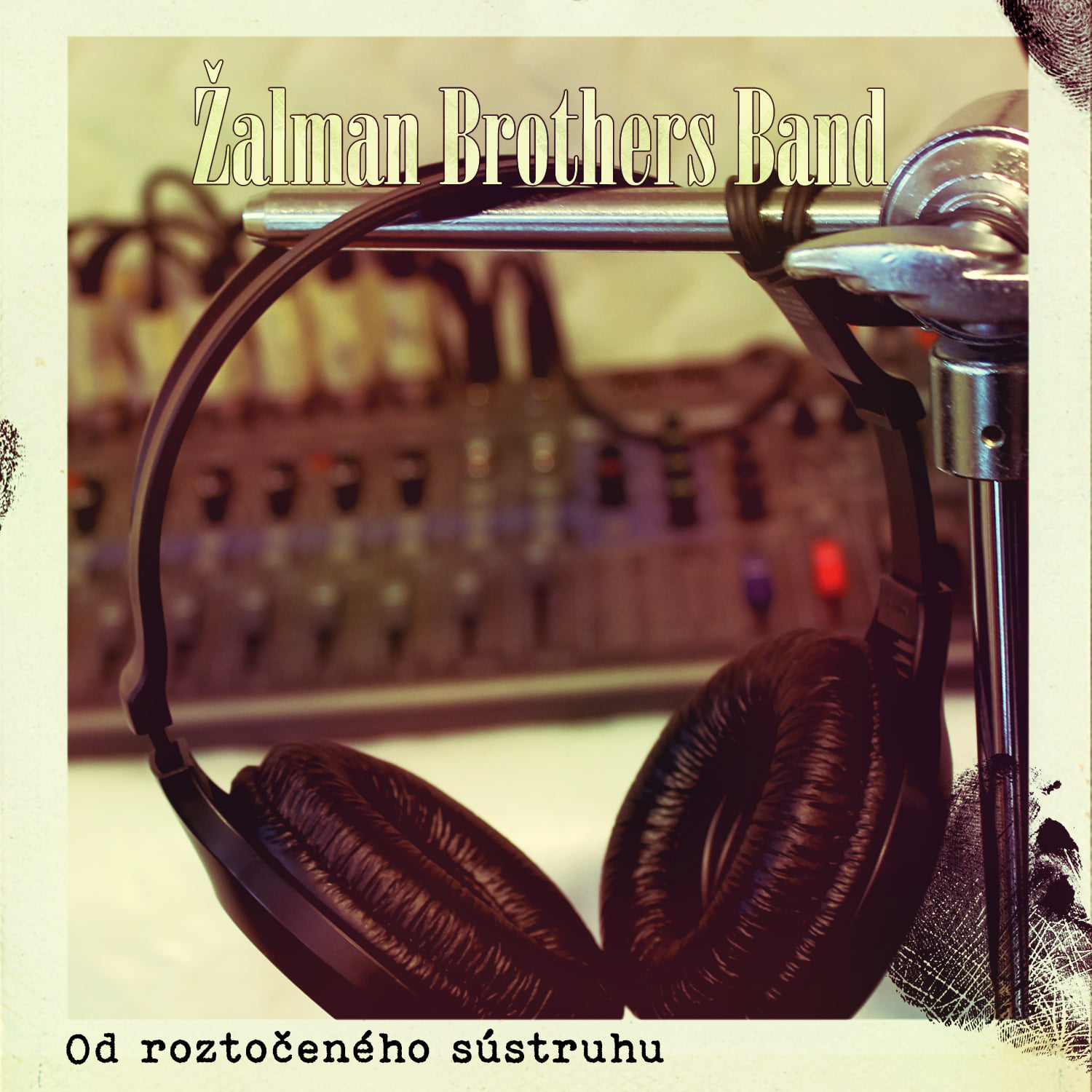 Povedz niečo o novom albume…
Žalmani od roztočeného sústruhu. S názvom prišiel Peťo potom, čo sme zavrhli pár návrhov (Nezapadnúť, Pandém(ón)ia). Hoci viaceré texty sa dosť dotýkajú posledných dvoch rokov, kedy je kultúra a živá muzika doslova zarezaná, nechceli sme, aby sa náš album zaradil do zástupu diel, ktoré budú z Covid-19 vytĺkať kapitál. Takých názvov bude habadej. Z pohľadu muzikanta to je príšerná doba. Hrať z obývačky cez stream je chabá náhrada živého kontaktu s publikom. Navyše, sme skupina, ktorá dochádza cez okresy a mnohokrát sa cez ne ísť nemohlo. Akokoľvek chce človek dodržiavať opatrenia a správať sa zodpovedne, v niektorých momentoch skrátka nejde pochopiť, čo sa to tu u nás deje. V tých vzácnych chvíľach, kedy sme mohli aspoň skúšať (za posledné dva roky sme odohrali len tri koncerty) sme nahrali deväť skladieb, ktoré sme zozbierali za posledných šesť rokov. Mali sme v pláne aj nejaké cover verzie, ale napokon sme ich zavrhli a pridali len akustickú verziu svižnej Cesty.
Čo sa týka štúdia, zriadili sme si vlastné v skúšobni. Je v malej šope, Maťo Výboch sa podujal na strastiplnú rolu zvukového majstra, za čo mu všetci ďakujeme, pretože sú to nervy. Pri dvadsiatej verzii mixu jednej skladby má človek vlastnej muziky plné zuby. Ale výsledok je fajn. Nie je sterilný, odzrkadľuje prirodzený sound Žalmanov. To sme my, so všetkými limitmi, aké máme. Na poslednú chvíľu Martin niekde objavil zabudnutú nahrávku akejsi skúšky, kde sme hrali riff, z ktorého sme za pár hodín vyrobili novú skladbu Zabudnutý riff. Martin ju otextoval a ja som ten text následne prerobil, pričom som zabudol, že sa volá Zabudnutý riff, nuž v texte počujete výraz "stratený riff". Tá skladba je plná strát. 🙂
TOP 10 skladieb ŽBB…
To je veľmi subjektívna otázka a pochybujem, že má univerzálnu platnosť. Za seba môžem povedať, že najbližšie mám k skladbe Na rade som ja, pretože sa mi páči ten svižný boogie rytmus a aj s textom som spokojný. Podobne ma baví metličková There Are So Many Ways a váľajúca Zuza Boogie, v ktorej sa ako bubeník vždy vyjaším. Ale rád hrám prakticky všetko, čo máme v repertoári. Jedno, či je to Jazda, Cesta, Boogie nám treba, Stratený, Katastrofický dážď alebo Zapadnúť, či Zabudnutý Riff.
Vystúpenia, na ktoré rád spomínaš?
Tých bolo. My sme hlavne krčmová kapela. V podniku môžeme hrať tri-štyri rundy, rozohriať sa, vytiahnuť sa a napokon sa odmátožiť na podguráženú večierku. V tomto smere boli vystúpenia v 90. rokoch a ešte aj v nultých rokoch úžasné. V takom bratislavskom Bastione chodili na muziku stovky ľudí. Aligátor praskal vo švíkoch. Dnes to zaniklo. Už dobrých pár rokov podniky nemajú klientelu, očakávajú, že ju pritiahne kapela, ale inak zívajú prázdnotou. Ľudia sa neodtrhnú od mobilov, živá hudba prakticky zakapala už pred koronou. Jasné, že existujú výnimky, ale trend je jasný, muzika sa streamuje. Cením si všetky vystúpenia na festivale Livin' Blues. Rovnako v Múzeu Obchodu, na Slovensku nemáme cennejšie miesta pre hranie našej muziky. Jedna z najväčších zverín pre mňa ostáva spojená s Malackami, kde sme v Pilsner Pube hrali tri kapely, Radio Luxembourg, Peter Csonka Band a Žalman Brothers Band. Muzikanti sa striedali, ale ja som bubnoval celú noc! Napokon som do toho už len rúbal stuhnutými rukami ako drevorubač. Cením si vystúpenia v zahraničí, neuveriteľný festival v Rawe Mazowieckej v roku 2005, kde sme vystúpili na rovnakom pódiu ako Ten Years After, české južanské podujatia Mlejn, Stetson & Bourbon v Otrokovicích, Roots & Blues v Bíline, ale aj Blues Aperitiv v Šumperku, Buxomfestík v Sedlnicích, Southern Rock & Blues v Kolíne, kde sme hrali aj minulý rok ako jedna z dvoch zahraničných kapiel, ktoré dokázali vycestovať v tejto pandemickej katastrofe. Parádny bol aj Blues Alive v Poľsku, v Piekary Śląskie v roku 2011. Haluz sme zažili v Giraltovciach na prvom ročníku bluesového festivalu, v ktorom sme súhlasili, že si vymeníme poradie a zahráme až po Bonzovi Radványim a celé vystúpenie sa pretiahlo tak, že sme hrali až neskoro v noci. Len, keby na tom východe v kuse nenalievali…
Moment, ktorý by si najradšej vymazal z histórie ŽBB?
Taký si nepamätám. Buď som ho úspešne vymazal alebo nebol. 🙂
Prezradíš nejakú pikošku na kolegov z kapely?
Myslíš, že je čas na rozpad? 🙂 Všetci sú vodári, Peťo projektuje čističky, Maťovia sú hydrogeológovia, len ja im to kazím akýmsi knihovníctvom a osvetou.
Tvoj pohľad na slovenský rock?
To nie je otázka pre mňa, respektíve, neviem na ňu jednoznačne odpovedať. Osobne si myslím, že Slováci veľmi na rock nie sú. Máme tu subkultúry, čo si žijú svojim životom, napríklad blues tu hrá viac ľudí ako ho počúva, ale celkovo niet o čom, však si pusti ľubovoľné rádio. U nás sa za rock vydávajú rôzne popíkové kapely s elektrickou gitarou, ale to ma neoslovuje. Pre mňa je to naj stará klasika, Collegium Musicum, Fermata, Provisorium, Gattch… Zo súčasných kapiel by som odporučil Beans & Bullets alebo klasiku ZVA 12-28 Band. A, samozrejme, Krokoband a Calvados Band. Pokiaľ sa chcem pri dobrej muzike aj zasmiať, je tu Grapefruit Death.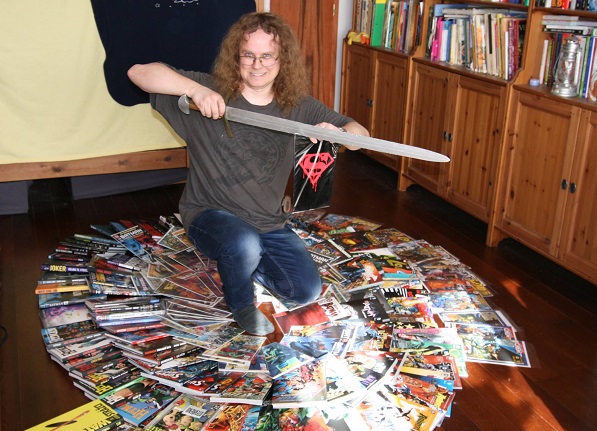 Koníčky?
Rád čítam, rád píšem, rád hrám na bicie. Čítanie je pre mňa rovnaká závislosť ako hudba. Okrem literatúry milujem komiksy. Knihovník vo mne túži po encyklopedickom poznávaní, a tak už od 90. rokov študujem a hľadám informácie o muzike. V tých časoch bol internet v plienkach, bibliou bol Vlček. Napokon som prišiel na to, že čo si človek neurobí, nemá. A tak som začal dávať dokopy profily starých rockových kapiel, naďabil som na dnes už neexistujúci Progboard (okrem iných webov), kde som aj vďaka Merhautovi svoje písačky rozvinul do dnešnej podoby. Dodnes naivne verím, že to možno uľahčí cestu za poznaním tých, ktorí prepadnú rockovej muzike z 60. a 70. rokov a nebudú sa musieť hrdlačiť v snahe čosi zistiť ako ja pred rokmi. Slovenské hudobné informácie majú stále veľký dlh voči hudobnej histórii. Nevymažem ho, ale aspoň mu zviažem nohy, nech sa nerozpína. Samostatnou kapitolou sú texty ku skladbám, ktoré občas píšem a poézia, ktorej kazím fazónu odmalička. Ktovie, možno raz bude aj kniha.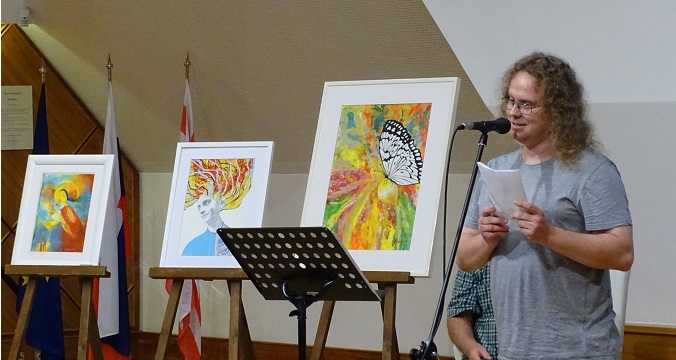 Plány?
Plány mám mnohoraké, ale v tejto dobe o nich ťažko hovoriť. Okrem udržania fyzického i duševného zdravia túžim konečne koncertovať a prekonať tú gargantuovskú nechuť Slovákov ku kultúre a umeniu ako takému. Je až hrozivé, ako ľahko sme sa vzdali toho jediného, čo definuje identitu národa nad rámec geografického zhluku ľudí. A tak bojujem v rámci svojich profesných i umeleckých možností a schopností. Ľahké je rezignovať, ešte ľahšie je kritizovať každého, kto nerezignoval a koná. Aj tak sa však treba činiť, nuž mňa od kultúry nikto nedostane. Znie to pateticky, možno veľkohubo, ale aké sú alternatívy? Farmy na Markíze?
Niečo na záver?
Prajem všetkým čitateľom i našim priaznivcom všetko dobré a vidíme sa hádam čoskoro aj naživo.
Erik, ĎAKUJEM!!!