2. máj je spojený s koncertom, kedy sa mi splnil jeden hudobný sen a videl som Carla Palmera, svojho obľúbeného bubeníka, naživo. Bolo to v roku 2012 a takto som to vtedy vnímal…

CARL PALMER BAND
Dátum: 02.05.2012
Miesto: Múzeum obchodu, Linzbothova 16, Bratislava
Zostava:
Carl Palmer: bicie, sprievodné slovo
Paul Bielatowitz: gitara
Simon Fitzpatrick: basa

Keď na Slovensko zavíta legendárny bubeník, člen hádam všetkých rockových i širšie koncipovaných siení slávy prestížnych hudobných časopisov a spolkov, ktorý je navyše mojim najväčším vzorom a idolom v jednom, nie je prekvapením, že sa o tom človek z celoštátnych médií nedozvie ani slovo. Preto to naprávam a zaspomínam si na koncert Bandu fenomenálneho rockového bubeníka Carla Palmera v Múzeu obchodu.
Carl Palmer je chlapík, ktorý si svoju hviezdu kariéru začal budovať už v 60. rokoch minulého storočia (na dobu mal šťastie). Hral s úžasným spevákom Chrisom Farloweom (neskôr jeho mohutný hlas žiaril v skupinách Atomic Rooster a Colosseum) a ešte úžasnejším psychedelikom Arthurom Brownom a jeho Crazy Worldom. Následne sa stal členom Atomic Rooster, čo bola jedna z najoriginálnejších hardrockových skupín všetkých čias a potom sa pridal k šialenému klávesákovi Keithovi Emersonovi a spolu s Gregom Lakeom založili pre zmenu jednu z najslávnejších artrockových skupín Veľkej Británie, a síce Emerson, Lake & Palmer. Tá sa vyžívala v ničení aparatúry, neskutočnej hráčskej virtuozite a prevádzaní klasickej hudby do svojských rockových drsností (za čo si vyslúžila vlnu kritiky od tých, čo klasike holdujú takpovediac tradične). Koncom sedemdesiatych rokov pompéznym projektom odzvonilo, nuž sa Palmer stal bubeníkom populárnej "ejtýs" popovej skupiny Asia a ak nerátam krátkodobé projekty PM a 3, tak sa v 90. rokoch zúčastnil reunionu Emerson, Lake & Palmer a v novom miléniu funguje so svojím Bandom a tiež s obnovenou skupinou Asia.
A čím je taký výnimočný? Nuž, patrí nielen k technicky vybaveným, ale aj správne divokým hráčom, ktorí sa držia zásady, že viac je viac. Jeho sila je v tom, že pochopil, že rockové bicie nemusia stáť na odbíjaní prvej a tretej doby (nič proti AC/DC), naopak, permanentné sólo je to pravé. Jeho technika hry na rytmičáku a pohrávanie si s činelami berú dych, treba vidieť. A preto nasleduje pár ukážok.
Minulosť:
Súčasnosť:
Kým sa dostanem ku koncertu, dovolím si ešte jednu malú spomienku, Palmer a jeho vyzliekacie sólo ma priviedlo k bubnovaniu a mám na videokazete moje prevedenie uvedeného, musím to niekedy dostať na web.

Pódium sa nachádzalo na dvore, nečudo, rozložiť aparatúru v úzkom podkroví by nezvládol asi ani sám veľký Palmer. Koncert začal okolo ôsmej hodiny večernej príhovorom riaditeľa Múzea obchodu, ktorý vystríhal pomerne veľký dav (bolo hádam aj cez sto ľudí, príjemne ma to prekvapilo) pred fotením s bleskom a tiež informoval, že po skončení koncertu bude podpisová akcia, pri ktorej sa má vyvarovať fyzických kontaktov a aktivít s členmi kapely. Tú tvoria dvaja mladíci, gitarista Paul Bielatowicz a basák Simon Fitzpatrick. Obaja sú nadupaní technikou až za uši, využívajú tonu efektov, krabičiek a samplov, nuž znejú ako klávesy i iné nástroje, ale aj cez nepochybnú univerzálnosť by to chcelo popracovať na troške divokých citov. Pri kadencii sto tónov za sekundu občas nejaký ušiel, ale to je len také násilné brýzganie, aby som iba nechválil, boli perfektní. Carl Palmer Band sa tu predstavil už druhýkrát, prvý koncert som nevidel, nuž nedokážem porovnať rozsah repertoáru, každopádne na úvod zaznelo "Welcome back my friends to the show that never ends…", a teda išlo o časť monumentálnej kompozície Karn Evil 9. Keďže skupina hrá výhradne repertoár Emerson, Lake & Palmer (predstavovačky boli výnimkou), a to bez spevu a bez klávesov, chvíľu som si na to zvykal. Z debutu z roku 1970 zaskočil Béla Bartók a jeho The Barbarian, z albumu Trilogy dokvitol Hoedown, čo je skladba, ktorú som kedysi hrával so skupinou Goodbye Planet Earth, takže som sa potešil. Dva prekvapivé kúsky, tarkusovský Bitches Crystal a opäť trilógiový Abaddon's Bolero, ma tiež hriali v miestach, kde sa azda nachádza srdce. V druhej zmienenej Palmerovi vypadla palička. Tarkus je monumentálna skladba, takže odznela značne skrátená.

Nastala chvíľa oddychov, najprv si Čierneho Petra vytiahol gitarista Paul Bielatowicz, ostal a odohral dva inštrumentálne klasické kúsky, a hoci oba poznám, ani za nič im neviem prísť na meno. Následne sa vrátila rytmika a chalan dostal voľno. Nejaké to vyhrávanie prešlo do sóla pre basu, nuž sa Palmer opäť vytratil (nie, že by v areáli múzea bolo veľmi kam) a Simon Fitzpatrick odohral iba na base (a s pár jej samplami) komplet Stairway to Heaven od Led Zeppelin aj s gitarovými sólami. Prvý vrchol večera bol na svete. Emerson hral Rondo už so skupinou The Nice, ale aj následné trio ho radilo do svojho koncertného setu, nuž si naň Palmer zaspomínal. A nasledovalo to, čo ma potešilo ešte viac. Kompletné prehranie Pictures At An Exhibition bolo skvelé a prezentačne rozhodne patrilo spomedzi k najlepším momentom večera. Zaujímavé bolo, že niektoré originálne gitarové pasáže odohral basák (keďže gitarista sa prebíjal tými klávesovými). A bol tu záver. Veľký hit sedemdesiatych rokov, Fanfare For The Common Man, bol sám o sebe úžasný, ale aj tak mu dominovalo bubenícke sólo. Palmer je eso, to, ako hral na súpravu i (a hlavne) na činely – spredu, odzadu, zboku, zhora, zdola – striedavo vykrúcal paličky, žongloval, obíjal ráfiky prechodov a kotlov spolu s činelami (chvíľu jeden aj drhol paličkou) a v neposlednom rade nechal paličky odrážať sa od súpravy samé a na čineli jednu nechal chvíľu tancovať bez držania! Ak má nejakú slabinu, tak je to hra na dva kopáky, ako každý nemetalový bubeník ich používa staromilsky, bakerovským spôsobom. Mne to neprekáža, len sa na chvíľu tvárim "objektívne".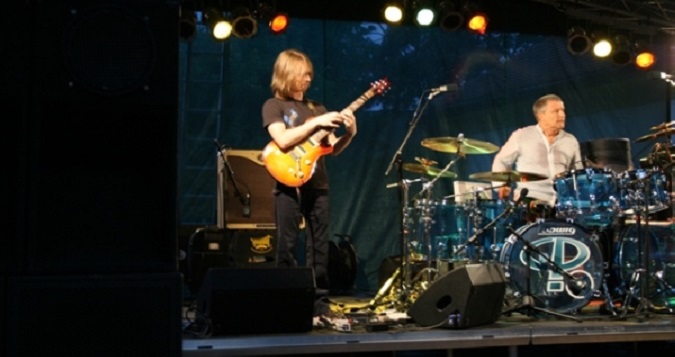 Takmer okamžite sme si dohodli prídavok, čo bola známa Bachova Toccata. A to nebolo všetko. Frenetický potlesk donútil skupinu prísť a odohrať aj dve ďalšie klasiky, Peter Gunn  a  Nutrocker. A to bolo všetko.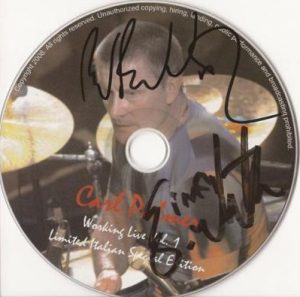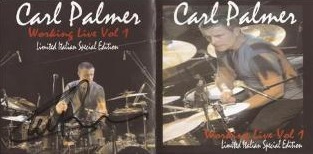 Po pár minútach začala autogramiáda, nechal som si podpísať lístok i zakúpené cédéčko a vyrazil som aj s rodinou domov.
Koncert bol úžasný, na Slovensku som podobný ešte nevidel, predsa len sa classical rock už dnes moc nehráva a ak aj áno, rozhodne sa neponúka tunajším ľuďom. Škoda. Skupina pracovala s publikom, to vďačne tlieskalo, dokonca aj do rytmu počas niektorých pasáží, kde im Palmer s kopákom synkopicky likvidoval rytmus, a tak by som mohol písať stále ďalšie a ďalšie zážitky. Carl Palmer mi navyše ukázal, že sa je ešte čo učiť. Za tento večer patrí všetkým, čo ho umožnili, veľké ďakujem. A videl som svoj bubenícky vzor!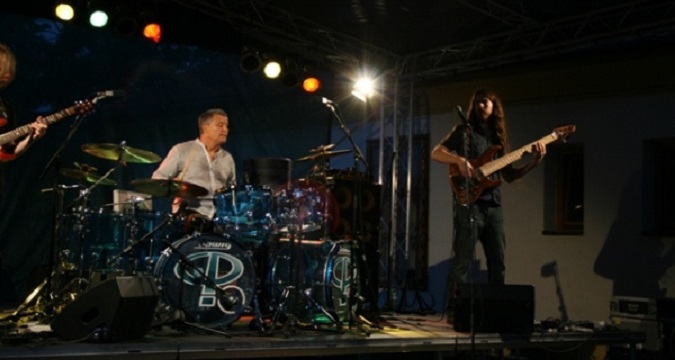 SKLADBY:
01. Karn Evil 9 – 1st Impression (Emerson, Lake, Sinfield)
02. The Barbarian (Bartók ar. ELP)
03. Hoedown (Copland, ar. ELP)
04. Bitches Crystal (Emerson, Lake)
05. Abaddon's Bolero (Emerson)
06. Tarkus (Emerson, Lake)
07. Predstavovačka gitaristu /dva klasické kúsky/
08. The Enemy Dances With The Black Spirit – medzihra basa a bicie (Prokofiev, ar. ELP)
09. Predstavovačka basáka (Stairway to Heaven)
10. Rondo (Brubeck, ar. The Nice)
11. Pictures At An Exhibition (Musorgskij, ar. ELP)
Promenade
The Gnome
Promenade
The Sage
The Old Castle
Blues Variations
Promenade
Hut Of Baba Yaga
The Curse Of Baba Yaga
Hut Of Baba Yaga
The Great Gates Of Kiev
12. Fanfare For A Common Man (Copeland, ar. ELP)
Prídavok
13. Toccata (Bach, ar. Carl Palmer Band)
Druhý prídavok
14. Peter Gunn (Mancinni, ar. ELP)
15. Nutrocker (Čajkovskij, ar. ELP)