GATTCH bola (a stále je) jednou z najkultovejších československých rockových kapiel. Takmer nikto ju nevlastnil, na cédečkach tiež nie je práve masovo dostupná, nuž by sa patrilo venovať jej pár slov, nech sa na ňu nezabudne.
Hudobné teleso GATTCH bolo u nás doma uctievané o to viac, že sme nemali ani platňu a ani kazetu. Keď som si začal budovať svoju zbierku, túžil som zohnať aj tento album. V roku 2002 sa vďaka prakticky nadšenému fandovstvu zjavila dvojdisková kompilácia Komplet, ktorú vydalo Sony Music. Ale kým sa o tom človek vôbec dozvedel, už bola nedostupná. A už nikdy nebude, vitajte v krajine, z ktorej nespravil Švajčiarsko ani jedinec, ktorý sa rodí raz za tisíc rokov. Napokon som sa dočkal aspoň pôvodnej dosky. S podporou Hudobného fondu začala pred pár rokmi vychádzať stovka základných albumov a interpretov (www.opus100.sk), kde v mizernej úprave prichádzajú vždy dva albumy v kope. GATTCH dostal spolucestujúceho v podobe diela Svitanie od M Efektu. Nie, že by nešlo o ďalšiu skvelú vec, ale aj tak mi je záhadou, ako sa robil "výber". Priznajme si to. Slováci na svoje kultúrne dedičstvo kašľú viac ako na pohostinnosť. Kým v Čechách vychádza ich rocková muzika v reedíciách, krabicových kompletoch, vždy opatrená kvalitnými sprievodnými informáciami a vizuálne na úrovni, tu u nás na všetko kašleme. A pritom rockovej muziky, čo za niečo stojí, máme v histórii ako šafranu. Je to hanba!
Klavírny úvod oscilujúci kdesi medzi džezom a klasikou doplní priamočiara rytmika a milosrdne zahuhňaná gitara, takže je z toho príjemný rock nazvaný, ktovie, prečo, Kvapka medu. Ono, tie abstraktné názvy pre inštrumentálky ma neprestávajú fascinovať ani po rokoch. Pamätám si na jedného kamaráta, ktorý nahral album a potom ho púšťal ďalšiemu známemu, že čo on na to. Jeho reakcie, prvé aké mu prišli na rozum, využil ako názvy skladieb. Aj tak sa dá. Meditatívna haluz Pieseň bez slov je paradoxne spievaná, akurát jediné slová, ktoré zaznejú, sú "á", "ú", prípadne "ná". Bluesrocková gitarovka Narodenie nemá chybu. Iste, nachádza sa tu aj niekoľko "čudných" medzihier, či už tá s "á-čkom" za mikrofónom alebo iná, klavírna vsuvka, gro skladby však nezaprie záľubu v priamočiarom rocku. Inak, je tu aj čosi na spôsob bubeníckeho sóla. Krátkeho, ale podmanivého. Nadžezlá klavírna skladba Neznáma tvár má živú atmosféru, zabudnite na polnočný cintorín a ani momentálne populárne zombie by si tu nevrzli. V nastolenom trende pokračuje aj Vlak. Náznaky ťažkého džezu si uchováva aj dlhočizná skladba Vokálna štúdia – Reminiscencia I., napokon sa zvrhne do klasiky. Reminiscencia II. Je na tom rovnako, prakticky ide o jednu "skladbu". Akurát tu zaznejú i husle. Nekonečné sólovanie v Kontrapunktickej etude je dravé ako kandidát na amerického prezidenta, napokon je po albume.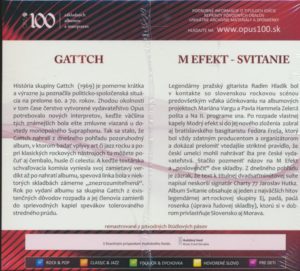 GATTCH je zvláštna doska. Má podmanivú atmosféru, ide prakticky o inštrumentálnu záležitosť, občasné hlasy v podstate nič nespievajú ("poďakovanie" za to patrí Komunistom, ktorí neschválili texty). V našich končinách nemá rovesníkov, stojí osamote uprostred hlušiny (česko)slovenskej populárnej hudby a vyšla, ak mám veriť krátkemu textu z reedície, len kvôli tomu, že OPUS na počiatku svojej kariéry nemal čo vydávať. Rozhodne stojí za pripomenutie a vlastne by sa mala učiť aj na základných školách, v rámci histórie našej muziky 20. storočia.
Skladby:
Kvapka medu 2:54
Pieseň bez slov 3:18
Narodenie 3:25
Neznáma tvár 3:50
Vlak 3:45
Vokálna štúdia – Reminiscencia I. 7:29
Reminiscencia II. 3:26
Kontrapunktická etuda 7:12
Zostava:
Ľudovít Beladič: klávesy
Tomáš Rédey: gitara, husle (7)
Tony Lančarič: basová gitara
Juraj Štefula: bicie nástroje, umelecký vedúci
GATTCH
GATTCH
art rock
OPUS
1971
LP, CD
8