Čas nezastavíš. Všetci máme na tomto svete vystavenú stopku, ale nepoznáme deň, hodinu, minútu. Po smutnej správe z tábora hard rockových Sweet, že včera nás opustil basgitarista a spevák Steve Priest, som sa rozhodol pridať pár slov k mojej obľúbenej sviťáckej LP.
Pamätám si na stretnutie s albumom Desolation Boulevard. Požičal mi ho jeden známy na víkend. S tým, že si ho nahrajem. V tom čase som robil vodičák a hoci ho aj úspešne zvládol, na papiere som čakal takmer šesť mesiacov, ktoré mi chýbali do osemnástky. Trochu som odbočil, ale má to súvis, pretože na plánovanú jazdu som prišiel so spomínanou elpéčkou pod pazuchou. No a to bol koniec vyučovacej hodiny, lebo súdruh učiteľ z autoškoly sa zamiloval do mojej príručnej batožiny.
Ďalšia spomienka sa viaže ešte na letá v základnej škole, keď na rôznych štátnych oslavách dievčatá z tanečného krúžku vystupovali na vtedajšie západné hity. Jedným z nich bola aj skladba Fox On The Run. Kedysi som o tom písal obšírnejšie, ale došlo k takému nedorozumeniu, že tí najväčší "demokrati" na oboch brehoch Moravy by ma boli od jedu najradšej ukameňovali. Preto to nechám tak, ale pre mladšie ročníky dodám, že aj komunisti dovolili v bývalej Československej socialistickej republike, na Základnej deväťročnej škole v Ľuboticiach, okres Prešov, vystúpenia imperialistických kapiel. Síce iba z playbacku, ale dovolili.
Album považujem za najväčšiu perlu v diskografii skupiny, ktorá kedysi dominovala v singlových rebríčkoch. Stavím sa, že jej fotografiu mali na stenách aj fanúšičky Karla Hálu, aj keď to už dnes nepriznajú. Vynikajúci spevák, fantastická rytmika a skvelý gitarista, k tomu aj výborne hlasovo vybavení hudobníci. Chalani, od ktorých David Bowie kopíroval oblečenie, Queen vokály…
Na tejto nahrávke je viac progresu, ako u mnohých novodobých spasiteľov rockovej muziky v celej ich tvorbe. Neveríte? Ja viem, že nie, pretože "experti" nazvali hudbu Sweet rockom pre kojencov. Nikomu nič nenútim, ani nepridám ďalšie litánie – idem si vychutnať Desolation Boulevard…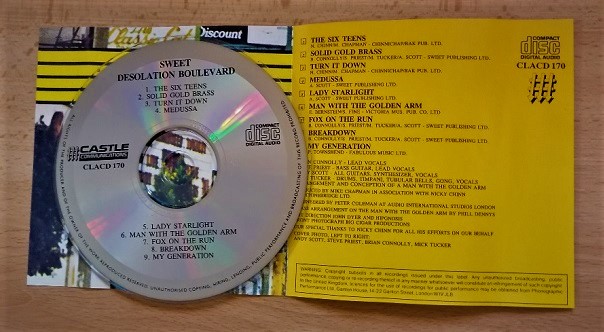 Ak je toto muzika pre kojencov, dúfam, že z tohto rockového mliečka nikdy nevyrastiem. Fantázia!!!!
P. S.: Sviťáci, díky za krásne časy pri Vašej hudbe…
SKLADBY:
1. The Six Teens (Chapman, Chinn) 4:02
2. Solid Gold Brass (Scott, Tucker, Connolly, Priest) 5:28
3. Turn It Down (Chapman, Chinn) 3:27
4. Medusa (Scott) 4:44
5. Lady Starlight (Scott) 3:09
6. Man With The Golden Arm (Bernstein, Fine) 8:33
7. Fox On The Run (Scott, Tucker, Connolly, Priest) 4:49
8. Breakdown (Scott, Tucker, Connolly, Priest) 3:03
9. My Generation (Townshend) 3:54
NOTES:
All tracks recorded at Audio International Studios, London except "Fox On The Run" recorded at Kingsway Studio, London.
ZOSTAVA:
Brian Connolly – lead vocals
Andy Scott – guitars, vocals, synthesizers
Steve Priest – bass, vocals
Mick Tucker – drums, vocals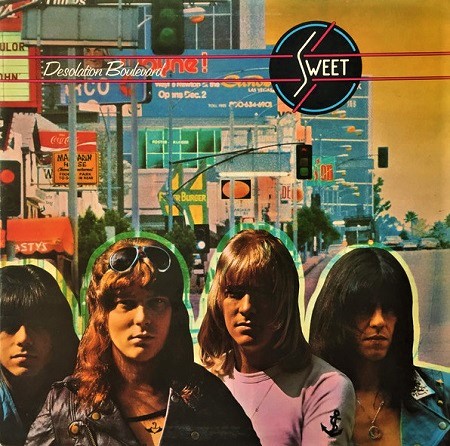 Desolation Boulevard
Sweet
Hard Rock
RCA Victor
1974
LP
9
CD - Castle Classics ‎– CLACD 170 /1989/