Ako napovedá samotný nadpis, reč je o skupine z hlavného mesta Slovenska, ktorá bola založená v roku 1992. Doteraz vydala 3 albumy: Dorian Gray (2001), Aj teba sa to týka (2008) a Druhá tvár (2012). Dvojka je obohatená o bonusový disk Dorian Gray 1998, na ktorom sú dovtedy nevydané nahrávky z 90. rokov. V súčasnosti sa kapela prezentuje ako hardrockové trio v zložení: Vadim Bušovský (spev, gitara), Dano Urbán (basa) a Gabriel Gavalda (bicie). 
O histórii i muzike som sa porozprával s Vadimom, zakladajúcim členom skupiny, ktorý mi ochotne zodpovedal na moje otázky. Som veľmi rád, že nebol skúpy na slovo.
Vadim, čo rozhodlo o tom, že si zobral do rúk gitaru? Vzory, obľúbené kapely…
Keď som mal okolo 13 rokov, spýtal sa ma kamarát, či mám gitaru. Odpovedal som, že otec má a on na mňa hneď vyrukoval s tým, že založíme kapelu. Hovorím mu, že neviem hrať. Nevadí…  🙂 O týždeň na to sme už v detskej izbe na 10. poschodí v petržalskom paneláku hrali prvú trampskú pieseň v zložení dve gitary a bubny, skôr teda rytmický bubon a hajtka. Asi o rok neskôr k tomu pribudla aj motorka s partiou a to bolo niečo – hrať na gitare a jazdiť na motorke. Sranda je, že mi to ostalo dodnes, teda celých 32 rokov.
Na strednej škole som mal svoju prvú ozajstnú rockovú skupinu Cliff-Ton a prvé koncerty v zasadačke, kde sme si užívali aj prvú školskú slávu. Myslím, že práve vo veku 17 rokov ma hudba úplne pohltila a mal som veľké šťastie, keď som sa cez známeho dostal súkromne študovať k môjmu učiteľovi Igorovi Jančárovi, v tej dobe virtuóznemu gitaristovi typu John McLaughlin. Práve on mi dal celý technický základ mojej súčasnej hry na nástroj. Mal som 19 rokov, bol som plný snov a cvičil ako besný, minimálne 6 hodín denne.
V tej dobe som za najväčších velikánov rock'n'rollu považoval kapelu AC/DC a zbožňoval som, a dodnes to tak je, hru gitaristu Garyho Moorea. Viac-menej sa v rámci môjho hudobného vkusu nič nezmenilo. Jednoducho milujem klasický hard rock a všetku kvalitnú hudbu. Môžem spomenúť The Beatles, Jimi Hendrix, Yes, Joe Bonamassa, Led Zeppelin, Deep Purple a všetkých gigantov rocku. Okrem iného milujem i soul, blues, ale aj krásne slovenské ľudové piesne.
Ako došlo k vzniku Dorian Gray a kto bol pri tom? Prečo práve Dorian Gray…
Písal sa rok 1992, mal som 20 rokov a obrovskú túžbu založiť hard rockovú skupinu, ktorá by mala zvuk podobný AC/DC a s ktorou by sme dobyli svet. 🙂 V Rock Pop Jazz, prvom ozajstnom rockovom klube v Bratislave, som sa stretol s výborným basákom Robom Šipošom, ktorý poznal speváka Gusta Trautenbergera. Ja som poznal talentovaného 15-ročného bubeníka Dana Mocíka. Kapela bola založená do týždňa, vrátane skúšobne. Hrali sme songy, ktoré sme si sami písali, teda žiadne covery. Hneď sme išli na to, ako ostrieľaní borci. 🙂
Prečo názov Dorian Gray? V tej dobe vznikali v Mamute (bývalá Stará Sladovňa) stovky kapiel denne, priamo úmerne k počtu vypitých pív, lebo práve tam chodievala celá muzikantská spoločnosť. A kámoši si založili skupinu s názvom Dorian Gray. Samozrejme, že tá kapela skončila presne vtedy, keď sa chalani zobudili po opici, no mne ostal v hlave rezonovať ten úžasný názov. Netušil som, čo to znamená, ale znelo to pre rockovú skupinu fantasticky, a tak som ten názov chalanom šlohol, keďže my sme už mali pár piesní, teda sme existovali. Až neskôr som si musel pozrieť, čo to vlastne ten Dorian Gray je, lebo som začal dostávať presne túto otázku od redaktorov časákov i rádií a nechcel som vyzerať ako nevzdelanec. Odvtedy sme Dorian Gray, no žiadnu hlbšiu filozofiu za tým netreba hľadať. Proste je to super názov.

Zostava? Bola stabilná alebo dochádzalo k zmenám?
Dorian Gray prešiel, snáď ako každá kapela, niekoľkými zmenami. Tak ako sa menia názory ľudí, mení sa aj obsadenie. Je veľmi príjemné konštatovať, že hoci prichádzalo k zmenám, vždy sme všetci ostali super kámošmi a hlavne, každá zostava natočila vymakané nahrávky. Teraz snáď prvýkrát spomeniem všetky zásadné mená, ktoré dodnes nosia titul DORIAN. Okrem hore spomínaných zakladajúcich členov v skupine hrali, hrajú, ale hlavne spoluvytvárali jej zvuk a ksicht Aty Béreš, Rasťo Šulc, Paľo Horváth, Jaro Žigo, Márius Bartoň, Boris Brna, Vlado Kubala, Dano Urbán či Boris Bašista. Všetci títo úžasní rockoví hudobníci nahrali, formovali a žili život Dorian Gray a ich mená nájdete na obaloch platní. Ja im aj prostredníctvom tohto interview za ich činnosť, snahu a kamarátstvo ďakujem!
Začiatkom 90. rokov sa v bývalom Československu veľa zmenilo. Aké boli možnosti prezentácie hard rockovej hudby vo vtedajších pomeroch?
Každá doba má svoje pre a proti, to je známa fráza. Neboli ani zďaleka možnosti aké sú dnes, žiadny internet, technológie, promo kanály atď. Všetko bolo také analógové. Vlastne bol len jeden klub, kde sa dalo hrať a veľký sen, občas nejaké rádio či lokálna telka. Nahrať CD skoro nemožné, klip nula bodov. To sa však menilo postupne k lepšiemu a aj bolo. Je to stále akoby na hojdačke. Raz lepšie, inokedy horšie, aj keď rocková muzika v tej dobe bola v úzadí za komerciou. Porovnať dobu 90. rokov a dnes je na celú knihu, ale čo by som rád vyzdvihol, čo dnes nie je, tak dnešným mladým hudobníkom chýba také to naše mladícke zanietenie, stretávanie sa ľudí v kulturákoch, kluboch, na koncertoch, taký spoločný život v reále. Dnes to väčšina ľudí "žije" na facebooku a nete všeobecne, teda virtuálne. Všetko je dostupné na klik myšou pri PC, či je to hudba, nástroj, či je to čokoľvek, čo sme my nemali. Tým pádom sme viac snívali, vážili si to a snažili sa.
Oprav ma, ak sa mýlim – v roku 1997 ste mali pripravený album. Môžeš ho priblížiť?
Prvý album sme mali pripravený oveľa skôr, akurát až v roku 1997 sme získali peniaze na jeho nahratie. Na tú dobu to stálo fakt majlant. Myslím, že takých 70 tisíc slovenských korún, čo predstavuje ďaleko viac, ako dnešných 2300 éčiek. To znamenalo skoro polovicu stavby domu. Zaznamenávali sme ho analógovo do pásu, teda naživo a playbackovali sme len spev. Nahrával nám to dnes už známy a úspešný producent, skladateľ a multiinštrumentalista Juraj Kupec. Odvtedy sa naše cesty nerozišli. Vtedajšia zostava bola veľmi zásadná pre celý ďalší vývoj Dorian Gray. Spolu so mnou bojovali bubeník Boris Brna a basák Aty Béreš. Muziku som písal vo väčšine ja, Aty tam mal myslím jeden kúsok. Texty písal Jožko Urban. Vždy sme boli rebeli a Jožko vedel najlepšie zachytiť náš postoj ku všetkému, proti čomu sme rebelovali. Bol naozaj kráľ slova a myšlienky. Nech mu je aj po rokoch zem ľahká. Štúdií v tej dobe nebolo ako dnes, ale cez to všetko sme sa dostali nahrávať do štúdia Ebony, čo bolo na úrovni Opusu, či Slovenského rozhlasu a bola to bomba. Klasika, nahrávanie, slopanie, rehot, radosť a obrovská skúsenosť. Vydavateľ sa, samozrejme, nenašiel, veď v roku 1998 fičali MC Erik a Barbara a to je diametrálne odlišný pokus o hudbu, ako sme boli my. Nahrávka teda ostala v archíve celých 10 rokov, až pokým sme nezaznamenali dosku Aj Teba sa to týka, ktorú vydala Forza v roku 2008 a spolu s ňou aj uloženú nahrávku, ktorej sme dali názov Dorian Gray 1998. Obľúbenú skladbu vyslovene nemám, páči sa mi celá doska, každá skladba má posolstvo a slušnú muzikantskú úroveň.
Hard rock u nás nemal nikdy na ružiach ustlané, ale s odstupom času – čo bolo príčinou toho, že ste nenašli vydavateľa? Kto Vás odmietol?
Áno, máš pravdu. Odmietli nás všetci. S tým, že momentálne hard rock nikoho nezaujíma a už vôbec rebelantské texty. Ľudia sa vraj majú zabávať a nie rozmýšľať. Tento postoj sa vôbec nezmenil. Veď to vidíš aj sám, čo sa naozaj hrá v médiách. Musím však povedať, že sme boli na oko naozaj príťažlivé trio s kvalitným imidžom a slušnou pódiovou show, ktorú sme v tej dobe skutočne trénovali. A ponuky aj prišli, ale s podmienkou zmeny hudby za menej živelnú a s textami, z ktorých nám bolo na vracanie. Fungovalo tu také producentské žraloctvo a keď som im všetkým povedal, že nezmením ani tón, mali sme smolu. Dopadli by sme ako kapela Team a ich megahit Reklama na ticho, či Držím ti miesto (kúpim ti pivo alebo teplé gaštany). Úúúplný des! A pritom Team je fakt dobrá a úspešná kapela, akurát bez ksichtu, o ktorý prišli pri megažralokovi slovenskej popscény a vydavateľovi Júliusovi Kinčekovi. Ich úspech má na konte práve on a keby neprijali jeho podmienky, nepoznali by sme Team vôbec. Bolo iba na nás, či prijmeme túto hru alebo nie. Čo myslíš, čo sme urobili?   🙂
Rok 2001 a debutový album Dorian Gray. Čo by si k nemu povedal?
Dosku Dorian Gray sme mali pripravenú už v roku 2000 a nahrali pod producentskou taktovkou art rockového génia a multiinštrumentalistu, pána Františka Grigláka. V tej dobe sme fičali na ťažšej artovej muzike kapely Yes a jej podobných, no a jediný, kto tu podľa nás bol schopný odprodukovať naše skladby, bol práve pán Griglák. Nielen, že bol producentom, ale nahral aj všetky klávesové party. Všetci ho vnímajú predovšetkým ako gitarové eso Fermaty, čím bez pochýb je, ale málokto vie, že je aj virtuózny klávesák. Svoju prácu urobil dokonale a spolupráca s ním bola viac ako fantastická. V tej dobe sme fungovali v zostave: spevák Rasťo Šulc, basák Márius Bartoň, bubeník Boris Brna a neskôr sa pripojil klávesák Janko Grman. Všetky skladby a texty napísal Rasťo, okrem Dym ti stúpal do vlasov a Sunrise. Tam je hudba moja a otextoval ich Jožko Urban.
Nespomínam si, kto to vydal. Myslím, že to vydavateľstvo už neexistuje, ale opäť nám pomohli hlavne kámoši a všetko zabezpečili. Tými ľuďmi sú Ivan Lučan, Pepe Marhula, Tošo, Ľubo Repka, Ludvo Štepo atď. Teda žiadny vydavateľ, ale kamaráti. O albume sme mali vysokú mienku. Líšil sa od toho prvého, vtedy ešte nevydaného a niektoré články boli viac ako pochvalné a prirovnávali nás k slovenskej artovej elite. To bolo veľmi príjemné. Opäť však žiadna megasláva neprišla.
Ako sa vtedy skupine darilo?
V tej dobe sme hrávali cez 250 koncertov ročne, to trvalo cca 4 roky. Boli sme nadupaní a vyhratí, kraľovali sme bratislavskému klubovému svetu. To boli nádherné časy, o ktorých sa dá povedať, že sme žili rock'n'rollom na 100%. Čo ti poviem? Mladosť, nezávislosť, sloboda, sila, rock'n'roll, cesty, koncerty a všetko ostatné k tomu. Veľká zábava a srali sme na to, že sme nedocenení. Myslím, že sme slávu povýšili na chorobu. Každému mladému muzikantovi by som doprial ten život, ako z veľkej rock'n'rollovej učebnice. Bohužiaľ, vyskytla sa obrovská ponorková nemoc a kapela sa prvýkrát rozpadla. Ostal som len ja, Rasťo a Janko. Keďže sme hrali už dosť vysokú úroveň, bolo ťažké nájsť bubeníka a basáka. Preto sme hrali viac-menej iba rockové unplugged coverové vystúpenia v puboch a kluboch. To trvalo ešte asi 2 roky a ostal som sám, ale nezlomený, aj keď pekne nasraný.
Druhá štúdiovka Aj Teba sa to týka vyšla v roku 2008. Môžeš ju predstaviť?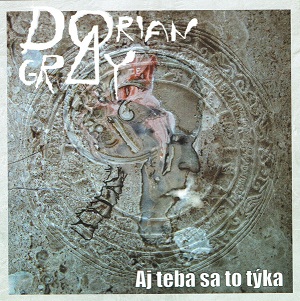 V roku 2006 som bol takmer dospelý 34-ročný muž 🙂 a začal, okrem zábavy, vnímať aj tvrdú realitu, svet okolo seba a systém, v ktorom žijeme dodnes. Ten ma sral natoľko, že som musel sformovať ďalšiu zostavu Dorian Gray a vykričať sa prostredníctvom najtvrdšieho albumu celej éry skupiny – Aj teba sa to týka. Oslovil som mladého talentovaného bubeníka Jara Žigu a ostrieľaného profíka, basáka Paľa Horvátha z Tublatanky. Počas dvoch rokov tvrdej práce sme v štúdiu Sono Records nahrali album, ktorý sme si produkovali sami. Nechcel som, aby mi do neho ktokoľvek kafral, taký som bol vytočený. Chcel som, aby znel tak, ako sa mi penila krv v žilách z toho, čo sa tu deje a dialo. Podarilo sa dielo, ktoré nám vydala Forza na čele s Julom Kinčekom. Sranda, čo? Nebolo to však kvôli našim pekným očiam, ale pomohol nám kámoš Ivan a ukecal Kinčeka, nech to urobí. Album síce vydali, nestalo ich to ani korunu, ale vôbec nič s ním neurobili. Žiadne promo, vôbec nič. Možno doteraz majú nejaké kusy na sklade. Texty sú dokonalo rebelantské, presne ako som to cítil a napísali mi ich Martin Sarvaš a Braňo Moskaľ. V polovici nahrávania to odpískal Paľo a tri skladby dokončil Vlado Kubala, ktorý ťahal s Dorian Gray aj koncerty. Tejto formácii však šťastie opäť neprialo a zakrátko som bol zase posledný Mohykán. Už som sa začal obviňovať, že ch*j som ja, keď sa mi to stále sype pod rukami.  🙂
Niečo si už načrtol vyššie, ale na doplnenie; súčasťou "dvojky" bol aj bonusový disk – nevydaný "debut". Čo o tom rozhodlo, došlo k nejakým úpravám alebo je to pôvodná nahrávka?
Považujem sa za skromného človeka, ktorý má občas svoje vrtochy a stačil mi pocit, že je vonku album Aj teba sa to týka. Ako bonus som k nemu prilepil aj ten nevydaný z roku 1997 a stal sa z toho dvojalbum. Je to pôvodná nahrávka a dal som jej názov Dorian Gray 1998, nech to má symboliku. Výhrou nakoniec bolo, že to Forza predsa len vydala. Vyšli dve platne, ktoré si našli aspoň zopár fanúšikov a hlavne sa všetci, čo ju majú, dozvedeli aj môj názor a to je veľká satisfakcia.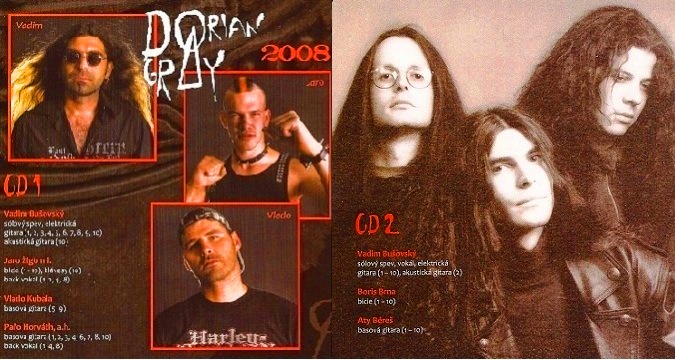 Aký bol ohlas na rozšírenú "dvojku"?
Ohlas od fanúšikov bol veľmi pozitívny. Našťastie, tí, čo holdujú našej muzike, sú cítiaci ľudia, ktorí kapelu poznajú a vždy čakajú, čím ich prekvapíme. Zásadnou vecou je to, že každá doska je zvukovo úplne iná, teda sa naši Dorianáci nenudia. Čo sa týka médií, opäť neprekvapili. Tá istá pesnička – bla, bla, bla… 🙂
Tretí album – Druhá tvár…?
Druhá tvár je doska, ktorá vyšla v roku 2012 a vydal som ju ja. Pripravovali sme ju skoro 2 roky. Bolo to obdobie, keď som sa zámerne chcel vyhnúť svojej nasratosti zo stavu sveta a našej spoločnosti. Mal som toho plné gule a chcel som potešiť svojich priaznivcov krásnym minimalistickým umením, čo umenie naozaj je a príjemnými textami o krajších záležitostiach, ako je boj proti zlu. To však chcelo ďalšiu zostavu a moju ponuku po rokoch prijal staronový člen Boris Brna a basák Dano Urbán, ktorý spolu so mnou bojuje viac ako 7 rokov. Dosku sme nahrali v štúdiu Juraja Kupca a ako vždy dohliadal na správnosť všetkého, teda producentsky ju odkontroloval. Veľmi podarená doska, s krásnym zvukom i myšlienkou. Spolu so skladbami platní Dorian Gray 1998 a Aj teba sa to týka tvorí gro koncertov. Nahrali sme ju za 3 dni a Juraj ju zmiešal za necelý týždeň. Ostatok času sme sa prerehotali na starých dobrých historkách z bratislavského hudobného sveta. K skladbe Neznáma sme natočili aj prvý profi klip, za ktorý ďakujem Vikymu Senkovi.
Ak by si mal zhodnotiť doterajšiu diskografiu –  ktorému dielu sa darilo najviac, s čím si osobne spokojný, prípadne čo by si zmenil?Naozaj netuším, ktoré naše dielo malo najviac pozitív. Myslím, že to treba brať ako celok. Každému fanúšikovi sa páči niečo iné a tým, že máme široký zvukový a myšlienkový záber, tak na koncertoch vidím ako si jedni spievajú Zlodeja koní a druhí Odpustenie blízkym. Nemenil by som vôbec nič a keďže sme koncertná kapela a vieme hrať, robíme si na pódiách z našich skladieb veľké jamovacie slávnosti, teda ani raz ich nehráme rovnako. Dá sa na tom niečo zmeniť k lepšiemu? Odpoviem ti. Nedá. Takto sme šťastní a nesieme okrem kvalitnej muzikantskej stránky aj posolstvo. To sa nepodarí každému.  🙂
Viem o Tebe, že v súčasnosti drvíš struny aj v kapele The Gang, ktorá nedávno vydala debutový album. Ako si sa k nej dostal a Tvoj názor na The Gang (2017)? Ako to sledujem, myslím, že vonku sa stretol s veľmi pozitívnym ohlasom.
Partu The Gang vnímam od roku 2013-14 a bubeníka Mareka poznám tak dlho, ako je starý Dorian Gray. Práve on je z generácie, ktorá žila spoločne a presne tak, ako som už na úvod spomínal. Je to proste starý kámoš a výborný bubeník. Už párkrát sme spolu mali pokusy hrať, ale zrejme dozrela tá správna chvíľa až pred rokom a pol, keď mi poslal nahrávku so skvelou speváčkou Dory a opätovnou ponukou hrať. Ešte stále som odolával a dohodil som mu jedného z mojich žiakov. Keď som ich videl hrať naživo na súťaži Rocková Maturita, kde som bol v porote, bol som veľmi prekvapený, aké dobré songy majú a ako mladá Dory spieva. Opäť som dostal ponuku s tým, že aj tak chcú nájsť iného gitaristu. To sa už naozaj nedalo nezobrať, tak som sa stal aj GANGSTROM.  🙂
Nahrali sme spolu dosku The Gang, ktorá je ešte stále čerstvá. Všetky songy napísal Marek a dva Dory. Sú úplne super, no a keďže je to prvá kapela, kde som zatiaľ nenapísal ani notu, cítim sa pri hraní tých skladieb, akoby som hral výborné covery. Veľmi zaujímavý pocit, ktorý mávam pri hraní gigapeciek od Deep Purple či AC/DC. To sa mi nikdy nestalo a mám to fakt rád. Som tam slobodný, lebo nespievam sólovo a skladby sú veľmi vzdušné. No a čo sa týka úspechov s Gangom, tak opäť samé prekvapenia. Hrajú nás v Brazílii, Anglicku, Nemecku atď., vychádzajú super recenzie v kultových rockových printoch a na nete, ponuky rôzneho druhu. Proste opäť konštatujem, že super a ver mi, že si to užívame, aj keď u nás doma hviezdami zrejme nebudeme.  🙂
Sú aj iné projekty? Čo ostatní z Dorian Gray?
Nie som typ muzikanta, ktorý potrebuje mať za každú cenu nejaké projekty, ako väčšina iných v mojej lige. Práve naopak, považujem to za psychickú osobnostnú poruchu alebo silný komplex menejcennosti. Môj život už veľmi dávno nie je len o rock'n'rolle, ale hlavne o rodine. Rock'n'roll a motorka sú moje hobby a sú vo veľkej rovnováhe. Akurát mám šťastie, že moje hobby je aj môj chlieb, tak preto možno vyzerám ako ortodoxný muzikant. Občas si zahrám s mojím "Dorianom" Rasťom Šulcom a Jurajom Billíkom nejaký pekný unplugged ako Double Trouble a tam moje projekty končia. Všetko okolo hudby totiž robím s láskou a triezvym dávkovaním času, ktorý by za iných okolností patril mojej dcérke.
V súčasnej dobe je Dorian Gray v zložení: basa Dano Urbán a bicie Gabriel Gavalda. Dano hosťuje ako štúdiový hráč, prípadne, ak má voľný čas, zaskočí za niekoho kdekoľvek, čo mu nie je proti srsti. Je to predsa len prvotriedny basák a veľmi múdry a správny chlap. Gabo, okrem iného, búcha aj vo veľmi talentovanej rockovej kapele Bullet Holes. Doporučujem si ich pozrieť naživo, je to veľký zážitok.
Ako vnímaš súčasné postavenie hard rocku v našich podmienkach?
Na hovno! Vnímam to už štvrťstoročie a je mi z toho smutno. Je to proste večná škoda, že sa dáva priestor len sračkám a treťotriednemu odpadu. Ok, nech si hrajú hocičo, pokiaľ majú hudobní producenti na to žalúdok, ale zákon vesmíru je vo vyváženosti a tá tu, bohužiaľ, nie je ani náznakom. Netvrdím, že všetko je úplne zlé, nájdu sa aj super skladby a interpreti čo nie sú práve z rockového cesta, ale aj tých je málo a podľa mňa, tak ako sa to vyvíja ďalej, bude ešte horšie. Všetko je to odrazom hodnôt v umení a živote. Tu je výsledok. Ale musím povedať, že ani slovenská rocková scéna nie je úplne taká dobrá, aby si zaslúžila medializáciu. Kvalitného sa dá spočítať na jednej ruke.
Pohybuješ sa na hudobnej scéne vyše 25 rokov. Ako by si to zhodnotil?
Tak tu naozaj neviem čo hodnotiť. Opäť by som sa musel vyjadrovať nepríjemne. Ale keď sa zamyslím, je tu zopár mladých talentov, ktorí ak to neposerú chľastom, drogami alebo akoukoľvek inou nástrahou, majú šancu byť konkurencieschopní. A ja im veľmi fandím.
Vyzdvihol by si nejaké momenty, koncerty, na ktoré najradšej spomínaš a naopak – sú aj také, ktoré sa nevydarili?
Myslím, že všetky vydarené i menej vydarené hrania majú niečo do seba. Je to jedna veľká škola všetkého muzikantského, teda ich nedelím na "zlé a dobré". Skôr si tie lepšie transformujem na satisfakcie za neúnavnú snahu a prácu. Jasné, že keď poviem – hral som pred Guns N' Roses, Jethro Tull, Sweet a zajamoval si s Billym Shehanom, tak môžu niekomu padnúť gate a od závisti puknúť, no ja to beriem ako honorár za snahu, moju satisfakciu, ktorá má podtón veľkej radosti a najvyššej umeleckej hodnoty. A tie zlé hrania, o ktorých by sa "nemalo" hovoriť, si väčšinou nepamätám. Bol som na šrot, ale určite boli.  🙂
Mal si možnosť stretnúť sa, rozprávať, zahrať si, s hudobníkmi, ktorých (muzikantsky, ľudsky) uznávaš, či už ide o domáce pomery, prípadne mimo našich hraníc?
Áno, samozrejme. Veď Česko a Slovensko je jedna veľká rodina a viac-menej sa všetci poznáme a komunikujeme. No a tí zo sveta, boli tí, čo som ich spomenul pred chvíľou a doplním ešte jedno meno. Osobne sa mi cez telefón podarilo hovoriť s Ronniem Jamesom Diom a opäť v tom mal prsty môj kámoš Ivo Lučan.
Budúcnosť?
O budúcnosti hovoriť nemôžem, pretože ja vnímam len a len prítomnosť. Vieš, keď chceš rozosmiať Boha, povedz mu o svojich plánoch.  🙂 Teda to nechám na osud, lebo som presvedčený, že všetko ide tak ako má ísť a keď sa možno raz o ďalších 25 rokov spolu stretneme, budem rád, ak vám všetkým, čo čítate toto interview, budem schopný poskytnúť pár zaujímavých historických viet.  🙂
Chcel by si niečo dodať?
Možno aj áno, ale stačilo o Dorian Gray. Načrtnem to podstatné, čo v súčasnej dobe vnímam viac ako čokoľvek iné. Sme krásny, pracovitý a múdry národ, ktorý patrí do veľkej slovanskej kultúry a tá je najbohatšia zo všetkých. Mienkotvorcovia nám hovoria pravý opak a to je ich cieľ, zdevastovať nás. Snažte sa byť všetci rozvážni a vzdelaní, študujte históriu a to, čo nám zanechali naši predkovia a národní buditelia z konca 19. storočia. Len tak môžeme pripraviť krásu do života našim deťom, len tak sa nám podarí uchovať si slobodu, čo je jediná záruka šťastia. Ak si nenecháte vymyť mozgy, dosiahnete všetko po čom túžite a ostanete ľuďmi. To ostatné, čomu dnes hovoria mienkotvorné média hodnoty, nemá najmenšiu cenu.
Vadim, ĎAKUJEM za rozhovor a nech sa darí!!!
Oficiálna stránka Dorian Gray.
DISKOGRAFIA:
2001 – Dorian Gray (CD – SQ Music)
2008 – Aj teba sa to týka / Dorian Gray 1998 (2CD – Forza Music)
2012 – Druhá tvár (CD – Dorian Gray)