25. novembra 2021 mi e-mailová pošta doručila zásielku. Bola v nej pracovná verzia albumu Od roztočeného sústruhu, ktorý vyprodukovala bratislavská skupina Žalman Brothers Band, tykajúca si so škatuľkou southern rock.
Nakoľko mám vďaka bubeníkovi Erikovi Kriššákovi u skupiny protekciu, mal som možnosť vypočuť si nahrávku v čase, keď ešte mnohé veci a detaily neboli isté; napr. dve piesne (Zabudnutý riff a Bohurovní) sa mali prerábať, o poradí jednotlivých skladieb sa stále diskutovalo, názov albumu bol vo hviezdach, obal rovnako…
21. decembra 2021 mi kapela prostredníctvom Spotify ponúkla konečnú verziu štúdiovky Od roztočeného sústruhu a ja som si ju mohol vychutnať naplno. Došlo k nejakým úpravám, o poradí desiatich skladieb rozhodlo ich narodenie, jediná výnimka počuje na meno Cesta a dostala sa na koniec zoznamu. Priznám sa, že som k dielu pristupoval s určitými obavami, pretože jeho dĺžka atakuje hranicu 1 hodiny. Čo je však podstatnejšie, kládol som si otázku, ako sa skupina popasuje s neľahkou úlohou nadviazať na veľmi vydarenú štúdiovku Som, kto som, ktorú mám vo veľkej obľube. Nájdem tu pre seba rovnako chutné južanské perly, aké zdobia album z roku 2015? Bude tu nový Katastrofický dážď, prípadne druhý Stratený?
Už úvodné tóny piesne Petra ma prikovali ku kreslu. Čo sa to na mňa z reprákov valí? Riadne nadupaný, tvrdý sound. Kurňa, všetky leštenky zostali pred dverami štúdia, teda skúšobne, kde si skupina rozložila nahrávací stan, čo obrovsky kvitujem. Zvukový šat pripomínajúci živé hranie. A žiadne rukavičky, ale parádna jazda ostrieľaných borcov, milujúcich boogie, blues, hard a južanský rock. Toto teda môžem – furt a stále!!!! A platí to pre celý album…
V dvojke Zapadnúť sa rocková pohoda dá doslova krájať. Soul Can Fly, jediná anglina na súpiske, sa pýši titulom "Najdlhšia pieseň albumu". Zasólujeme? Jasnačka! Paráda! Snáď to nevyznie hlúpo, ale už od začiatku ma pri počúvaní napadlo spojenie Kim Simmonds a jeho Savoy Brown v najlepších rokoch. V Bohurovní skupina zvýši obrátky a skladbe to svedčí. Opäť tie štrikujúce gitary. To isté Konšpirácia(?), nebudem sa opakovať.
Je mi fajn je tvrdá rockovica, pri ktorej uznanlivo kývem hlavou do rytmu a prečo to nepriznať – je mi fajn! Ten ústredný riff sa skutočne vydaril, žeriem ho od prvého momentu – klobúk dole! Epos Žbb 20-21 vnímam ako slovnú hračku. Kapela má chaos z toho, čo sa okolo nás v poslednej dobe deje. Ja rovnako… Dvadsať rokov je dlhá doba, ale Žalman Brothers Band je plný života a svojim priaznivcom rozdáva južanskú pohodu a verím, že čoskoro sa muzikanti vrátia aj na koncertné pódiá. Balada Jediná je vyznaním speváka a gitaristu Martina Výbocha svojej vyvolenej a patrične si v nej aj zasóluje.
Veľké prekvapenie sa ukrýva pod poradovým číslom deväť, straty a nálezy v tom najlepšom slova zmysle. Žalmani vyhrabali z útrob hard disku Zabudnutý riff, keď sa v skúšobni iba tak bavili. Je skvelé, že tento stratený riff uzrel svetlo sveta. Priznám sa, že keď som to počúval ešte v pracovnej verzii, dokonca bez bicích, už vtedy som bol úplne stratený. Skvelý track!!!! Rezká Cesta je taký bonus, akustická verzia pôvodnej skladby z predošlej štúdiovky Som, kto som. Čo dodať? Pristane jej to, je to pekný záver albumu, na spôsob milovaných Molly Hatchet.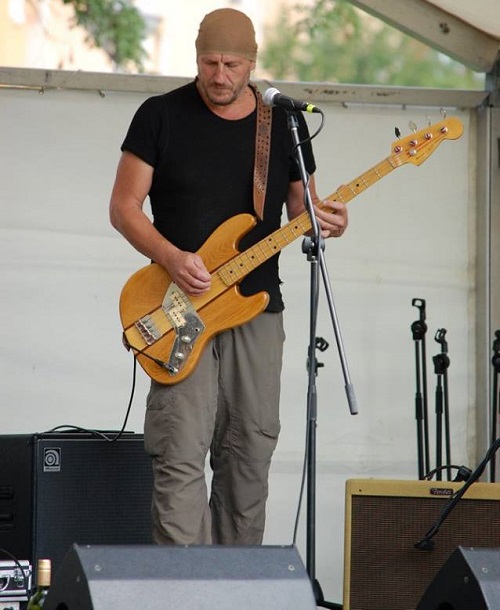 Moje počiatočné obavy sa absolútne nepotvrdili; tá hodina ubehla neuveriteľne rýchlo, skutočná južanská pohoda okorenená hard rockom a bluesovým fílingom. Žalman Brothers Band si k dvadsiatke nadelili veľmi pekný darček a mne urobili veľkú radosť – opäť som sa raz mohol potešiť slovenskej muzike. Nezostáva mi nič iné, ako tejto, na naše pomery, jedinečnej bande, úprimne poďakovať za nakladačku Od roztočeného sústruhu a zaželať veľa tvorivých síl do ďalšej dvadsiatky. Chalani, díky!!!!
P. S.: Akonáhle bude k dispozícii fyzický nosič, čo je v pláne, moja objednávka okamžite smeruje do Bratislavy!
SKLADBY:
01. Petra 4:39
02. Zapadnúť 6:29
03. Soul Can Fly 7:18
04. Bohurovní 4:47
05. Konšpirácia(?) 5:06
06. Je mi fajn 5:21
07. ŽBB 20-21 7:02
08. Jediná 4:38
09. Zabudnutý riff 7:00
10. Cesta (akustická verzia) 5:31
Autorom všetkých skladieb je Žalman Brothers Band.
Autorom textov je Martin Výboch (1,4, 5, 6, 7, 8, 10) a Erik Kriššák (2, 3). Text ku skladbe Zabudnutý Riff (9) zložili Martin Výboch a Erik Kriššák.
Zvuk, mix a mastering – Martin Výboch.
Nahraté v domácom štúdiu v skúšobni.
Foto na obale – Martin Varga.
Obal – Ján Molnár.
ZOSTAVA:
Martin Výboch – gitara, ak. gitara (10), spev
Martin Varga – gitara, ak. gitara (10)
Peter Žalman – basa
Erik Kriššák – bicie
Od roztočeného sústruhu
Žalman Brothers Band
Sothern Rock, Blues Rock, Hard Rock
Žalman Brothers Band
2021
streamovacia služba
10
Spotify