CD Mellow Records – MMP166  /1993/
Dobré album. Na Itálii a rok 1970 určitě, vždyť tenkrát tam byl progresivní rock sotva narozeným děckem, které se teprve pomaličku hrabalo z plínek a dětskejch nemocí. Desek, které se o něj alespoň otřely vyšlo po celé zemi nanejvýš jedenáct a nejznámější budou ty od The Trip (The Trip), Formula Tre (Dies irae) a Il Balletto di Bronzo (Sirio 2222). Album od Il Mucchio jejich kvalit tak úplně nedosahuje, ale to neznamená, že by si nezasloužilo trochu pozornosti a krátkou recenzi…
Skupina Il Mucchio pochází z Benátek a v roce 1970 ji založil klávesista a zpěvák Sandro Zane. Ze začátku fungovala jako kvintet, ovšem během následujících pěti let několikrát protočila sestavu a nakonec po ní nezbylo víc, než jedna velká deska a tři singly.

Eponymní debut z roku 1970 produkovala pěvecká hvězda šedesátých let Pino Donaggio, kterému bylo připsáno i všech osm písní. Teprve později se ukázalo, že většinu z nich složil Zane, kterej se však z nějakejch záhadnejch důvodů neobjevil v kreditech. Album vyšlo u společnosti Carosello pod katalogovým číslem SCLN 25001 a dneska patří k velmi vzácným a vyhledávaným raritám, jejíž cena přesahuje 1 200 Euro. Ani reedic není zrovna přehršel, ale ty poslední – z roku 2016 – by mohly být pořád ještě k mání.
Samotná placka má nějakejch 34 minut a obsahuje osm písniček. Kapela hrála bez kytaristy, se dvěma klávesisty v sestavě a valnou většinu materiálu bych popsal jako mix psychedelie a melodického beatu. Pokud znáte album Ad Gloriam (1969) daleko slavnějších krajanů Le Orme, tak tohle je něco podobného. Příjemné melodie, specifická atmosféra a expresivní zpěv. Sice se sixties popovými manýry, ale originální a pochopitelně v italštině.
Je tu však několik skladeb s téměř art rockovým nátiskem a tady bych vypíchnul především úvodní – a vynikající – Per una libertà, hned následující Qualcuno ha ucciso, důraznými bicími podepřenou Misericordia, nebo poslední (byť kraťoulinkou) Questi siamo noi. Naopak, takové Una lacrima amara, nebo Un angelo vero jsou snad až příliš pop a samostatnou jednotku tvoří adaptace skladby Ave Maria rakouského skladatele Franze Schuberta. Ta teda dostala pořádně na frak a falsetem zpívané vokály, tahané do ukrutnejch výšek mi dávají docela zabrat…
Ovšem to není všechno, vydavatel vyhrabal a přidal ještě čtyři skladby ze singlů vydaných v letech 1972 a 1973. Pravda, vznikly v jiných sestavách (zaslechnout už se dá i elektrická kytara), ale pořád jsou to Il Mucchio v podobném stylu, jako na předcházející velké desce. Navíc jsou to pěkné písničky, které původní kolekci vhodně doplňují a nijak neruší. Tohle jsou bonusy, kterých si cením a jsem moc rád, že tady jsou.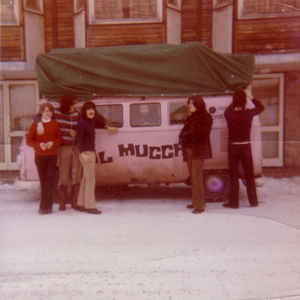 Posledním, co bych chtěl zmínit je velmi dobrý a prostorový zvuk v širokém stereu. Především souhra obou klávesistů je příkladná a z "bzíkání" obstarožních nástrojů jsem úplně auf. Netuším, co je to za mašinky (jednou z nich by snad měl být Hammond C3), ale jejich zvuk je kouzelnej a už jenom kvůli němu stojí za to mít tuhle desku v domácí sbírce. Mě se poštěstilo a dělá mi radost.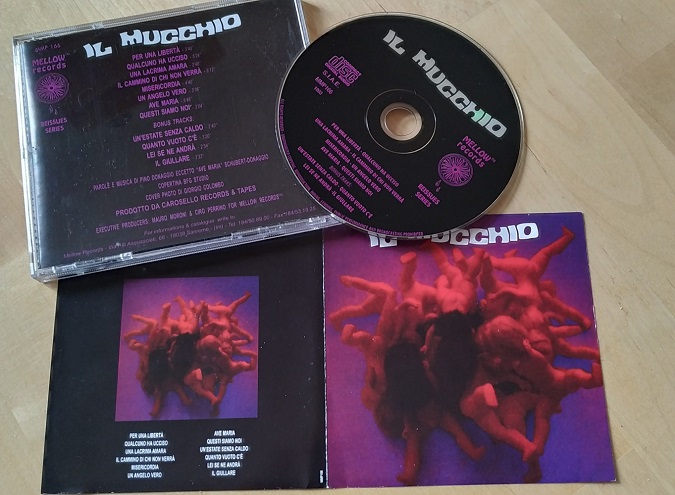 Reedice od Melow Records přitom nenabízí nic extra. Klasická krabička obsahuje jen kotouček a čtyřstránkovej booklet s tracklistem, jednou fotografií a krátkým povídáním v italštině od Franca Fayenze. Sestavu kapely jsem v něm hledal marně a není divu. Bylo kolem ní mnoho nejasností a pořádně určit se jí podařilo až po letech.
SKLADBY:
01. Per una libertà
02. Qualcuno ha ucciso
03. Una lacrima amara
04. Il cammino di chi non verrà
05. Misericordia
06. Un angelo vero
07. Ave Maria
08. Questi siamo noi

Bonus Tracks:
09. Un' estate senza caldo
10. Quanto vuoto c'è
11. Lei se ne andrà
12. Il giullare
SESTAVA:
Sergio Piazza – Voce, flauto
Sandro Zane – Organo, percussioni, voce
Maurizio Rivoltella – Clavicembalo, clarino, voce
Luciano Zanardo – Basso, voce
Marino Rebeschini – Batteria, percussioni
Il Mucchio
Il Mucchio
Prog Rock
Carosello
1970
LP
8
CD Mellow Records – MMP166  /1993/