Icecross bolo hardrockové trio z Islandu, založené začiatkom roku 1972. Pri zrode bola dvojica Axel Einarsson (gitara, spev) a Ásgeir Óskarsson (bicie), ktorá sa pokúsila presvedčiť Ómara Óskarssona, pôvodne gitaristu, aby sa k nim pridal v pozícii basového hráča. Ásgeir a Ómar neboli v príbuzenskom vzťahu. Všetci pôsobili v rôznych kapelách a navzájom o sebe vedeli. 
Začiatkom 70. rokov si mnohí islandskí hudobníci zarábali na živobytie hraním v baroch, do tanca a pri slávnostných príležitostiach. Ak však v repertoári nemali hity The Beatles a inú komerčnú muziku, šance takto fungovať boli minimálne. Túžbou Icecross však bolo hrať vlastný repertoár, ovplyvnený britským a americkým hard rockom. To Ómara nakoniec presvedčilo, aby sa k nim pridal. V skúšobni začali na sebe pracovať, skladať a snažili sa vytvoriť "nový" zvuk.
Keď si boli istí, že svoju hudbu môžu predstaviť verejnosti, zverili sa do rúk agentovi Ámundi Ámundasonovi, ktorý zabezpečoval prácu pre mnohé kapely. Jedna z prvých úloh, ktorú Icecross dostal, bolo účinkovanie na Westmanských ostrovoch. Ámundi na to išiel šikovne – aby sa uistil, že na neznámu skupinu sa príde niekto pozrieť, poslal s nimi aj striptérku.
K vystúpeniu na ostrove sa traduje historka. Krátko na to, ako naša trojica spustila rachot, prítomné osadenstvo sa začalo vehementne dožadovať svojich obľúbených popových skladieb z rádia, ale ten večer malo smolu. Na pódium vystúpili dvaja bratia, miestni svalovci, ktorí do mikrofónu rázne oznámili, že toto je dobrá kapela a dnes bude hrať. Icecross tak svoje vystúpenie dokončil už bez prerušenia.
Hudobníkom však bolo jasné, že v domácich podmienkach svojím hard rockom nemajú šancu osloviť väčší zástup fanúšikov, preto sa rozhodli skúsiť šťastie vonku. V polovici sedemdesiateho druhého zbalili kufre, pribrali kamaráta Ágústa Harðarsona, prezývaného Gústi – manažéra, šoféra, zvukára, skrátka – "dievča pre všetko" a so starým vojenským džípom po americkej armáde sa nalodili na trajekt do Dánska. Ich odchod je zachytený na titulnej fotografii. Svoj stan rozložili v Kodani, presnejšie v Christianii, vysnenom raji prívržencov hnutia hippies.
V tomto prostredí boli koncertné možnosti neporovnateľne lepšie. Icecross mal aj šesť vystúpení do týždňa, čo sa prejavilo na celkovom zlepšení výkonu kapely, zohratosti i kladného ohlasu zo strany návštevníkov. Často vystupovali aj v klube Revolution. Árni Valdimarsson, jeden z priamych svedkov, na to spomína takto: "Bolo to miesto, kde ste mohli počúvať živú muziku. Zväčša to boli nevýrazní interpreti, ale objavila sa tam jedna skvelá rocková kapela, Icecross. Všetci sme neveriacky zízali, lebo títo chlapci hrali výborne. Ich muzika bola zaujímavá, tvrdá, nadupaná. Po vystúpení zavítali medzi nás, do publika, dali sme si pivko a niečo sa o nich dozvedeli. Zverili sa, že majú veľké plány a sny. Ten večer by som na nich vsadil, že sa im podarí preraziť. Žiaľ, nevyšlo to. Po rokoch som sa snažil pochopiť, v čom spočívala prekážka na ceste k ich úspechu. Myslím si, že ten dennodenný boj o prežitie mimo domova ich vyšťavil. Napriek tomu po sebe zanechali jeden skvelý album!"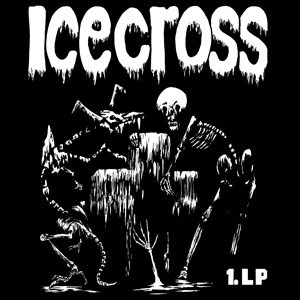 Kým došlo k samotnému záznamu rovnomennej platne Icecross, niekedy uvádzanej aj ako 1. LP, bola za tým mravenčia práca viacerých ľudí. Gitarista Axel sa telefonicky spojil s Jónom Erlingsom, kamarátom z Reykjavíku a požiadal ho o pomoc. Jón pomohol, dokonca aj finančne. Sám navrhol obal a spolu s fotografom Júlíusom Agnarssonom, ďalším spoločným priateľom, mu dali konečnú podobu. Erlings mal zároveň rodinné väzby na miestnu tlačiareň Ingólfsprent, ktorá sa postarala o jeho tlač. Samotná LP sa lisovala v londýnskej pobočke EMI a vyšla v roku 1973 na vlastnej značke Icecross Records.
Obsah sa nahrával v tom istom roku v kodaňskom štúdiu Rosenberg. Celý proces trval jediný deň. Kapele vypomohol zvukový inžinier Tommy Seabach, ktorý do skladby A Sad Man's Story nahral aj klávesy. Všetkých 8 piesní bolo z vlastnej dielne, s textami v anglickom jazyku. Odborníci nahrávku označujú ako tvrdú hudbu ovplyvnenú kapelami typu Black Sabbath až trebárs po King Crimson, ale určite je v nej poriadny kus jedinečnosti skupiny Icecross. Každý, ak o to má záujem, si však musí utvoriť svoj vlastný názor.
Po ročnom dánskom exile sa hudobníci rozhodli pre návrat do vlasti a kapitola Icecross sa uzavrela. Doma na nich čakalo tisíc výliskov LP, na Islande reálne nepredajného počtu kusov. Preto sa rozhodli platňu rozdeliť rovným dielom medzi všetkých, ktorí sa nejakým spôsobom pričinili o jej vznik. Niečo sa predalo, časť skončila v rodinách a zvyšok sa rozdával pri rôznych príležitostiach vo forme darčeka. Kto mohol vtedy tušiť, že v novembri 2015 na portáli Discogs bude za ňu jeden zberateľ ochotný zaplatiť 1.241 Euro?
Vznikom internetu sa do pozornosti hudobných fanúšikov začali dostávať aj zabudnuté skupiny. Tak to bolo aj v prípade Icecross. V priebehu tohto obdobia sa pôvodná platňa predávala v rozmedzí 200-500 dolárov. Reagovali aj rôzne pirátske značky a album ponúkali na LP i CD. Až v roku 2013, pri príležitosti 40. výročia od vzniku nahrávky, prišla americká firma Rockadrome s prvou oficiálnou dotlačou LP a prvým oficiálnym vydaním na CD. To všetko sa udialo so súhlasom skupiny.
AXEL EINARSSON
V rokoch 1974-1975 pôsobil v USA, kde oživil značku Icecross. Vystriedalo sa pri ňom veľa hráčov, najstabilnejšou členkou bola speváčka Shady Owens. V roku 1976 vydal svoj jediný sólový album Acting Like A Fool. Neskôr sa pripojil ku komediálnej skupine nazvanej Deildarbúngubræður, ktorej názov sa nedá preložiť (dva albumy). Prevádzkuje profesionálne štúdio Stöðin (Stanica). Niekoľko rokov vydáva CD a DVD s hudbou pre malé deti.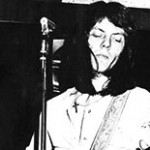 ÓMAR ÓSKARSSON
Hral s viacerými kapelami, napr. Andrew, Pelican. V prvej menovanej s ním hrali aj Ásgeir a starý známy z výroby albumu Icecross – Júlíus Agnarsson. Vydal sólové albumy Middle Class Man (1974) a Rækjukokkteill (1988).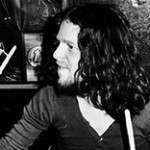 ÁSGEIR ÓSKARSSON
Je jedným z najuznávanejších bubeníkov na Islande, ktorý zvláda všetky štýly, od blues rocku až po jazz. Jeho hra je zaznamenaná na viac ako 300 albumoch. Vydal aj 3 CD s vlastnou hudbou.
DISKOGRAFIA:
1973 – Icecross (Icecross Records)
Zdroj: vlastné CD (Rockadrome), oficiálna stránka Icecross.