CD Fading Records – FAD 005  /2012/
Znáte rčení "za málo peněz, hodně muziky"? Tak tady je tomu přesně obráceně. Za cenu standardního alba dostanete 35 minut materiálu a to je z něj víc, jak třetina live. A v mizerné kvalitě k tomu. Ovšem co by fanoušek a sběratel neudělal pro svoji oblíbenou kapelu, že?
Na úvod mi dovolte krátkou rekapitulaci: skupina Locanda delle Fate vznikla v polovině sedmdesátých let a v roce 1977 debutovala velice pěkným a fanoušky italského art rocku ceněným albem Forse le lucciole non si amano più. Ještě téhož roku na podzim podnikla malé koncertní turné a z kraje toho následujícího natočila singl New York/Nuove lune. Dál se však stopa skupiny ztrácí a jako La locanda se na krátko objevuje až v roce 1980, s popovým eSPéčkem Annalisa/Volare un pò più in alto.
Po dlouhých letech nečinnosti se Locanda delle Fate připomněli v roce 1993 ofiko vydaným bootlegem Live (z výše uvedeného turné 1977), ovšem za návrat na scénu se dá považovat teprve album Homo homini lupus z roku 1999. Není špatné, ale s původní tvorbou Locanda delle Fate nemá prakticky vůbec nic společného a dál už je to historie poměrně nedávná. V roce 2006 se kapela sešla znovu ve studiu s cílem natočit desku, která by se stylově blížila debutu Forse le lucciole non si amano più, ale nějak to drhlo a tak zůstalo jen u zbožného přání. Po další vynucené pauze si Locanda zahrála na několika festivalech a v roce 2012 jí vyšla hned dvě alba najednou. První je live a obsahuje vystoupení z fesťáku Progvention 2010, druhé kompilací s dosud nezveřejněnými záznamy LdF. Dostala název The Missing Fireflies a nabízí čtyři kousky ze studia, plus tři koncertní ukázky z Tour 1977…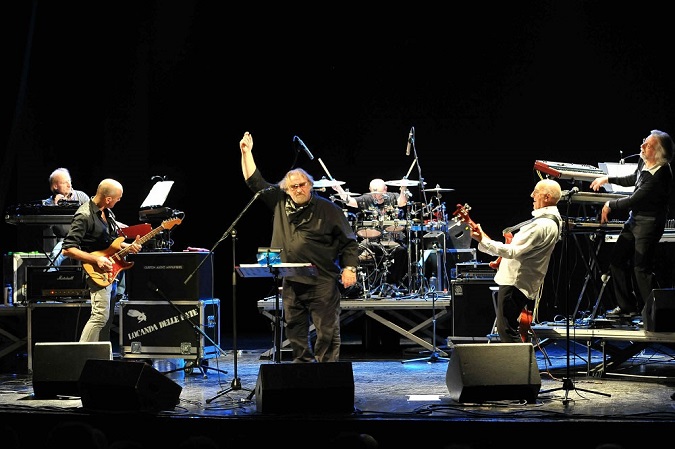 Necelé tři minuty dlouhá Sequenza circorale je jen instrumentálním předělem, ale zbylé tři, ve studiu zaznamenané kousky jsou bezva a všechny mají kořeny už v sedmdesátých letech. Písnička Non chiudere a chiave le stelle pochází z debutu Forse le lucciole non si amano più, ale tam ji nazpíval tehdejší kytarista Ezio Vevey a její nová podoba, s upraveným aranžmá a majestátním tenorem Leonarda Sassa se mi líbí o poznání víc.
Vrcholem mini alba jsou však teprve kompozice Crescendo a La giostra. Obě skladby skupina hrála už na výše uvedeném podzimním turné 1977, ovšem konečnou podobu jim vtiskla teprve tady a použila k tomu dokonce celou řadu původních inštrumentů. Jejich kompletní seznam je v bookletu CD a je to zajímavé čtení, nicméně nástroje jsou jedna věc, producent a studio druhá. Skupina se sice pokusila dosáhnou stejného zvuku, jako na Forse le lucciole non si amano più, ale z mého pohledu jde o současnou produkci odpovídající běžným standardům a žádnej návrat do minulosti se tady nekoná.
Tím samozřejmě nechci říct, že by ten zvuk byl nějak špatnej. Je prostě současnej a oběma skladbám rozhodně neublížil. Jsou to půvabně melodické, art rockově rozkošatělé kompozice prošpikované řadou instrumentálních vsuvek a na debutu by se určitě neztratily.
Tři koncertní ukázky z roku 1977 jsou spíš do počtu a posloužit můžou leda jako dokument doby. Před časem jsem se tady trochu rozepsal o právě z onoho turné pocházejícím záznamu Live a moc ho nepochválil, protože jeho zvuková kvalita je opravdu špatná a tyhle tři – byť pečlivě vyčištěné – kusy jsou na tom ještě o něco hůř. Z Non chiudere a chiave le stelle je tady jen minutu dlouhej fragment, pak se tu nachází nedokončená verze (v instrumentálním provedení) skladby Crescendo a celé mini album uzavírá z prvotiny pocházející Vendesi saggezza. Jenom doplním, že všechny tři skladby se natáčely na vystoupení v Teatro Alfieri di Asti, konaném 21. listopadu 1977.
Dvanáctistránkový booklet je ovšem prvotřídní a obsahuje spoustu zajímavého materiálu. Sleeve note v italštině i angličtině, podrobně vypsané sestavy a nástrojové obsazení (typy kytar a zesilovačů, rozměry činelů i se značkou paliček, přesný seznam všech klávesových nástrojů a pod), fotky z natáčení i nějakej historickej materiál v podobě novinovejch výstřižků. Nu a korunu tomu všemu nasazuje nádhernej obal…
Inu, co dodat. Studiovej matroš hodnotím čtyřmi hvězdami, ale skladbám z koncertu nemůžu dát víc, jak dvě. Průměr je tedy jasnej, ale i přes relativně nízké hodnocení mám z alba radost. Ostudu v mé italské sbírce dělat rozhodně nebude.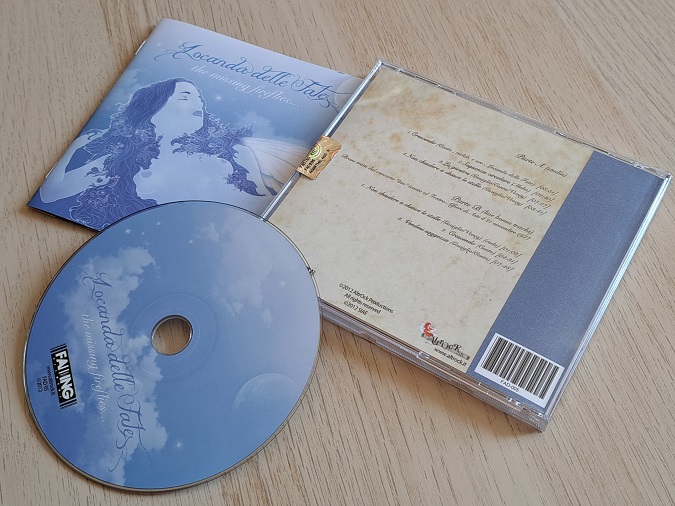 Studio
01. Crescendo (8:51)
02. Sequenza circolare (2:41)
03. La giostra (7:27)
04. Non chiudere a chiave le stelle (3:41)
Leonardo Sasso – vocals
Luciano Boero – bass guitar, acoustic guitar
Oscar Mazzoglio – Hammond B3 organ, Mellotron M 400, Yamaha Motif XS6, Roland V- Combo VR-760, Korg X50
Giorgio Gardino – drums, percussion
Max Brignolo – electric guitar
Maurizio Muha – piano, minimoog, Mellotron M 400
Live – Asti Teatro Alfieri 1977
05. Non chiudere a chiave le stelle (1:02)
06. Crescendo (4:31)
07. Vendesi saggezza (7:48)
Leonardo Sasso – vocals
Luciano Boero – bass guitar
Ezio Vevey – guitar
Oscar Mazzoglio – Hammond organ, keyboards, minimoog
Giorgio Gardino – drums, vibraphone
Michele Conta – piano, keyboards
Alberto Gaviglio – flute, guitar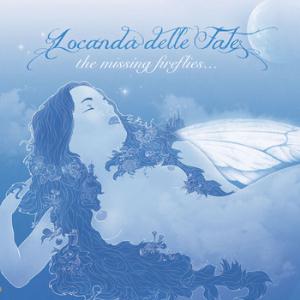 The Missing Fireflies
Locanda delle Fate
Prog Rock
Fading Records
2012
CD
7
CD Fading Records - FAD 005 /2012/