Téměř dvouletý oddechový čas přerušila až účast na mírovém mítinku v portugalském Lisabonu 19. srpna 1986, při němž Barclay James Harvest v rámci International Year of Peace Festival odehráli čtyři skladby (He Said Love, Ring Of Changes, Child Of The Universe a Life Is For Living).
Na podzim se formace sešla ve Friarmere Studios, nově vybudovaném nahrávacím studiu Johna Leese v Delphu, kde začala připravovat projekt s pracovním názvem Elements. A k velké radosti věrných fanoušků se 7. listopadu na pultech objevil nový singl He Said Love/On The Wings Of Love.
Album nakonec vyšlo 30. ledna 1987 pod titulem Face To Face a k tradičnímu soundu Barclay James Harvest nemělo daleko. Vedle již zavedených jmen doplnila sestavu trojice zkušených muzikantů, Paul Wix Wickens (klávesy), Frank Ricotti (perkuse), Dick Morrissey (saxofon) a několik doprovodných pěvců pro Leesův protestsong African, který je obžalobou systému apartheidu v Jižní Africe. Při vzpomínce na tamní turné skupiny však angažovanost v tomto směru vyznívá rozporuplně, to Holroydův Kiev je vkusným holdem obětem černobylské katastrofy z dubna 1986. Písní He Said Love, jejíž text je v podstatě zhuštěnou verzí Nového zákona, Lees pro změnu oslavil narození svého druhého dítěte, v All My Life s hypnotickou basovou linkou bere dech Morrisseyův tenor saxofon a Guitar Blues je mnohými považována za vrchol tohoto alba (pro mě jím však zůstává čarokrásná Alone In The Night).
Face To Face je prvním titulem Barclay James Harvest, do jehož tracklistu zasáhl fenomén CD. Pouze tyto nosiče obsahují dvě skladby navíc, You Need Love a populární singlové béčko On The Wings Of Love.
Na jaře se Barclay James Harvest vydali na další turné po Británii a Evropě, během něhož se v několika německých městech zúčastnili putovního open air festivalu Out in the Green v atraktivní společnosti Kansas, Status Quo, ELP ad.
Zlatým hřebem čtyřměsíční šňůry se ovšem jednoznačně stala pozvánka od soudruhů z NDR k vystoupení ve Východním Berlíně v rámci oslav 750. výročí založení města. Místem jeho konání měl být malý ostrov na Sprévě, ale protože se již po dvou týdnech sešlo přes 50 000 žádostí o vstupenky (4,05 DDM/ks), rozhodly východoněmecké úřady o přeložení akce do Treptower Parku. V den D, 14. července 1987, byl ale režim prodeje již tak nahodilý, že se tisíce lidí dostaly na koncert zadarmo, takže nebylo možné poskytnout přesný údaj o jejich počtu. Odhady se pohybovaly od 130 000 až do 170 000.
Záznam této ojedinělé show se na trhu objevil v dubnu 1988 pod příznačným názvem Glasnost a byl k mání i na VHS.
O měsíc později se prvním číslem magazínu Nova Lepidoptera přihlásil oficiální fan klub Friends of Barclay James Harvest založený na jaře 1977.
Tehdy si již skupina vybírala další time out a ke společné práci se vrátila až v březnu 1989. Revolution Studios na předměstí Stockportu poskytlo ideální prostředí na přípravu vstupního materiálu do devadesátých let. Výsledkem půlročního úsilí byl titul Welcome To The Show vydaný 5. března 1990, jenž obsahoval téměř všechny atributy klasických alb Barclay James Harvest. S nahrávkami tentokrát vypomohli Ritchie Close (piano), Steve Pigott (klávesy) a Andy Hamilton (saxofon), obal byl dílem Storma Thorgersona. Snímky krajiny pocházejí z řídce obydlené oblasti Saddleworth Moor v severní Anglii, fotografie kapely byly pořízeny v observatoři v Hendonu, patřící Londýnské univerzitě.
Album sklidilo úspěch zejména v Německu (#10) a ve Švýcarsku (#7), vedle Holroydovy prorocké Halfway To Freedom, která se stala znělkou pořadu Guten Abend Deutschland, třeba zmínit gradující Lady Macbeth s uhrančivou atmosférou, baladu Where Do We Go s náramným Hamiltonovým sólem, krasosmutnou If Love Is King a tři "vzpomínkové" songy – John Lennon's Guitar, Psychedelic Child a African Nights. CD bylo opět bohatší o dvě písně, oželitelné Shadows On The Sky a Origin Earth.
"Nejsme ten typ kapely, která cítí potřebu mít frontmana jako je Freddie Mercury," prohlásil Holroyd v rozhovoru pro Mittelbayerischen Zeitung před návratem skupiny na koncertní pódia, jenž se uskutečnil 14. září 1990 v Manchesteru. Uprostřed šestitýdenního turné však bylo z důvodu nedostatku prodaných vstupenek zrušeno představení v Bordeaux a ani závěrečný týden v Německu náladu nespravil.
Pro další rok se tak Barclay James Harvest vzdali veškerých aktivit a znovu o sobě dali vědět až v únoru 1992 při startu 25th Anniversary Tour, které zahrnovalo přes čtyři desítky tradičních zastávek. Jak se ukáže později, domácí koncert v oldhamské Queen Elizabeth Hall z 8. března byl posledním společným britským vystoupením trojice Holroyd, Lees, Pritchard.
Polydor výročí připomněl koncem června vydáním The Best Of Barclay James Harvest mapujícím období 1974-90 a kapela v prosinci začala s přípravou nového alba v osvědčeném prostředí Friarmere Studios. Klávesové party obstaral starý známý Kevin McAlea, po desetileté přestávce se ke spolupráci vrátil producent Martin Lawrence, autorem obalu byl další Mistr svého oboru Rodney Matthews (Eloy, Magnum, Nazareth) a 14. června 1993 bylo album Caught In The Light na světě.
Tím však výčet příznivých zpráv končí. Album charakteristické velmi osobními texty (Ballad Of Denshaw Mill, Copii Romania, Cold War a Back To Earth, kterou Lees napsal po smrti svého otce v roce 1992 a věnoval všem, kteří truchlí nad ztrátou někoho blízkého), doplatilo na pokles zájmu o Barclay James Harvest ze strany nahrávací společnosti a zanedbaná propagace se promítla v jeho slabé prodejnosti. A když bylo po několika červnových koncertech v Německu pro nezájem zrušeno plánované podzimní turné v západní Evropě, zůstalo záhadou, proč nezvolili cestu bezpočtu jiných souborů, které využili přízně a hladu fanoušků v zemích bývalého východního bloku, kde vyprodávali jeden koncert za druhým.
Pšenka skupině nekvetla ani v roce 1994. Jediným světlým bodem nevydařeného roku se tak v jeho polovině stalo vydání Wolstenholmeova materiálu, připraveného začátkem osmdesátých let pro druhé sólové album. Doplněn skladbami z debutu Mæstoso vyšel pod titulem Songs From The Black Box.
K pozvolnému oživení činnosti Barclay James Harvest vedlo až uzavření staré "kauzy Godfrey", která nakonec po četných odkladech dospěla v únoru 1995 k Nejvyššímu soudu v Londýně a s prvním jarním dnem i k vynesení 52stránkového rozsudku. Přestože v jeho závěru ctihodný soudce Blackburn obě žaloby zamítl, byla Godfreymu přiznána různá míra spoluautorství u šesti písní – významný podíl na vzniku Galadriel a Mocking Bird, okrajový v případě The Sun Will Never Shine a Song For Dying a blíže nespecifikovaný přínos u When The World Was Woken a Dark Now My Sky.
V dubnu 1996 trio podepsalo přestup k německé divizi Polydoru a zahájilo práce na novém materiálu. U kláves se vystřídali Kevin McAlea, do studia se navrátivší Colin Browne, jinak pravidelný host při všech zájezdech skupiny v období 1980-97, a Jeff Leach (Paul Young, Van Morrison), který nebude chybět ani na příštím turné.
Sedmnáctého zastavení jara se ale nakonec dočkali pouze fanoušci v kontinentální Evropě. Pod titulem River Of Dreams tu 26. května 1997 vychází album, jehož kvalitu naznačí již úvodní song s výmluvným názvem Back In The Game nebo titulní píseň, která vznikla v reakci na zatažení souboru do soudního řízení. A nastavenou laťku hravě zdolá i Yesterday's Heroes, nedostižná už jen v samotném názvu, stejně jako jímavé balady, které v podání Barclay James Harvest nikdy nepáchly povrchností ani kýčem – Children Of The Disappeared, (Took Me) So Long a ta nejmrazivější z nich Three Weeks To Despair. John Lees, inspirován dvěma články v Sunday Times, uchopil téma bezdomovectví způsobem, jakým nedokáže snad nikdo jiný. Možná proto se snová melodie a slova: "Za každým chatrným spacím pytlem a krabicí z kartónu je lidská bytost s rodinou, minulostí a osobností," alespoň na šest minut dotknou i nejednoho cynického srdce.
Album River Of Dreams je důstojnou tečkou za společnou érou.
Ve dnech 4. a 5. července se v Dortmundu a Halle kapela po deseti letech vrátí na putovní festival Out in the Green
(s Artem Garfunkelem, ELP aj.) a dva měsíce poté odstartuje koncertem v Rottweilu, nejstarším městě jihozápadního Německa, krátkou šňůru, jejíž závěrečný díl v bernském Theater im National z 27. září 1997 bude posledním společným vystoupením tria Holroyd, Lees, Pritchard pod značkou Barclay James Harvest.
Skupina se totiž do hry vrátila jen nakrátko. Dlouholetý manažer souboru David Walker sice v červenci 1998 oficiálně oznámil roční pauzu, ve skutečnosti se však jednalo o definitivní konec kapely v podobě, jakou dostala v roce 1979.
Na vzniklou situaci byl nejlépe připraven John Lees, který už od jara chystal sólové album. K překvapení všech se mezi jeho novými spoluhráči Craigem Fletcherem (baskytara) a Kevinem Whiteheadem (bicí) objevil i bývalý parťák Wolstenholme. Natočili šest nových skladeb, přidali předělávky klasických čísel bývalé kapely a pod hlavičkou Barclay James Harvest Through The Eyes Of John Lees vydali v únoru 1999 album Nexus, na jehož obalu nescházelo ani proslulé logo v podobě motýla.
Posilou pro německo-švýcarské turné, jehož průběh v březnu 2000 připomněl živák Revival: Live 1999, se stal Jeff Leach. K dalším vystoupením se soubor sešel koncem roku a v rámci Revival Tour se vedle Německa představil v Rakousku, na jaře 2001 v Řecku a 27. března odehrál v bristolském klubu Anson Rooms první ze tří koncertů v Anglii, kde Barclay James Harvest nevystupovali od roku 1992.
Mel Pritchard Leesovu nabídku odmítl a dal přednost spolupráci s Holroydem, jemuž se časem podařilo sestavit stabilní tým v čele s klávesistou Colinem Brownem, spolupracujícím s kapelou od začátku osmdesátých let. S dvojicí Steve Butler (perkuse, klávesy) a Michael Byron-Hehir (kytara) dodnes tvoří pevné jádro souboru, který vystupuje pod označením Barclay James Harvest featuring Les Holroyd. Až do poloviny roku 2009 k nim neodmyslitelně patřil i kytarista Ian Wilson.
Od dubna do listopadu 2001 natáčeli s producentem Andym MacPhersonem v Holroydově domácím studiu nový materiál, s nímž vypomohli i Steve Piggott (klávesy), John 'Rabbit' Bundrick a Roy Martin (bicí), který se v příštích letech stane častou posilou koncertní sestavy. Album z února 2002 dostalo název Revolution Days a přineslo deset zbrusu nových skladeb plus upravené verze Love On The Line a Life Is For Living.
Uprostřed léta si ve východofrancouzském Colmaru odbyli koncertní premiéru v roli předkapely Uriah Heep a v říjnu se do Francie vrátili k šesti koncertům evropského turné, jehož hlavní část se tradičně odehrávala v Německu. Záznam vystoupení v bonnské Stadthalle je zachycen na albu Live In Bonn: 30th October 2002, které se na trh dostalo o rok později.
Konkurenční Leesův band přerušil přípravu druhé studiovky s pracovním názvem North, její dokončení odložil na neurčito a na příští čtyři roky se odmlčel.
Neplánované přestávky využil Wolstenholme k oživení vlastního projektu Mæstoso. Ve spolupráci s jeho původním kytaristou Stevem Broomheadem a uvolněnými Fletcherem a Whiteheadem nahráli během třinácti dnů v listopadu 2003 v lincolnshireském The Chapel Studios album One Drop In A Dry World.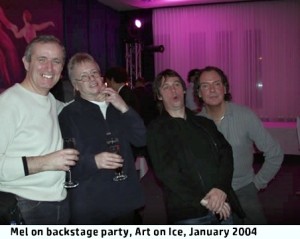 Holroydova sestava o sobě dala vědět prosincovým mini-turné po Francii s vloženým vystoupením ve švýcarské Ženevě. Koncem ledna 2004 se do země helvétského kříže vrátila k pěti představením při vyhlášené krasobruslařské show Art on Ice, která se konala v Curychu, a spřádala další plány.
Mel Pritchard však pouze dva dny po návratu ze Švýcarska prodělal srdeční infarkt a v noci z 27. na 28. ledna 2004 zemřel ve věku 56 let. Sympatického muže v pozadí snad nejlíp charakterizovala odpověď na otázku, zda dává přednost hraní ve Velké Británii nebo v zahraničí. V 10. čísle občasníku Nova Lepidoptera z července 1990 odvětil: "Je mi jedno, kde hrajem. Vždyť jsme jen banda starých nádeníků, pořád si to ale užíváme. Pokud jsou čistý šatny, budu hrát kdekoliv, kdykoliv."
Jeho památce bylo věnováno kompilační CD Evolution Years: The Best of Barclay James Harvest featuring the songs of Les Holroyd se dvěma novými verzemi známých skladeb, německy nazpívanou Life Is For Living a unplugged provedením songu Berlin.