CD Mellow Records – MMP 140  /1993/
Skupina Locanda delle Fate debutovala v roce 1977 symphonic rockovým albem Forse le lucciole non si amano più, na jehož podporu podnikla i malé italské turné. S jakým výsledkem se můžu leda tak dohadovat, ale žádnej velkej úspěch to asi nebyl. Bohužel, ale podobné muzice zvonil umíráček a navíc se to tenkrát v Itálii docela mlelo. Demonstrace byly na denním pořádku a rovněž koncerty často provázely politické třenice. Všelijaké partičky na ně chodily jen pro to, aby se porvaly a potom docházelo k poškození, nebo zabavení nástrojů. Mnohdy bylo ohroženo i zdraví samotných hudebníků a v takové atmosféře se asi hraje dost těžko. Možná i proto se kapela už o necelý rok později rozpadla…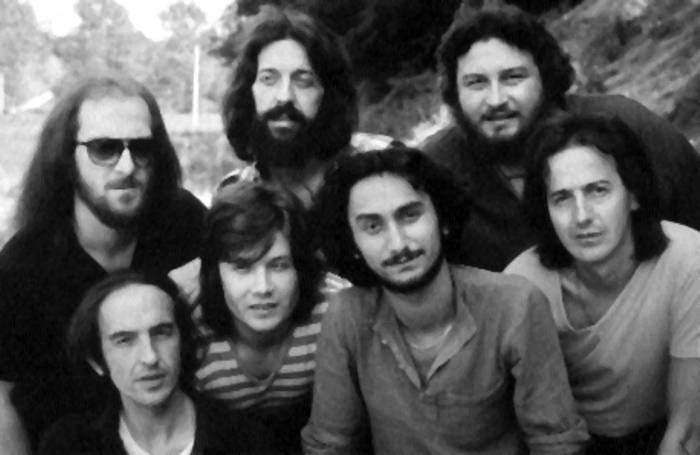 V roce 1993 se z onoho turné objevil amatérsky pořízený záznam, který na trh vrhla tehdy velice agilní, na italskej rock specializovaná firmička Mellow Records. A jaký je? Po stránce obsahové bezva, protože kromě instrumentální skladby A volte un istante di quiete obsahuje kompletní album Forse le lucciole non si amano più s jedním, dosud neuvedeným kusem navíc. Kaňkou na kráse je však podprůměrný zvuk, kterej nahrávku devalvuje na zbytnou položku vhodnou pro pár bláznivejch sběratelů. Běžný rockový fanoušek se jí tak s největší pravděpodobností raději vyhne.
Locanda delle Fate hráli vysoce melodický, symfonický art rock s do puntíku vycizelovaným aranžmá a není divu, vždyť v sestavě skupiny působilo hned sedm! hudebníků (frontman, dva kytaristé, baskytarista s bubeníkem a dva klávesisté). Byl jsem zvědavej na to, jak se jim dařilo ve studiu zaznamenaný materiál prezentovat živě a klobouk dolů, popasovali se s tím na výbornou. Kapela se nepouštěla do žádných větších akcí (improvizací) a bezchybně zahrála to, co měla dokonale nadřené a co mám dobře naposlouchané z drážek debutového alba.
První dvě skladby, překrásná Profumo di colla bianca a semiakustická balada Non chiudere a chiave le stelle zvukově ještě docela ujdou, ale následující Forse le lucciole non si amano più hraje jak z kanálu a je to škoda, protože tuhle pecku řadím k tomu vůbec nejlepšímu z produkce LdF. Bohužel, ale o moc líp na tom není ani jediná, dosud neuvedená La giostra. Písnička je to přitom pěkná, melodická a na té již několikrát zmíněné studiové prvotině by jí to určitě slušelo. Studiové podoby se dočkala až na kompilaci The Missing Fireflies z roku 2012…
Dál už to má naštěstí tendenci pořád se zlepšovat. Pátá Cercando un nuovo confine sice ještě docela hapruje, ale poslední dva kusy jsou vlastně v pohodě. Radost mám především ze závěrečného, epického majstrštyku Vendesi saggezza, notně vylepšujícího můj poněkud pošramocený dojem. Přesně touhle skladbou končí i studiovej debut a lepší tečku za jeho koncem si neumím ani představit. Asi nepřekvapí, že stejná položka uzavírá i záznam Live in Bloom, pořízený na festivalu Progvention v roce 2010.
Původní CD vyšlo u společnosti Mellow Records v roce 1993 (plus nějaký repress) a podle discogs existuje jen jedno další oficiální vydání od japonských Marquee. Svým způsobem je to docela rarita a jako fanoušek skupiny jsem rád, že ho mám. Klasická krabka obsahuje jednoduše, červenou a černou barvou potištěnej kotouč a čtyřstránkovej booklet s černobílými portréty členů Locanda delle Fate.
Debut je u mě za jasných pět, ale CD Live nemůžu dát víc, jak dvě hvězdičky. Podprůměrný zvuk je pro mě jen těžko překonatelnou překážkou a tak si ho pouštím opravdu zřídka. Velkým lákadlem je pro mě CD+DVD box Live in Bloom, ale ten už je dávno vyprodanej a tak nezbývá než čekat, až ho vydavatel (AMS) znovu opráší a pošle na trh. Naštěstí je na YouTube dostupnej poměrně kvalitní obrazovej záznam…
SKLADBY:
1. Profumo di colla bianca  (8:17)
2. Non chiudere a chiave le stelle  (3:32)
3. Forse le lucciole non si amano più  (9:32)
4. La giostra  (7:31)
5. Cercando un nuovo confine  (7:25)
6. Sogno di Estunno  (4:47)
7. Vendesi saggezza  (9:31)
SESTAVA:
Giorgio Gardino – Drums, vibraphone
Luciano Boero – Bass
Ezio Vevey – Guitar
Alberto Gaviglio – Guitar, flute
Michele Conta – Keyboards
Oscar Mazzoglio – Keyboards
Leonardo Sasso – Vocals
Live
Locanda delle Fate
Prog Rock
Mellow Records
1993
CD
7
CD Mellow Records – MMP 140 /1993/