Písal sa rok 1978 a po vysokooktánovej nádielke menom Let There Be Rock (1977), vďaka ktorej AC/DC vstali z mŕtvych, prišiel čas na nový album. Album, ktorý by kapele konečne pomohol preraziť na americkom kontinente. Legendárne producentské duo Vanda & Young (vtedy o tom ešte netušiac) dostalo poslednú šancu vyprodukovať hitový album. Že sa im to nakoniec (aspoň čo sa komerčného úspechu týka) nepodarilo, nie je podstatné. To, čo vytvorili, je mnohými znalcami považované za najlepší počin kapely.
Zmena je život
Rok 1977 priniesol pre kapelu viaceré zmeny. Koncom európskeho turné bol pre nezhody s Angusom Youngom vyrazený z kapely basák Mark Evans. Nahradil ho Angličan Cliff Williams, ktorý už bol ostrieľaným borcom a mal na konte albumy s progrockovými Home aj kapelou Bandit. Navyše spieval aj podporné vokály, takže kapela jeho príchodom posilnila. Video dolenižšie to potvrdzuje.
Začiatkom leta sa kapela vrátila do Austrálie (kde bola práve zima) a strávila nejaký čas v Alberts štúdiu skúšaním a nahrávaním nového materiálu. Po dvoch inkognito zahrievacích vystúpeniach v legendárnom sydneyskom klube Bondi Lifesavers, kde si Williams odbil s AC/DC svoju premiéru, sa koncom júla presunuli do Spojených štátov.
Svoje premiérové americké turné započali v Texase, kde v Austine otvárali koncert pre kanadských Moxy. Zaujímavosťou je, že počas turné si naživo odskúšali aj pár nových kompozícií, ako dokazuje aj táto nahrávka zo San Francisca. Up To My Neck In You a Kicked In The Teeth sa napokon objavili aj na novom albume.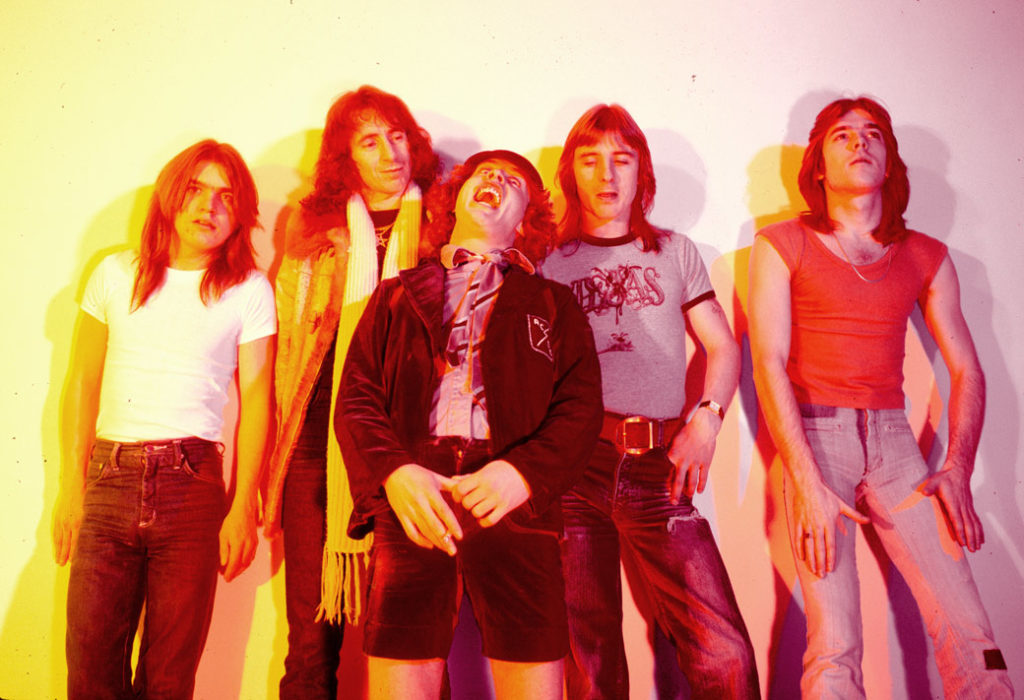 Doba elektrická
Album Powerage (1978), ktorý dostal priliehavý názov aj obal, nahrávali už tradične začiatkom nového roka (január až marec). Kapela sa v tej dobe vždy koncom roka vracala domov do Austrálie na sviatky, aby si aspoň na chvíľu jej členovia oddýchli od nekonečných turné.
Keď už sme pri tom názve albumu. Američania majú dodnes problém vysloviť ho správne – aj samotný Eddie Van Halen ho vyslovoval ako [pavridž]. Správne sa vyslovuje akoby to boli dve slová [pavrejdž], čo demonštruje aj toto dobové rádiové promo z USA.
Krátke lingvistické okienko za nami. Prejdime na samotný zvuk. Powerage je piaty v poradí a zároveň aj posledný album, ktorý AC/DC nahralo v legendárnom Alberts štúdiu číslo 1 – prezývali ho aj rock 'n' rollové štúdio. Privilégium nahrávať v ňom mali zväčša iba kapely vydavateľstva Albert Productions. The Angels, Rose Tattoo, či Choirboys tu nahrali albumy, ktoré patria k tomu najlepšiemu, čo krajina protinožcov hudobne vyprodukovala. "Gitarový zvuk Alberts" sa stal predmetom obdivu a aj také kapely ako Metallica či Guns 'N Roses sa aj po rokoch pýtali ako ho len dosiahli. Pravdou ale je, že za ním nebolo len nejaké zázračné štúdio, ale skôr austrálsky naturel…
Odtrhnutý z reťaze
Jeden trik AC/DC a menovite Angus Young predsa len v štúdiu využil. Keď v auguste 1977 americký vynálezca Ken Schaffer predviedol Malcolmovi Youngovi jeho Schaffer Vega Diversity System (SVDS) pred koncertom v legendárnej newyorskej koncertnej sále Palladium, jednalo sa o historickú udalosť. Tento rádiový systém umožňoval hudobníkom pohybovať sa voľne po pódiu, bez potreby použitia káblov. A Angusovi dal ešte väčšie krídla (nehovoriac o odľahčení bedňákov kapely, ktorí nemuseli stále dávať pozor na Angusov gitarový kábel). SVDS však prinieslo aj ďaľší benefit, o ktorom dekády obdivovatelia Angusovho gitarového zvuku ani len netušili. Jeho súčasťou bol aj veľmi muzikálny čistý boost efekt, ktorý vybudil jeho Marshall zosiľňovač ešte viac a poskytol jeho Gibson SG gitare aj nekonečný sustain.
Až začiatkom minulej dekády SVDS a jeho vplyv na gitarový tón Angusa Younga objavil AC/DC fanatik z Talianska menom Fil "SoloDallas" Olivieri. Skontaktoval sa s Kenom Schafferom, odkúpil od neho posledné kusy SVDS ktoré vlastnil, a dnes si Schaffer repliky od firmy SoloDallas môžu kúpiť všetci gitaroví nadšenci nielen Angusa Younga. SVDS v 70. a 80. rokoch používali medzi inými aj členovia Kiss, Eddie Van Halen či David Gilmour. A od albumu Rock or Bust (2014) ho používa opäť aj Angus. Svojou troškou som tomu dopomohol aj ja, ale poďme späť k zvuku albumu.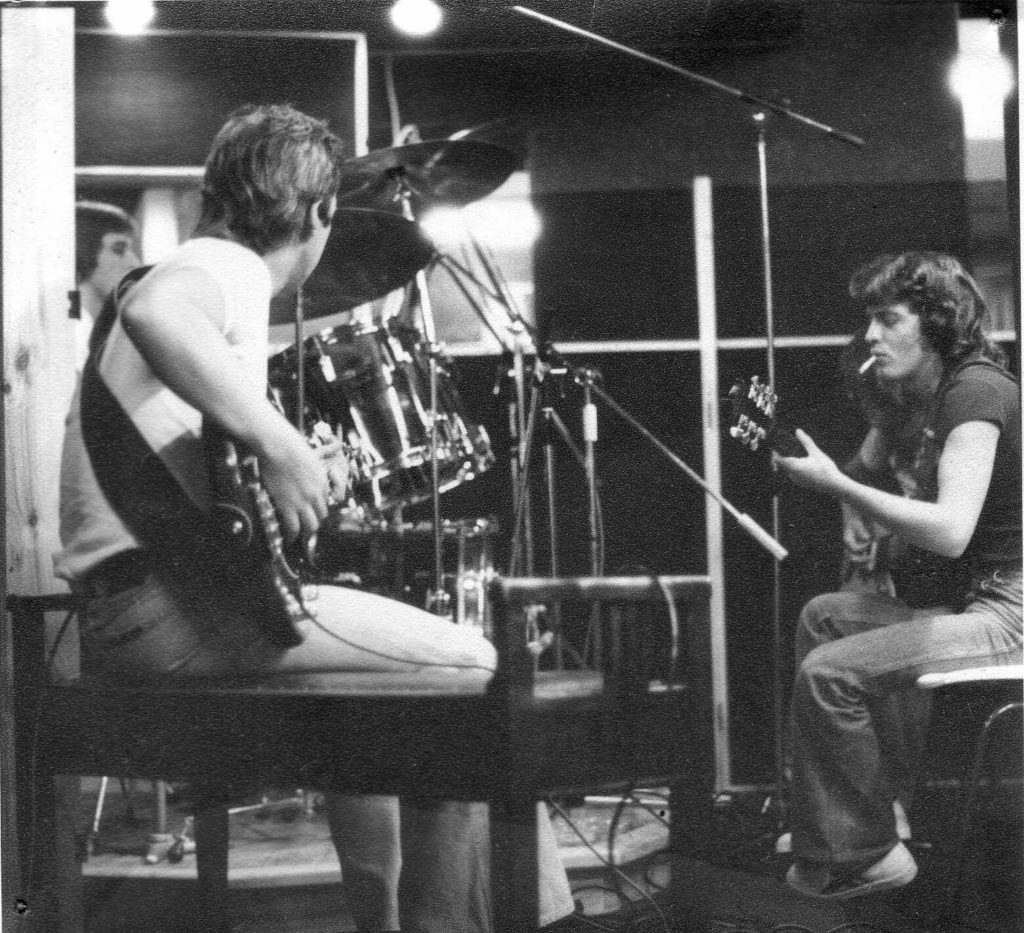 Bol to Angusov starší brat George, ktorý navrhol, aby v štúdiu použil to, s čím hrá aj na koncertoch. A tak sa SVDS stalo neoddeliteľnou súčasťou zvuku charakteristického pre AC/DC na ďaľšiu minimálne dekádu (zdroje hovoria, že bolo použité v štúdiu ešte aj pri nahrávaní albumu Blow Up Your Video v roku 1987). A Angus mohol nahrávať gitarové sóla priamo z kontrolnej miestnosti, čo dosvedčuje aj priložená fotografia.
Kým album Let There Be Rock mal gitarový zvuk drsný ako šmirgeľ, gitarový zvuk Powerage je síce stále správne chrapčavý, ale viac sofistikovaný – dalo by sa povedať, príjemnejší na posluch. Zvukár Mark Opitz tvrdí, že kapela tri týždne nacvičovala po nociach v štúdiu s Georgeom Youngom na base, zatiaľčo Cliff Williams čakal na pracovné povolenie. Počas dní trávil čas skúšaním všetkých 8 zosiľňovačov Marshall a 16 reproboxov, ktoré mala skupina k dispozícii. Na konci vybral pre Angusa aj Malcolma po jednom kuse najlepšie znejúceho Marshallu spárovaného s reproboxom (a v rámci nich ešte aj najlepšie znejúci zo štyroch reproduktorov v nich). Údajne mu to celé trvalo dva týždne. Čo je na tom pravdy neviem, ale gitarový zvuk je vskutku parádny.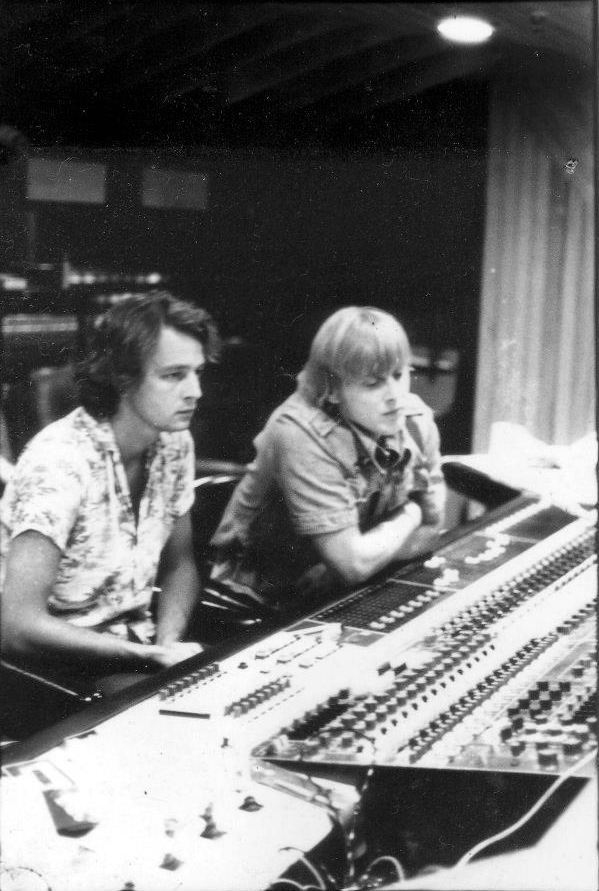 Majsterštuk
Album samotný vyšiel vo viacerých verziách. Prvotné európske vydania mali iný mix, než neskoršie americké (a austrálske) vydanie. A nielen to. Odlišnosti boli aj čo sa týka piesní. Tak napríklad – britské či nemecké verzie neobsahovali song Rock 'n' Roll Damnation, ktorý bol nahraný neskôr a tak na tamojších trhoch vyšiel dodatočne ako singel. Francúzske a holandské vydania vyšli o čosi neskôr, takže tam ho lokálne pobočky prezieravo pridali na album a tak si tamojší priaznivci mohli vychutnávať o jeden kúsok dlhší album.
Za všetkým raz stáli Američania z Atlanticu, ktorí s prvotnou verziou albumu neboli spokojní a tak sa kapela vrátila do štúdia aby nahrala komerčnejší song a nejaké dodatočné pasáže a podporné vokály pre ostatné songy. Výsledkom tak bol nový mix, nová pieseň a aj to, že na americkom a austrálskom vydaní nefiguruje číslo s názvom Cold Hearted Man. Ja som pre potreby tejto recenzie zvolil šalamúnske riešenie – americkú verziu albumu (ktorá je dnes jednotná pre celý svet) doplnenú o chýbajúci song. Poďme teda na to.
Rock 'N' Roll Damnation je najviac komerčne znejúce číslo albumu (čo nie je na škodu, šejkre a chrastítka ja môžem) a preto bolo aj zvolené ako singel. A celkom úspešný, pretože to dotiahol na priečku #24 v britskom hudobnom rebríčku a kapela tak premiérovo vystúpila aj v tamojšej televíznej relácii Top of the Pops. Skvelý Bonov text o rock & rollovom zatratení a hudba, milujem ten breakdown a popevok "Damnation!"
Video horevyššie má zvuk z koncertu v Holandsku, ktorý som ako decko počúvaval na pirátskej audiokazete s názvom Bon, Please Don't Go. Ten basový nástup Cliffa Williamsa je parádny. V tomto prípade sa biele goliere z Atlantic Records nemýlili a tak im patrí malé ďakujem, pretože bez nich by sme boli o túto pieseň ukrátení.
Hneď druhý kúsok v poradí s názvom Down Payment Blues je absolútnym skvostom a aj spomínaný Eddie Van Halen ho zbožňoval. Powerage album celkovo je medzi ostatnými muzikantmi obľúbený a jeho fanúšikmi sú napríklad taký Keith Richards či Gene Simmons. Ten riff je dokonalý a song má neskutočnú dynamiku. Text opisuje realitu každého muzikanta, ktorý sa pokúsil preraziť v hudobnom biznise. Angusove sólo, Bonov spev… toto je kapela, ktorá kreatívne dosiahla zenit. A tá basa!
Nasledovná Gimme A Bullet je poháňaná parádnou basovou linkou (polemizuje sa, či ju nenahral sám George Young, ale Cliff Williams mal potrebnú zručnosť a isto bol ako nováčik usmerňovaný ako Georgeom, tak Malcolmom) a tí všímavejší postrehnú, že neobsahuje sólo. Pretože ho ani nepotrebuje! Bonov majstrovský text pojednáva o rozchode so ženou a bol to práve tento song, ktorý pomohol austrálskemu spisovateľovi Jessemu Finkovi obrátiť život o 180 stupňov po rovnakej udalosti (a následne napísať dva bestsellery o AC/DC).
Sila tohto albumu spočíva okrem skvelých riffov aj v Bonových textoch, ktoré majú vážnejšiu a dospelejšiu tematiku – problematické vzťahy so ženami (láska, rozchod, užívanie drog), živorenie, či utláčanie rôznymi autoritami. A pri všetkých primárne čerpal z osobného života. Preto sa poslucháči vedia s jeho textami stotožniť, hovorí im z duše.
Gitarová explózia menom Riff Raff je synonymom výrazu "vypaľovačka" a kapela v nej šliape, čo to dá. To, že ju kapela ako Guns 'N Roses aj dnes hráva počas svojich vystúpení hovorí za všetko.
Atmosféru Las Vegas, raja hazardu, verne vykresľuje Sin City a opäť nesmiem opomenúť skvelú basovú linku. O gitarách sa baviť nemusíme. Bona jeho hazardovanie s drogami nakoniec stálo život. V roku 1978 však bol vo vrcholnej forme, aj fyzicky.
Riff What's Next To The Moon vznikol náhodou. Angusovi v štúdiu praskla struna a po jej výmene bol tento riff prvé čo zahral. To zaujalo Malcolma, ktorý poznamenal, že by z toho bolo dobré intro piesne. Vďaka za prasknutú strunu! Toto je zároveň jeden zo songov, ktorému prospel remix, pretože doň doplnili podporné vokály. Text je ďaľšie nadčasové dielo o frustrácii muža, ktorý sa márne pokúša o lásku ženy. Aj taký Shakespeare by uznanlivo kýval hlavou.
Ďaľšia bomba v podobe Gone Shootin' je o Bonovej femme fatale a múze v jednej osobe – Silver Smith. Tá bola zároveň aj užívateľkou heroínu (narozdiel od textu piesne si ho ale nepichala), čo však nebolo v 70. rokoch vôbec výnimočné v sociálnych kruhoch muzikantov. Súhra bratov Youngovcov je excelentná a rytmická sekcia šliape ako ten vlak spomínaný v texte, na ktorý si Silver kúpila lístok naprieč Spojenými štátmi.
Album uzatvára už spomínaná dvojica songov Up To My Neck In You a Kicked In The Teeth. V prvom Bon spieva ako je "až po krk v tom" so ženou, kým v tom druhom lamentuje nad tým ako ho falošná ženská nakopala do zubov lebo nepočúvol radu svojej mamy, ktorá ho pred takými ako ona varovala. Och Bon, ako ti len rozumiem… Druhá menovaná pieseň sa trocha podobá na Let There Be Rock.
Tým sa uzatvára štandardná verzia albumu, ale zmienim ešte Cold Hearted Man, ktorý figuruje na pôvodných európskych vydaniach. Text je dost temný a pojednáva o bezcitnom mužovi menom Leroy Kincaid. Milujem jeho tvrdý riff a ponurú atmosféru. Chápem ale prečo dostal od Amíkov Čierneho Petra. Mne sa však páči a tematicky na album patrí.
Pre fajnšmekrov
Powerage je ako archívne víno. Musíte byť fajnšmeker, aby ste plne docenili jeho obrovské kvality. Ale kto ho raz ochutná… Pomôžem si boxerskou terminológiou: ak Let There Be Rock bol ľavým hákom, Powerage je pravým. Highway To Hell zasadil poslucháčom direkt a Back In Black ich knockautoval. Tieto štyri albumy by nemali chýbať v zbierke žiadneho fanúšika tvrdého rocku. AC/DC boli v roku 1978 vo vrcholnej forme – skladateľsky aj na pódiách. Neskôr síce prišiel vďaka cielenej zmene v tvorbe a produkcii komerčný úspech, ale pravá esencia kapely je tu.
Skladby
Rock 'N' Roll Damnation (3:38)
Down Payment Blues (6:04)
Gimme A Bullet (3:22)
Riff Raff (5:12)
Sin City (4:46)
What's Next To The Moon (3:32)
Gone Shootin' (5:06)
Up To My Neck In You (4:14)
Kicked In The Teeth (4:04)
Cold Hearted Man (3:35) *
* figuruje iba na pôvodných európskych vydaniach a výberovke Backtracks
Všetky skladby zložila trojica Young/Young/Scott.
Bon Scott – spev
Angus Young – sólová gitara
Malcolm Young – rytmická gitara
Cliff Williams – basa
Phil Rudd – bicie
Powerage
AC/DC
Hard rock
Albert Productions (AUS)/Atlantic (mimo AUS)
1978
9+1