Mám rád Steva Marriotta od prvých chvíľ čo si pamätám a ani som na začiatku mojej radosti nevedel ako sa volá a kto to je. Neviem, ktorý song Small Faces som počul ako prvý a ani neviem kedy to bolo. Kapela ma celkom minula, hity som poznal z rádia, ale ako prišli, tak aj odišli a nejaký Marriott ma vôbec netrápil. A už vonkoncom ma netrápila akási druhotriedna kapela orientovaná na americký trh – Humble Pie. Veď aj načo, nič to nebolo a nebolo dôvodu vtedy sa "Skromnému koláču" hlbšie venovať. Potom prišla správa o nešťastnom konci Steva Marriotta v 91-om a mne sa to nejako spojilo a pomaly som začal objavovať najprv Small Faces a potom Humble Pie. Ospevovaná LP Ogdens' Nut Gone Flake od Small Faces lámala cenové rekordy na discogse a ja som si ju musel zadovážiť.
Steve Marriott
Stephen Peter "Steve" Marriott (30. január 1947 – 20. apríl 1991). Ten malý anglický človiečik sa už maličký narodil v londýnskej pôrodnici a nedotiahol to ani v dospelosti do výšky vysokého mužíka. Opakom je jeho hudobný prínos do anglickej rockovej hudby siahajúci do najvyšších poschodí stromu zvaný baobab, ktorý úž dávno nemá pokračovanie. Áno on sa na nás pozerá zhora už veľmi dlho, 31 rokov. Škoda.
Nebudem v Stevovom živote podrobne pátrať a vypisovať kedy, ako a kde hral. Začal hrať na ukulele veľmi skoro a už v 12-tich mal prvú skupinu (1959). Predtým, ako sa stal hudobníkom, bol detský herec a hral v muzikáli o Oliverovi Twistovi a spieval tam niekoľko pesničiek. Bol už od mala veľmi aktívny a správal sa ako drzé chlapčisko. Hral aj vo filme Oliver a po úspechu v kinách sa prihlásil na akadémiu hereckých umení Italia Conti v Londýne (1961). Akadémiu založila herečka Italia Conti v roku 1911. Steve Marriott školu nedokončil, zlákala ho hudobná kariéra. Jeho rodičia ho v tomto čine nepodporovali a Steva vyhodili z domu. Potom hral v skupine Moments a v roku 1963 napísal pieseň Imaginary Love. Ponúkal ju rôznym vydavateľstvám a na základe tejto piesne získal zmluvu s vydavateľstvom Decca ako sólo umelec (1963). Steve Marriott a Moments nahrali niekoľko singlov, ale hoci sa o nich v Londýne hovorilo, nedosiahli žiaden úspech.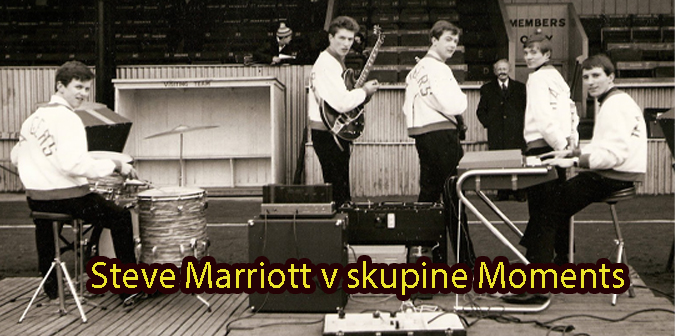 Marriottove kapely boli v štýle Mod. On sám sa aj obliekal a správal ako Mod. V stručnosti – Mods bolo anglické hnutie mládeže, ktoré sa modifikovalo zo strednej vrstvy. Mládež sa obliekala moderne a veľmi elegantne. Líšili sa práve od hnutia rockerov, ktorí boli zástancami koženého odevu a hudby v štýle Beatles, Rolling Stones. Mods uznávali skupiny ako The Who, Pretty Things, Spencer Davis Group, Yardbirds a aj Small Faces. Medzi Mods a rockermi vznikali v 60-tich rokoch potýčky, ktoré často končili bitkami.
Marriott poznal budúcich členov Small Faces už o dva roky skôr ako sa dali dohromady v roku 1966. Ronnie Lane a mladučký Kenny Jones už hrali v londýnskych kapelách. Slovo dalo slovo /whisky dalo whisky/ a trojica sa dala dohromady. Marriott ešte prizval svojho priateľa Jimmyho Winstona. Ešte v tom istom roku našli cez inzerát náhradu za vyhodeného Winstona, ktorý sa im nepáčil. Štvrtým hráčom sa stal Ian McLagan. Všetci štyria boli malí (150-160cm) a Stevova priateľka im dala meno small. Kapela The Who, ktorú obdivovali, mala pieseň I'm the Face. Spojením dvoch slov vznikli Small Faces. Neskôr, po príchode Roda Stewarta a Ronyho Wooda, sa premenovali na Faces (1969). Steve Marriott už bol v tej dobe z kapely preč. Všetko so všetkým súvisí, svet je malý.
Small Faces boli hitovou kapelou, hoci iba jedna jediná skladba bola No.1 s názvom "Všetko alebo nič", zámerne po slovensky, veď to po anglicky povie každý čechoslovák. Iba na dokreslenie doby – All Or Nothing sa delilo o prvé miesto s Yellow Submarine od Beatles. Mali 12 piesní v Top 40 a piesne Itchycoo Park, Lazy Sunday alebo nádherný Tin Soldier sú aj teraz skvostami anglickej hudby. Steve bol hviezda a kapela malých tvári excelentná. LP platňa Ogdens' Nut Gone Flake je jedným z prvých koncepčných albumov rockovej skupiny na svete. Práve Ogdens'..., s veľmi zaujímavým a ceneným obalom, bola šťastím a nešťastím Small Faces. Začali vznikať spory ohľadne hudobného smerovania a Marriott ako neposedný a tvrdohlavý frontman začal snovať plány o novej kapele, ktorá by mu dala viac voľnosti. Bútľavú vŕbu našiel v postavičke Petera Framptona. Zaujímavé bolo to, že aj ostatní členovia kapely naňho z "povzdálí" žmurkali a vrhali vábivé pohľady. Keď ho nakoniec oslovili, dočkali sa odpovede: "Prišli ste neskoro!"
Small Faces sypali hity jeden za druhým v strede 60-tich rokov a boli veľmi obľúbenou skupinou. Finančne však živorili a pomaly nemali na normálny život. Manažéri a hudobné vydavateľstvá podpisovali s muzikantmi zmluvy jednostranne výhodné pre nich a kapely boli iba prostriedkom na ich zbohatnutie. Small Faces neboli výnimkou. Nielenže ich albumy sú naozaj zvukovo niekedy mizernej kvality, ale oni sami (kapela) nemali z predaja LP takmer nič. Steve Marriott sa nevedel vysporiadať s užívaním drog i alkoholu a najviac sa to podpísalo pod albumy Humble Pie.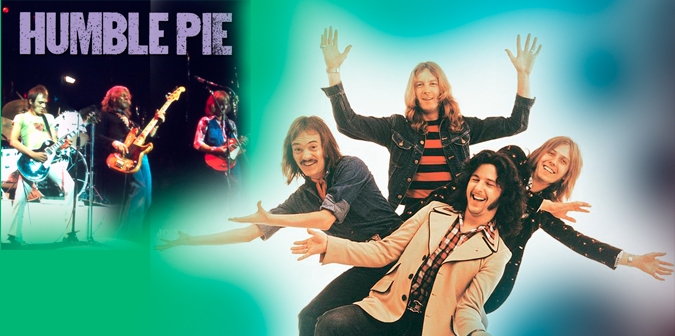 Humble Pie
Vznikli v roku 1969. Všetci členovia kapely už mali za sebou kariéru v známych anglických skupinách. Steve Marriott bol zo Small Faces, gitarista Peter Frampton pochádzal zo skupiny Herd (mali pár hitov), bubeník Jerry Shirley bol zo skupiny Apostolic Intervention a basový gitarista Greg Ridley zo Spooky Tooth. Začiatok kapely je spojený so snahou Marriotta dostať Framptona do skupiny Small Faces ako druhého gitaristu. Ronnie Lane a Ian McLagan boli výslovne proti a napriek pokusom sa Stevovi nepodarilo spoluhráčov presvedčiť o prínose Framptona v Malých tvárach. Úsilie skončilo na silvestrovskom koncerte v roku 1968, kde nahnevaný Marriott oznámil odchod zo skupiny. Následne sa spojil s Framptonom a založili Humble Pie.
Marriott ešte v januári 1969 odohral zazmluvnené koncerty Small Faces, ale potom sa pustil s vervou do nového projektu. Kapela bola od začiatku označovaná ako supergroup, a tak si dali názov Humble Pie. Názov vyjadruje pokoru, šetrnosť, skromnosť a jednoduchosť, nechceli dávať okato najavo svoje hudobné úspechy z minulosti. Oficiálne bol vznik Humble Pie oznámený v marci 1969 a následne ich prvá LP As Safe As Yesterday (16. miesto UK charts), vydaná v auguste so singlom Natural Born Bugie (4. miesto v Top Ten), bola vyhlásená ako prvá heavy metalová LP v časopise Rolling Stone (1970). V poradí druhý album, Town And Country, vydaný už v novembri 1969, kapela podporovala výjazdom na americké turné. Ich vydavateľská spoločnosť Immediate Records sa medzitým rútila ku dnu a nakoniec skrachovala.
Po finančnom debakli vydavateľstva kapela Humble Pie prešla k A&M. Ich nový producent Dee Anthony zrušil akustické smerovanie z ich posledného albumu a nastolil tvrdší hardrockový zvuk. Kapela hrala znovu v Amerike, kde sa Peter Frampton dostal k svojej gitare Les Paul (1954) s názvom Phenix. Humble Pie začali vystupovať s väčším podielom Steva Marriotta ako frontmana. Framptonovi sa to, samozrejme, nepáčilo a bol nespokojný. Vydali album Humble Pie (1970), následne Rock On (1971) a 9. júla 1971 ešte živák Performance Rockin' The Fillmore (tiež rok 1971). To už Peter Frampton balil kufre a odišiel skúsiť sólo kariéru. V roku 1976 sa mu podaril bombastický kúsok s názvom Frampton Comes Alive!. Následne na Framptonove miesto prišiel gitarista Clem Clempson (ex Colloseum) a jeho gitarové majstrovstvo si môžeme vychutnať na albume z marca 1972 s názvom Smokin'. Možno práve odchodom Framptona získala kapela lepší útok na bránku a spáchala najúspešnejší album skupiny. Tak sa pozrime bližšie na jeho zúbky:
Humble Pie – Smokin' (1972)
1. Hot 'N' Nasty 3:22
Klávesový základ a Marriottov charakteristický spev. Vysoký vokál, trošku viac vzdialený od detailného snímania mikrofónu. Ak ste nikdy kapelu nepočuli, viacmenej nepočutý zvuk s dominantnou basou, klávesami a spevom. Je málo počuť sólovú gitaru, vlastne by som ju len ťažko identifikoval.
2. The Fixer 5:02
Pomalšia skladba, ktorá sa tentokrát rozvíja basovou linkou a sólová gitara sa pridáva. Klávesy iba akcentujú a pridávajú plnší zvuk. Málo textu v piesni, je to skôr melodicky rytmická skladba. Spev mi v niektorých nižších pasážach pripomína Free. Asi preto, lebo aj zvuk kapely je podobnú zvuku spomínanej skupiny.
3. You're So Good For Me 3:50
Akustická gitara na úvod. Z druhého kanálu sa pridáva ďalšia, Steve spieva uvoľnene a jemne prvé slová piesne. Milostná pieseň o tom, že si tak dobrá pre mňa a ja to veľmi dobre viem. Ak svieti slnko, stoj pri mne, lebo viem, že si pre mňa tá najlepšia. Štefko sa rád točil okolo krátkych sukienok a myslím si, že túto pieseň s radosťou vyspevoval.
4. C'mon Everybody 5:13
Roztáčajú sa kolesá súkolia do rockovej skladby, ktorá je to, čo robí túto hudbu zaujímavou. Poďte všetci, jasná výzva a dúfam aj pri tónoch a rytmike tejto piesne neodmietnuteľná. Jednoduchá, pekná, úderná, jasná pecka. Ako sa hovorí, trafili klinec po hlavičke. Pieseň sa dá hrať v rôznych rýchlostných variantoch a vždy to bude dobré. Marriott vedel napísať hit, ale toto je práca Eddieho Cochrana a Jerryho Capeharta. Koláčoví hambláci urobili pekný cover. Američan Eddie Cochran bol jedným z prvých skladateľov, gitaristom a spevákom štýlu rockabilly. Zomrel veľmi mladý pri autonehode. Po absolvovaní úspešného turné v Anglicku a po návrate do USA si z letiska najali taxík (Cochran, Gene Vincent a Eddieho priateľka Sharon Sheeley). Autu praskla pneumatika a taxík narazil do betónového stĺpa. Bolo to 17. apríla 1960. Eddie zomrel, ale jeho hity sú nesmrteľné: napr. Summertime Blues (1958), C'mon Everybody…
5. Old Time Feelin' 4:00
Všehochuť pokračuje a old time /staročas/ nastane už prvým akordom na klavíri. Neviem, či mám rád zrovna túto podobu rockovej hudby. Bluesová krčmová nálada so staromódnym zvukom odkukaným od černošských velikánov sa prediera do povedomia poslucháča (teda mňa) a úplne ma vyvádza z rytmu počúvanej platne. Nuž som nespokojný a z trucu neklepkám nohou a čakám netrpezlivo na záverečný tón klavíru. Sólový spev tentokrát zabezpečil Greg Ridley a zahral si aj na klavíri.
6. 30 Days In The Hole 3:57
Štúdiové hlasy a akoby skúška naslepo. Iba spev bez nástrojov. Potom sa preberie bubnista a zobúdzajúci gitarista struhne riff à la Free. Aj skladba je ako od nich. Prepáčte mi, Hamblepajisti, ale poznám viac Free ako Vás. Potom rytmus prechádza s pomocou rytmických rumba gulí do Rolling Stones. Marriott a vokálna podpora kapely stále spieva o tridsiatich dňoch a je koniec tejto "opojnej" drogovačky. Skladba je vychvaľovaná ako jedna z tých najlepších od Humble Pie. Môže byť.
7. Road Runner: Road Runners 'G' Jam 3:43
Klávesy zabudnuté v kúte štúdia niekto vytiahol (Stephen Stills) a púšťa sa do novej rockovej pesničky. Basa duní a bicie fenomenálneho Jerry Shirleyho sú dobrým základom pre klávesy a gitaru, ktoré môžu hrať rozličné vyhrávky. Marriott v speve znovu celkom zdarne potlačený do vzdialenejšieho priestoru. Všetko celkom dobré, ale nemalo to celkovú ideu a skladba sa utopila sama v sebe. Práve tu mal mať bluesovo-rockový album zvýšenú údernosť, ale stal sa pravý opak.
8. I Wonder 8:53
Úplne pomalý uspávací rytmus do zadymeného, slabo osvetleného baru, kde sa vrávorajúce postavy mdlo kníšu na malom tanečnom parkete a zaľúbené páry si vyznávajú lásku. V sóle sa mi páči gitara a efektné činely v pomalom rytme, buch na jednu, doznie, buch na druhú doznie, nádhera. Dlhočizné skladbisko sa mi viac a viac páči. Že by "Zázrak?" Mám dojem, že áno. Nemal som doteraz jedničku z albumu, všetko tak akosi prešlo zvoľna. Toto sa mi páči, až sa sám divím. Skladbu nezložil Steve ani nikto z Humble Pie. Je to stará rhytm&bluesová skladba černošského klavíristu Cecila Granta, pieseň v jeho prevedení má iba 2,5 minúty.
9. Sweet Peace And Time 5:48
Sladkosti sa mi začali páčiť už v prvej sekunde. Nevedel som, že to chlapci nakoniec roztočia do divočiny s nádychom černošského zvuku. Basová gitara sa mi páči stále viac a viac a neviem, čo bolo na celom albume najdominantnejším nástrojom. Zdá sa mi o base. Marriottova gitara sa akosi stráca v tej basovej dominancii a aj jeho spev, ktorý ani v tejto skladbe nebudí dojem vodcovstva. Skôr ako doplnok kapely. Niečo zaspieva a potom a sa muzikanti roztopia na drobné a spustia muzikálny príliv. Clempson, Ridley a Shirley tu jednoducho dominujú.
Steve Marriott mal rád hudbu a mal rád ženy, ktoré veľmi často striedal, miloval, nenávidel, ženil sa, rozvádzal, podvádzal a kade chodil, tade robil detičky. Skrátka, super hudobnícky elegán a požívač slastí a strastí mladého vedúceho frontmana rockovej skupiny. Mám smolu, že vždy keď si vyberiem album do recenzie nastane poznanie, že všetko nebolo s kostolným poriadkom. Presne ste to pomenovali a spozorneli. Znovu cigarety, drogy a alkohol, bohužiaľ v Marriottovom prípade aj so smrteľným následkom. Ten chalan zažil toho veľa. Dobrého, ale aj zlého.
Tak najprv to dobré:
A) Skladba Tin Soldier je o krásnej mladej dievčine menom Jenny Rylance, do ktorej bol Steve zaľúbený a nakoniec sa s ňou aj oženil. Perličkou je, že to bolo najprv dievča Roda Stewarta, ktorý sa okolo Small Faces motal. Pustila ho k vode kvôli alkoholu a drogám (Steva, nie Roda).
B) Jeho herecká mládežnícka kariéra bola sľubná a malý sympatický herec určite zažil pár minút slávy.
C) Bol vzorom pre spústu hudobníkov a mnohí na neho spomínajú ako legendu v oblasti spevu, skladateľského a muzikantského kumštu.
D) V roku 2012 bol zapísaný do siene slávy.
E) Mal veľmi rád psy a vo svojom vidieckom sídle boli jeho najväčšími priateľmi.
To zlé:
A) Steve bol dlhé roky závislý na alkohole a drogách.
B) Mal neustále finančné problémy.

C) Fajčenie bolo príčinou jeho predčasnej smrti. Stalo sa to ráno, 20. apríla 1991. Steve Marriott so svojou novou manželkou Tony Poulton prileteli z nahrávania albumu z USA do Anglicka v piatok, 19. apríla. Steve celý čas v lietadle pil a pokračoval v konzumácii alkoholu aj na ich spoločnej večeri v reštaurácii. Potom sa rozhodli, že prenocujú u priateľa, ale Steve mal stále zlú náladu a pohádali sa. V noci odišiel sám taxíkom domov, do Arkesdenu. Ráno dom v dedine zachvátili plamene a po príchode požiarnikov bolo objavené telo Steva Marriotta v izbe na poschodí, kde býval. Telo ležalo smerom k oknu a predpokladá sa, že Steve sa snažil dostať k dverám, ale v zadymenej miestnosti stratil orientáciu a už nemal čas sa zachrániť. Vyšetrovaním sa zistilo, že príčinou smrti bola cigareta, ktorá spôsobila požiar. Steve si zrejme hneď po príchode ľahol do postele, zapálil cigaretu a zaspal. Zomrel udusením vo veku 44 rokov.
Steve bol trikrát ženatý a mal štyri deti. Rád preskakoval z kvetu na kvet a ženy mu to často spočítali, preto riešil všemožné manželské problémy. Aj moje hodnotenie zadymeného, surového, hardrockovo bluesového albumu je za tri hviezdy, ale keby som zažmúril obe oči, blížilo by sa to k štyrom. Neurobím to a ostanem pri 3 hviezdičkách z 5.
Humble Pie:
Steve Marriott – lead and backing vocals, guitar, harp, keyboards
Clem Clempson – guitar, keyboards, backing vocals
Greg Ridley – bass, lead and backing vocals
Jerry Shirley – drums, piano on You're So Good for Me
Album cover art designed by Kosh.
Engineers: Alan O'Duffy, Keith Harwood.
Recorded at Olympic Studios, London, February 1972.
Produced by The Pie.
Smokin'
Humble Pie
Hard Rock, Blues Rock
A&M Records
1972
LP
9
LP, A&M SP 69809