BLACK SABBATH jsou v mé generaci podprahově spojeni se čtveřicí Iommi, Butler, Osbourne, Ward. Ti, co vyrůstali na tvrdé muzice o dekádu později, vynášejí na piedestal i sestavu s Ronniem Jamesem Diem u mikrofonu. Je to přirozené, hudba, při níž jsme vyrůstali a dospívali, nás většinou provází celý život.
Přesto je ale přinejmenším slušné připomenout si ty, kteří pomáhali nést kříž BLACK SABBATH v různých nelehkých dobách, samozřejmě i jednoho z otců zakladatelů, Billa Warda.
Kolik muzikantů prošlo řadami BLACK SABBATH, si plně uvědomíte, až když se začtete do některé z biografií, anebo prohlédnete pavouka Peta Frama, případně si zalistujete na internetu. Na dvacet studiových i pódiových sestav, deset zpěváků a bicmenů, pět baskytaristů, dva občasní klávesáci a JEDEN kytarista. Možná by stálo za to, někdy prozkoumat, na kolika albech se potkali dva, tři i více ex členi BLACK SABBATH. (Zrovna poslouchám Dream Runner projektu PHENOMENA II a v sestavě vidím: Glenna Hughese, Raye Gilena a Neila Murraye.
Ze seznamu níže byste sestavili bezmála kompletní RAINBOW i DEEP PURPLE. Byly doby, kdy se sound BLACK SABBATH a RAINBOW takřka dotýkal. Splynutí účinně bránili oba axemani, strážce pekelného plamene Tony Iommi a duhový démon Ritchie Blackmore.
Je zřejmé, že Tony Iommi toužil po dokonalosti projevu své kapely, zároveň ale věděl, že původní BLACK SABBATH je i přes své chyby nenahraditelný. S tímto rozporem musel bojovat celý život a vždycky se čas od času musel vracet ke kořenům a kámošům z Birminghamu. Všimněme si, jaké typy vybíral namísto mekoty Ozzyho a Ringa Billa, potažmo Geezera. Zpěváci velkého hlasového rozsahu a největší bubenické mašiny. Ronnie James Dio i Cozy Powell patřili svou technikou i výrazem k naprosté světové špičce, jenže to s nimi už nebyli ryzí, temní BLACK SABBATH. O Ronniem i Cozym bylo známo, že muzicírují po svém, Ritchie-neRitchie, Tony-neTony.
Všichni další zpěváci, co po Ozzym prošli BLACK SABBATH, byli – až na Davea Walkera – skvělí výškaři, víceméně diovského střihu. Není náhodou, že se jejich další projekty točily kolem hardrockové spojnice BLACK SABBATH – RAINBOW – DEEP PURPLE – WHITESNAKE. Perličkou je, že ti, co mohli srovnávat Iommiho s Blackmoreem, mluví každý trochu jinak: Glenn Hughes označuje Ritchieho za starého zatrpklého kocoura, který je nechvalně proslulý tím, že lidem kazí radost. Tony je podle něj velice tichý a plachý. Ronnie James Dio naproti tomu říkal, že s Tonym měl daleko větší potíže, než s Ritchiem. Je fakt, že po rozchodu dlouho bylo mezi oběma hodně zlé krve.
Sabatovští po-wardovští bicmeni byli vesměs kapacity, vedle Cozyho bych vyzvednul Vinnieho Appice, Beva Bevana z ELO, Boba Rondinelliho a Erica Singera (KISS). Mezi basáky najdeme veterány Boba Daisleyho i Neila Murraye.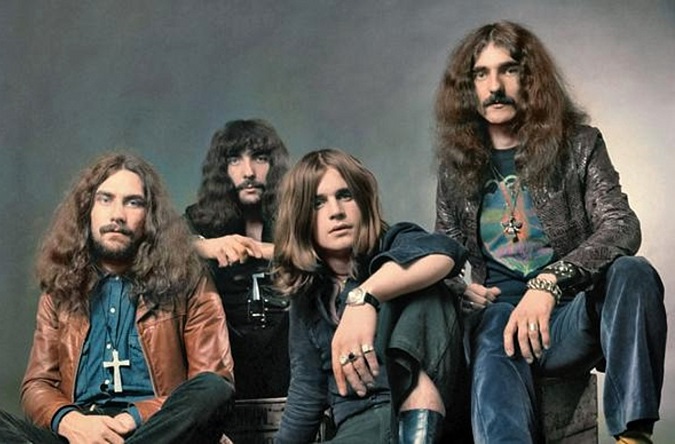 Klasičtí BLACK SABBATH jsou Ozzy/Tony/Bill/Geezer, tak jako LED ZEPPELIN budou navždy Jimmy/Robert/John/John-Paul. Všechny sestavy bez Ozzyho jsou víceméně Tonyho HEAVEN & HELL kapely. BLACK SABBATH s Ozzym, ale bez Billa, jsou okolnostmi vynucenou alternativou, která může muzikantky fungovat parádně, vždycky jí ale bude chybět Krůček Bill k dokonalosti.
OPUŠTENÝ BILL
William Thomas 'Bill' Ward (narozený 5. května 1948 v Astonu u anglického Birminghamu) je smutným rytířem příběhu BLACK SABBATH.
Vyrůstal na big bandech, zhlédnul se v masivní hře Buddyho Riche, blues ochutnal v kapele MYTHOLOGY, kde se setkal s Tonym Iommim. Až do roku 1980 hrál na každém albu BLACK SABBATH, s přestávkami pokračoval až do desky Born Again.
Je trochu paradoxem, že bubeník v nejtemnější kapele světa nebyl žádný bušič od boha, neoslňoval technikou ani sóly. Svým způsobem byl Ringem Starrem tvrdého rocku. Hlásí se k němu – coby zdroji inspirace – spousta kolegů.
Na kontě má dvě skvělé sólovky: hutnou Ward One: Along the Way (1990) a rozevlátější When the Bough Breaks (1997). Na obou spolupracoval s kytaristou Keithem Lynchem, na starší mu vypomohl nejenom Ozzy, ale i Jack Bruce z CREAM, nebo Bob Daisley, Zakk Wylde, Eric Singer a zhruba deset dalších kolegů muzikantů. Je zajímavé, že na svých sólovkách se do bubnování zrovna nehrnul. Sám k tomu kdesi uvedl: "Bubeník ve mně už netouží po hraní."
V roce 2002 měl Bill svůj rozhlasový pořad Rock 50 na jedné univerzitní internetové stanici (WPMD).
V BLACK SABBATH si Bill užil své, jednou ho kámoši málem v žertu upálili. Na druhou stranu mnohé způsobil sám. Je všeobecně známo, že těžce nesl odchod Ozzyho a že na nahrávání Heaven And Hell si ani nepamatuje, v takovém non-stop alkoholovém oparu bubnoval. Nemohl se proto divit, když jednoho dne našel na své sesli Vinnieho Appice.
V průběhu let si Bill Ward několikrát s BLACK SABBATH zahrál, většinou se ale jednalo o jednorázové a výroční akce (1985, 1992). V roce 1998 vchází dvoudisk Reunion, na kterém se vedle nových koncertních záznamů původní sestavy, doplněné o klávesáka Geoffa Nichollse, objevily i dvě nové skladby Psycho Man a Selling My Soul. Již v té době se žačalo mluvit o nové kořenové studiovce v produkci Ricka Rubina. Deset let sem, deset let tam. Z Billovy účasti na projektu Heaven & Hell nakonec v roce 2006 taky nebylo nic.
Věci se daly znovu do pohybu až před pár lety. Slibné plány kolem dalšího reunionu v původní sestavě však ukončilo Wardovo oznámení z května 2012, že se kvůli smluvním sporům nezúčastní ani nahrávání ani koncertů. Údajně taky přes právníky požadoval, aby byly staženy všechny promo fotky BLACK SABBATH s ním.
Ozzyho čerstvé (13. 6. 2013 metalinsider.net) výmluvy, že si vlastně ani nemůže pořádně vzpomenout na to, proč na posledním album ani turné nebubnuje Bill Ward, jsou krajně podezřelé. Zvláště, když před měsícem v magazínu MOJO na tu samou otázku prohlásil, že Bill nebyl v potřebné kondici. Kolikrát si prý nemohl ani vzpomenout co má hrát, všude měl prý vylepené žluté taháky "co má kde bubnovat". Že prý nepřistoupil ani na to, aby ho při koncertech jistil druhý bubeník nebo že by odehrál jen část skladeb.
Všichni aktéři se schovávají za právníky, osobně prý s Billem ostatní mluví, mají se rádi a žádný osobní problém mezi nimi není. Iommi dokonce loni v říjnu prohlásil, že až přijde čas, můžou zase hrát spolu…
VYPUŠTĚNÍ ZPĚVAVÍ ORLI
Iana Gillana, Ronnieho Jamese Dia, Glenna Hughese i Roba Halforda jsme ve Sparku probírali, a ještě budeme, mnohokrát. Co ale ostatní, víceméně pozapomenutí i téměř ztracení následníci Ozzyho?
David 'Dave' Walker (*25 . 1. 1945)
V mezidobí, kdy Ozzy načas z BLACK SABBATH odešel, za něj zaskočil bluesrockový Dave Walker, se zkušenostmi z IDLE RACE, FLEETWOOD MAC, SAVOY BROWN a několika dalších kapel. Znalci zavětří, odkud vane vítr hned u první zmíněné kapely. Ano, z Birminghamu, odkud všichni pocházeli.
Kapela s ním stačila rozpracovat pár skladeb, zahrát 6. ledna 1978 v BBC War Pigs, vyfotit se a … rozejít, když se pokorně vrátil trucující Ozzy. Dave Walker se nadlouho vrací k SAVOY BROWN. Počátkem devadesátých let přesídluje do Montany, připojuje se k psychedelickým DONOVAN'S BRAIN. V posledních letech obráží kluby se svým bluesrockovým DAVE WALKER BANDEM.
David Thomas Donato (*21. 3. 1954)
David Donato zkoušel s BLACK SABBATH několik měsíců roce 1984. Natočil se skupinou několik pokusů, z nichž se dochovala jen část. Dlouhá léta tradovaná verze, že mu vaz zlomilo sebejisté chování při rozhovoru pro KERRANG, byla vyvrácena v knize "Sabbath Boody Sabbath: The Battle For Black Sabbath" (2006).
David Donato začínal svou profesionální kariéru s ARMAGEDDON Keitha Relfa z RENAISSANCE. Po nezdaru byl členem VIRGIN, HERO, HEARDSHAKER. Působil i coby model. Přes svého bubeníka se posléze dostal do okruhu kolem Ozzyho a BLACK SABBATH. Na jednom večírku potkává Litu Ford, v té době družku Tonyho, která mu poradila jak poslat pásku Tonymu tak, aby ji dostal. Davidovi se zanedlouho ozval Pat Sciciliano, asistent velkého Dona Ardena.
Podle Davidových vzpomínek se BLACK SABBATH ve studiu rozehřívali starým blues, bylo prý úžasné pozorovat, jak se všichni tři ocitli v jiném světě. Byl u zrodu několika písní, problémem bylo, že ačkoliv měl Donato ve spodních polohách sytý hlas, v sousedství Iommiho riffů se prý trochu ztrácel. No, nevím.
Tím, kdo po poslechu kontrolních nahrávek doporučil Tonymu Davida neangažovat, byl údajně Bob Ezrin. Nějaký čas ho kapela ještě udržovala v naději.
Davidovi se podařilo vytřískat z mediální pozornosti aspoň to, že poměrně rychle založil se skvělým kytaristou Mark St. Johnem (ex KISS) WHITE TIGER, po nichž zůstalo stejnojmenné album z roku 1986. Když si na youtube poslechnete hardrockovku Rock Warriors, budete mít zhruba představu, jak by se David Donato vyjímal u BLACK SABBATH. Pokračováním WHITE TIGER měla být kapela KEEP s Peterem Crissem u bicích. Nástup grunge ale smetl všechny jmenované ze světel reflektorů.
David vzpomíná, jak se chtěl účastnit konkursu u Michaela Schenkera, a jak se mu kolega Gary Barden podíval zblízka do očí a suše pravil: "nedělej to".
Od osmdesátých let se víc a víc věnuje své druhé vášni, stavbě motorek. Zpívá už jen pro zábavu.
Jeffrey Craig 'Jeff' Fenholt (*15. 9. 1950)
Původně bigbít v kapele FIFTH ORDER, poté muzikálový zpěvák Jeff Fenholt, jenž po úspěchu v broadwayské verzi "Jesus Christ Superstar" svou kariéru dotáhnul v říjnu 1971 až na titulku prestižního magazínu Time, aby se vzápětí propadnul na drogové dno. Působil podle všeho u "BLACK SABBATH" v první polovině roku 1985, ačkoliv to některé biografie BLACK SABBATH ignorují. Nahrávky s ním a Tonym Iommim (např. Dark Side of Love nebo Star of India) jsou k sehnání pouze na pirátských kompilacích jako "Eternal Stars".
Fenholt tvrdí, že některé jeho melodie se objevily na Seventh Star. Podle Iommiho nebyl Jeff nikdy členem BLACK SABBATH, jen ho zkoušel v rámci příprav svého původně sólového projektu. Údajně vše ztroskotalo na Fenholtově neschopnosti improvizovat.
Později Jeff vystupuje po světě s různými muzikanty, kteří údajně také prošli řadami BLACK SABBATH a RAINBOW. Stává se aktivním křesťanem, příležitostně koncertuje, angažuje se v šíření díla Salvadora Dalího…
Raymond Arthur 'Ray' Gillen (*12. 5. 1959 – †1. 12. 1993)
Připojení Raye Gillena k BLACK SABBATH proběhlo za dramatických událostí v březnu osmdesátého šestého. Glenn Hughes se dostal do hospodské potyčky se svým kámošem Johnem Downingem, ten mu dal takovou čenichovku, že se Glennovi vrazily kůstky do nosu. Zkusil ještě odzpívat koncert v Clevelandu, pak jej ale musel ze dne na den nahradit Ray Gillen, jenž v tu dobu zpíval ve skupině Boba Rondinelliho, jinak bicmena RAINBOW (a za nějaký ten rok i BLACK SABBATH).
Ray odezpíval turné k Seventh Star a začal společně s kapelou pracovat na Eternal Idol. Vlivem různých okolností jej ve studiu posléze nahradil Tony Martin. Záznamy s Gillenem jsou k dispozici na reediční deluxe 2 CD verzi z roku 2010.
Ray se poté ocitl u zrodu BLUE MURDER, nakonec ale pěvecké party převezme kytarista JOHN SYKES. V roce 1988 s Jekeem E. Leem (ex Ozzy band) spoluzakládá BADLANDS, se kterými nahrává tři parádní alba. Ještě stihne pár štěků, v prosinci 1993 ale umírá v newyorské nemocnici na AIDS.
Tony Martin/Anthony Philip Harford (*19. 4. 1957)
Tony Martin přišel do BLACK SABBATH v půlce prací na Eternal Idol, které nakonec vyšlo v listopadu 1987. Do roku 1995 nazpíval s BLACK SABBATH pět studiovek a jeden živák.
V průběhu dalších let až dodnes ozdobil svým velkolepým hlasem desítky alb. Mimo zpěv ovládá i víceré hudební nástroje, nejenom strunné, ale i perkusní a dechové. Předvedl to například na svém albu Scream z roku 2005. Novinky z jeho života najdete na jeho facebookovém profilu.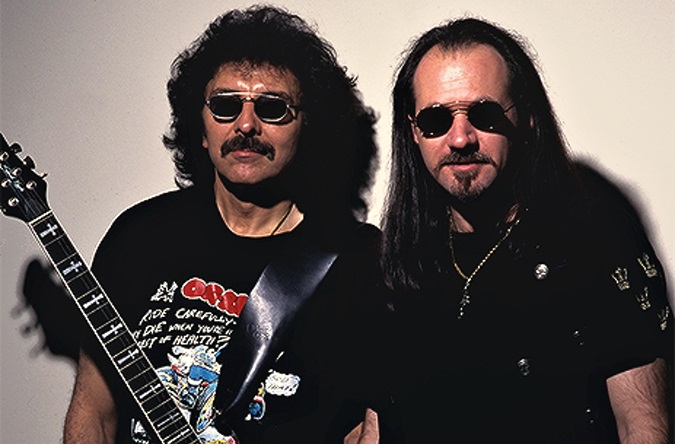 BLACK SABBATH by mohli uspořádat několikadenní festival jen a jen se svou muzikou, zpěváky a hráči. Bohužel, část by se musela odehrávat v nebi či pekle.
OSOBY A OBSAZENÍ
BLACK SABBATH
Tony Iommi
Geezer Butler
Ozzy Osbourne
Bill Ward
"BLACK SABBATH"
Dave Walker – zpěv
Ronnie James Dio – zpěv
Ian Gillan – zpěv
David Donato – zpěv
Glenn Hughes – zpěv
Ray Gillen – zpěv
Tony Martin – zpěv
Rob Halford – zpěv
Jeff Fenholt – zpěv
Geoff Nicholls – klávesy
Adam Wakeman – klávesy
Vinny Appice – bicí
Bev Bevan – bicí
Eric Singer – bicí
Terry Chimes – bicí
Cozy Powell – bicí
Bob Rondinelli – bicí
Mike Bordin – bicí
Brad Wilk – bicí
Tommy Clufetos – bicí
Dave Spitz – baskytara
Bob Daisley – baskytara
Jo Burt – baskytara
Neil Murray – baskytara
Jaromír Merhaut pro Spark 2013
Poznámka:
Jeff Fenholt zemřel 10. 9. 2019
David Donato zemřel 2. 2. 2021