Sedemdesiate roky minulého storočia možno v živote Nazareth hodnotiť ako búrlivé obdobie, prekypujúce obrovským elánom a veľkou produktivitou. Nové albumy vychádzali na počkanie, teda dvakrát do roka, aj keď v rámci vtedajšej hard rockovej scény to nebolo ojedinelé. Ale tá kvalita… 

Musím priznať, že z úvodnej štúdiovej päťky u mňa najmenej boduje Rampant (1974), ale o tom niekedy nabudúce. Obrazne povedané, albumom Hair Of The Dog si to u mňa skupina vyžehlila. Pri každom prehrávaní musím zložiť pomyselný klobúk z hlavy a vzdať Nazareth poklonu. To, čo sa muzikantom podarilo zaznamenať do drážok v bývalej sušiarni chmeľu, v mojom ponímaní muziky stavia nahrávku k najlepším svetovým dielam hard rocku!
Z Hair Of The Dog, úvodnej titulnej pecky, sa stala hymna. Miss Misery je doslova a dopísmena, lepšie by asi pasovalo spojenie "donoty" – hard rockový zabijak!!! S Guilty prichádza skľudnenie a my si môžeme pri zvukoch tejto balady s nádychom country, spolu s kapelou, na chvíľku vydýchnuť. Na túto pieseň nakoniec padol Čierny Peter a v Amerike musela uvoľniť miesto veľkému singlovému hitu Love Hurts. Nemám nič proti Guilty, práve naopak, treba však objektívne priznať, že táto výmena výrazným spôsobom pomohla albumu Hair Of The Dog k úspechu za oceánom.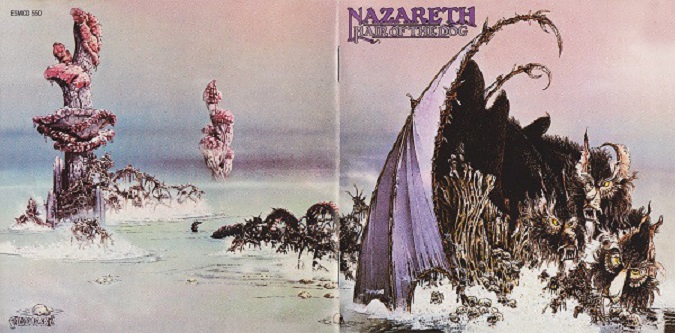 Zabijacká hard rocková nálož pokračuje v podobe Changin' Times. Manny Charlton strúha na albume jeden fantastický riff za druhým, Dan McCafferty je snáď v životnej hlasovej forme… Spanilý uragán pokračuje ďalej s Beggars Day, pričom v druhej časti, inštrumentálnej Rose In The Heather, sa tempo zmierni, čo mu vydrží aj v predposlednom čísle, Whisky Drinkin' Woman – z môjho pohľadu najmenej vydarenému kusu LP. 
Pri úvodných kozmických zvukoch fantastického eposu Please Don't Judas Me mi nedá, aby som "nepodpichol" do svetových odborníkov. Stále sa spomínajú zásluhy určitých muzikantov, pričom sa niekedy podieľali na vydaní jedného-dvoch albumov. Čo by bolo, keby… – a tak podobne. Myslím, že hudobný svet by si mal viac všímať gitaristu a producenta menom Manny Charlton. Ten chlap si to svojou odvedenou robotou jednoducho zaslúži!!! 
Veľmi dávno sa ku mne ako prvá dostala americká verzia LP, vlastnil ju spolužiak Otto, ktorému ju poslala blízka rodina spoza Veľkej mláky. Až časom som zistil, že Love Hurts sa na našej, teda britskej i európskej, verzii nenachádzala. Nič to nemení na fakte, že Hair Of The Dog je u mňa hard rock špičkovej úrovne a albumový vrchol Nazareth!!!
//A balada Love Hurts? Kedysi o nej basový gitarista Pete Agnew poznamenal, že by chcel byť autorom takého hitu. Že je stále v éteri – zhnusila sa Vám, sprotivila? Mne určite nie, pretože rozhlas nepočúvam takmer 30 rokov. Tá skladba za to nemôže, na vine sú IDIOTI, ktorí média vlastnia.//
SKLADBY:
1. Hair Of The Dog – 4:10
(Charlton, Agnew, McCafferty, Sweet)
2. Miss Misery – 4:42
(Charlton, Agnew, McCafferty, Sweet)
3. Guilty – 3:38
(Randy Newman)
4. Changin' Times – 5:59
(Charlton, Agnew, McCafferty, Sweet)
5. (a) Beggars Day – 3:46
(Nils Lofgren)
5. (b) Rose In The Heather – 2:43
(Charlton, Agnew, McCafferty, Sweet)
6. Whisky Drinkin' Woman – 5:29
(Charlton, Agnew, McCafferty, Sweet)
7. Please Don't Judas Me – 9:48
(Charlton, Agnew, McCafferty, Sweet)
ZOSTAVA:
Dan McCafferty – lead vocals
Manny Charlton – guitars, synthesizer
Pete Agnew – bass, backing vocals
Darrell Sweet – drums, backing vocals
+
Max Middleton – keyboards
Simon Phillips – percussion, tabla
Vicki Brown, Barry St. John, Liza Strike – background vocals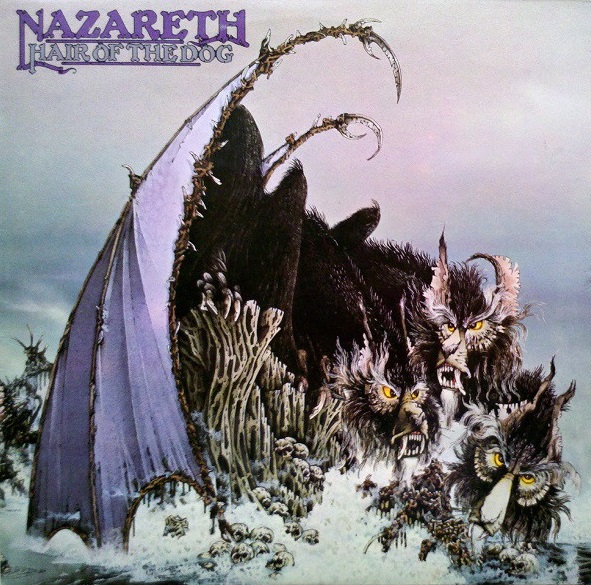 Hair Of The Dog
Nazareth
Hard Rock
Mooncrest
1975
LP
7
CD - Eagle Records ‎/2001/