Traja zakladajúci muži, tri LP, tri roky existencie, tri slová v názve skupiny. To je malá armádna úderka, prepadové komando, ktoré namiesto samopalu a odistených granátov zviera v rukách bubenícke paličky a dve gitary. Možno majú pribalené v neďaleko stojacom jeepe ešte zosilňovače, reprobedne, mikrofóny a bubenícky sajrajt so stoličkou. V celku už im nič netreba, len to rozbaliť a začať. A neskoršie pridať ešte k power trojke speváka a klávesistu.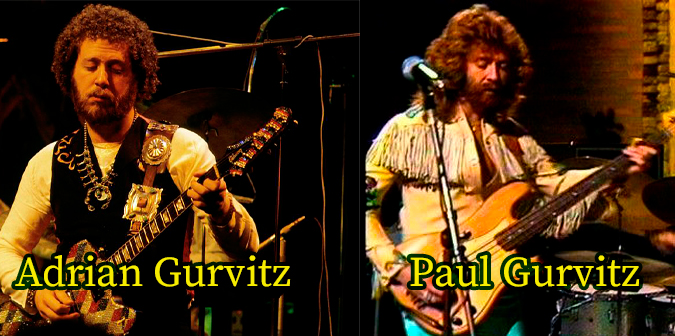 Adrian a Paul Gurvitz

Adrian a Paul boli bratia. Adrian Gurvitz (26.6.1949) bol úspešnejší z dvojice; spevák, gitarista, skladateľ a producent. Mal jeden veľký hit No.1, zložil pieseň pre Eddie Moneyho – The Love in Your Eyes a dobyl americký Bilboard.
Paul Gurvitz (6.7.1947) bol hráč na basovú gitaru a spieval vokály. Bratia Gurvitzovci založili rockovú skupinu Gun a mali veľký hit Race with the Devil v októbri 1968, pieseň bola známa aj u nás, lebo LP Gun vyšla v Poľsku ako jeden z mála rockových albumov 60-tkovej dekády. Skupina Gun vznikla v roku 1967 (nemýľ si s inou skupinou Gun z škótskeho Glasgowa) premenovaním sa z The Knack ( toto meno sa objavuje znovu o niekoľko rokov neskôr s totálnym hitom My Sharona, ale s bratmi Gurvitzovcami nemá nič spoločné).
Bratia mali šťastie, lebo ich otec bol road manažérom Cliffa Richarda, Shadows a Kinks na koncertných šnúrach. Adrian sa začal učiť na gitaru neskoro, mal 15 rokov. Mal 18 rokov, keď bratov Race with the Devil bol hit, takže za tri roky sníval svoj "americký sen".
Paul Gurvitz, starší brat, tiež začal hrať na gitaru v 15-tich. Naučil sa pár akordov a začal hrať v miestnych skupinách. Potom hral v The Londoners, premenovali sa na The Knack a potom prišla skupina Gun. Ich pieseň bola číslo 4. v anglickej hitparáde, nahrali dva albumy a rozišli sa v roku 1971. Neskôr založil skupinu Parrish & Gurvitz, nahrali dva albumy (produkcia George Martin), vyšiel však iba jeden! Urobili pár koncertov v Anglicku a Amerike a dali si zbohom.
Počas Parrish & Gurvitz už hral s bratom v skupine Three Man Army a vydali tri albumy: A Third Of A Lifetime, Mahesha a Three Man Army Two. Pri príprave štvrtého albumu stratili bubeníka Tonyho Newmana. Zlákal ho David Bowie a kapela sa rozpadla. Bratia Gurvitzovci sa vzápätí dohodli s Gingerom Bakerom a vznikla skupina, ktorá ma dnes zaujíma, Baker Gurvitz Army.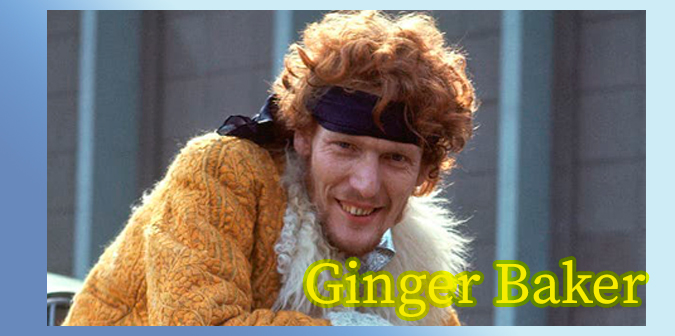 Ginger Baker
Peter Edward "Ginger" Baker (19. august 1939 – 6. október 2019). Asi niet človeka, ktorý by nepočul Bakerove bicie, ak sa zaujíma o rockovú hudbu. Bol jedným z trojice supergroup Cream. Ginger Baker s Jackom Bruceom a Ericom Claptonom vytvorili nezabudnuteľný míľnik rockového piedestálu. Niekoľko rokov žil v Afrike, v nigérijskom 15 miliónovom Lagose a africké rytmy sa stali jeho bravúrou v spojení jazzu, rocku a iných druhov hudby. Spolupráca s Felom Kutim bola africká časť Gingerovej fúzie rocku, jazzu a afrobeatu. Tragický príbeh afrického aktivistu, hudobníka a producenta Fela Kutiho je veľmi zaujímavý a jeho osud je mementom hudobnej, ale aj ľudskej hlúposti a nenávisti.
Ginger Baker, samozrejme, tiež mal svoje extempore s metlou hudobníckeho sveta, alkoholom a heroínom. Našťastie prežil. Jeho hudba/bubnovanie hovorí za všetko a jeho zvláštne usporiadanie bicej zostavy (dva kopáky a dva veľké prechodové bubny /tom-tomy/) mu dodávalo zvuk, ktorý bol v tej dobe priekopnícky. Technika dvoch veľkých bubnov, kopákov, poskytuje množstvo výhod pre bubeníka a často je v rockovej hudbe používaná. Je to aj imidžový prvok, ale hlavne je to plnší zvuk, jemnejší, vycizelovaný a mohutnejší zvuk basového bubna, rýchlejší rytmus a veľa iných veľkých maličkostí. Ginger Baker, Hendrixov bubeník Mitch Mitchell, Keith Moon z Who, Dave Mason z Pink Floyd, Neil Peart z Rush, Billy Cobham a veľa, veľa iných používala dva basové bubny-kopáky.
Ginger začal bubnovať ako 15 ročný. Je zaujímavé, že power trio BGA začalo hrať v 15-tich. Dotiahol to až na dlhočasové sóla na koncertoch, ale aj na LP platniach. Na Wheels Of Fire (Cream) si zasóloval vyše 16 minút. Dnes je iná doba a sólo na bicie sa na moderných nahrávkach neobjavuje. Asi by to bola strata času modernej hudby. Nebyť koncertných nahrávok by sme naozaj počúvali už len bubeníckych borcov spred 50 rokov, kedy bubenícke sóla boli v modernej slovenčine "trendy". Musíme si uvedomiť, že bez bicích by dnes nebola rocková muzika a ak sa niekedy niekomu zdá, že skladbe niečo chýba, tak sú to určite bicie.
Ginger Baker, meno získal kvôli ryšavým vlasom, bol v čase Cream hodnotený ako najlepší bubeník sveta a získal počas svojej kariéry tri zápisy do siene slávy. Prvý bol za superskupinu Cream (1993), druhý za Modern Drummer (2008) a tretí za Classic Drummer (2016).
Ginger Baker mal svoj vlastný bubenícky štýl, bol samouk. Niekedy bol nespoločensky naladený voči iným členom kapely, v ktorej hral. Mal výbušnú povahu, priveľa energie a veľmi často sa aktívne zúčastňoval na krátkom trvaní skupín, v ktorých hrával (pomaly by som ho definoval ako rozbíjača). Skupiny, v ktorých hral sú známe, niektoré viac, iné menej. Nebudem ich všetky menovať, vyhľadajte si ich ak máte záujem. Napr. Graham Bond Organisation, Cream, Ginger Baker's Air Force, Fela Kuti, Hawkwind, Baker Gurvitz Army, Blind Faith.
Život Gingera Bakera bol spojený s bubnovaním, svoju kariéru zakončil vo februári roku 2016, po zdravotných problémoch so srdcom. Vtedy zrušil všetky svoje koncerty a odišiel do hudobného dôchodku. Ginger Baker zomrel o tri roky neskoršie, 6. októbra 2019. Mal 80 rokov.
Baker Gurvitz Army – Elysian Encounter

Štúdiová diskografia Baker Gurvitz Army je trojalbumová. Prvý eponymný vyšiel v roku 1974, Elysian Encounter v roku 1975 a tretí záverečný Hearts of Fire v 1976.
Elysian Encounter je druhý album skupiny Baker Gurvitz Army. Bratia Gurvitzovci a Ginger Baker prizvali do skupiny klávesáka Petera Lemera a speváka Stephena W. Parsonsa, ktorý mal v tej dobe umelecké meno Mr. Snips. Album vyšiel v roku 1975 v kategórii prog rock. Podľa môjho názoru má málo spoločné s touto odnožou rocku, je to skôr rockový album s vplyvom progresívneho rocku. Na piesňach sa najviac podieľal Adrian Gurvitz s veľkou podporou Gingera Bakera. Predošlý album, ktorý niesol meno skupiny, má tiež nádherný obal s jazdcami, tretí sa už vymyká a je obrazovo iný ako dva predošlé.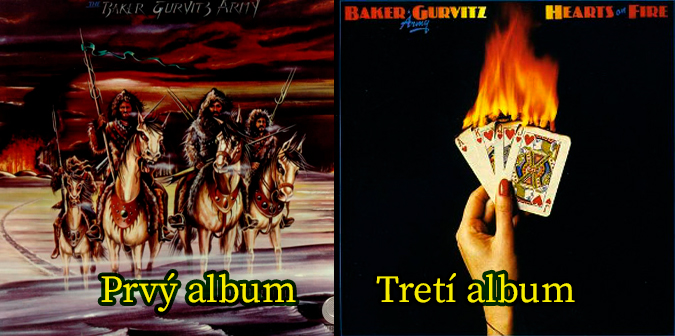 1. People (4:10)
Hlavný člen tejto trojky Ginger začína úderným rytmom na úvod a pridá sa zaujímavý riff Adriana Gurvitza. Paul zo strany podporuje Gingerov rytmus na basovú gitaru. Je to rezká otváracia pieseň. Trojka už nezostala sama ako na prvom spoločnom LP, ale pridala klávesy a spev. Klávesy pridávajú hutnejší zvuk a svojimi dohrávkami robia pieseň zaujímavou. Ginger spestruje bicie kravskými zvoncami a dodáva dravosť, energiu a priehrštie absolútnej neviazanej dobrosrdečnej nálady. Bubenícky mág to odpaľuje na bicej súprave ako nálože ohňostroja a trieskajúce prechody znejú dominantne na celej nahrávke. Podľa mňa úplná bomba albumu a páči sa mi to. V razancii a údernosti piesne mi to pripomína prvé albumy Santanu, kde rytmus bol dominantným elementom. Zaujímavosťou tohto albumu sú krátke, jednoslovné názvy piesní. Neviem či to bol zámer, alebo to iba tak vyšlo, ale chlapi sa s názvami nepárali, a tak ako táto úvodka má jednoduchý drive, aj názov je jednoduchý. Ľudia.
2. The Key (6:25)
Tak tento "Kľúč" mi na začiatku navodzuje temnú noc strávenú v zadymenej putike (moderne pub) a vrávorajúcu chôdzu k dverám domova, kde chcem nikoho neprekvapiť a strkám potajme kľúč do dverí a potichu sa plížim do postele. Nálada je výborná a kapelke to vychádza na jednotku. Zvuk kláves so zborovým spevom a búchaním Gingera je veľmi dobrý nápad. Vždy som mal dojem, že Gurvitzovci nedokážu písať piesne až do konca, to jest nápad, riff, dobrý refrén, sólo a refrén. Vždy mi niečo chýbalo. Táto pieseň má všetko čo je treba. Je to tuctová stomiliónta vec, ale dobrá a náladová. Pekné.
3. Time (4:03)
Teraz počujeme tom-tomy Bakera v plnej rytmickej sile a recitovaný úvod, spev Adriana Gurvitza je vyšší ako Paulov, tentokrát spieva on. Pieseň sa trochu stráca v bubnovaní, ale potom si gitary predsa len nájdu svoje miesto. Pieseň nehýri melodickými nápadmi. Jedna melódia a šmitec. Kapela však hudobný motív rozvádza na drobnosti a vychytávky. Normálny bigbeat, žiadny progres.
4. The Gambler (4:15)
Pomalá skladba s úvodnou gitarou v sóle, jemný a citlivý spev s podpornými vokálmi celej kapely. Ginger Baker nekončí iba pri strnulom doprovode, ale občas ukáže svoju rýchlosť a obratnosť na bubeníckej stoličke. Náladová vec, ktorá zavŕši prvú stranu albumu, mi trošku pripomína ELO, ale bez sláčikovej sekcie Jeffa Lynna je to len jedna z príjemných rockových pesničiek. Nie vždy sa podarí zložiť perfektnú skladbu a veľakrát je pieseň iba do počtu. Táto má tento význam. V žiadnom prípade netvrdím, že je zlá a nepáči sa mi.
5. The Dreamer 3:38)
Otváracia skladba B strany albumu je rádiová pieseň s ľúbivou melódiou, príjermným spevom a veľmi dobrým rytmom. Optimistická, navodzujúca príjemný pocit a atmosféru. Veď "Snívač" môže mať aj pekné sny. Gitary nie sú skresľované efektmi a tak krásne vyznieva rytmika basa-bicie. Skladba sa mi páči, je to naozaj dobré a náladové. Vrstvená sólová gitara exceluje v celej skladbe, Ginger používa malé činely s krátkym dozvukom, ktoré robia peknú cinkavú stenu. Mohol by som zaradiť túto pieseň k jednej z tých lepších na albume a urobím to. Bolo to dobré.
6. Remember (5:23)
Spadli sme do zemitej a zadumanej nálady. Úplne iná nálada, niečo ako Winwoodov a Capaldiho Traffic. Potom sa skladba rozplynie do rockovej atmosféry s dominantnými brejkmi Bakera a konečne sa presadzuje Peter Lemer na keyboarde. Spustí drvivú extázu na čiernobielych slonovinových klávesách. Kapela sa samozrejme hneď pridáva a zaujímavá skladba s konečným viacmelódiovým obsahom sa rozvinie do peknej piesne. Asi najlepšia vec po otváračke. Fíha! Tá nálada je absolútna a BGA sú skvelí. Konečne, mám radosť. Aj skladba nesie posolstvo – pamätaj si! Budem.
7. The Artist (5:15)
Umelec, herec a čo ja viem čo ešte sa skrýva pod názvom "The Artist". Bakergurvitzovie banda opustila rockové polia a bije sa teraz v melodických nížinách. Skladba začala pozvoľne, ale naberá "grády". Nečakal som tento prechod do bujarej rockovštiny. Adrian asi šípil záver albumu a šantí na strunách sólovej gitary. O Gingerovi som už písal v tejto stati mnohokrát, ale napíšem aj stýkrát, že mám rád jeho bubnovanie a s bratmi ukazuje, že bol naozaj výnimočným hráčom na viacvrstvové drevo s blanami a kusmi plechových vrchnákov, zvané činely.
8. The Hustler (6:40)
Santana na úvod, Santana ako "tečka" na koniec. Ak by sa pridal nespievajúci Carlos, bola by to jednička albumu a nekončiaca radosť: muzikálna a emotívna. Kapela znovu v zdrvujúcom rytme bicích a sólujúcej gitary. Skladby sa nám časovo naťahujú, ale mne to vôbec nevadí. Adrian používa stereotypne svoj zvuk gitary a Ginger je krásne čitateľný na bicích, kde je možné počuť jeho dva veľké kotly a kopáky. Kravský zvonec mám rád už z éry Grand Funk Railroad a mám ho aj doma, takže sa rád pridám. Skladba ma núti smútiť kvôli blížiacemu sa koncu albumu Elysian Encounter. Škoda, ešte dve tri veci by sa šikli. Bral by som ich všetkými desiatimi.
Druhý album krátkotrvajúcej skupiny Baker Gurvitz Army s krásnym obalom je podľa môjho názoru veľmi dobrý. Netrčí veľmi z radu a nepáchne svetovou extra triedou. Na občasné vypočutie v záplave a neskutočnom množstve podobných albumov. Mám ho rád a vážim si ho. Pre bravúru Bakera a neutíchajúcu snahu Gurvitzovcov o dobrý a presvedčivý hudobný výkon a zážitok.
Mám rád albumy, kde je všetko jasné a dá sa v nich čítať ako v čistej, priezračnej vode. Elysian Encounter to všetko má a radosť z hudby je číročíra pravda a mne ju poskytuje. Nie je ničím výnimočný, nepára sa s nepoznaným a nechce nikoho zotročiť. Chce iba to, aby ste si ho vypočuli, ja to tak občas urobím a vždy nájdem niečo nové. A to je to pekné. Moje hodnotenie by bolo 3 hviezdičky z 5. Pridávam jednu kvôli virtuozite bubeníka Gingera Bakera a vzdávam hold jeho muzikantskej zručnosti.
Baker Gurvitz Army:
Adrian Gurvitz – gitara, spev, produkcia
Paul Gurvitz – basová gitara, spev,
Ginger Baker – bicie, perkusie, vokály, produkcia
Peter Lemese – klávesy
Mr. Snips – spev
Nahrávané v Island Studios
Zvuk: Anton Matthews
Mixované v Trident Studios
Mastering v Abbey Road, Chris Blair
Kresba obalu: Petagno III
Elysian Encounter
Baker Gurvitz Army
Rock, Prog Rock
Mountain
1975
LP
8
LP Mountain TOPS 101