Na tuto recenzi už se chystám hodně dlouho. A spíš, než o recenzi, půjde o mé vyznání…
Musím přiznat, že po prvním poslechu v roce 2005, kdy album vyšlo, jsem nebyl nijak ohromen. Určitě nemohu říct, že bych byl zklamaný, nebo dokonce znechucený, ale vnímal jsem tenhle počin jako standard Alice Coopera, tzn. kvalitní rock.
Pár let se na tom nic moc nezměnilo – tu a tam jsem si "Nečisté démanty" poslechl, pozice nahrávky se však výrazně nelepšila. Výrazně ne; pomalu, ale jistě, ovšem ano. A tak se jednou při nevím kolikátém přehrávání stalo, že jsem se doslova zbláznil do dvojice pomalých skladeb na tomto albu, a dodnes je považuji za jedny z nejpovedenějších v celém repertoáru Mistra Furniera; jsou to "The Saga Of Jesse Jane" a "Six Hours". Následně jsem začal odhalovat, že na desce jsou, kromě zmíněných klenotů, i další ukryté diamanty…
Zkrátka, album zraje v mých uších, jako víno, a tlačí se do čela mého žebříčku Cooperovy tvorby. Mezi vydanými v novém miléniu zaujímá 1. místo před "Welcome 2 My Nightmare", v celkové přebohaté diskografii pod hlavičkou Alice Cooper (skupina i interpret) je určitě v mé TOP 10.
Desku otevírá "Woman Of Mass Distraction", pomalu se rozjíždějící rokec o "osudové ženské", který parádně rozproudí krev, naladí na další poslech a nutí podupávat si do rytmu.
Následuje "Perfect" – pohodová záležitost, jíž není co vytknout.
Také třetí v pořadí, "You Make Me Wanna", nemá chybu; zase parádně šlapající rocková skladba, ozdobená vtipným jucháním dvou ženštin v refrénu. Jsou jimi Peggi Blu a Edna Wright; jejich "Uh uh uh" je fakt trefa!
A už tu je titulní "Dirty Diamonds"; podmanivé, zádumčivé intro saxofonu a flétny Marka Hollingswortha odstartuje tenhle "typicky furnierovský" nářez, v němž není nouze o zajímavé pasáže a zvuky; ozvou se i žestě, aby závěr obstaral znovu saxofon s flétnou.
Teď nastává jeden z vrcholných okamžiků nahrávky, příběh "The Saga Of Jesse Jane"… Hodně country kořením ochucená balada s perfektním hlasovým projevem – ta píseň je procítěna, ne pouze odezpívána!
A opět se zrychlí a vokalistky Peggi s Ednou z trojky dostanou prostor ve sborech refrénu šesté "Sunset Babies (All Got Rabies)".
Sedmá (na vinylu první na druhé straně) je kouzelná a klidná coververze "Pretty Ballerina" od The Left Banke z roku 1966; tak krásně tklivá a zasněná, až jeden tu baletící krásku úplně vidí před očima…
Ze snu drsně probere hutná "Run Down The Devil"; zatěžkaný riff, střední tempo – jako neúnavně pracující buchar…
A výrazně se zrychluje; těžko by uspěl pomalý zloděj a Alice se v něj zde mění, protože proklamuje, že brzy "Steal That Car".
Další zklidnění v podobě balady "Six Hours", další vrchol nahrávky. Přesvědčivý Cooperův zpěv je v pomalých skladbách obzvláště silný a působivý… Melancholická záležitost s jinotajným textem, který může být zpovědí šílence, jenž zabil svou milenku, ovšem taky nemusí; je to hodně o fantazii a čtení mezi řádky.
Jedenáctka "Your Own Worst Enemy" hezky svižně "odrockuje" k předposlední pomalejší parádě "Zombie Dance", kde si můžeme vychutnat mj. Mistrovo foukání na harmoniku nebo hlasy již dvakrát zmiňovaných zpěvaček Peggi a Edny.
"Nešťastnou" třináctkou je bonusová "Stand" (bonus pro Evropu a USA, Austrálie měla jiný). Zvláštně znějící, rapem (herce a rapera Xzibita) obohacená věc, kterou ovšem Vincentův zpěv vždy vrátí do rockových vod, stejně jako výborná kytara, zejména její sólo v závěru.
Když to shrnu, pak jde o výborné a pestré dílo, kde se nenajde žádná vata, jen samé diamanty (co na tom, že špinavé). Mám k této desce velmi silný a pozitivní vztah, který vznikal pozvolna a dlouho, a má stále vzrůstající tendenci. Také vzhledem k přítomnosti mých veleoblíbených "The Saga Of Jesse Jane" a "Six Hours" nemohu jinak, než chválit maximálně…
(Napsáno v červenci 2012)
01. Woman Of Mass Distraction (3:59)
02. Perfect (3:30)
03. You Make Me Wanna (3:31)
04. Dirty Diamonds (4:03)
05. The Saga Of Jesse Jane (4:16)
06. Sunset Babies (All Got Rabies) (3:27)
07. Pretty Ballerina (3:02)
08. Run Down The Devil (3:28)
09. Steel That Car (3:16)
10. Six Hours (3:24)
11. Your Own Worst Enemy (2:19)
12. Zombie Dance (4:23)
13. Stand (4:08)
Alice Cooper – vocals & harmonica
Ryan Roxie – guitars & background vocals
Damon Johnson – guitars, bass (on "Perfect") & background vocals
Chuck Garric – bass, guitar (on "Dirty Diamonds") & background vocals
Tommy Cufetos – drums & background vocals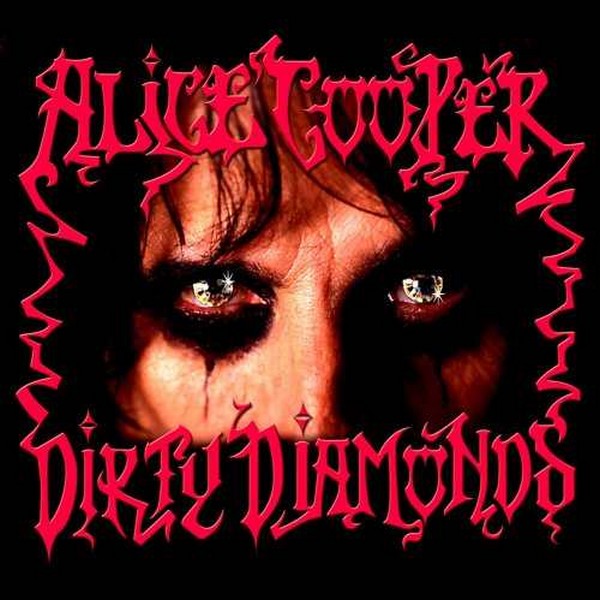 Dirty Diamonds
Alice Cooper
Hard Rock
Spitfire
2005
LP
13