ZAMYŠLENÍ Z ROKU 2012
Byla to krásná i hrozná doba. S čerstvě uloveným LP pod paží si nakračovat ulicí a kochat se závistivými pohledy kamarádů i neznámých vrstevníků, současně ale pokradmu hlídat perimetr, zdali se někde neobjeví kšiltovka zvídavého Venouška s Bohouškem.
"Co to máte na zadním sedadle? Prospekt. Ukažte to, jaký prospekt? Videa firmy Panasonic. Vy máte video? Ne. Tak proč máte prospekt? Mě to zajímá. Aha, vás to zajímá, a proč? Na co se díváte, co? Kde máte ty videokazety? Otevřete kufr. Áááále, rezervu máte sjetou, bude to za 100,-Kčs…. Jeďte, a už neprovokujte" – tak nějak vypadala v polovině osmdesátých let jedna má půlnoční debata s lemplem v uniformě, za bdělého dozoru soudruha pomocníka VB s baterkou, když jsem se vracel svým MB 1000 setmělým Gottwaldovem domů.
Zrovnatak se mohla týkat LP, tehdejší přebaly metalových fošen s lebkami proraženými křížem (jednička Grave Digger) nebo ceckaněma rozvalenýma na hrobech (Witchfinder General) by soudruhy ve víře nejspíš uzemnily…
KATALYZÁTOR ROCKOVÉ REVOLUCE
LP deska se stala fenoménem hudební revoluce současně s nástupem Beatles. Do té doby byly dlouhohrající desky především sbírkou a+b stran singlů posledních měsíců, doplněnými několika novými nebo zbylými kousky.
Celistvá černá plocha dvaceti minut (oproti šelakovým třem) neotevřela mladým bigbítům stavidla představivosti najednou. Museli dozrát, odhodit spoustu návyků, oprostit se od schématu verze-refrén-verze, inspirovat se kompoziční i aranžérskou stavbou u tzv. vážné hudby, začít vnímat estetiku přebalu jako součást umělecké výpovědi, pracovat se stereem, dynamikou, atakdále. Po prvních nesmělých pokusech do poloviny šedesátých let, se koncepční uvažování s využitím úžasných možností Long Play desky, počínaje přebalem a konče posledním závitem magické vinylové spirály, stalo katalyzátorem rockové progrese.
Vemme si jenom přebal. Otevřené LP má plochu obrazu. A často i jeho kvalitu. Listování sbírkou LP je rozkoš, dřív nebo později to vždycky přijde, ruka šmátralka poskočí, a už se elpé nese na talíř gramofonu… Však se také na tvorbě obalů podíleli i významní doboví umělci, zmíním za všechny Andyho Warhola. Vznikala specializovaná grafická studia, viz Hipgnosis. Stovky obalů LP mají podle mne uměleckou kvalitu vrcholných děl vystavených ve slovutných galeriích.
Šedesátá léta byla revoluční ve vícero ohledech. Nebojte, nebudu se pouštět do nějakých sociologických, ekonomických, či politizujících rozborů, stejně bych jen nezáživně opisoval. Vypomohu si raději slovy Kena Hensleye, který v odpovědi na můj dotaz, v čem spatřuje důvody výjimečnosti hudby šedesátých let, poukázal nejenom na to, že každý mladý kluk chtěl být muzikant, už jen proto, aby měl víc holek (s čímž souvisí i tehdejší tzv. sexuální revoluce). Při našem povídání zmínil i ekonomický rozvoj, v Anglii konečně vytržený ze spárů důsledků druhé světové války, přidal nástup nových technologií, zejména polovodičů, umožňující masivní výrobu přenosných tranďáků. Zásadní roli přisoudil Vietnamu, a z něj vyvěrající generační frustraci, vyúsťující v touhu vykřičet ji odpovědným politikům do ksichtu: zase nás zatahujete do války!
Potvrdil mi svou osobní zkušeností i mou, byť o deset let posunutou. Mezi koncem padesátých a šedesátých let leží celý vesmír změn.
Úžasné v sixties bylo, že i chladní kalkulátoři ve vydavatelských firmách podlehli kouzlu doby a otevírali kešeně i začínajícím souborům (co kdyby to byli noví Beatles, a já to prošvih!). Jen tak se mohlo stávat to, že se mnohým mladým kapelám až neskutečně podstrojovalo, kupovaly se jim nástroje, najímaly orchestry, realizovaly i ty nejbláznivější nápady…
To vše provázelo výstup elpé desek na samý trůn zhmotnělého nositele světové kulturní avantgardy. Starší rozteskním, mladé vyděsím, nemohu ale jinak. Dodnes s sebou nosím vůně nových vinylů i omak celofánových přebalů, jejichž odstraňování se ne nepodobalo lačnému stahování kalhotek nové přítelkyně. Jaká bude? Jako ta minulá? První nesmělé doteky vystřídala extáze, občas i zklamání u poslechu / polehu.
Všechna ta analogová krása se již třicet let rozpouští v nulách a jedničkách. Za své vzaly nejdříve obaly LP, zmenšené plochou CD na pouhou desetinu, a rituály spojené s poslechem vinylů. Na druhou stranu došlo nástupem cédéček obrovskému boomu prodejů jednotlivých titulů a k dočasnému vzedmutí délek alb až k samé technologické hranici 80 minut, což však již nevedlo k hudební progresi, ale naopak, k ředění a rozmělňování nápadů. Není náhodou, že osmdesátá léta mají v žebříčcích nejprodávanějších alb všech dob největší zastoupení, v první stovce téměř celou třetinu! Na obhajobu cédéček se musím přiznat, že jsem jejich nástup uvítal. Ve své narůstající audioneuróze jsem totiž víc a víc prožíval každé lupnutí LP tak, že jsem kupoval některé tituly vícekrát, a nechal si je občas posílat až z Japonska. Naprosto nelupavý sluchátkový poslech mého prvního CD Love Over Gold na jarním brněnském veletrhu v třiaosmdesátém, byl pro mne iniciačním zvukovým zážitkem. Ve sbírce mám CD i LP. Je to můj život, a už to tak zůstane…
MATRIX PŘICHÁZÍ, POSLEDNÍ BOJ ZAČÍNÁ…
Ať chceme nebo ne, nastává předem prohraný boj o koncepci hudebního alba, tak jak ji známe bezmála padesát let. Vládu nad trhem opět přebírají jednotlivé písničky, v nové době ale mžikově šířené světelnou rychlostí od Grónska po Ohňovou zemi. Kde jsou lodě připlouvající do Liverpoolu…
Příčin je několik, počínaje menším tvůrčím potenciálem většiny dnešních mladých muzikantů, kteří často objevují dávno objevené, točí se v kruhu, netvoří hudbu, ale zalévají své instantní polotovary horkou vodou, hlavní je tržní rychlost, vše ostatní je podružné.
Za další: do nové hudby začínajících kapel dnes nikdo mimo samotné muzikanty neinvestuje. Doba, kdy se ve výrobě a prodeji studiových alb točily velké peníze, je v době pirátských torrentů a megaúložišt navždy pryč. Klasičtí vydavatelé se ve své předsmrtné křeči upnuli na své zaběhnuté koně a archivy (aspoň to, nebýt ale třidecibelových hovad u remasteringových konzolí). Nové kapely mají jakous takous šanci jedině tehdy, když se soustředí na jednu dvě skladby, a ty pak zkusí prosadit jakýmkoliv net-způsobem. Občas se tak někomu podaří vystřelit i do hvězdných výšin, jsou to ale vesměs jen kusovky, výjimky, a při srovnání s druhou polovinou šedesátých let jen s procentní, promilovou šancí.
Dobou diktovaná prvoplánová rychlost a úsečnost osekává možnosti uměleckého vyjádření na minimum, nastupuje tvrdá autocenzura, kdy se většina začínajících kapel snaží zaujmout kohokoliv do pár sekund, do prvního kliknutí myši jinam. Je to děs, ale je to tak.
A teď zkuste najít za takové situace (bez vydavatele) prostor pro hlubší umělecké a technicky dotažené vyjádření se na ploše celého alba, když i ti nejslovutnější světoví interpreti s velkou firmou za zády vydávají v současnosti jednu dlouhohrající desku za tři, pět, deset, i více let, zatímco kdysi tvořili fenomenální díla každý rok, i častěji, a nikomu to nepřipadalo divné: jim, nám, firmám. Byl to zkrátka jiný LP svět, kdy měli i začínající muzikanti šanci zaujmout investory a uspět umělecky na trhu i s náročnými a nelevnými nápady.
Umíte si představit, jak by dnes dopadl Robert Fripp, kdyby přišel za vydavatelem s konceptem In the Court of the Crimson King, anebo neochmýření Barclay James Harvest s požadavkem na opravdový symfoňák, či neznámí Spring s vizí třídilného přebalu?
Zavedení interpreti top kategorie Springsteen, Rolling Stones, U2, Eagles apod. v relativním klidu objíždějí co druhý rok svět svými lastbestofffabrika tour, ti jediní jsou takříkajíc "za vodou", i když i při nedávném Bossově koncertu zazněl z úst kytaristy Stevena Van Zandta povzdech na současnou ekonomickou krizí.
Novinková alba gigantů jsou však po jediné tour zpravidla zapomenuta. I to mnohé signalizuje. Ostatní dříve slavní v lepším případě plní kluby a festíky, v horším firemní večírky a bosspárty, v nejhorším rezignují a prodávají v aukcích své svršky a věci z dob slávy, protože z reedic nemají kvůli blbým smlouvám z mládí často ani dolar. Občas při svých badatelských toulkách po osudech muzikantů mého mládí narazím na hodně smutné příběhy…
Návrat hudby především na pódia je jistě prima, prožitek z kvalitního domácího poslechu "Seržanta", "Zdi", "Karmínového krále", "Útesu", "Noci v opeře"… mi ale žádný koncert nezprostředkuje.
Návod, jak gordický uzel příčin a následků rozetnout, neexistuje. Za deset let budou podle mne celistvá studiová hudební alba v podobě, v níž je známe, vnímáme a máme rádi, uzavřenou historií. Jak bych si přál se mýlit, ne kvůli sobě, já si svou sbírku budu užívat do posledního funkčního chlupu v uchu, ale kvůli dalším generacím. Jejich hudební svět bude bez hudebních alb výrazně plošší.
DEN POTÉ
O jakou hudbu bude svět po zániku celistvých a produkčně náročných hudebních alb ochuzen? Ze stovek, nejspíš i tisíců titulů dotekově vybírám:
Beatles – především "Seržant" a Abbey Road
Pink Floyd, Gentle Giant, Van der Graaf Generator – až na výjimky celá tvorba
Yes, King Crimson, Genesis, Frank Zappa, Barclay James Harvest – větší část alb
Who – Tommy, Quadrophenia
Beach Boys – Pet Sounds
Queen – II, Sheer Heart Attack, Night In The Opera, A Day At The Races
Bee Gees – Odessa
Mohl bych pokračovat týden, dva, a pořád bych nacházel další a další příklady v budoucnu zaniknuvšího hudebního formátu. Z první světové stovky nejprodávanějších alb by se dala za výrazně celistvá nebo dokonce koncepční alba označit zhruba dvacítka. Jsou to bohužel už jen dozvuky doby, kdy hudební kvalita a náročnost nevylučovaly masový prodejní úspěch.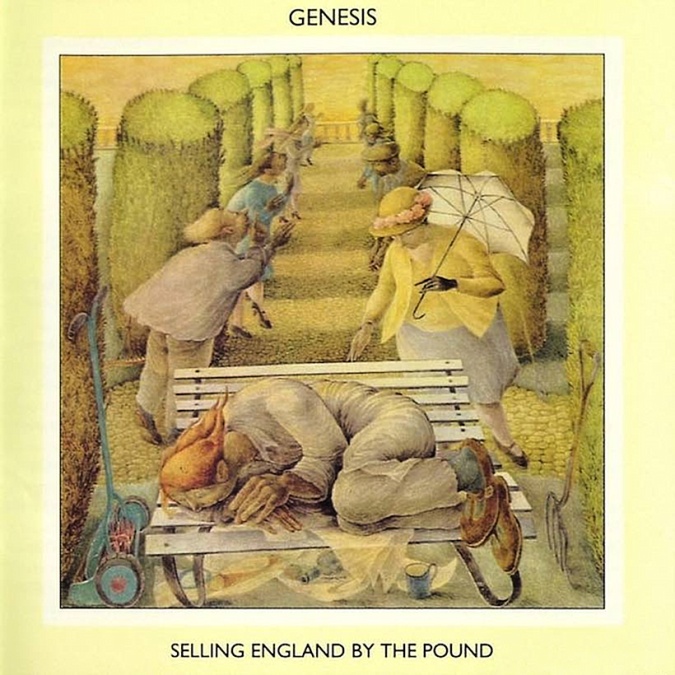 Nic podobného v nové digi-singlové době nebude moci běžně vzniknout. Žádný investor by do podobných nenávratných projektů nešel. Určitou šanci vidím v oslovení mecenášů umění, ani ti ale nebudou své prostředky vkládat do jednorázových, finančně náročných a umělecky nevyzpytatelných projektů. Spíše plošně podpoří mladé muzikanty jinak, festivalem, dílnou, apod.
Poslech celých alb bude stejně elitářský, jako návštěva koncertu klasické hudby nebo jazzu. Bádání po kořenech té které muziky se přesune ze stránek hudebních magazínů a fanzinů do knihoven, muzeí, ojedinělých diplomek a akademických konferenčních vystoupení. Nebude o kom, čem psát jinak než ve stylu bulváru, jednoskladboví hitmakeři přijdou, vyletí nahoru, sletí dolů, shoří a za týden navždy zmizí do věčné nicoty. Většina tzv. pecek budou jen vypeckované verze starých originálů, Madonna a Kylie budou v médiích vzývány jako nejnáročnější hudba pro vyhraněné intelektuály, opravdová muzika se přesune do klubového a síťového undergroundu, sbírky CD budou stejně "běžné" jako dnes sbírky starých tisků. Ještě, že se toho tady dole nedožiju. Nahoře si už uděláme pořádek, bude nás tam čím dál víc.
Že to všechno není jen má fantasmagorie, potvrzuje i čerstvá zpráva agentury Reuters. Na základě analýzy – několika desítek parametrů mnoha tisíců skladeb z let 1955 až 2010 – potvrdili výzkumníci Španělské národní rady pro výzkum, pod vedením Joana Serry to, co vnímá každý pamětník, nucený chtě nechtě poslouchat i současnou tvorbu: moderní populární hudba je stále dynamicky, kompozičně i jinak placatější, melodicky i rytmicky nenápaditější, využívá méně a méně hudebních nástrojů. Zkrátka a "vědecky" řečeno, homogenizuje se do karbanátku.
Celá databáze a spousta detailů z výzkumu jsou k dispozici na http://labrosa.ee.columbia.edu/millionsong/.
JINÝ SVĚT
Prodeje moderních "digitálních singlů", neboli stažených písniček už dnes dosahují vysokých čísel. Ty nejúspěšnější, příkladově Rolling In The Deep zpěvačky Adele, se pohybují na hranici 10 milionů placených downloadů, tedy řádově srovnatelném množství jako prodeje klasických vinylových (a u nejstarších evergreenů i šelakových) singlů. Historickou kategorií samou pro sebe jsou Crosbyho Bílé vánoce a Tichá noc, pohřební Elton, průlomový Haleyho Rock Around The Clock, charitativní We Are The World a Elvisova Neapol, vesměs s prodeji nad 20 milionů výlisků.
Prodeje alb kulminovaly v osmdesátých a devadesátých letech. V kategorii nad 20 milionů prodaných kusů obsazují tyto dekády dohromady ¾ žebříčku! Padesátá léta nezastupuje nic, šedesátky Seržant a In-A-Gadda-Da-Vida, obě LP s cca 30 miliony prodaných ks. Pro rockery může být potěšující, že zhruba 40% titulů v kategori +20mega spadá do rocku, méně už fakt, že nejmladšímu zástupci je více jak 10 let.
Rád bych upozornil na to, že u podobných tabulek milion sem, milion tam. Metodika není jednotná ani u certifikovaných seznamů, zejména výrobci a jejich IFPI tykadla svá gold-platina-železo-šrot pravidla neustále změkčují, stačí si porovnat údaje z jednotlivých databází a encyklopedií. Rozchází se v absolutních číslech i násobně, relativní poměry mezi jednotlivými tituly zůstávají ale překvapivě takřka shodné. Pro potvrzení trendů prodejů a poměrů mezi LP/CD a SP/data jsou vypovídající.
Souhrnný pohled na stovku nejprodávanějších singlů a alb napoví, že do konce padesátých let se prodávaly především singly, v první polovině šedesátých let se síly vyrovnaly, pak následovala dlouhodobá dominance prodejů alb. V nastupující éře downloadů namísto fyzických nosičů vítězí singly zatím jen v nehmotných kategoriích (downloady, streamy), vzhledem k nezvratnému vývoji (prodej alb v USA klesl v letech 2005-2010 na 1/3, z 705 na 225 milionů) je ale převzetí vlády i v absolutních číslech jenom otázkou času.
Technologicky i uživatelsky navíc vše směřuje od vlastnění (LP/CD/HD) ke streamovaní (poslech online) někým doporučených a nasdílených písniček. V další etapě klidně i ve stylu předvoleb typu "a teď něco veselého", "přijde holka, co chci sbalit", "mám splín, doraz mě", "pusť mi, co zrovna poslouchá Paroubek junior" (fantazii se meze nekladou)… Všechny dosavadní prodejní statistiky budou v tomto jiném online světě bezpředmětné.
Jaromír Merhaut pro Rock & Pop 2012
P. S. 2021: Jaká je situace dnes? O tom někdy příště.