Deska Bedside Manners Are Extra projektu/kapely Greenslade, má u mě zvláštní postavení. Bude to dáno asi tím, že celou tuto Daveovu kapelu řadím stejně vysoko, možná dokonce ještě výš, než klávesákovo první působiště, slovutné a tolik uznávané Colosseum. Pompézní produkce a atmosférický opar vytvářený dvojicí zdejších  klávesistů, mně u Greenslade zatraceně imponuje a neúčast kytar na čtveřici alb vydaných v sedmé desetiletce, je pak tou vůbec nejmenší bolístkou.
Oproti debutu je dvojka místy temnější a díky mistrné práci s náladami také atmosféričtější. Netypický úvod v tak trochu uspávacím modu, obstarává titulní skladba Bedside Manners Are Extra. To však vůbec nevadí, poslech je to příjemný a celá píseň je nanejvýš sofistikovaně zaranžovaná. Mlžný opar se tu vznáší od samého začátku, tempo je vláčné, snivé, až romantické. Ze skladby sálá ohromný cit a něha. Začátek nanejvýš příjemný. Energická šleha přijde vzápětí s položkou číslo dva Pilgrim's Progress. Tu zahájí krátká tajemná předehra s klávesami alá flétna po vzoru Moody Blues, ale pak se mašina značky Greenslade rozjede do pořádných obrátek.
Dave Greenslade a druhý klávesák Dave Lawson se předhání ve svých eskapádách u klapko strojů, rytmika pěkně podupává a vše korunují krásné melodie a hromada nápadů. Klenutý a alespoň pro mne velice příjemný vokál D. Lawsona, odhalí naplno své možnosti v energetické Time To Dream. Další porce temna udeří s nástupem Drum Folk, ze které se vzápětí vyklube instrumentální představení par excellence. Pátá Sunkissed You're Not cválá potemnělou krajinou plna zajímavých rytmických obrátek. Poslední Chalkhill je třetí instrumentálka, která však kvality svých předchůdkyň nedosahuje.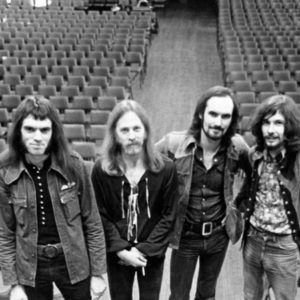 Poslech hudby Greenslade může někomu evokovat procházku jarní loukou, tolik provoněnou právě rozkvétající pestrobarevnou květenou.
1. Bedside Manners Are Extra (6:16)
2. Pilgrim's Progress (7:12)
3. Time To Dream (4:46)
4. Drum Folk (8:44)
5. Sunkissed You're Not (6:27)
6. Chalkhill (5:24)
Total Time 38:49
– Dave Greenslade / keyboards
– Dave Lawson / keyboards, vocals
– Tony Reeves / bass
– Andy McCulloch / drums, percussion
Bedside Manners Are Extra
Greenslade
Prog Rock
Warner Bros.
1973
LP
6