Daevid Allen (1938 – 2015) byl jednou z nejoriginálnějších postav Canterbury scény. Skladatel, kytarista, zpěvák, básník. On a Robert Wyatt, ačkoli oba začali s hudbou v šedesátých letech minulého století, nikdy, ani v osmdesátých letech, nevytvořili nic, čím by se přibližovali lacinému popu/mainstreamu/komerci, no doplňte si za to, co chcete. Neznám moc takových lidí.
Tohle album nese typicky hravý, až bláznivý Allenův rukopis. A hudebně je opět pestré. Je tu zappovská bláznovina The freedom of the city in a suitable box (saxofon tu vůbec na Allena až neobvykle často řádí), nádherná, emocionální It's a fine air for fliss, psychedelická But it's really not real, šansonově melancholická No other than the mother is my song  – opět dokazující, že Allen není jen ztřeštěný klaun, ale že dokáže napsat vážnou, procítěnou píseň. No popsat by se dala každá skladba a skoro každá je jiná.
Všem fandům psychedeličtějšího rocku, pokud neznají, album jednoznačně doporučuji. Vlastně stejně jako většinu jeho ostatních alb, včetně těch natočených se skupinou Gong.
Nahrávka se dá celá poslechnout na bandcampu.
SKLADBY:
– Bedside –
01. Professor Sharpstrings Says (0:21)
02. The Freedom Of The City In A Suitable Box (3:57)
03. They Say They Say (2:29)
04. Something Tells Me (3:22)
05. It's A Fine Air For Fliss (3:36)
06. But It's Really Not Real (3:19)
07. Because Bar Room Philosophers (2:30)
08. 333 (4:09)
– Godside –
09. No Other Than The Mother Is My Song (3:39)
10. Theme From Hashish To Ashes (1:55)
11. The Turkeybirds Breakfart (2:08)
12. Rajneesh With Thanks (0:30)
13. Non God Will Not Go On Or The Wrong Way To Be Right (11:20)
14. O Man You (2:19)
SESTAVA:
Daevid Allen – vocals, guitars
+
José "Pepsi" Milan – acoustic guitar
Ronald Walthen – uillean pipes
George Bishop – clarinet, sax
Angel Aduana – banjo
Brian Damage – drums
Rodney Dust – drums (13)
Ronald Dust – drums (13)
Chris Cutler – percussion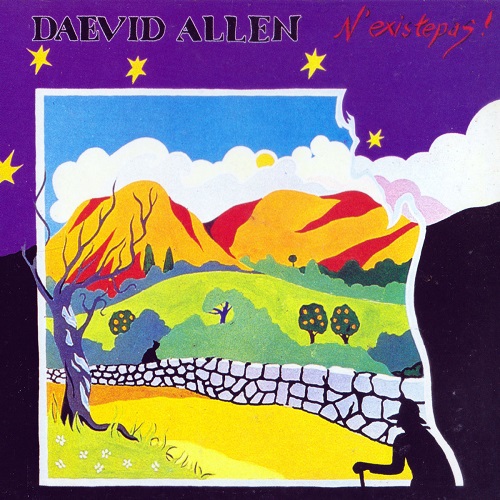 N'existe pas!
Daevid Allen
Canterbury Scene, Jazz, Rock, Prog Rock, Psychedelic Rock
Charly Records
1979
LP
14