PINK FLOYD
7. září 1994, Praha, Strahov
Právě poslouchám první bezwatersovskou desku Pink Floyd A Momentary Lapse of Reason a zvolna při tom špekuluju nad termínem licenčního vydání u Supraphonu. Bez odkladu jsem tehdy investoval 120 Kčs a vsadil bych, že bylo právě v rozpuku jaro hektického revolučního roku. Každopádně mě zaujala nejen muzika samotná, ale i závěrečná poznámka v průvodním textu Jiřího Černého: "V sezóně 1987-88 objeli Pink Floyd se svým novým programem kus světa včetně střední Evropy. Nač nepřiznat, že i já bych to rád viděl, třeba na Strahově."
Nedokázal jsem si to tenkrát představit, stejně jako nesvedu zapomenout na 7. září 1994…
Slušná znalost kompletní diskografie kapely, obstojné vědomosti o její historii, lupen za zvýhodněnou předprodejní cenu a nádavkem čtyři roky stará osobní zkušenost s účastí na akci podobného rozsahu (Rolling Stones), to byla základní výbava, s níž jsem v den D vyrazil ke spartakiádnímu megastadionu, jehož brány se měly původně otevřít už ve dvě. Pořádající agentura MediaWorld s nulovou zkušeností z branže ale nakonec dobu vstupu posunula na šestou večerní, doraz jsme tedy naplánovali mezi, tj. ve čtyři. A za ty dvě hodiny postávání před jedním z nemnoha připravených vlezů narostla částka, za kterou by se dal lístek zpeněžit, z tisícovky na tři. Sny ale nejsou na prodej.
Čekání na ploše tak tři čtyři desítky metrů od gigantického pódia, jemuž dominovala obrovská oblouková konstrukce s kruhovým plátnem, jsem si zpestřil pobytem v nekonečné frontě na pivo u jednoho ze dvou (!?) stánků, které byly na místě k dispozici. Však bylo prodáno jen něco přes sto tisíc vstupenek…
Dalším rozptýlením byl přelet reklamní vzducholodě televize Nova, která ve svých zprávách přinese strhující reportáž z místa: "Velkolepá show užívá různé lejzrové, eeh… například zařízení, které je schopno rozbít eee… prý atom."
Ale to už se stmívalo a snad i pršelo, déšť jsem toho večera ale nevnímal. Jen pomalu ubíhající čas, který od půl deváté pomáhala ukrajovat směsice reprodukovaných přírodních zvuků. A jako dneska si vybavím, jak při pohledu na hodinky říkám svýmu staršímu bráchovi, který mě do světa rockové muziky kdysi nasměroval: "Ty vole, umíš si představit, že za pět minut tady začnou hrát Floydi?" A snad jsem ho i obejmul.
Ohledně startu samotného se tvrdošíjně rozcházím s řadou dalších pamětníků i publicistů a (do)žiju s přesvědčením, že první tóny Shine On You Crazy Diamond zazněly přesně ve 21:01. A od tý doby si taky na každým dalším koncertě při obligátním dvaceti a víceminutovém zpoždění neodpustím podotknout: "Když mohli začít hrát včas Pink Floyd, měl by to udělat každej."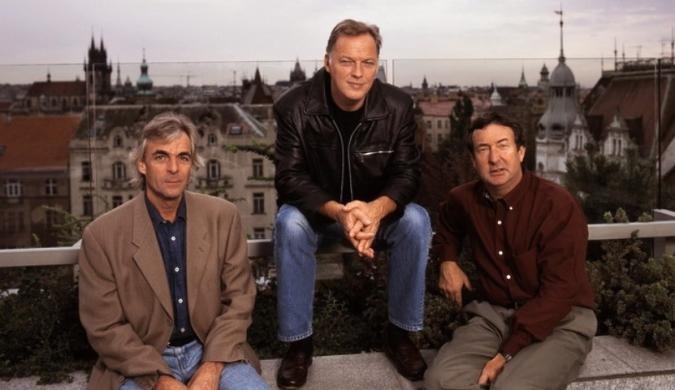 O průběhu nezapomenutelného večera tehdy referoval snad všechen dobový tisk, několik reportů jsem uložil ke vstupence do svého archivu.
Od Honzy Dědka z Rock & Popu, který se v prvním poločase občas nudil a trápil s počasím, aby si to nakonec přeci jen užil a svoje psaní uzavřel hláškou: "Teď už bych chtěl vidět jen Beatles a Led Zeppelin a pak se můžu na celou hudbu vy….".
Od Jana Petrička z Rock reportu, který hned v úvodu psal o "třech hodinách velkolepé podívané spojené s poslechem božského soundu kapely, která dávno překročila hranice běžné rockové zábavy a stala se multimediálním fenoménem" a v závěru shrnul pocity většiny zúčastněných v jediné větě: "Jsem šťastný, že jsem tam byl."
Od Miloše Skalky z Dobrého večerníku, který mi vyrazil dech, když do svého textu zakomponoval i jednu vlastní letitou zkušenost: "…nikomu ta sprška nevadila, protože současně z duhového půlkruhového pódia s oválem projekčního plátna pršela ta nejkrásnější rocková nádhera, jakou si jen člověk umí představit. Něco podobného jsem zažil snad jen před pětadvaceti lety za mořem ve Woodstocku, kde nás déšť také nijak nešetřil."
A svoje si ke koncertu Pink Floyd řekli i jejich tuzemští kolegové.
Michal Prokop, t. č. náměstek ministra kultury: "Nádhera. S touhle muzikou jsem vyrůstal. Kdybych se nepřišel podívat, do konce života bych si to vyčítal."
Michal Pavlíček: "Pink Floyd pro mě představují rockové mysterium. Krásu, s jakou se člověk potká párkrát za život. A Gilmourova kytara? Mimo veškeré kategorie."
Nebo rozhozená Bára Basiková: "… pršelo, byla zima, bláto, tlačenice – zoufalost. Nikdo nevěděl, kam se nacpat, ale zdálo se, že všichni chtějí být všude. Několikrát jsem upadla, několikrát dostala loktem, několikrát jsem v davu ztratila směr, takže jsem se nakonec ocitla na úplně jiné straně, než kam jsem měla původně namířeno." Ale i u ní se nakonec všechno v dobré obrátilo: "Najednou stačilo tak málo – aby začal koncert! A náhle všude pohoda, spokojenost, dojetí a naštěstí všichni zdrávi."
Křečovitě proti proudu se tak nesl snad jedině článek v exsvazáckém časopise Mladý svět, v němž vedoucí kulturní rubriky Andrej Halada blábolil cosi o ztracené atmosféře, absenci originality a svůj výlev korunoval příměrem: "Videoklipy, které se promítaly na kulaté plátno nad pódiem, nepatřily k excelentním. Poněkud ztěžklá symbolika ve stylu artrocku 70. let nebyla na úrovni invenční a moderní "laterny magiky", kterou se loni prezentovali Depeche Mode."…
Pravda, vlastně nemůžu soudit, bo na koncertě Depeche Mode jsem nikdy nebyl. Ale 7. září 1994 jsem na Strahově zažil vystoupení Pink Floyd. A slyšel je hrát Sydovu Astronomy Domine. A Ricka Wrighta při Great Gig in the Sky. A sólo Davida Gilmoura v Comfortably Numb. A 120 tisíc lidí zpívat Wish You Were Here. A bylo mi třicet. A ano, ten zážitek si vemu do hrobu.
SETLIST:
Shine On You Crazy Diamond (Wish You Were Here, 1975)
Learning to Fly (A Momentary Lapse of Reason, 1987)
What Do You Want From Me (The Division Bell, 1994)
On the Turning Away (A Momentary Lapse of Reason, 1987)
Take It Back (The Division Bell, 1994)
A Great Day for Freedom (The Division Bell, 1994)
Sorrow (A Momentary Lapse of Reason, 1987)
Coming Back to Life (The Division Bell, 1994)
One of These Days (Meddle, 1971)
+
Astronomy Domine (The Piper at the Gates of Dawn, 1967)
Breathe (The Dark Side of the Moon, 1973)
Time (The Dark Side of the Moon, 1973)
Breathe (Reprise) (The Dark Side of the Moon, 1973)
High Hopes (The Division Bell, 1994)
The Great Gig in the Sky (The Dark Side of the Moon, 1973)
Wish You Were Here (Wish You Were Here, 1975)
Us and Them (The Dark Side of the Moon, 1973)
Money (The Dark Side of the Moon, 1973)
Another Brick in the Wall, Part 2 (The Wall, 1979)
Comfortably Numb (The Wall, 1979)
&
Hey You (The Wall, 1979)
Run Like Hell (The Wall, 1979)
SESTAVA:
David Gilmour – kytara, zpěv, lap steel kytara
Rick Wright – klávesy, zpěv, doprovodný zpěv
Nick Mason – bicí, perkuse
&
Guy Pratt – baskytara
Jon Carin – klávesy
Gary Wallis – perkuse
Tim Renwick – kytara
Dick Parry – saxofon
Sam Brown – doprovodný zpěv
Claudia Fontaine – doprovodný zpěv
Durga McBroom – doprovodný zpěv