CD T&T – TT 0031-2 /1997/
Finská heavy metalová skupina Stratovarius se začala formovat už v polovině osmdesátých let, ale svoji budoucí podobu začala získávat teprve poté, co se k ní připojil kytarový virtuos Timo Tolkki. Debutovala v roce 1989 (albem Fright Night), ovšem já jsem jako první slyšel až relativně úspěšnou placku Dreamspace, z roku 1994.
V domácí sbírce mám jen šesté studiové album Visions, vydané 28.04.1997 a je to prvotřídní řežba. Tenhle rychlej, neoklasickej a patřičně symfonickej heavy metal inspirovanej Rainbow, nebo Malmsteenovými Rising Force mám rád a tenkrát se tu navíc sešla vynikající sestava. Kytara Tolkki, zpěv Timo Kotipelto, buben Jörg Michael (působil v kapelách Avenger, Axel Rudi Pell, Headhunter, Grave Digger, Mekong Delta, Running Wild, nebo Rage) a klávesy Jens Johansson (Yngwie Malmsteen, Dio).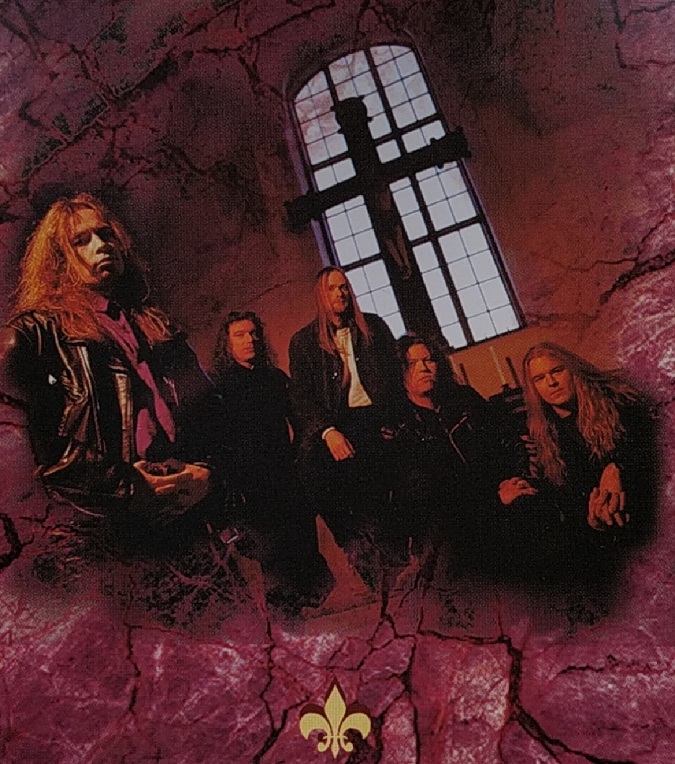 Na úvod je tady zabijácká nakládačka ve středním tempu The Kiss Of Judas a Jörg do toho mlátí, jako když kope kobyla, ale už od druhé Black Diamond se to láme do pořádného kvapíku. Fofr je to neskutečnej, přitom velmi melodickej a souboj kytary a kláves mi připomíná legendární duely Malmsteen – Johansson z druhé poloviny osmdesátých let. Z nasazeného tempa a dvojkopákových ataků sleví teprve vypjatá balada Before The Winter, ovšem hned od následující Legions už je to opět kompresor Etelka. Symphonic power metal, prošpikovaný dech beroucími sóly klapek a strun.
U razantní dělostřelby The Abyss Of Your Eyes mi plandaj nohavice u tesilek a po ní následuje přehlídka virtuozity hlavních protagonistů, instrumentální machrovačka Holy Light. Nad Paradise by zaplesal každý fanoušek Helloween z období Keeper of the Seven Keys a po druhé (a poslední) baladě Coming Home je tu závěr v podobě epické a pořádně rozmáchlé Visions (Southern Cross). Lepší tečku za albem bych si snad ani neuměl představit.
Dneska to s Timem vypadá všelijak. Čas od času probleskne zpráva o jeho boji s duševní chorobou, ale tenkrát byl ve výborné formě a z rukávu sypal hit za hitem. Já už tomu metálu moc nedám a recenzí jsem překvapil (asi nejen) sám sebe, ovšem docela mě zajímalo, jak si tohle album vede u fanoušků na progarchives. Světe div se, profil Stratovarius tam chybí a tak jsem musel vzít zavděk stránkami metalmusicarchives. Visions tu patří k vůbec nejlépe hodnoceným deskám jejich diskografie a já jen dodám, že zcela po právu.
SKLADBY:
01. The Kiss Of Judas  5:49
02. Black Diamond  5:39
03. Forever Free  6:00
04. Before The Winter  6:07
05. Legions  5:43
06. The Abyss Of Your Eyes  5:38
07. Holy Light  5:45
08. Paradise  4:27
09. Coming Home  5:36
10. Visions (Southern Cross)  10:17
SESTAVA:
Timo Kotipelto – lead vocals
Timo Tolkki – guitar, background vocals
Jens Johansson – keyboards, harpsichord
Jörg Michael – drums
Jari Kainulainen – bass guitar
Visoins
Stratovarius
Power Metal
T&T
1997
CD
10
CD T&T - TT 0031-2 /1997/