Zpěvák Rod Evans prošel prvním obdobím Deep Purple, v němž se mu podařilo zanechat nesmazatelný otisk. Trojice desek, na  kterých předváděl své pěvecké umění, nepatří nijak zásadně do výkladní skříně samotné kapely, ale něco se jim upřít přece nemůže. Pozvolna nastartovali kariéru jedné v nejpřednějších a rovněž nejúspěšnějších formací Captain Beyond a odešlému Rodu Evansovi, poskytli dobrý startovací bod k dalšímu, i když krátkému rozvoji.
Totiž to, co Deep Purple s Evansem pouze naznačili, dotáhli Captain Beyond (kapela postavená na troskách Iron Butterfly) do ultimativního konce. Ti do svého repertoáru dokázali zahrnout hned několik hudebních forem a tak se vedle opulentního hard rocku, ladně tyčili i další styly, jako art-rock, pár kapek blues, psychedelie i lehká příměs jazzová. Muzika tedy nikoliv všední, ba přímo naopak, omamně nevšední. Samotné album pak voní všemi možnými hudebními esencemi. Po ostýchavém rozjezdu Dancing Madly Backwards (On a Sea of Air), se to s o poznání artovějším rockem Armworth a hlavně košatým úderem na emoční komoru Myopic Void, začne pozvolna pořádně rozjíždět. Každá z písní hlásící o slovo, je takřka výrazně svérázným uměleckým dílem, které nepostrádá jak geniální nápady, originální melodie, tak právě díky míchání výše zmíněných ingrediencí, i tak mocný a opojný derivát neslyšeného.
Rod Evans toho na své hudební dráze mnoho nezaznamenal. Po dalším albu se z této branže vytratil, ale přinejmenším tohle dítko, se jemu i jeho kumpánům neskutečně povedlo.
SKLADBY:
01. Dancing Madly Backwards (On a Sea of Air) 4:02
02. Armworth 1:48
03. Myopic Void 3:30
04. Mesmerization Eclipse 3:48
05. Raging River of Fear 3:51
06. Thousand Days of Yesterday (intro) 1:19
07. Frozen Over 3:46
08. Thousand Days of Yesterday (Time Since Come and Gone) 3:56
09. I Can't Feel Nothing (Part 1) 3:06
10. As the Moon Sparks (To the Waves of the Sea) 2:25
11. Astral Lady 0:16
12. As the Moon Sparks (Return) 2:13
13. I Can't Feel Nothing (Part 2) 1:13
SESTAVA:
Rod Evans – lead vocals
Larry Reinhardt – acoustic, electric & slide guitars
Lee Dorman – bass, piano, backing vocals
Bobby Caldwell – drums & percussion, vibes, bells, piano, backing vocals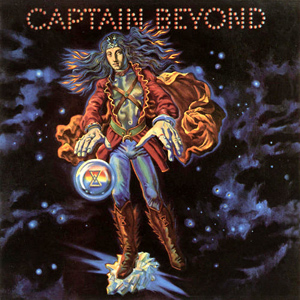 Captain Beyond
Captain Beyond
Hard Rock, Prog Rock
Capricorn Records
1972
LP
13