Všetky príspevky od Borek
Dneska zemřel bubeník Ginger Baker… Borec to byl.
V pátek vyšla očekávaná druhá část rockové opery o svaté Johaně z Arku. Na natáčení se s Bornemannem znovu podílelo letité jádro kapely (klávesisti Michael Gerlach a Hannes Folberth s basistou Klaus-Peterem Matziolem), jediným nováčkem v sestavě je bicmen Stephan Emig.
Jestliže mi první díl do ucha vlez až s odstupem, tenhle na první dobrou. Frank je Mistr příběhu, jeho angličtinu žeru.
Sílu Lanzonových sólovek to nemá, avšak i tady zpěvák Uriah Heep potvrdil, že nový repertoár mu nečiní problémy. Ty ale podle všeho neminuly merkuroidní postavu z přebalu, která neví, kde jí hlava stojí. Soudě dle názvu alba je na vině přebytek informací a není divu, i otrlce občas ještě něco zaskočí. Jako třeba dneska ten Trudeau…
"Cesta je nekonečná – dokud věříš – nemusíš se ničeho bát"
David Byron (Start Believing)

Deset měsíců po vyhazovu z Uriah Heep se David Byron připomněl albem krátkodobého superprojektu Rough Diamond a rok nato i druhou sólovkou, vzešlou ze spolupráce s hitmakerem Danielem Boonem. VIAC The Byron Band – On The Rocks, 1981 →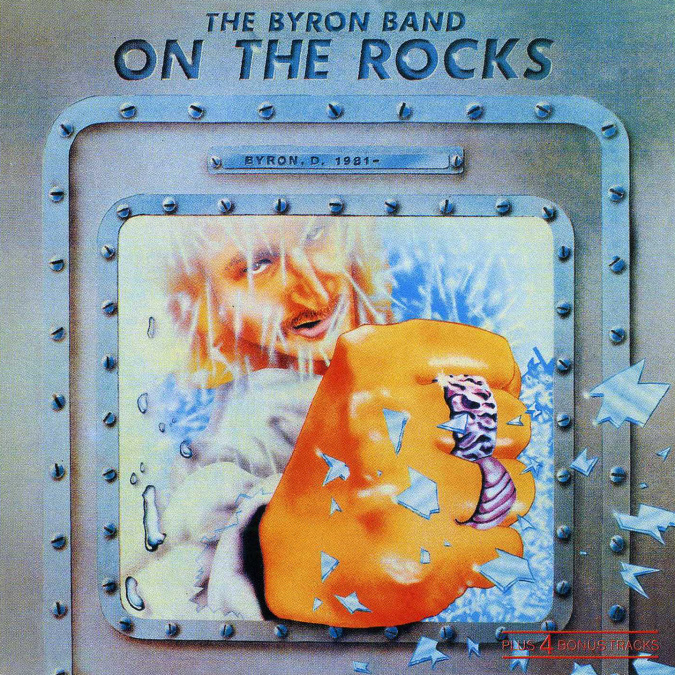 On The Rocks

The Byron Band

Hard Rock

Creole Records

1981

LP

8+4

CD Repertoire Records

I 28. srpen 2019 přinesl smutnou zprávu. Ve věku 72 let prohrál svůj boj s leukémií Norbert 'Charly' Maucher, baskytarista, zpěvák a spoluzakladatel legendárních Jane. VIAC Charly Maucher – Performance, 1980 →
Právě poslouchám první bezwatersovskou desku Pink Floyd A Momentary Lapse of Reason a zvolna při tom špekuluju nad termínem licenčního vydání u Supraphonu. Bez odkladu jsem tehdy investoval 120 Kčs a vsadil bych, že bylo právě v rozpuku jaro hektického revolučního roku. Každopádně mě zaujala nejen muzika, ale i závěrečná poznámka v průvodním textu Jiřího Černého: "V sezóně 1987-88 objeli Pink Floyd se svým novým programem kus světa včetně střední Evropy. Nač nepřiznat, že i já bych to rád viděl, třeba na Strahově."
Nedokázal jsem si to tenkrát představit, stejně jako nesvedu zapomenout na 7. září 1994… VIAC Pink Floyd v branách vzpomínání →
Devětašedesátiletý otec tří dětí, příležitostný malíř, pisatel krátkých povídek a na plný úvazek muzikant Philip James Lanzon vydal na jaře letošního roku knihu Curse of the Mudchalk Devil. Vypráví příběh o dívce, která dokáže hudbu nejenom slyšet, ale i vidět a se svým kamarádem se ocitne ve fantastickém paralelním světě, odkud již nemusí najít cestu zpět… VIAC 48 Seconds →
48 Seconds

Phil Lanzon

AOR

Phil Lanzon Ditties

2019

CD

10

Jediný album severoirský kapely s Henrym McCulloughem (Spooky Tooth, Joe Cocker, Wings) v produkci Jimiho Hendrixe, který si na něm i zahrál.
Jen respekt k minulosti v Twenty Sixty Six & Then a Kin Ping Meh mě přinutil vytrpět poslední sólovku v Německu žijícího anglického pěvce až do konce…
Holt každý stárneme po svém. Geff si tenhle proces nedávno zpestřil neúspěšnou účastí v německé verzi reality show The Voice Senior a singlem Brexit (Mind The Gap).
2LP s prvními alby The Piper at the Gates of Dawn a A Saucerful of Secrets. I Barrettovo období mám rád, nemůžu ale vystát, když Sydovi fanoušci dělaj, jako by to byl Waters a ne Gilmour, kdo ho v kapele vystřídal…
Bootlegový záznam koncertu z posledního turné, bo slibovaný oficiální titul s vystoupením v Amsterdamu dosud v nedohlednu.
Uriah Heep jsou jediným ze čtveřice základních pilířů britského hard rocku, jehož pozice je od nepaměti vratká. Ze zpochybňování jejich úlohy v dějinách se v průběhu let stal (mezi)národní sport, kdežto o postavení magických Led Zeppelin, ani temných Black Sabbath nebo živelných Deep Purple se nikdy nediskutovalo. Dlužno dodat, že po právu. Stejné zacházení si ovšem zaslouží i Uriah Heep, jejichž přívětivý hard rock, v němž se snoubí elegantní melodie, zvukomalebné hudební plochy a mistrně zvládnutá práce s vrstvením vokálů i atmosférou jednotlivých nahrávek, se stal vzorem pro nejednu známou formaci, jež se k jejich odkazu hrdě hlásí. VIAC Dobrou kapelu nemůžeš držet při zemi →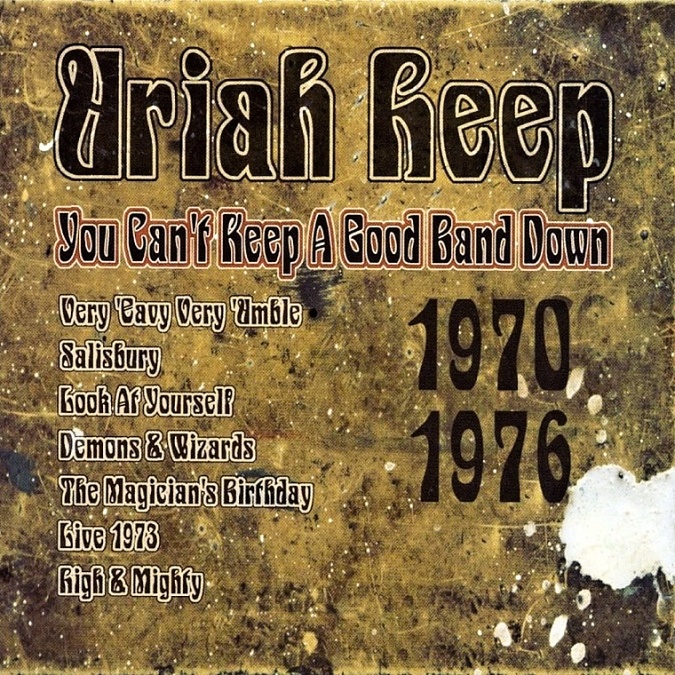 You Can't Keep A Good Band Down

Uriah Heep

Hard Rock

Castle Music

2002

8 CD

61

Bídně sehnatelnej debut krautrockový kapely s ex-frontmanem Streetmark Georgem Buschmannem. Produkoval Conny Plank.
X-krát odložený album, na který jsem se po povedeným debutu hodně těšil. Tož do toho.
Jednoalbový projekt vzešlý z coverových X-UFO s Dannym Peyronelem, podílníkem na osobně veleoblíbeném albu No Heavy Petting. K dobru mu nutno přičíst, že ze čtveřice svých skladeb pro UFO (Can You Roll Her, Highway Lady, Martian Landscape plus mimoalbová All the Strings), využil jedinou. A plusem budiž i povedený přebal v industriálním stylu.