Americkou kapelu Sir Lord Baltimore znám podle názvu už léta, ale jak to tak bývá, ne všechno se člověku podaří sehnat do své sbírky a prostě některá alba (a některé kapely) ke mně jednoduše nedoputovaly. Proto chci Hejkalovi moc poděkovat, že mi tuhle raritní kapelu věnoval jako dárek. S těmito americkými rockery jsem se dokázal sblížit na první poslech. Nejsem si jistý, jestli povědomost o téhle kapele je plošně široká a proto vítám příležitost o jejich albu Kingdom Come trochu "zameditovat". 
KINGDOM COME – od prvního tónu máme co dělat se syrovým hardrockem typickým pro počátek sedmdesátých let. Nekompromisní sound elektrické kytary, baskytary a bicích je doprovázen mocným hlasem zpívajícího bubeníka Johna Garnera. Hudba zní velmi drsně, dravě a vychází z nejlepších tradic zmíněného stylu. Samozřejmě, že je zde cítit vliv jiných inspirací – možná Black Sabbath, ale je to jenom pocit po první skladbě. Kytarové sólo je očekávané. Nepřináší sice nijak převratnou koncepci, třebaže svědčí o hráčské suverenitě, ale tímto způsobem hrálo a hraje dodnes hodně jiných kytaristů a tak by se asi těžko mohl stanovit jeho nositel. Dobrý nástup!
I GOT A WOMAN – úvodní riff přináší pulsující základ skladby. Když začnu vedle sebe stavět Hard Stuff, Budgie, Armageddon, Groundhogs, Blue Cheer, Andromedu, Babe Ruth, Warhorse, Tucky Buzzard… mohl bych se asi snadno splést (bez ohledu, jestli některé jmenované kapely mají nebo nemají klávesy). Energická porce pořádně zahuštěného hudebního materiálu v silovém pojetí s poměrně jednoduchou hudební strukturou.
HELL HOUND – sabbathovský model hudby je zde hodně čitelný, dokonce i s použitým riffem, ale zpěvák se pouští ještě dál než Ozzy Osbourne. Kytarista Louis Dambra zde má hodně práce s doprovody a v mezihře s kytarovým sólem. Ekvilibristicky je rychlý a rockově nekompromisní, ale jeho vynalézavost má svoje mantinely. Bicí nástroje ovšem jedou jako složité strojové ústrojí a jízda na plný plyn je samozřejmostí…
HELIUM HEAD (I GOT A LOVE) – zajímavý úvod. Zejména rytmicky. Bicí zde hrají polyrytmické struktury, trochu se v tom překotném hukotu ztrácí baskytarová linka, ale kytarové party střídají doprovody, sekané akordy a zrychlený kytarový mlýn posluchače strhává k zemi. Také zde zaznívají pokusy o rockový chorál. V určitém momentu, jakoby se do skladby vmísil tak trochu úderný riff z legendární první "hardrockové" skladby vůbec, You Really Got Me od Kinks. Prozatím asi nejkomplexnější ukázka hardrocku se vším všudy, kde se udržují napětí, dynamika a drsnost od začátku až do konce…
AIN'T GOT HUNG ON YOU – ani další skladba není výjimkou. Tady kupodivu vystupuje z "anonymity" baskytara Garyho Justina a dostává se více do popředí a jede ruku v ruce se syrovými kytarovými party, kde se to mísí škrabáním strun a rychlými kytarovými begleity a protahovanými tóny úderného riffu. Unisona baskytary a kytary jsou až superpřesná a také bicí nabízejí vpravdě ďábelskou hru podle nejlepších pravidel.

MASTER HEARTACHE – jak už bylo mockrát jinde řečeno: hardrock stojí a padá s chytlavě sestaveným a vypilovávaným riffem, případně s větším počtem riffů. Tady tato formulace platí bezezbytku. Jako milovník klasického rocku tuto okolnost dokážu docenit, ale na druhé straně bych už v šesté skladbě uvítal nějakou pronikavější změnu a zjistil, co je skupina schopna vymyslet ve studiu. Na koncertě (aniž bych je viděl naživo) asi byli nedostižní svým energetickým potenciálem, otázkou je, jak by dokázali pracovat třeba s hardrockovou baladou, případně s hostující akustickou kytarou nebo klávesami(?!). Skladba je ovšem na vysoké úrovni a ve svém žánru patří mezi výkladní zboží…
HARD RAIN FALLIN' – další hardrockový kousek. Prostor pro kytarové vyjádření je téměř neomezený a pokud není zvuk dodatečně ve studiu upravován, tak se ve vypjatých okamžicích kytarista svými superrychlými běhy po krku svého nástroje dostal na samotný vrchol vystavěného mrakodrapu. Předvádí tady opravdu ďábelské kousky. Kapela má můj obdiv, který jde ruku v ruce s hudební prezentací. Mírně nahalovaný interpretační způsob zpěvu vrací zpěváka do doby nejdravějšího rock and rollu. Tohle je hudba pro pravé drsňáky a svou nekompromisní formou si je schopna zajistit úspěch i u dnešního posluchače, třebaže pro někoho bude znít "archaicky".
LADY OF FIRE – zajímavé kytarové vyhrávky a vůbec komparace kytarového sólování a divokých begleitů je hraná velmi sebevědomě a nekompromisně. Nabízí se otázka, jak tohle všechno mohlo znít naživo, když byl v kapele jeden kytarista se dvěma rukama a logicky "zajistit" komplexní sound totožný se studiovou nahrávkou nebylo technicky možné(!?). Asi bych mohl zase jmenovat inspiraci zvenčí, ale nechce se mi do toho. Výsledný produkt je přesvědčivý.
LAKE ISLE OF INNERSFREE – pozor! Velká změna! Kovový zvuk cembala (harpsichordu) na mě působí jako balzám a přesvědčuje o tom, že kapela je schopna velmi výrazné proměny. Hlas zpěváka je vroucnější a hlubší, cembalo pracuje ve všech historických souvislostech mezi renesancí a barokem. Hlas zpěváka se teď kupodivu přibližuje v protahovaných koncovkách k Jacku Bruceovi. Nádherná balada. Nechybí zde ani vokál (ženský host?). Jako bych se ocitl v zámeckých komnatách, na hlavě mám alonžovou paruku, rozmařile se povaluji na lenošce a čekám, kdy mi sluha přinese moje oblíbené víno a zvažuje, jestli bude pokračovat moje rozmařilé lenošení, a nebo se vypravím na projížďku kočárem po svém lesoparku. Velmi, velmi příjemná odbočka!
PUMPED UP – konec snění! Zase jsme zpátky na nekompromisní hardrockové půdě. Kde se opět prolíná forsírovaný syrový vokál s dravými kytarovými běhy, dunícími basy a pulsujícími bicími. Kytarové sólo vévodí skladbě, ve které opět  slyšíme technické vybavení strojové hry do posledního detailu a kapela hraje, jakoby upsala svou duši ďáblu. Nažhavená hudební prezentace v tom nejlepším slova smyslu. Nikdo se tady nešetří a nikdo nehraje ani "při zdi" ani nijak "napůl", prostě se vysvlékají z kůže až do konce.
Sir Lord Baltimore jsou hardrockovými reprezentanty první ligy – chce se mi říci – že v daném pojetí místy i extraligy. Pravda – termín "Kingdom Come" je zavádějící. Jmenuje se tak album Arthura Browna a jmenuje se tak i skupina, která navázala v osmdesátých letech na odkaz Led Zeppelin. Milovníkům nekompromisního rockového soundu mohu album vřele doporučit. Občas si sice vzpomenete na jiné svoje oblíbence daného hardrockového žánru, ale albu to neubližuje a vám snad taky ne. Ano, za to nasazení mohu dát plný počet hvězdiček. Energetický potenciál je na velmi vysoké úrovni a o tom se po poslechu určitě necháte přesvědčit, nehledě na suverénní ovládnutí nástrojů a komplexnost podání.
Poznámka: pořadí skladeb na mém CD neodpovídá seznamu na původním vydání LP. Za to ale nemůže kapela, ale produkce a vydavatel. Jinak to seřadil label Mercury a jinak PolyGram. Zase jeden vydavatelský šlendrián, který nás sběratele uvádí do zbytečných zmatků a pochybností. (K čertu s nimi!)
SKLADBY (původní LP):
01. Master Heartache 4:37
02. Hard Rain Fallin' 2:56
03. Lady Of Fire 2:53
04. Lake Isle Of Innersfree 4:03
05. Pumped Up 4:07
06. Kingdom Come 6:35
07. I Got A Woman 3:03
08. Hell Hound 3:20
09. Helium Head (I Got A Love) 4:02
10. Ain't Got Hung On You 2:24
SESTAVA:
Louis Dambra – guitar
Gary Justin – bass
John Garner – lead vocals, drums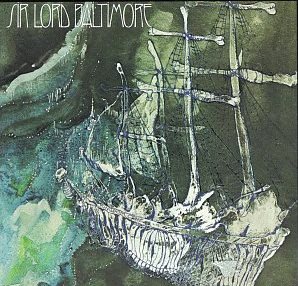 Kingdom Come
Sir Lord Baltimore
Hard Rock
Mercury
1970
LP
10
CD - Mercury/PolyGram, 1994