CD+DVD Afrakà, Ma.Ra.Cash Records – DDM2021  /2021/
Osanna si loni připomněla jen těžko uvěřitelných padesát let od vydání slavného debutového alba L'uomo a tohle parádní, kulaté výročí oslavila ve velkém stylu. Na jeho počest natočila zbrusu novou desku "Osanna 50 – Il diedro del Mediterraneo", kterou doprovodili dokumentární film o kapele Osannaples (režie M. Deborah Farina) a kniha L'uomo, s podtitulem "Vita e arte di Lino Vairetti e degli Osanna". Napsal ji Franco Vassia a jak už název napovídá, je o životě a umělecké tvorbě Lina Vairettiho…
Knížku jsem si nekoupil, ale po cédéčku jsem hrábnul hned, jak to bylo možné. Je to tradičně pěkně zpracovaná mini vinyl replika z lesklého papíru, která navíc obsahuje i bonusové DVD s dokumentem Osannaples. Obálka patří k těm jednodušším (tím však nemyslím, že by byla odbytá), ovšem přiložený booklet je luxusní. Je to objemná brožura s texty písniček, kredity a spoustou fotografií. Specialitkou je předmluva v angličtině, kterou napsal David Jackson (ex VdGG).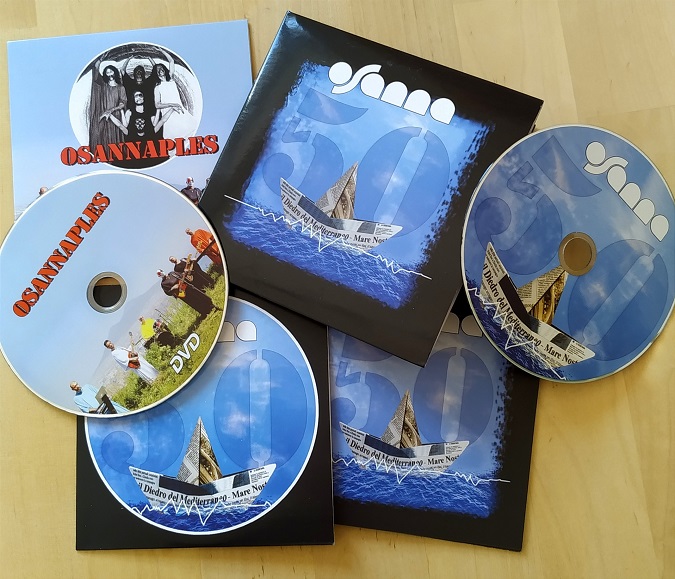 Album nabízí jedenáct kousků, rozprostřenejch na ploše necelých 47 minut a stylově je to klasická Osanna posledních let. Tím mám na mysli melodický (prog)rock, kořeněný prvky jazzu a středomořské lidové hudby. Ačkoli těch tu tentokrát není ani zdaleka tolik, jako na (před)poslední, Neapoli věnované studiovce Palepolitana (2015).
Kraťoulinká introdukce Spirit je zajímavá především účastí jednoho ze zakladatelů skupiny Lella Brandiho, kterej se však místo basy chopil dechového nástroje didgeridoo. Ten mi pasuje hlavně k australským domorodcům a kam přesně tím Osanna cílí je pro mě záhadou, ale budiž. Titulní Il diedro del Mediterraneo je necelých pět minut dlouhou recitací, se střídmým hudebním podkladem v pozadí. Lino Vairetti zní velmi naléhavě a jistě má na srdci důležité sdělení, ale pro italsky  nehovořící posluchače to budou – bohužel – jen prázdná slova.
Za jednoznačné vrcholy alba považuji chytlavou Ti Ritroverò, s bezprostředně a plynule navazující L'Uomo del Prog. Ty spolu tvoří jednu výjimečně dlouhou, členitou suitu a je tu od každého kousek. Krouhající kytary, melodramatické smyčce aj výtečnej, křišťálově čistej jazz. Zmínit musím rovněž přitažlivé melodie a charismatickej přednes Lina Vairettiho. Frontmana s hlasem od pánaboha, bez kterého by to nebylo ono…
Písničku Tu Vairetti věnoval (ostatně, jako celé album) původnímu kytaristovi Danilo Rusticimu, který zemřel 26. února 2021 na zdravotní komplikace způsobené onemocněním Covid-19. Je to vkusná, melodická balada a sólem na saxofon přispěl i legendární "vandergraaf" David Jackson. V podobném stylu se nese následující semiakustická píseň Signori della Terra, volně inspirovaná tvorbou Boba Dylana a blok pomalejších skladeb uzavírá sedmá Tempo. Příjemná věc se snadno zapamatovatelným refrénem a parádními "vintage keys" Irvina Vairettiho.
Zuoccole, Tammorre e Femmene je krátkým úryvkem z poémy Antonia De Curtis, na nějž navazuje energický dupák Zuoccole e Tammorre. Tvrdej rock, kříženej se středomořskou lidovkou a textem v neapolském dialektu. Pro fanoušky Osanny žádné překvapení, protože něco podobného ji provází už od legendárního LP Palepoli (1972). Pecka je to navíc velmi chytlavá a moc se mi líbí doprovodnej zpěv hostující F. Calogero.
Předposlední Mare Nostrum je hardrockovou rubanicí ve středním tempu a s tou foukačkou a saxofony jako kdyby vypadla z debutového alba L'uomo. Hodně připomíná právě z debutu pocházející pecku Mirror Train a v jejím závěru už se dostaví pocit nefalšovaného déjà vu. Obě skladby totiž končí úplně stejným kytarovým sólem, které je svéráznou adaptací italské komunistické písně "Bandiera rossa". Danila Rusticiho inspiroval Jimi Hendrix, který na Woodstocku 69 šokoval americkou hymnou a tak si připravil něco podobného. Je to pěkné uctění památky původního kytaristy skupiny a na vlnách melancholie pluje i závěrečná Caracalla '71. Lino Vairetti v textu vzpomíná na průběh hudebního festivalu ze 7. května roku 1971 a na dobu, kdy se rodila italská hudební revoluce. V refrénu se opakují slova "Osanna, Osanna" a lepší tečku za albem si ani neumím představit…
Po kapele, která je na scéně víc jak padesát let a má frontmana ročník 1949 nechci víc, než melodický a přiměřeně tvrdý rock, kterým nebude popírat svoje kořeny. Dostal jsem přesně to, co jsem očekával a bonusem navíc je atraktivní balení a velmi dobrý zvuk. Já jsem spokojenej a jsem přesvědčenej o tom, že spokojení budou i fanoušci Osanny. Nezbývá než doufat, že ještě neřekla svoje poslední slovo.
Dokumentární film Osannaples by asi zasluhoval samostatnou recenzi, ale vezmu to hopem. Téměř dvě hodiny (110 minut přesně) dlouhej biják jsem viděl teprve třikrát a určitě to nebylo naposledy. Obsahuje spoustu dobového materiálu, ovšem jinak je založenej především na vyprávění Lina Vairettiho a jeho přátel. Hodně povídání, ale i muziky. Lino vzpomíná nejenom na začátky skupiny, ale vůbec celého kulturního hnutí "Naples Power" a nevynechá ani krátkou etapu kapely Città Frontale. Když jsem psal před časem recenzi jejich jediného alba El Tor, nenašel jsem na webu kloudnou fotografii. V dokumentu se jich objeví celá řada a dokonce se našlo i několik velice raritních filmových záběrů. Režisérka M. Deborah Farina vyzpovídala celou plejádu osobností italské hudební scény a tak se na obrazovce objeví třeba Gianni Leone, Vittorio De Scalzi, Corrado Rustici, Aldo Tagliapietra, nebo Tony Esposito a došlo i na pár prominentních hostů ze zahraničí. Myslím, že každého fanouška potěší slova Davida Crosse, Carla Palmera, či Davida Jacksona. Film je pochopitelně italsky, ovšem nechybí titulky v angličtině a tak si ho může vychutnat téměř každý fanoušek prog rocku z první poloviny sedmdesátých let.
SKLADBY:
01. Spirit (00:24)
02. Il diedro del Mediterraneo (04:40)
03. Ti Ritroverò (06:35)
04. L'Uomo del Prog (06:15)
05. Tu (05:05)
06. Signori della Terra (03:23)
07. Tempo (05:13)
08. Zuoccole, Tammorre e Femmene (01:25)
09. Zuoccole e Tammorre (03:34)
10. Mare Nostrum (04:47)
11. Caracalla '71 (04:58)
SESTAVA:
Lino Vairetti – Vocals, Acoustic Guitar, Harmonica, Narration (2)
Gennaro Barba – Drums
Pako Capobianco – Electric & Acoustic Guitars
Enzo Cascella – Bass
Sasà Priore – Piano, Organ, Synth
Irvin Vairetti – Vintage Keyboards, Vocals
+
Lello Brandi / Didgeridoo (1)
Carlo Avitabile / Percussion (2)
Vincenzo Zitello / ARP, Synth, Violin, Cello (2)
Gianluca Falasca / Violin (3,4,9)
Mauro Martello / Flute (3), Cello (4)
Falasca String Quartet / Strings (5)
David Jackson / Saxophone (5)
Francesco Paolantoni / Narration (8)
Stella Manfredi / Violin (8)
Fiorenza Calogero / Vocals (9)
Saverio Guigliani / Saxophone (10,11)
Il Diedro Del Mediterraneo
Osanna
Prog Rock
Afrakà, Ma.Ra.Cash Records
2021
CD + DVD
11
Afrakà – DDM2021, Ma.Ra.Cash Records