V košickom Collosseu vystúpi 3. októbra 2019 gitarový mág Paul Gilbert
Do Košíc mieri jeden z najlepších svetových rockových gitaristov Paul Gilbert. Tento fenomenálny muzikant sa preslávil ešte v roku 1985 v kapele Racer X. V nej si získal povesť jedného z najrýchlejších a najtechnickejších gitaristov na svete. Paul ale po troch rokoch Racer X opustil a s basgitaristom Billy Sheehanom, spevákom Ericom Martinom a dnes už nebohým bubeníkom Patom Torpeym založili superband Mr. Big, ktorý do svetových hitparád doslova katapultovala ich balada To Be With You, ktorá sa v roku 1992 umiestnila na prvých priečkach hitparád v 15 krajinách sveta a v hitparáde Billboard Hot 100, čo je najprestížnejší rebríček hranosti piesní, dosiahla prvé miesto.
Kapela, zložená zo samých elitných muzikantov, vydala v rokoch 1989-2017 deväť štúdiových albumov v rovnakej zostave, až na dve výnimky, albumy Get Over It a Actual Size, na ktorých Gilberta nahradil rovnako geniálny gitarista Richie Kotzen.
Po celosvetovom úspechu Mr. Big a vyčerpávajúcom turné si Paul Gilbert zobral "neplatenú" dovolenku a venoval sa sólovej tvorbe, ktorá priniesla skvelé nahrávky. V roku 2009 sa zúčastnil reunionu Racer X, fungujúcim v zostave Scott Travis (Judas Priest), Juan Alderete (Mars Volta) a Jeffery Martin (MSG).
Rok 2019 priniesol nový Paulov album
Čo sa týka sólových albumov, od vydania posledného, si dal Paul trojročnú pauzu a nový album, nazvaný Behold Electric Guitar mu vyšiel až v máji tohto roku. Obsahuje 12 skladieb, ktoré nahral s basgitaristom Rolandom Guerinom, klávesákmi Asherom Fuleroom a Billom Rayom a dvoma bubeníkmi – Reinhardtom Melzom a Brianom Foxworthom. Producentom je legendárny John Cuniberti, známy zo spolupráce s takými esami,  ako Joe Satriani, Sammy Hagar, Red Hot Chilli Peppers, Van Halen, Aerosmith…
Už 3. októbra 2019 v košickom klube Collosseum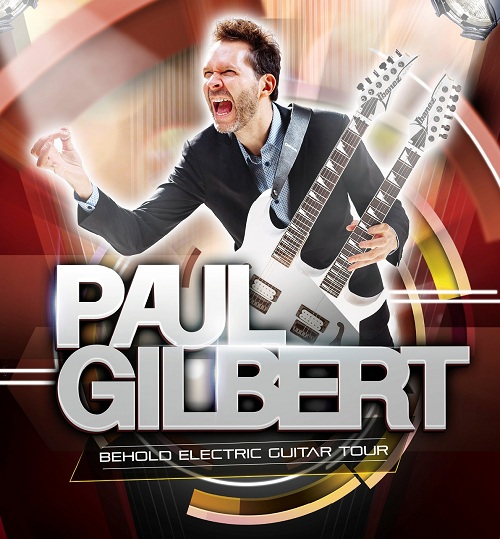 Počas svojho celoročného turné koncertuje Paul Gilbert v USA, Kanade, Japonsku, množstve európskych krajín a na svojej mape nevynechal ani Košice. Tento rockový gitarový virtuóz z "Top 5 Shredders of All Time" – tak jeho doterajšiu umeleckú tvorbu ocenil prestížny magazín Guitar One, sem prichádza so svojím najnovším albumom. V Collosseu predstaví nielen túto aktuálnu novinku, ale aj prierez svojou bohatou, vyše tridsať rokov trvajúcou kariérou, vrátane hitov kapely Mr. Big!