CD Warner Fonit ‎– 3984 28279-2
Album Palepoli je třetím v diskografii neapolskejch Osanna a předchází ho skvělá pověst – uznává ho nejen odborná kritika, ale aj fanoušci italského progresivního rocku. Stačí mrknout na žebřík stovky nejlepších alb (RPI) podle progarchives a najdeme ho na čtrnáctém místě, s aktuální průměrnou známkou 4,24. A to už o něčem svědčí…
Na druhou stranu to ale neznamená, že si z něj musíme sednout všichni na zadek. Jako jedno z nejzásadnějších alb italské rockové historie jsem ho chtěl mít pochopitelně ve sbírce a jelikož je snadno dostupné, brzy se tak stalo. Jenomže ani po letech tvrdé práce a spoustě poslechovejch seancí jsem si k němu nedokázal vytvořit nějakej bližší vztah. Je to trochu tvrdej oříšek a jeho poslech bych mohl přirovnat k jízdě na horské dráze. Pomalu nahoru a pak šupem dolů. Se spoustou zatáček, změn rychlosti a značným přetížením.
Obsah alba bych popsal jako poněkud těžce stravitelnej guláš, složenej ze symphonic progu, hard rocku, jazzu a prvků lidové hudby a nebudu-li počítat kratičké intermezzo, obsahuje pouhé dvě – zhruba dvacet minut dlouhé – skladby. Klidné a melodické chvilky vybarvené mellotronem střídají neurvalé pasáže ala King Crimson, s ataky rozzuřených saxofonů a bezuzdně sólující flétny. Zhruba každou třetí minutu na mě bafne novej motiv a člověk tak musí bejt furt ve střehu. Selanka, ro(c)kec, blázinec. Při prvních nástřelech to na mě působilo až chaotickým dojmem a byly dny, kdy jsem to prostě nezvládal, po několika málo minutách vypnul a nechal uzrát a uležet.
Je to trochu podobné, jako s plackou Ys souputníků Il Balleto di Bronzo. Podobnej virvál, taky vysoko hodnocenej a taky jsem mu nepřišel na chuť. Hráč na dechové nástroje Elio D'Anna se inspiroval u Van Der Graaf Generator a funí (aspoň na dostupných snímcích italské televize) do dvou saxofonů naráz. Což je obdivuhodné. Na druhou stranu právě jeho trýznivá sóla koušu docela těžko a kroutěj se mi při tom palce u nohou. Na remakeu Palepolitana z roku 2015 už do saxofonů fouká sám David Jackson a najednou je to o něčem úplně jiném. Díky jeho daleko citlivějšímu projevu a neporovnatelně lepší produkci je mi ten remake mnohem bližší, než originál.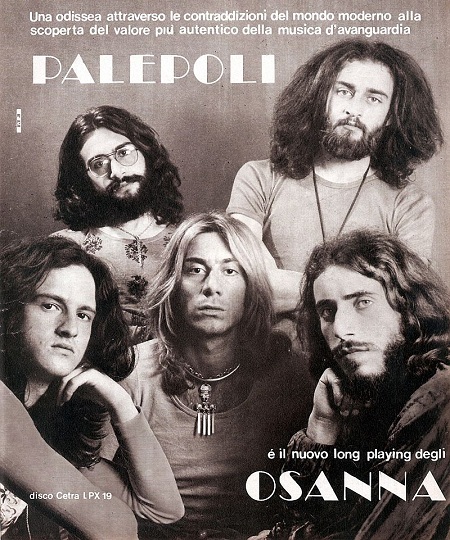 Původní album z roku 1973 je snadno dosažitelné a navíc vyšlo v mnoha dalších reedicích jak na vinylu, tak na CD. Můj kotouč pochází od Warner Fonit a byl vylisovanej jako součást ediční řady "Rock Progressivo Anni 70". Jeho zvuk je však poměrně špatnej, nevyváženej a zahuhlanej, ale chyba bude asi – bohužel – už v originálním masteru. Proč bohužel? Protože takhle intenzivní a náročná hudba potřebuje špičkovej zvuk, jinak je z toho spíš bolehlav. Čtyřstránkovej booklet obsahuje zajímavou koláž a tracklist, jména hudebníků – kupodivu – chybí.
Kdepak, Osanna sice patří k mým srdcovkám, ale album Palepoli považuji za to nejnepřístupnější (nikoliv nejhorší) z jejich diskografie a nemůžu mu dát víc, než hódně slabou trojku. Mi dispiace, ragazzi…
SKLADBY:
1. Oro caldo (18:30)
2. Stanza cittá (1:45)
3. Animale senza respiro (21:36)
SESTAVA:
Danilo Rustici – Acoustic Guitar, Electric Guitar, Twelve-String Guitar, Steel Guitar, Organ, Vocals
Elio D'Anna – Baritone Saxophone, Soprano Saxophone, Tenor Saxophone [Electric], Alto Saxophone [Electric Contralto], Flute, Vocals
Lello Brandi – Bass, Guitar
Massimo Guarino – Drums, Percussion, Vibraphone, Bells, Vocals
Lino Vairetti – Twelve-String Guitar, Mellotron, Synthesizer, Vocals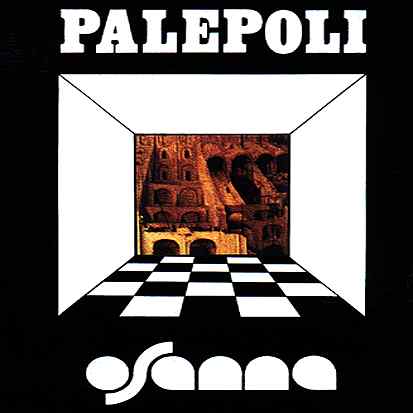 Palepoli
Osanna
Prog Rock
Fonit
1973
LP
3
CD Warner Fonit ‎– 3984 28279-2