Co svět světem stojí, každý měsíc přinesl řadu událostí hodných zmínky. Některé si možno připomenout s respektem, jiné s nostalgií či shovívavým úsměvem, další s lhostejností nebo rozpaky, nedejbože hrůzou. Bezpochyby jsou však mezi nimi i takové, které lze zahrnout do kategorie "nezapomenutelný zážitek". Jak dokládá několik vybraných příkladů, ani říjen 1965 nebyl výjimkou; tehdy mimo jiné:
• Zemřel švýcarský chemik Paul Hermann Müller, který v roce 1939 vyvinul insekticid DDT. V roce 1948 mu byla udělena Nobelova cena za fyziologii a medicínu.
• Ernesto 'Che' Guevara opustil kubánskou politickou scénu. V dopise, který přečetl Fidel Castro kubánskému lidu, Guevara uvedl: "Splnil jsem své povinnosti v kubánské revoluci a nyní mě čeká práce v jiných zemích světa."
• Papež Pavel VI. navštívil USA. Sloužil mši na Yankee Stadium v New Yorku a přednesl projev v sídle OSN.
• Profesionální klávesista Manfred Sepse Lubowitz se skupinou Manfred Mann a zpěvákem Paulem Jonesem představili svoji show dvakrát v pražském PKOJF a bratislavské Sportovní hale (s The Beatmen v roli předkapely*) a jednou v Uherském Hradišti, kde někteří diváci odcházeli, protože se jim produkce zdála moc hlučná.
• Druhé narozeniny oslavil jeden z účastníků příštího koncertu Manfreda Manna v Praze.
Nepatřil jsem tedy k těm, které 28. květence 2009 do klubu Retro Music Hall přivedly čtyřiačtyřicet let staré vzpomínky na britskou invazi do Československa, lákala mě především neskonalá chuť slyšet naživo některý z evergreenů, jichž si Earth Band na své konto připsal nespočet. A pevná víra, že vedle nepřeberné zásoby z prvních šesti vydařených desek, natočených mezi únorem 1972 a srpnem 1975 sehraným kvartetem Manfred Mann (klávesy), Mick Rogers (kytara, zpěv), Chris Slade (bicí) a Colin Pattenden (baskytara), nezůstane stranou výběrové pozornosti ani sedmá studiovka, od Bandu má nejoblíbenější.
Pod názvem The Roaring Silence se na trhu objevila 27. srpna 1976 a vůbec poprvé formaci představila v pozměněném složení. Micka Rogerse, který svým odchodem na přelomu let 1975-76 odstartoval personální nestabilitu souboru, nahradila hned dvojice muzikantů, skotský kytarista David Flett a anglický zpěvák s kytarou Chris Thompson, který prožil mládí na Novém Zélandu.
Obrozená sestava vzápětí vyrazila do domovského nahrávacího studia Workhouse, založeného v polovině šedesátých let v londýnském West Endu pod názvem Maximum Sound legendární postavou anglické studiové scény Vicem Kearym. Po přestěhování na Old Kent Road v jihovýchodním Londýně se jeho majitelem stal Manfred Mann spolu s někdejším parťákem Mikem Huggem, od roku 1973 byl kapelník Earth Bandu jediným vlastníkem.
Při natáčení alba The Roaring Silence se tady na jaře 1976 sešel kvartet doprovodných pěvců, když osvědčené duo Chanter Sisters doplnila novozélandská hvězda Susanne Lynchová a ztracený syn Rogers. Dalším nepřeslechnutelným hostem ve studiu byla saxofonistka Barbara Thompsonová, jejíž sólový příspěvek, kterým vrcholí skladba Singing The Dolphin Through, bere dech i po letech.
Bez povšimnutí ovšem nemožno přejít ani úvodní song, jímž je předělávka pozapomenuté Springsteenovy Blinded By The Light, která znovu potvrdila, že Manfred Mann měl vytříbený cit nejen pro výběr muzikantů, ale i těch nejvhodnějších předloh. Z písně se stal mezinárodní hit (# 1 US), řeči o komerci však třeba nechat stranou. V případě titulu The Roaring Silence jde o víc. Album je úchvatnou přehlídkou mistrovsky zvládnutého syntezátorového prog/art rocku, příležitostně osvěženého závanem psychedelie i chapterovských dozvuků jazzu. Jeho povznášející atmosféru dotváří nápadité melodie a Thompsonův osobitý hlas.
Co na tom, že vedle Bosse se tu sešlo několik dalších inspirátorů: Philip Hayes (The Road To Babylon), Igor Stravinskyj (Starbird) a Franz Schubert (Questions). Koneckonců i naživo zaznamenaná instrumentálka Waiter, There's A Yawn In My Ear potvrzující skladatelský um leadera Earth Bandu a instrumentální zdatnost všech zúčastněných převzala ústřední riff ze skladby Fish, připravené na nerealizované třetí album Mannova projektu Chapter Tree (svého vydání se dočkala až v roce 2005 v rámci kompilačního Boxu Odds & Sods – Mis-takes & Out-takes).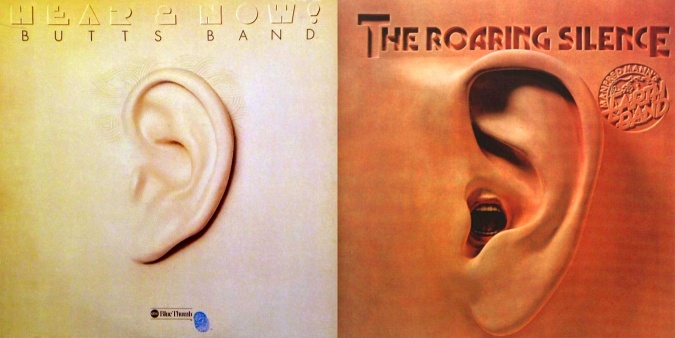 S názvem alba (Řvoucí ticho) navíc dokonale koresponduje i jeho obal, jemuž na působivosti nic neubírá ani podoba s o rok starším titulem Hear & Now! post-doorsovského projektu Butts Band. Je dílem designerského studia Shirtsleeve, majícího v polovině sedmdesátých let na svědomí několik známých prací (War Child, High And Mighty, Songs From The Wood aj.), v některých případech však doznal značných změn.
Snad ani nepřekvapí, že tu nejzásadnější prodělal v CCCP (Melodija, 1980), kde z ústředního motivu nezbylo zhola nic, zatímco první severoamerické reedice alba změnily barvu přebalu, což "kompenzovaly" přidáním další úspěšné Springsteenovy předělávky Spirit in the Night, známé již z předchozí studiovky Nightingales & Bombers, tentokrát ale s Thompsonovým zpěvem. A nejednalo se o jediný zásah do původního uspořádání stop. Premiérové vydání alba na CD (BMG, 1987) i nedatované reedice od Cohesion neodolaly zamíchat pořadím skladeb, když přehodily třetí song v pořadí Waiter, There's A Yawn In My Ear se závěrečnou Questions…
Ani reediční mouchy však nic nezměnily na celosvětovém úspěchu alba a na těžko definovatelném pocitu soudržnosti, který ve mně jeho poslech od dávné premiéry vyvolává. A co víc, z hudby samotné jsem nikdy nepřestal cítit zvláštní vůni – sedm skladeb, sedm různých vonných esencí, které v případě The Roaring Silence dají vzniknout tomu nejpozoruhodnějšímu parfému. S vůní, která vrací sny.
PS: Dočkal jsem se. Blinded By The Light byla ozdobou nezapomenutelného večera (viz report).
SKLADBY:
A1. Blinded By The Light (Bruce Springsteen) 7:06
A2. Singing The Dolphin Through (Mike Heron) 8:16
A3. Waiter, There's A Yawn In My Ear (Manfred Mann) 5:35
B1. The Road To Babylon (Mann/Thomas/Pattenden) 6:49
B2. This Side of Paradise (Mann/Pattenden/Thomas) 4:45
B3. Starbird (Mann/Slade) 3:05
B4. Questions (Slade/Mann) 3:55
Nahráno: The Workhouse, Old Kent Road, Londýn, 1976
Zvuková režie: Laurence Latham
Asistence: David Culpan, Margaret Wood a Tony Rowell
Produkce: Manfred Mann a Earthband
Design přebalu: Shirtsleeve Studio
Fotografie: Martyn Goddard
SESTAVA:
Manfred Mann – klávesové nástroje, zpěv (A1, závěr)
Colin Pattenden – basová kytara
Dave Flett – sólová kytara
Chris 'Hamlet' Thompson – zpěv, kytara
Chris Slade – bicí, perkuse, doprovodný zpěv
Hosté:
Barbara Thompson – saxofon (A2)
Doreen a Irene Chanter, Susanne Lynch, Mick Rogers – doprovodný zpěv
David Millman – smyčce
Sbor:
Marilyn Bennett, Janet Bunting, Jacqueline Nicholls, Graham Jenkins, Peter Cudmore, Stan Bailey, Gillian Ainscow, Philip Keywood, Chris Sennett, Laurence Holden, Jeremy Paynton-Jones a Hilary Farmborough
Kytarová sóla:
Dave Flett, s výjimkou Singing The Dolphin Through (Chris Thompson) a Starbird (střídavě Mann, Flett, Mann, Thompson)
* Záznam bratislavských koncertů je k mání na CD Manfred Mann – Beyond The Iron Curtain, Live In Czechoslovakia Bratislava 7th-8th Oct 1965 (2015) a The Beatmen – Are Goin' On, Live In Bratislava 1965 (2017).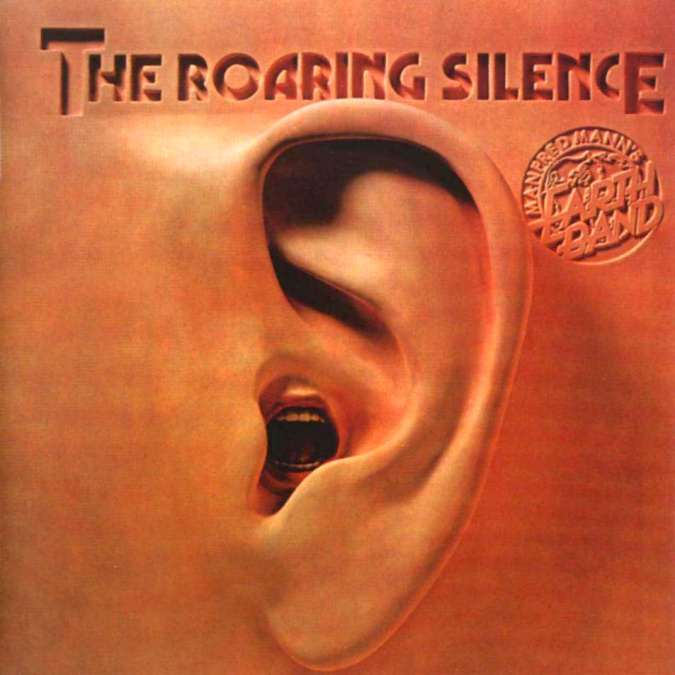 The Roaring Silence
Manfred Mann's Earth Band
Prog/Art Rock
Bronze
1976
LP
7