Začiatkom sedemdesiatych rokov minulého storočia sa na slnečnej Floride, v meste Fort Lauderdale, dali dokopy mladíci, ktorí milovali tvrdú muziku. Začínali ako Souls Image a po určitých personálnych zmenách pristúpili k údernejšiemu menu – Bolder Damn.
Ktovie, či existuje v rockovej histórii podobná kapela? Prečo ten otáznik? Dá sa totiž povedať, že k nahrávke albumu Mourning podstatným dielom prispela kritika v miestnych novinách. Ako k tomu prišlo? Skupina predskakovala nastupujúcej megahviezde menom Alice Cooper a report z koncertu uvádzal, prečo sa Bolder Damn, takí nadaní a šikovní muzikanti, zaoberajú prevzatými vecami a neponúknu vlastný materiál…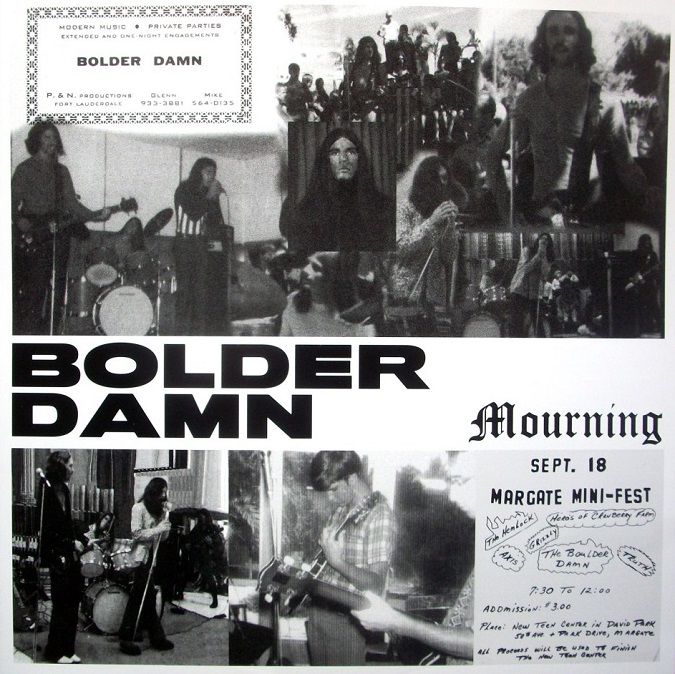 Zdravo nasrdení hudobníci dali hlavy dohromady. S finančnou pôžičkou od manažéra a za pomoci kamarátov zaznamenali počas jedného dňa, vraj za štyri hodiny, celý materiál v štúdiu Hyperbolic, v lokalite Oakland Park. Podľa slov z tábora, texty niekedy nevedia vysvetliť ani samotní autori, častokrát sa môžu javiť ako zmätočné. Vo všeobecnosti však rozprávajú o živote. Hlavne však o smútku z toho svinstva, ktoré sa dialo okolo, aj zo samotnej politiky. Nezabúdajme, že USA vtedy pomocou napalmu šírili demokraciu vo Vietname. Preto tie spojené dlane k modlitbe na obale…
A čo hudba? Ako som písal v úvode, Bolder Damn bola partia, ktorá milovala hard rock. Počúvala všetkých, ktorí sa touto muzikou zaoberali, preto čerpala inšpiráciu od takých vážených firiem, akými boli Alice Cooper, Black Sabbath, Grand Funk Railroad, Deep Purple, The Doors, Jimi Hendrix, Led Zeppelin. Podľa samotného frontmana kapely, Johna Andersona, by však tento zoznam bol nekonečný. Navyše, podarilo sa im vystupovať pred zvučnými menami – okrem spomínaného Vincenta Furniera – to boli napr. Blue Cheer, Amboy Dukes s Tedom Nugentom, Foghat…
Takže, ak máte radi starú poctivú hard rockovú školu, kde sa nikto s ničím nepára a bez nejakých špekulácií, okolkov a manierov, po jednom dni v štúdiu vyjde s kožou na trh – skúste. Ak nič iné, záverečný 16 minútový epos Dead Meat si určite zaslúži pozornosť. Tým nijako neznižujem ostatný materiál. Je tu čo obdivovať a moje hard rockové srdiečko je v siedmom nebi.
Krátko po vydaní albumu Mourning sa však kapela rozišla a to bol koniec nádejnej hard rockovej rozprávky menom Bolder Damn. Všetko je v rovine špekulácií, ale spevák John Anderson je presvedčený, že nebyť odchodu hammondkára Marca Gasparda tesne pred nahrávaním, kapela by bola dosiahla viac…

Ešte doplním, že pôvodných 200 kusov LP sa predalo na koncertoch, prípadne rozdalo známym. Ich cena sa pred pár rokmi pohybovala na hranici ± 2000 dolárov, dnes je originál veľmi ťažké zohnať. Ja som vo svojich zberateľských túžbach skromný a uspokojím sa s pirátskym CD z roku 2008.
SKLADBY:
1. BRTCD. (2:56)
2. Got That Feeling (3:28)
3. Monday Mourning (3:04)
4. Rock On (4:12)
5. Find A Way (4:38)
6. Breakthrough (3:21)
7. Dead Meat (16:01)
All songs written and arranged by Bolder Damn.
NOTES:
Recording Engineer – John Archer, Hyperbolic Recording Studios, Fort Lauderdale, Florida.
Photography – TalentVision
Management – Bob Colosimo
ZOSTAVA:
John Anderson – lead vocals, rhythm guitar
Glenn Eaton – guitar, backup vocals
Ron Reffett – bass, backup vocals
Bob Eaton – drums, backup vocals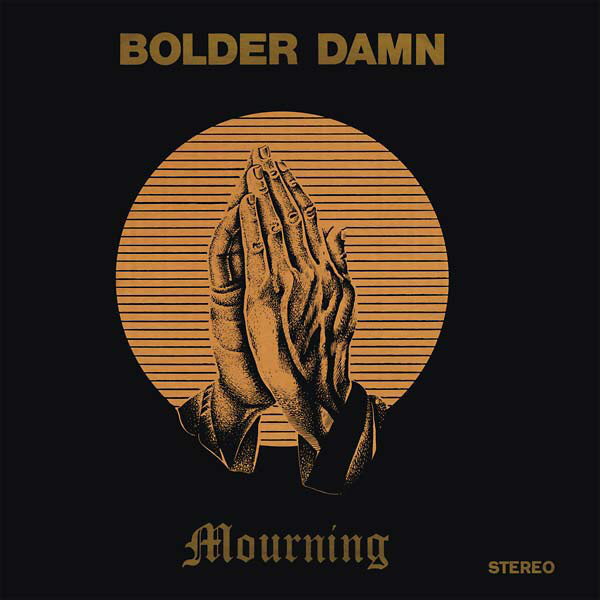 Mourning
Bolder Damn
Hard Rock
HIT Records International
1971
LP
7
CD - Erebus Records ‎– ERCD031 /2008/